Deel offers its clients the chance to integrate NetSuite as part of their system.
This integration automatically syncs all Deel invoices, by creating a vendor bill on your NetSuite account when an invoice is paid.
You can only install the integration after you have generated the necessary credentials from NetSuite.
In this article:
Installing NetSuite integration
Getting Started
✅ Step 1
- Select the
Apps & Integrations
tab
Click NetSuite in the Accounting Integrations section.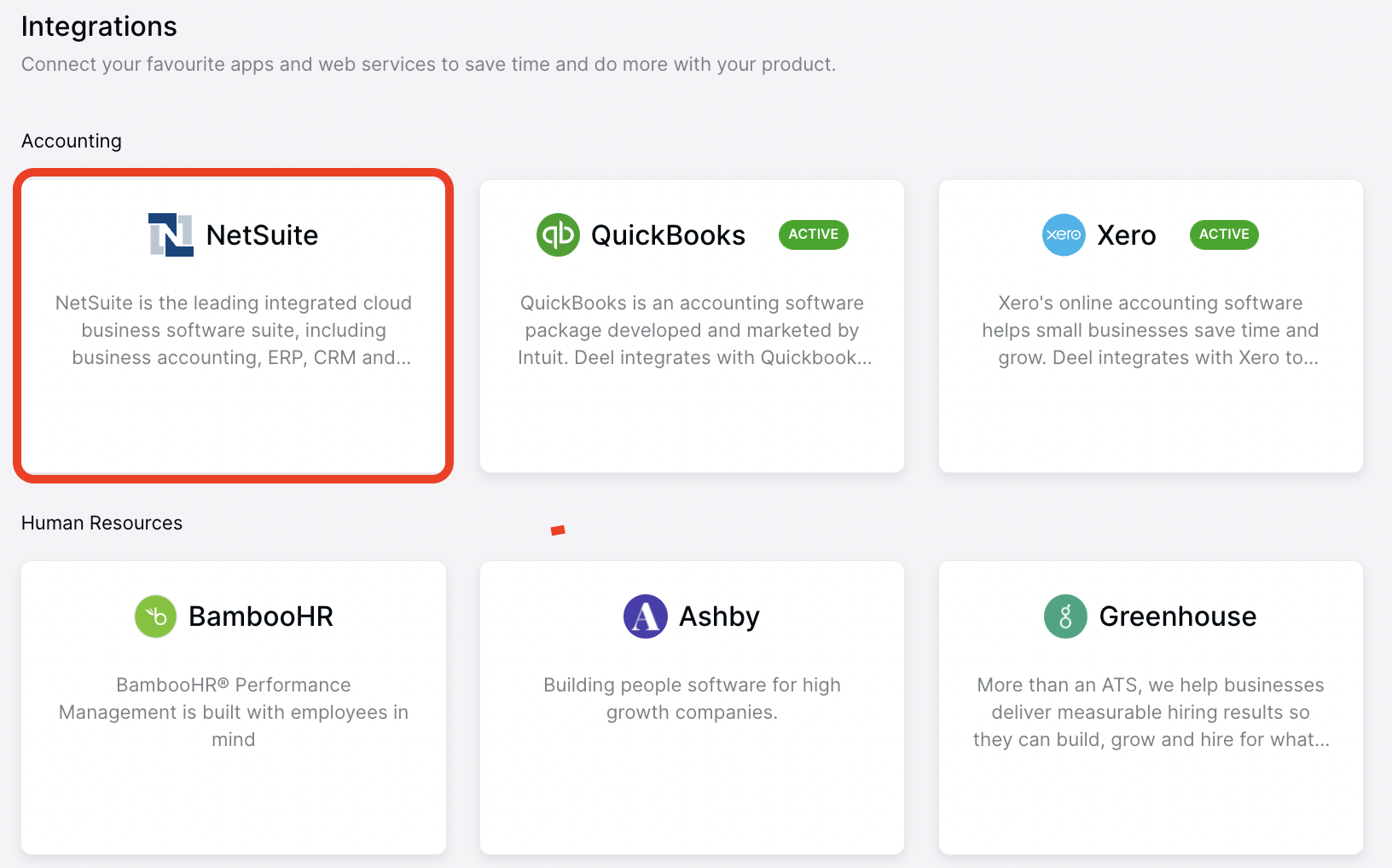 ✅ Step 2
- Click Connect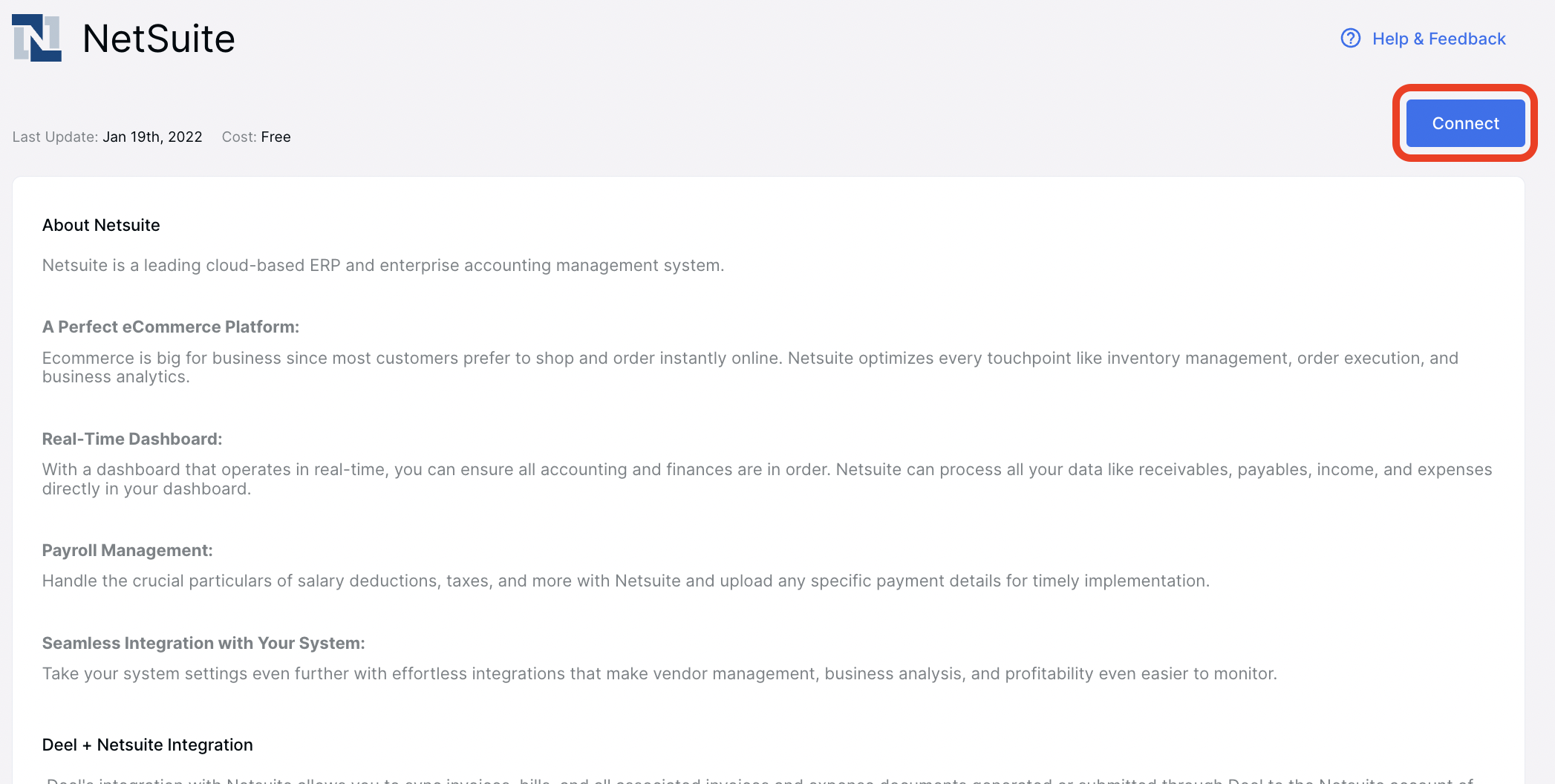 Installing the NetSuite integration
Jump to video tutorial
✅ Step 1

-

Enter your NetSuite account details and click Next

If you don't have a Token Key and Token Secret you must prepare your NetSuite account for the integration.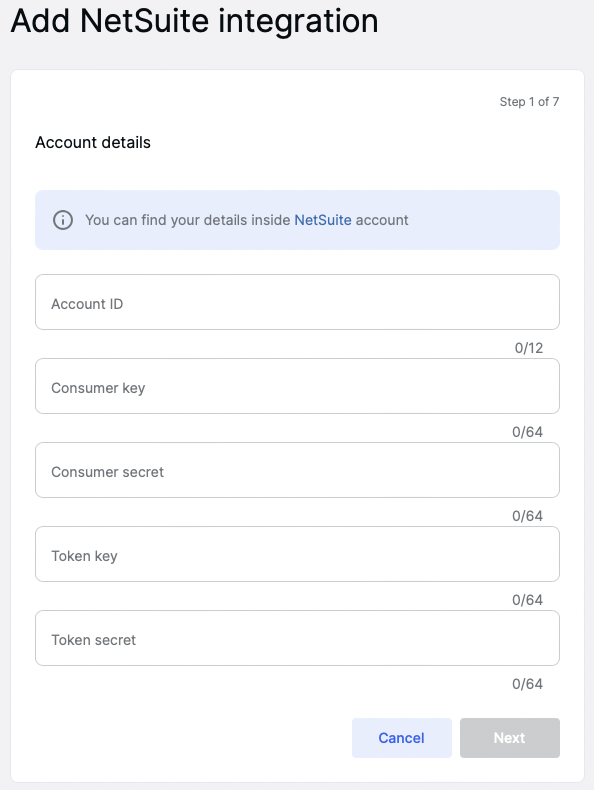 ✅ Step 2

-

Define how invoice items appear on NetSuite bill

You can have invoice items appear as Expenses or Items.

You can not change this, unless you delete and reinstall the integration.
✅ Step 3
- Connect entity to Deel
Use the dropdown menu if needed to select the legal entity to connect.
The integration links one NetSuite subsidiary with one Deel entity.
If you work with multiple subsidiaries in NetSuite, you can create the corresponding entities on Deel and add Netsuite integrations to manage them all.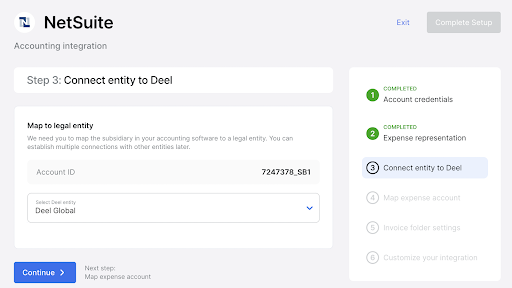 ✅ Step 4
- Map expense accounts
You can choose to have all items mapped to a single expense account; or you can specify by adjustment type according to the standard Deel invoice item types.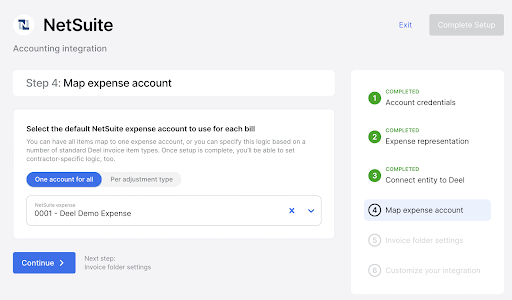 ✅ Step 5
- Select NetSuite invoice folder
This is an optional step, but we strongly encourage you to select a folder.
This way, we can sync invoices and expense documents to your NetSuite account.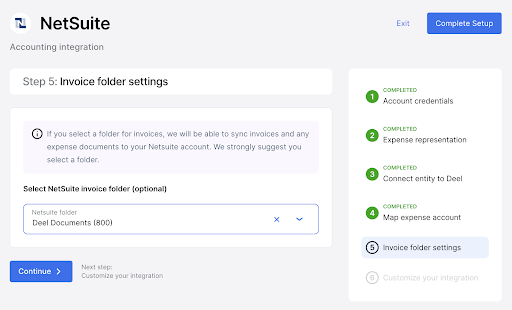 ✅ Step 6
- Customize your integration
You can enable the auto-link feature to create or link vendors to contractors in Deel.
If multi-currency is set up in your NetSuite account it is easy to handle different currencies of contractor invoices.
You can choose if Deel syncs invoices in the invoice currency or the currency of the payments you make.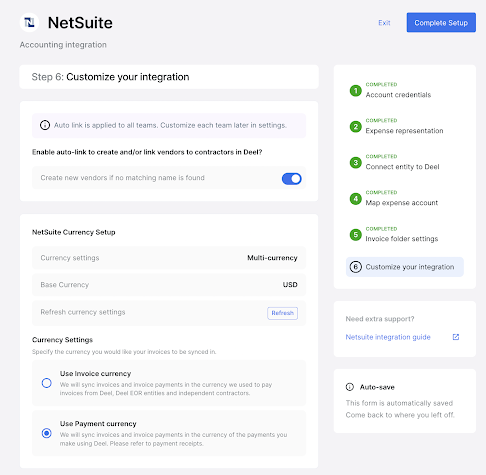 ✅ Step 7
- Click Complete Setup
Congratulations! You have just integrated your NetSuite account to Deel!
Once you have successfully integrated your NetSuite account to Deel, you can easily sync contractors.
Click on (1) Not linked and either manually select contractors, or (2) click Select All Contractors. Then (3) click Link

Video Tutorial
How to disconnect NetSuite
✅ Step 1
- Open NetSuite integration
Select the (1) Apps & Integrations tab and click on the NetSuite app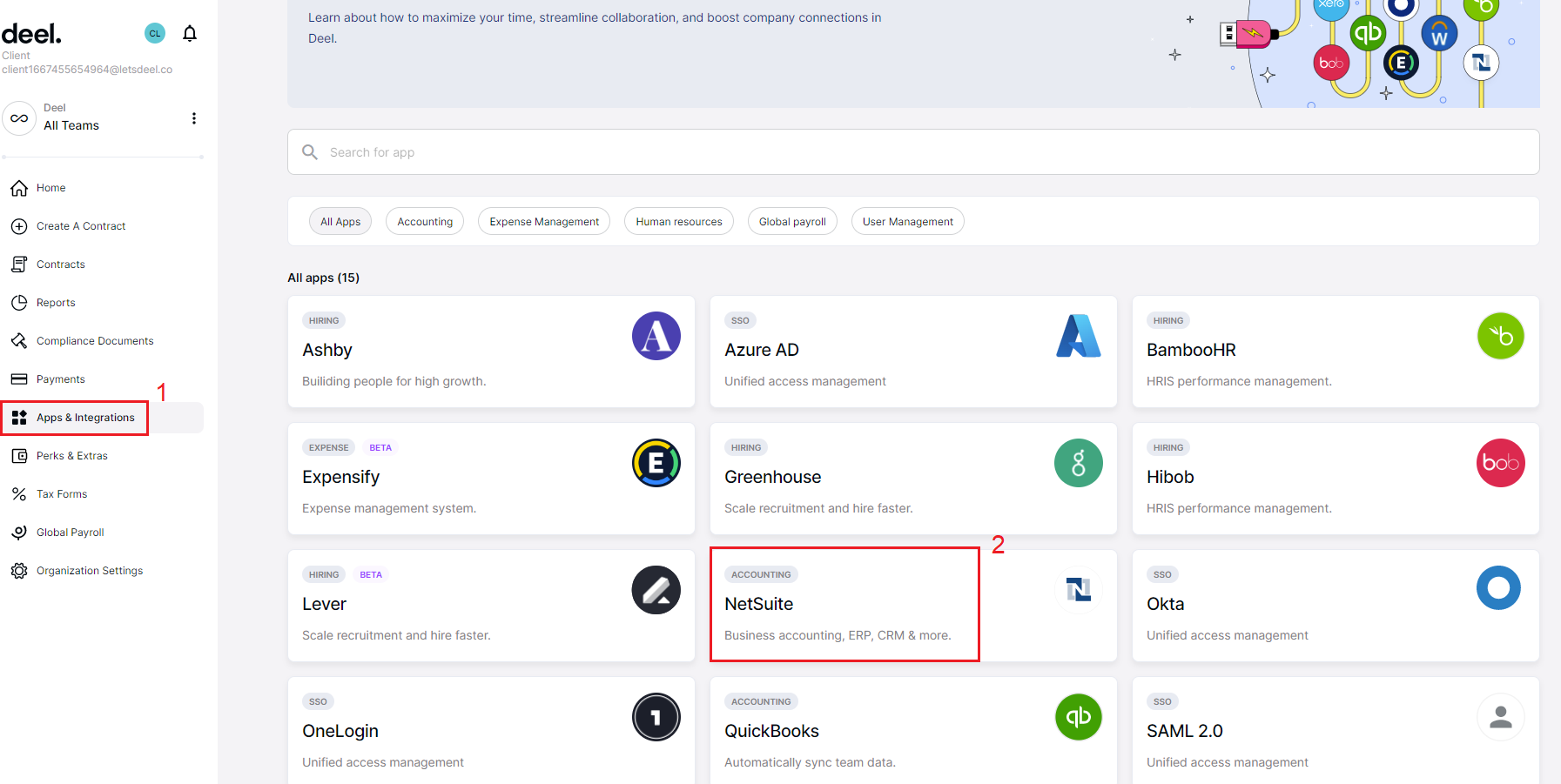 ✅ Step
2 - Disconnect
Select the (1) Settings tab and click (2) More. Then click Disconnect

FAQs
[ACCORDION]
What if the person who set the integration up leaves?
You can set up an email notification to go to several inboxes so if someone is off or has left the organization. There isn't a single point of failure.
[ACCORDION]
Will I be notified if there is an issue with the integration?
An email notification setting has been added to the Xero integration, and the user can add as many email addresses as they wish so people get notified.
[ACCORDION]
Does NetSuite map the bill payments to a specific department?
You can use the Bill Payment Department setting to select a department to map all bill payments. Please note, this is an integration-level setting and will apply to all teams.
[/ACCORDION]