How do my workers sign up to Deel?
We will send a welcome email with an activation link.
We will also send multiple email reminders to the employee before the onboarding due date.
See an example below: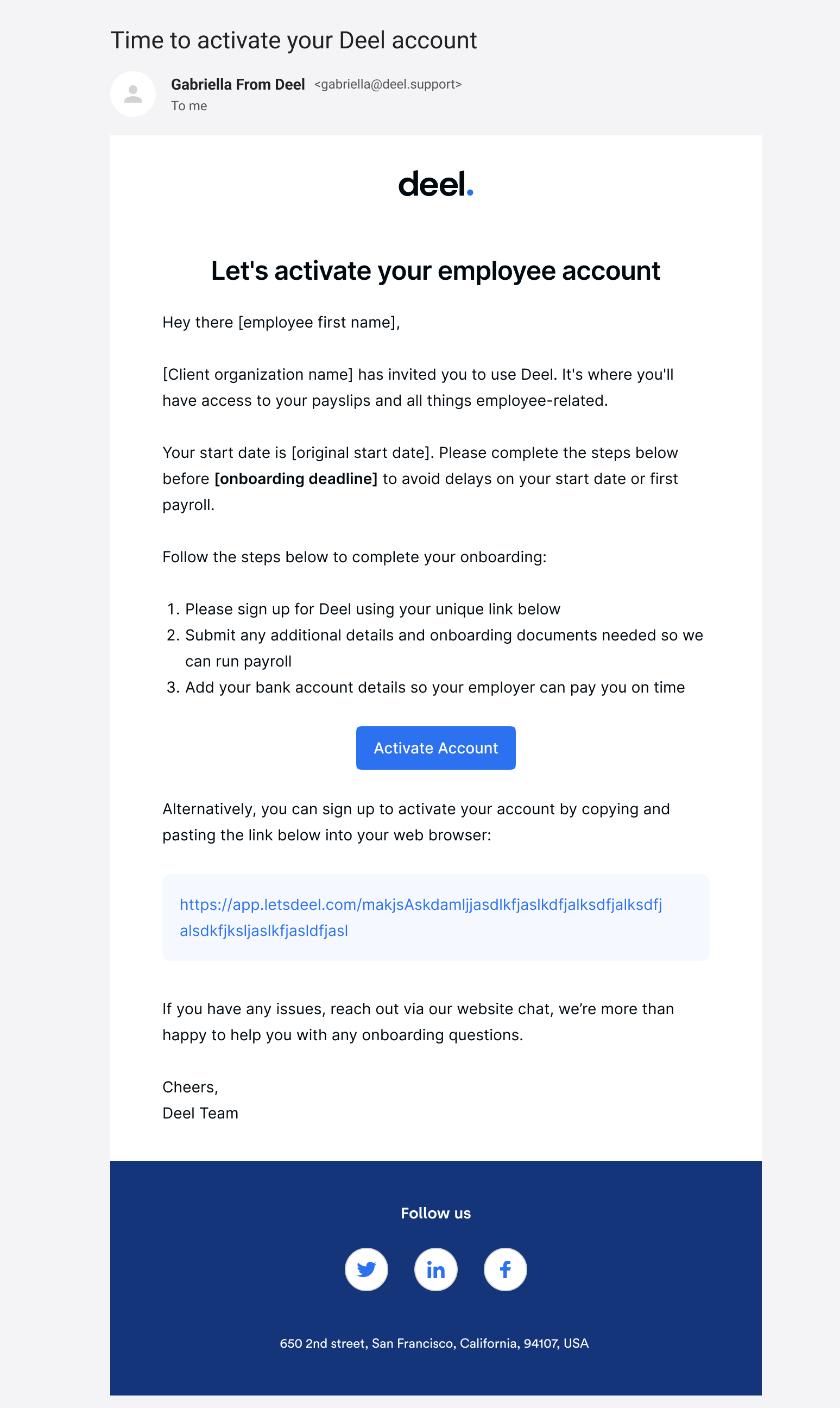 What does it mean to be onboarded?
An onboarded worker has either completed all required onboarding tasks or withdrawn their first payment.
Because Global Payroll direct employees do not withdraw money via Deel, they will only be considered onboarded only when they have successfully completed the onboarding checklist.
Your employee will have to upload country-specific compliance documents like tax documents, banking details, employee forms, and more.
A newly onboarded employee will remain visible in your Tracker tab for 30 days after onboarding, after which they will move to your People list.
What are the onboarding statuses?
DRAFT - a contract or agreement is being drafted, but the worker has not yet been invited to Deel
PENDING INVITE - The contract or agreement is ready for signature, but the worker has not yet been invited to Deel.
INVITED - The worker has been invited to create an account on Deel 
ONBOARDING - The worker has activated their Deel account and is currently onboarding
ONBOARDING AT RISK - The worker has not completed the onboarding checklist and is at risk of missing their start date within the next week. We recommend that you check in with them to see that everything is ok.
ONBOARDING OVERDUE - The worker missed their onboarding deadlines or their original start date. We recommend that you check in with them, or consider canceling the agreement.
READY TO START - The onboarding checlist has been completed, and the worker is ready to begin when the  start date arrives
ACTIVE - The start date has arrived and the worker is actively working
Will I be able to see canceled contracts?
Employees with canceled contracts remain in your Tracker tab for 7 days after their scheduled start date. After this, you can find them in your People list under the 'ended' hiring status.
What if a direct employee isn't onboarded before the payroll cut off date?
Your direct employee should complete onboarding by the date listed on the platform.
If the employee is not fully onboarded on time, then it may be necessary to push their start date forward and delay their first payday.
Please see: When Can My Employees Start? for more details on country-specific deadlines regarding onboarding deadlines and payroll cut off deadlines.
Can I change the employment country before the worker is onboarded?
No, once the Global Payroll Direct Employee contract is created, you can not change the employment country on the platform even if the worker is still onboarding. Please contact us for further assistance.