This FAQ is for former Deel EOR employees who are now part of Deel's Global Payroll service.
For more information please see our Help Center article on using the Deel app as a payroll employee.
I used to be an EOR employee. Now I'm a Global Payroll employee. What's the difference?
Your employer has migrated your account from our Employer of Record service to Global Payroll.
You may have already received an email invitation to complete onboarding for your direct employee contract: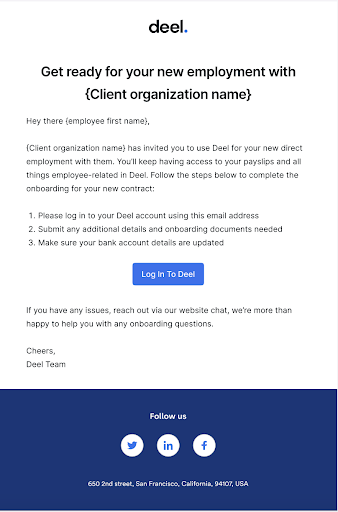 With Deel Global Payroll, we run your organization's payroll but we are not your legal employer of record. Your employer has created a legal entity and has hired you directly.
Our job is to process your payroll and deliver payslips on time once your employer submits and approves a payroll package.
If your country mandates end-of-year tax documentation, we will ship those forms to you.
Previously, Deel acted as the EOR -Employer of Record. That means we were your legal employer and held additional responsibilities. But now that your employer has hired you directly via their own entity, your benefits package might have changed.
Do I need to do anything?
We will migrate as much data and onboarding documents as possible; however, there might be some country-specific documentation that cannot be migrated between accounts.
While you don't need to re-enter your personal details or banking information, we recommend that you check your account details to confirm they are still accurate.
Can I see old payslips from when I was an EOR employee?
Yes, your historical payslips and tax documents from your time as an EOR employee will still be available.
Simply toggle between your EOR profile and Direct Employee - Payroll profile, as seen below: