This article provides a step-by-step guide to US payroll clients on setting up a payroll schedule that aligns with their organizational needs, running the payroll accurately, and ensuring that their funds are correctly allocated and disbursed.
In this Article:
Setting Up Your Payroll Schedule
✅ Step 1 -
Go to Organization Settings and Click on Entity Details
On your homepage click on the Organization Settings tab and select Entity Details.
ln the Task List, select the option to Set Payroll Schedule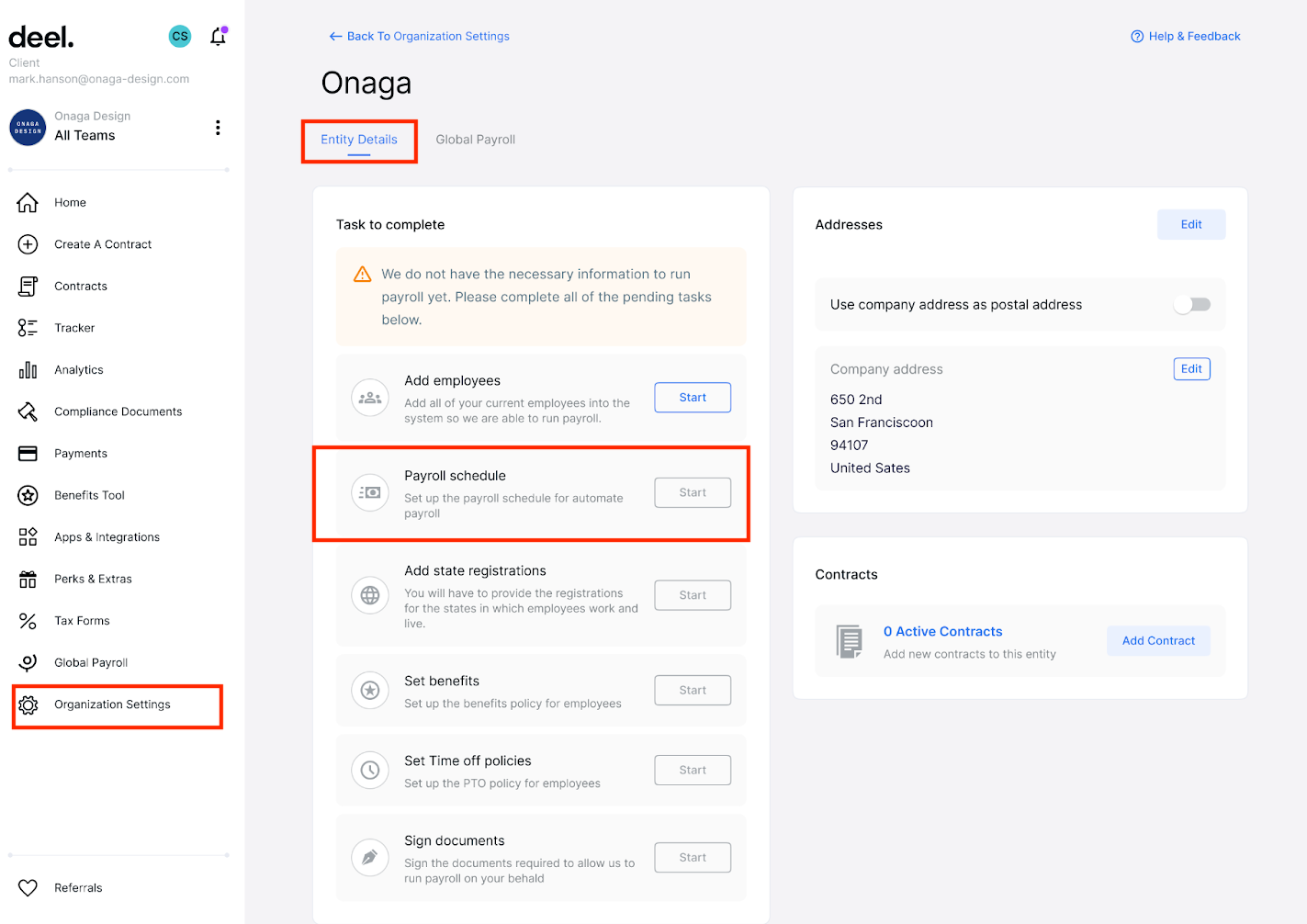 ✅ Step 2 -

Select the frequency of your payroll cycle

You can set up the frequency of your payroll cycle and select among a Monthly, Semi-Monthly or bi-weekly cycle.

Once done, enter the information needed for your selected payroll cycle.

✅ Step 4 -

Assign payroll approvers

Now, you can assign people as payroll approvers. You may select more than one payroll approver.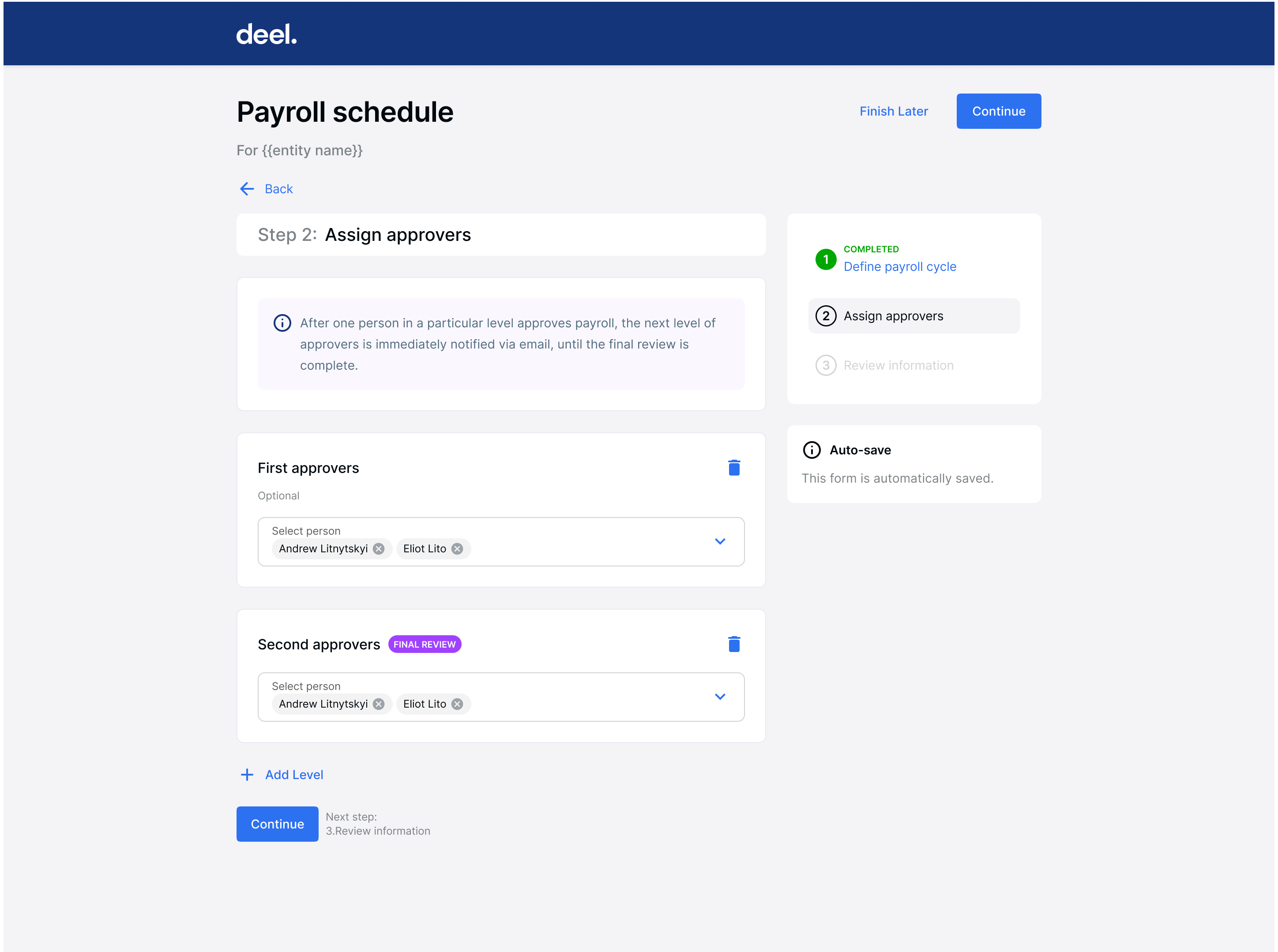 ✅ Step 5 -

Review the information

Review your payroll schedule details and click on Publish to confirm

 

 
Running Payroll 
Running a payroll includes modifying deductions, adding bonuses for employees, and approving payroll.
✅ Step 1 - Select Payroll and click on Review and Approve
Go to the Payroll Tab on your Homepage and next to the Entity's name, select View Report. 
Select Review and Approve to begin the process of running payroll. 
✅ Step 2 - Make Salary Adjustments
To make adjustments to salary, such as adding a bonus, etc. you can individually make these changes by selecting the employee's name.
Additionally, you may select Bulk Edit to make changes for all employees. 
After making any necessary adjustments, select Update.
Allow the page to refresh automatically with the new changes. 
✅ Step 3 - Approve Payroll
If no adjustments need to be made or if adjustments have been completed, select Approve Payroll
To grant approval, select Approve. Otherwise, you can select Go Back to make other adjustments.

If a second approver does not exist, Processing Payroll will be listed next to the payroll name.
✅ Step 4 - Second Approver exists 
If a second approver exists, the second approver will open up payroll, select Submit Report, and then Review and Submit.
✅ Step 5 - Make Additional Adjustments
The second approver will have the option to make additional adjustments if needed. 
If no adjustments need to be made, select Submit Report.
✅ Step 6 - Approve and Submit the Payroll
To approve and submit payroll, select Submit, after which a confirmation box will appear.
To reject payroll, select Reject, the system will prompt you to provide a reason for the rejection of payroll. 
After providing a reason, select Reject.

The first approver will receive an email notification communicating the rejection and reason.
FAQs
[ACCORDION]What pay schedules can US Payroll support?
We can support Monthly, bi-weekly, and semi-monthly pay schedules through US Payroll.
[/ACCORDION]
[ACCORDION]What is the cut-off date for approving payroll?
The cut-off date for approving payroll is 5 business days.
[/ACCORDION]
[ACCORDION] If I have Benefits Administration enabled, how are deductions calculated?
The deductions are automatically calculated.
[/ACCORDION]
[ACCORDION] I need help with payroll registration. Can Deel help with this?
Yes! Simply let us know and we'll manage the end-to-end payroll registration process for you.
[/ACCORDION]