Navigating the modern hiring landscape just got easier with Deel's capabilities, making the transition from candidate selection to onboarding smoother. Now, every time you add a new hire or update their status in your Applicant Tracking System (ATS), these changes are reflected in Deel for a streamlined onboarding experience. No more manual data transfers or out-of-sync records!
Deel integrates with a variety of ATS solutions—some are built and maintained directly by us, while others are built and maintained by product partners using Deel's Open API that have passed Deel's stringent quality controls. This guide will give a comprehensive walkthrough of the Deel-built ATS integrations to seamlessly link your talent acquisition and HR onboarding processes together.
In this article
Using Deel Built ATS Integrations
Using Third-Party ATS Integrations
Before you begin
You need to have set up an ATS integration. See this article on setting up ATS integrations.
Permissions:
Be an Org Admin, IT Developer Admin, or Integrations Admin-People.
Have the permissions in your ATS to manage candidate offers.
Using Deel Built ATS Integrations
The ATS systems built and maintained by Deel include Ashby, Greenhouse, Lever, and Workable. Deel's integration with each of these allows you to push candidates in those systems to Deel for onboarding. Whenever there's an update to the offer, candidate details set to be onboarded will also be refreshed in real-time. 
Through webhooks, any changes made to a candidate's offer are mirrored instantly, right until the contract is complete. For simplicity, this article will use Greenhouse as a representative example to go through the onboarding process for new hires.
✅ Step 1 - Review the list of People on Your Account
You'll be able to see a candidate's full name, job position, offer start date and offer status from the ATS. In the new hires banner, you'll see a note of the number of new hires that are yet to be onboarded.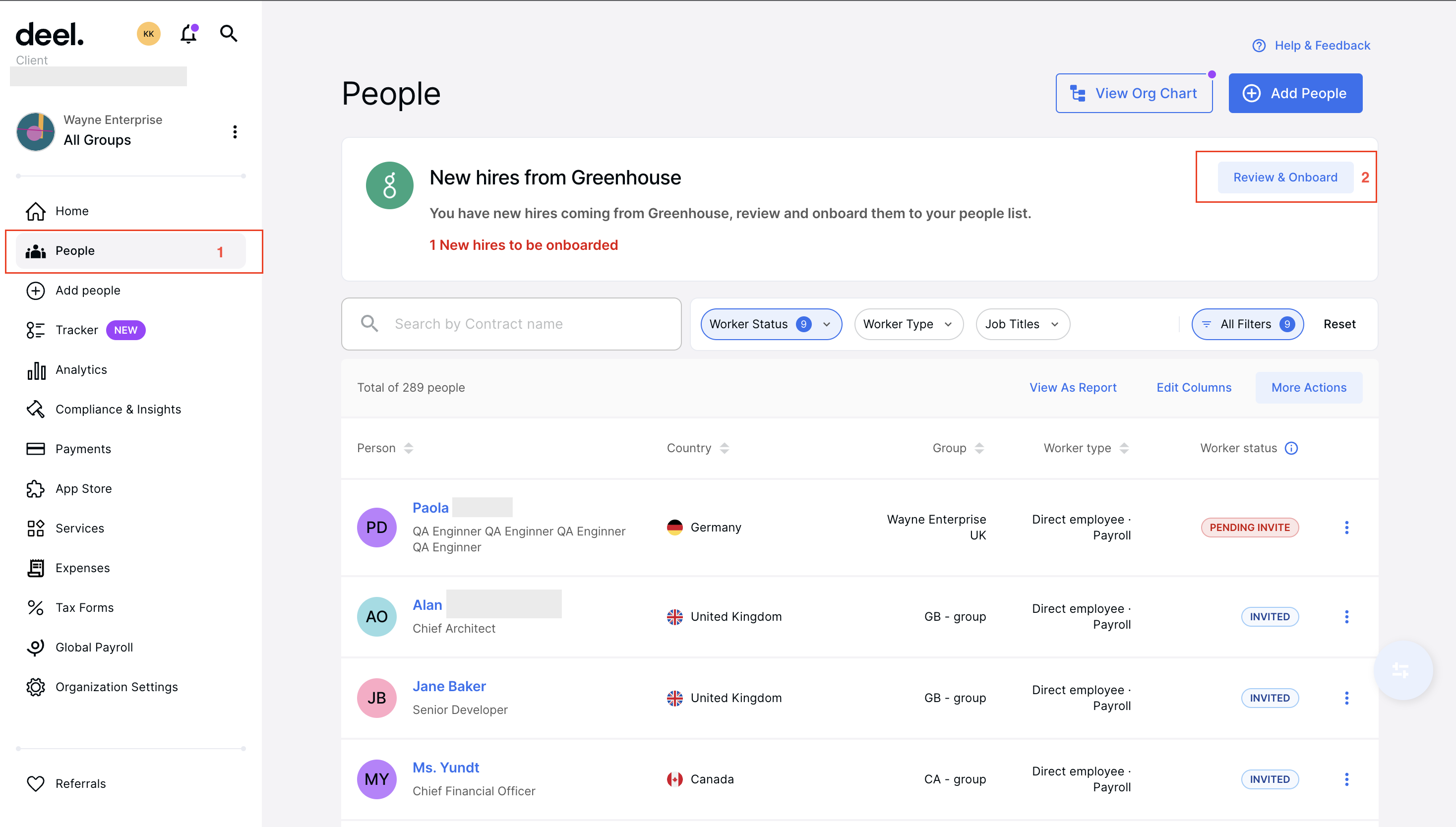 ✅ Step 2 - Review and onboard new hires
Clicking on the Review & Onboard button reveals a list of hires that are yet to be onboarded, their details to be reviewed, and the corresponding onboard button for initiating the onboarding process. You can remove a new hire from the onboarding list by clicking on the actions icon and selecting remove.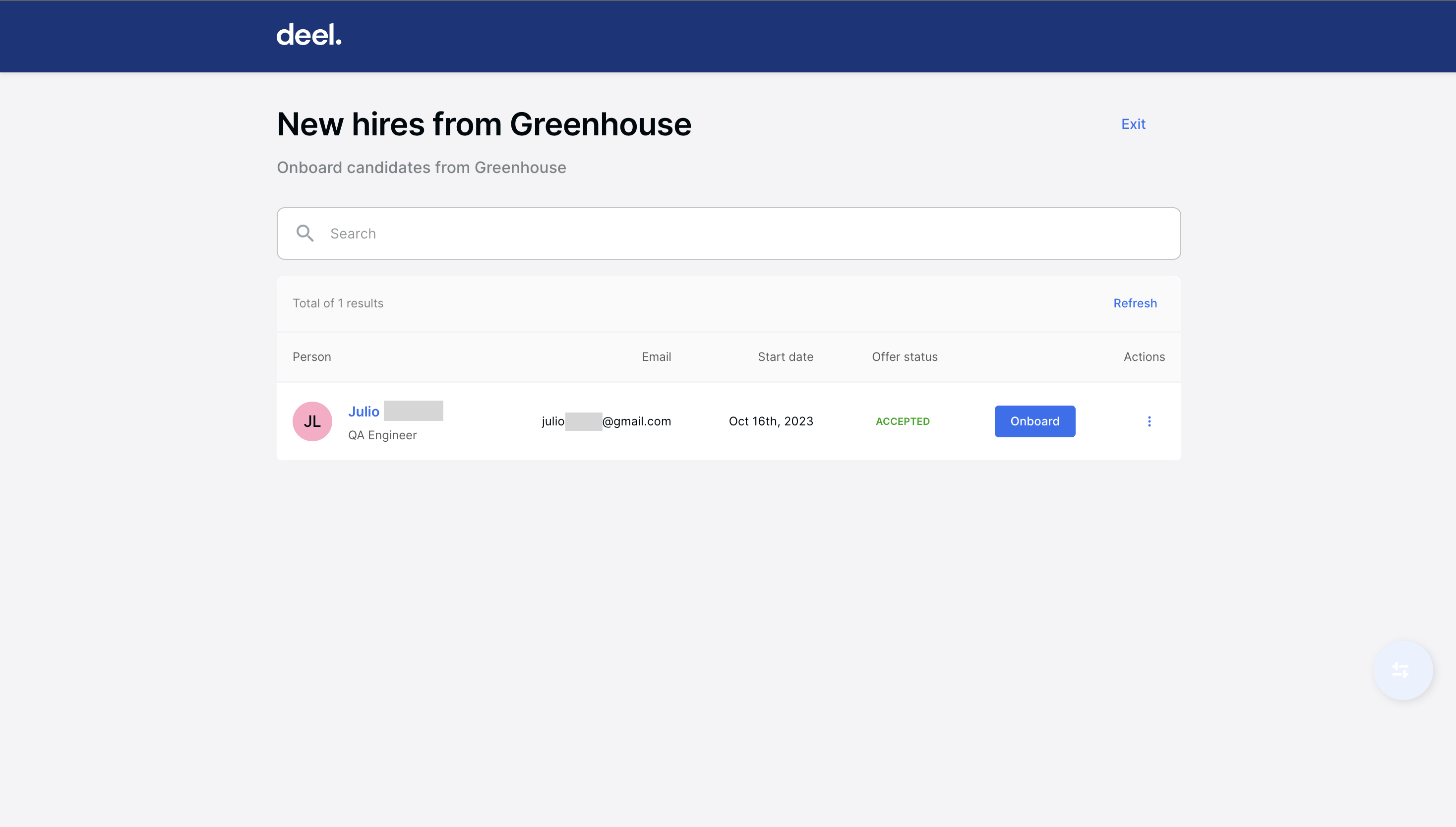 ✅ Step 3 - Start creating an agreement by selecting the type of worker
By default, Intelligent onboarding is toggled off. If you'd like to enable effortless onboarding where Deel suggests some input options, you may toggle it on.
Note: The intelligent onboarding feature is in beta.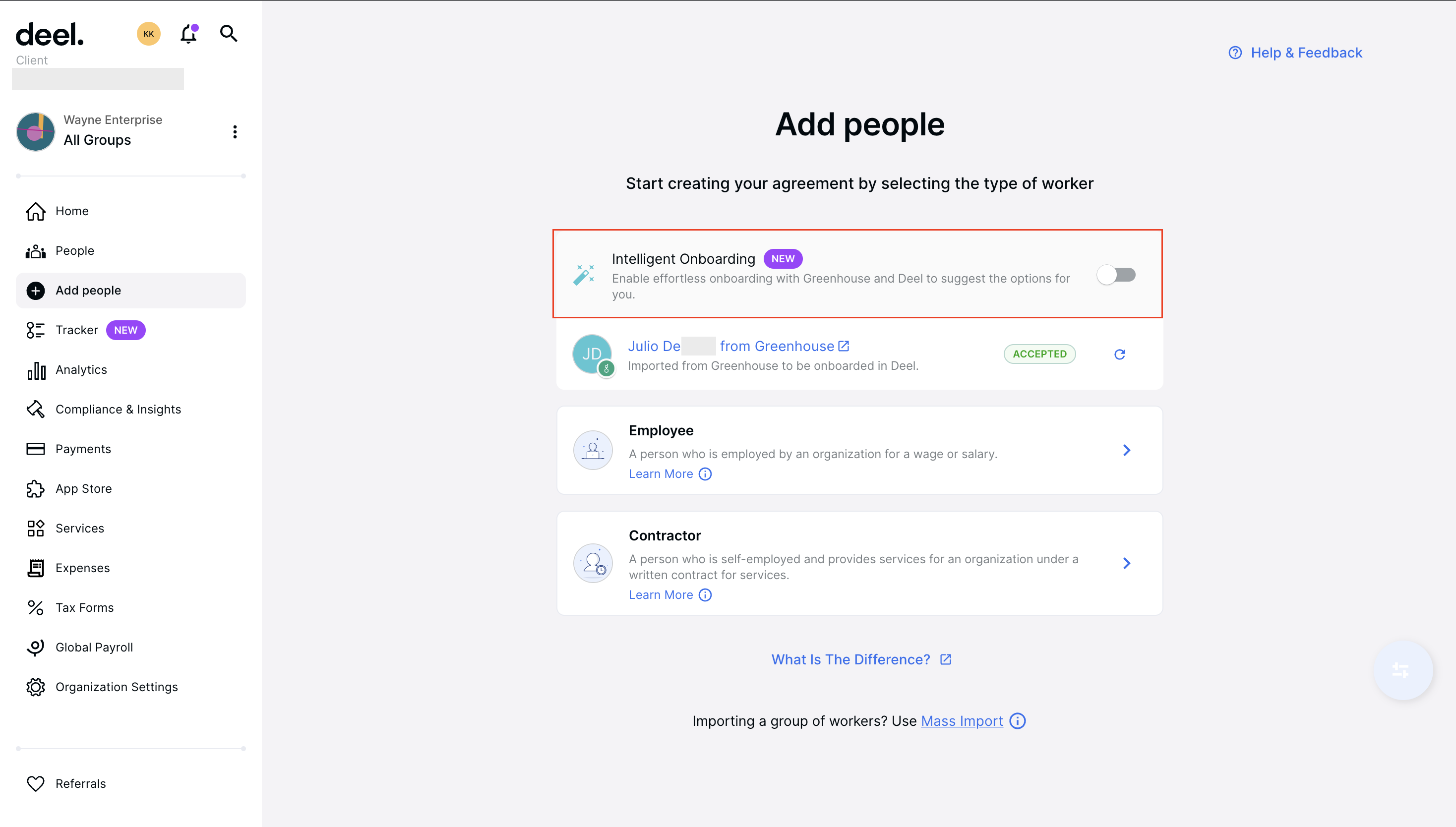 ✅ Step 4 - Complete the worker contract form
Some of the workers' details, including their names, job title and email, have been pre-filled in the form. You can easily access a candidate's offer details in the ATS by clicking on their hyperlinked name, which opens a new tab. Provide any outstanding data required to complete the form, generate a contract, and ensure a thorough onboarding process for new hires.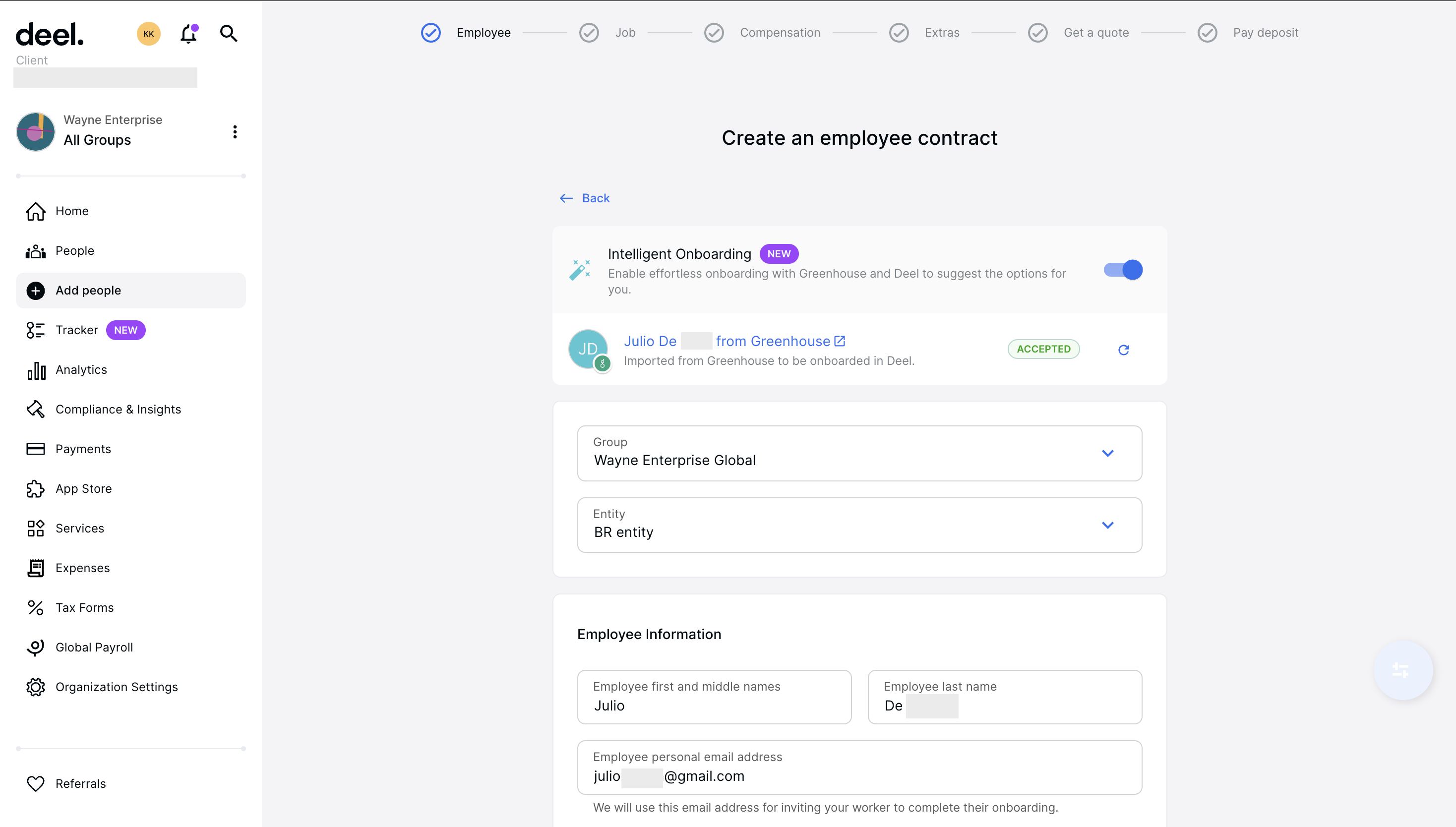 While our ATS integrations aren't designed to capture every detail (since many inputs may not exist in your ATS), you can add additional field mappings to your preference within the integration settings of your chosen ATS integration.
Note: Once a contract is complete, the candidate set for onboarding will be removed from the list. Any subsequent changes made in the ATS will not reflect on the completed contract.
Using Third-Party ATS Integrations
Even with third-party ATS integrations on the Deel App Store, their steps to onboard new hires remain the same as what has been described for the Deel-built ones above. Select your desired ATS integration, and you'll discover detailed instructions, an accompanying article link, and a support email for assistance.