Companies often need to maintain an auditable log of worker information changes that are made to worker profiles. Administrators responsible for HR information want to be able to explain who changed the worker's record and why these changes occurred. 

Deel automatically creates a log entry every time a change is made to a worker's personal, profile, or contractual information. Organizations who enable the "Modification Reason" feature will be able to record more granular information for each update. 

The person submitting changes will be required to complete the additional step of providing a reason for the updates they are making. Along with a modification reason, they can add additional information (including web links) to provide more context to the edit.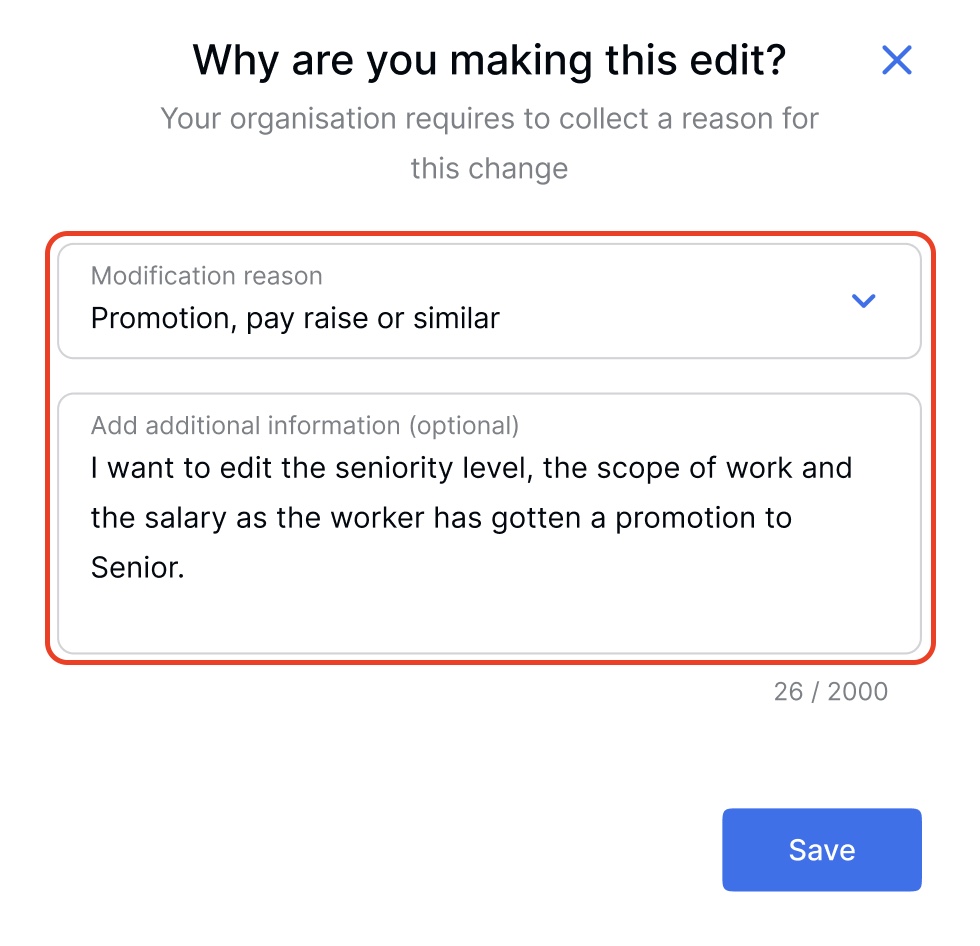 Deel will capture information like the name of the worker, employee ID, name of the person making the change, date and time stamp, fields edited, changed from and changed to, and more!

The modification reason is shown as an additional column in the change log of the worker's profile. You can access the change log report for the individual or the organizational overall at any time to review and export historic changes. 

Note: You must already have Deel HR enabled in order to track Modification Reasons.  
In this article: 
Enable and Customize Modification Reasons 
Accessing Change History and People History Reports


Enable and Customize Modification Reasons 
To enable Modification Reasons, you will create a list of modifications that you'd like to track directly in Deel. The modifications you create will populate the drop down list of Modification Reasons available when one of these changes are submit.

The option to track Modification Reasons will be enabled when you have added at least one reason. 


✅ Step 1 – Go to Organization Settings > Modification Reasons
Under the General Tab, scroll down and select Modification Reasons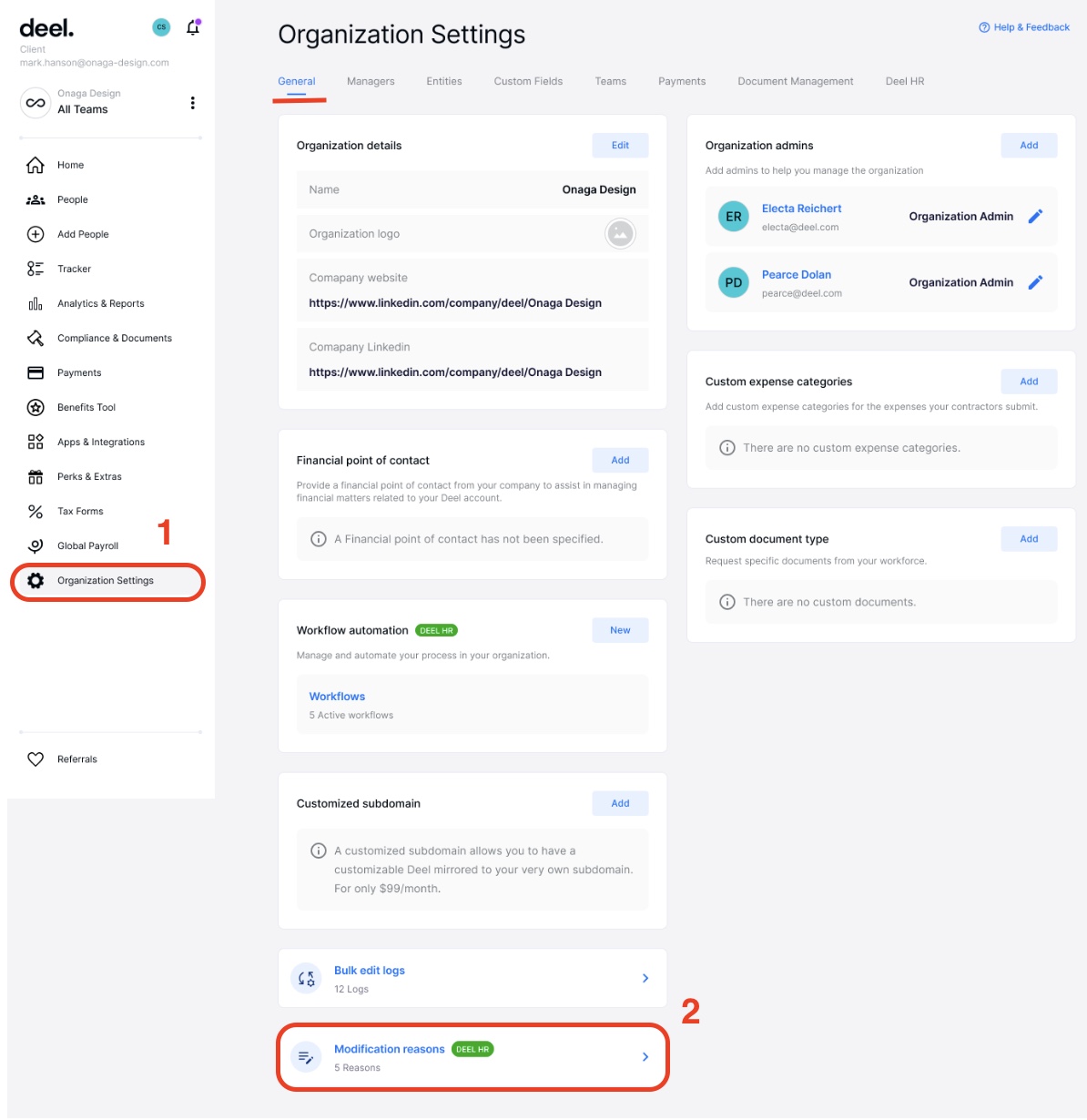 Note: If you don't already have Deel HR, you will be prompted to activate it in order to continue.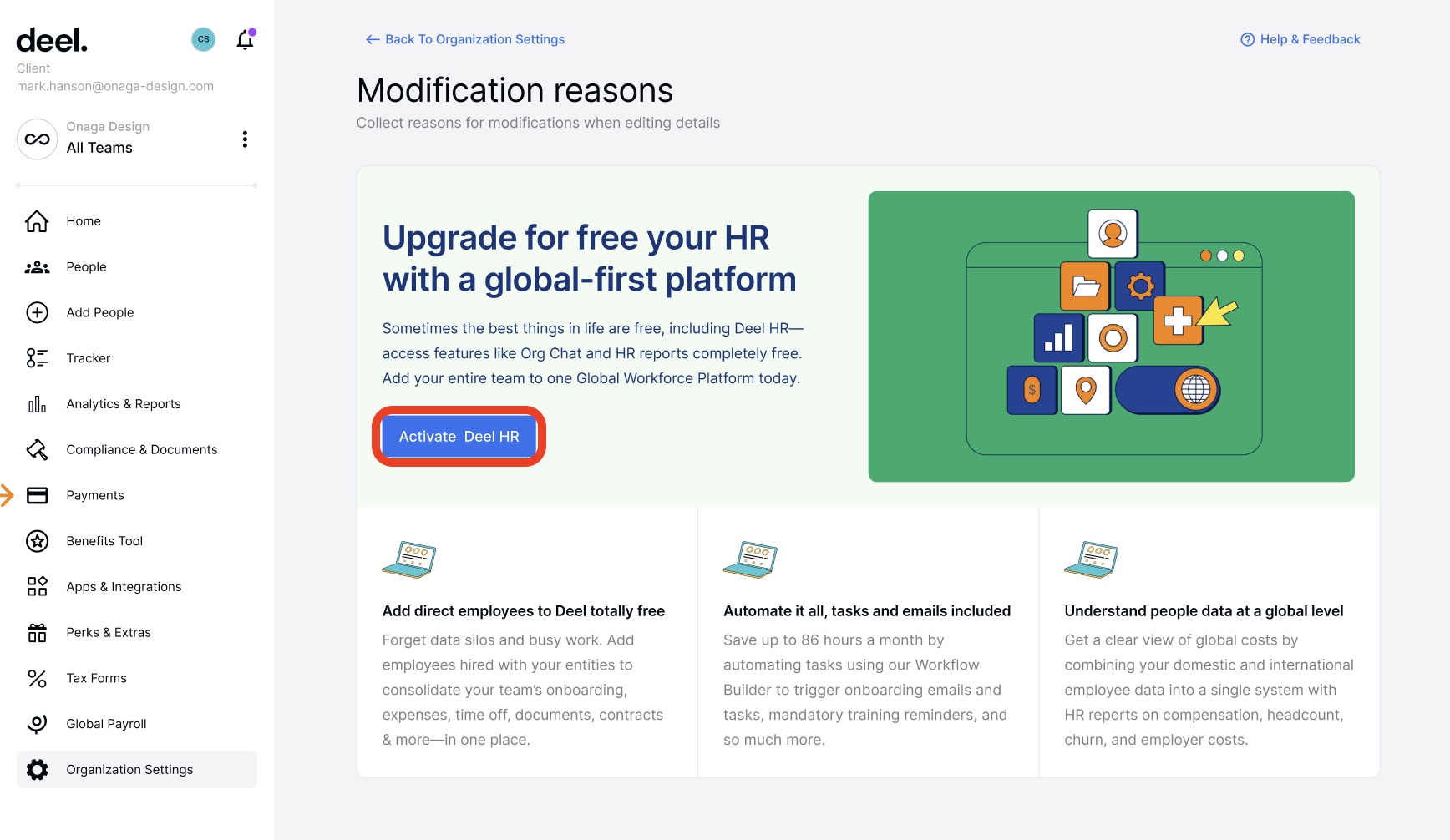 ✅ Step 2 – Select Add to create a Modification Reason


Type in a Modification Reason Description. Select Add.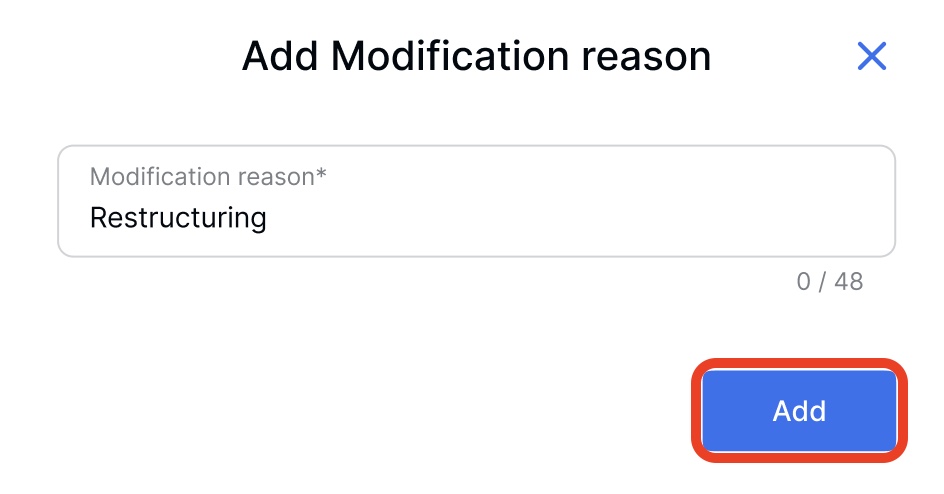 Repeat the process to add as many Modification Reasons as you need. 

In the Action Menu, you can use the Pencil Icon to Edit and the Trash Bin icon to Delete.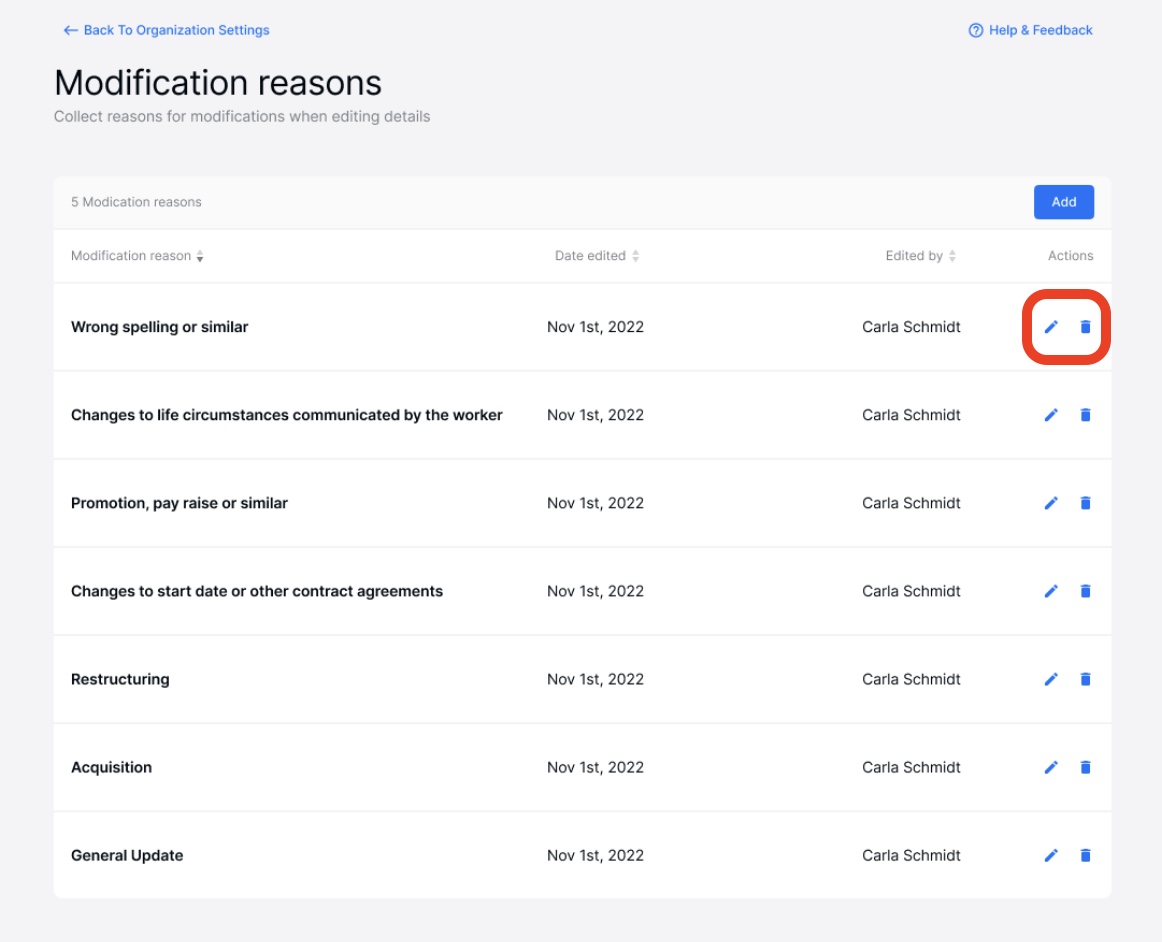 Accessing Change History and People History Reports
You can access the change history on an individual worker's profile or for the organization as a whole via the People History Report. 


Individual Change Log: 
Go to Worker's Profile. Scroll down to select Change Log from the menu on the right. 



Review historical changes and the details of edits made to the worker's profile and contract.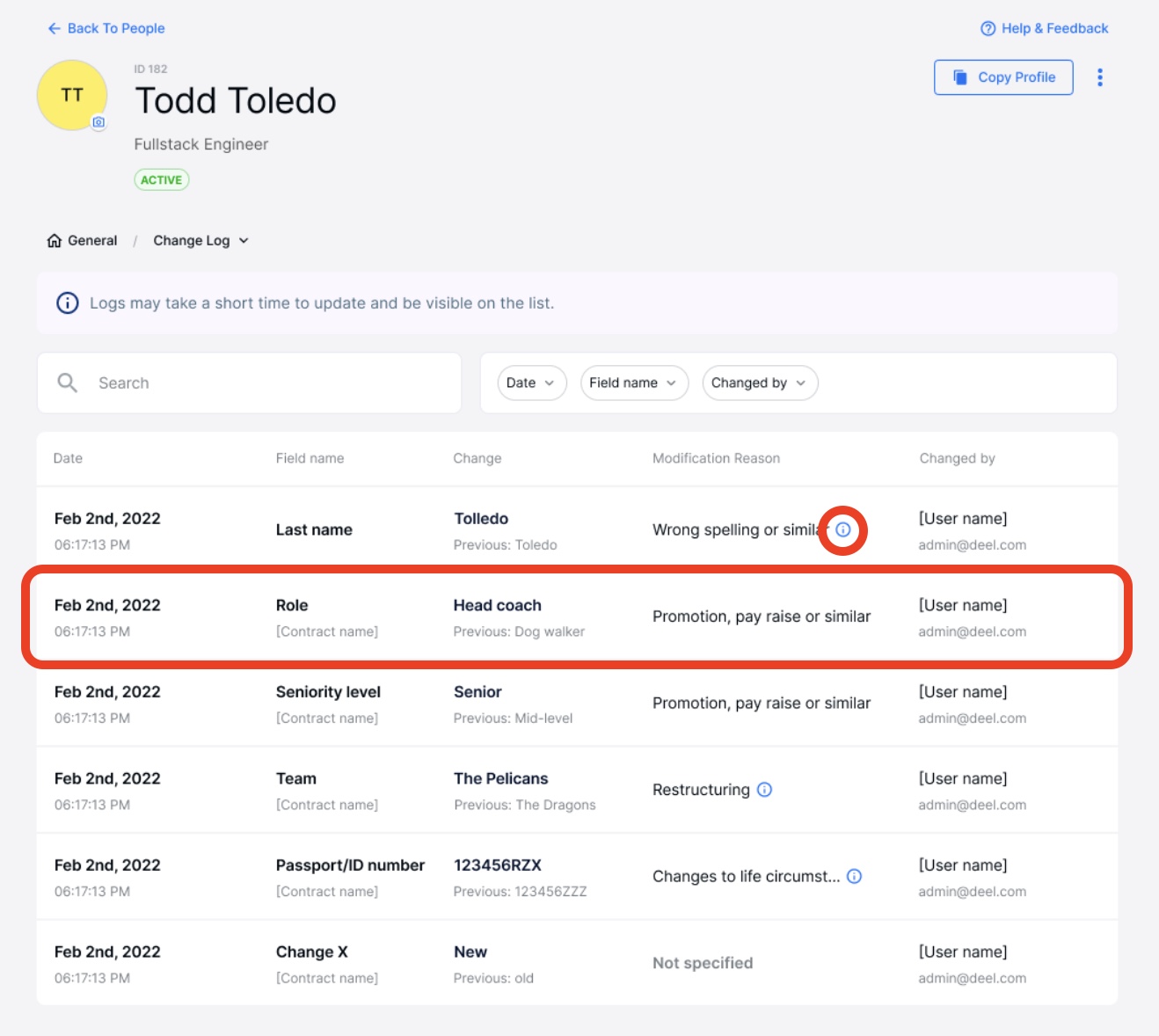 Select the i icon in the Modification Reason column to view any Additional Details provided. 

People History Report: 
Go to Analytics & Reports > Select Reports Tab

Select People History Report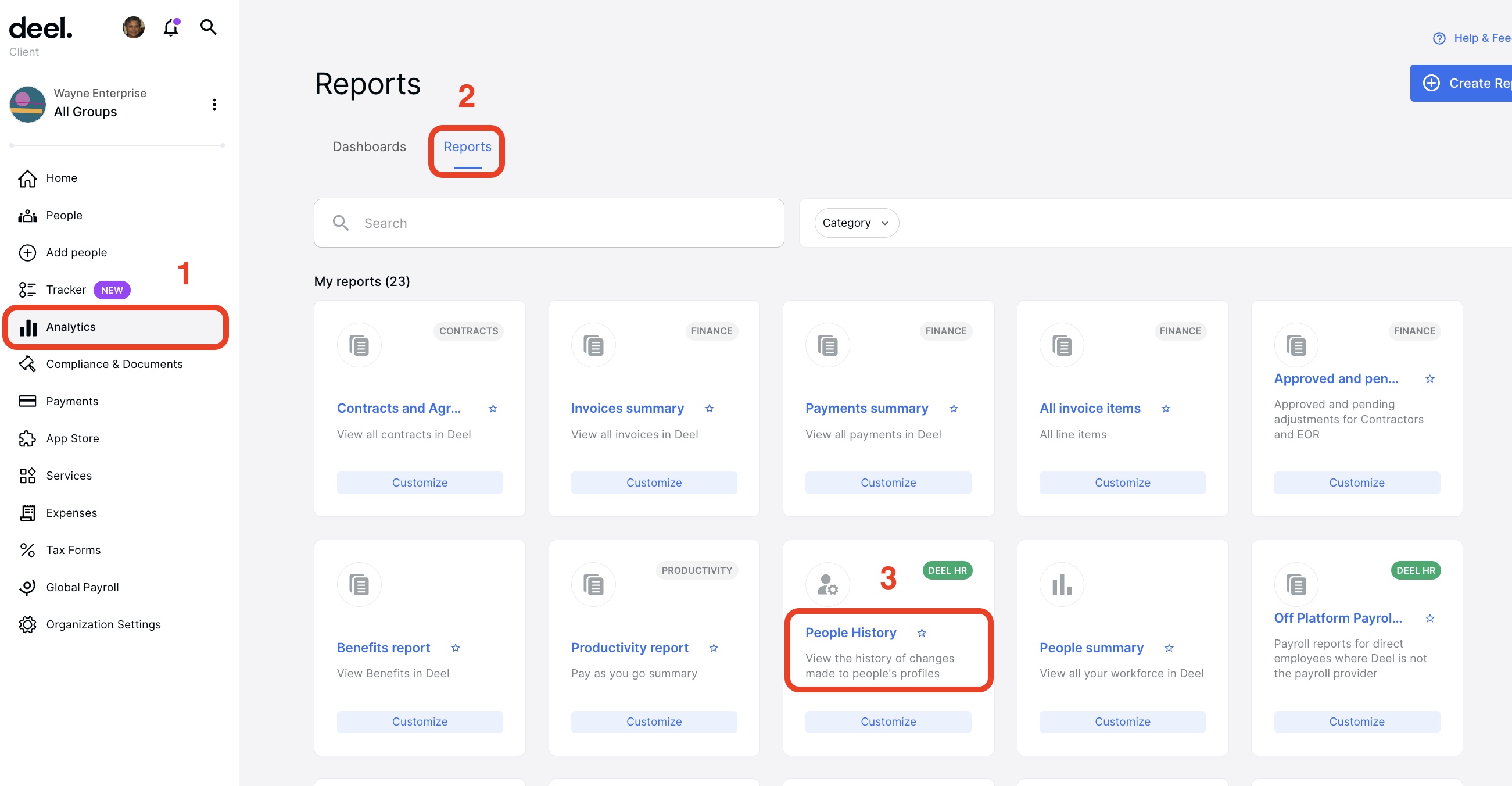 Review the report in Deel and use the filters to view specific data.
Select to Edit Columns to customize the report view. Select to Download Report to export.