The Deel Microsoft Teams Integration streamlines team management by linking your workers on Deel to corresponding Microsoft Teams profiles, offering real-time notifications for pending approvals, reminders for upcoming and overdue payments, and much more.
Stay on top of your game with automatic provisioning and deprovisioning of new and departing team members respectively, making your team's experience a whole lot smoother!
In this article:
Before you begin:
This integration is open to all users, with no role or permission restrictions.
Only users with 'Client Org Admin' or 'Integration Admin' roles can turn on the "Items pending approval" notification. All other notifications are available for everyone to activate.
Connect Microsoft Teams
To find the Microsoft Teams integration, simply navigate to Deel's App Store once you've logged in, search for it and click connect.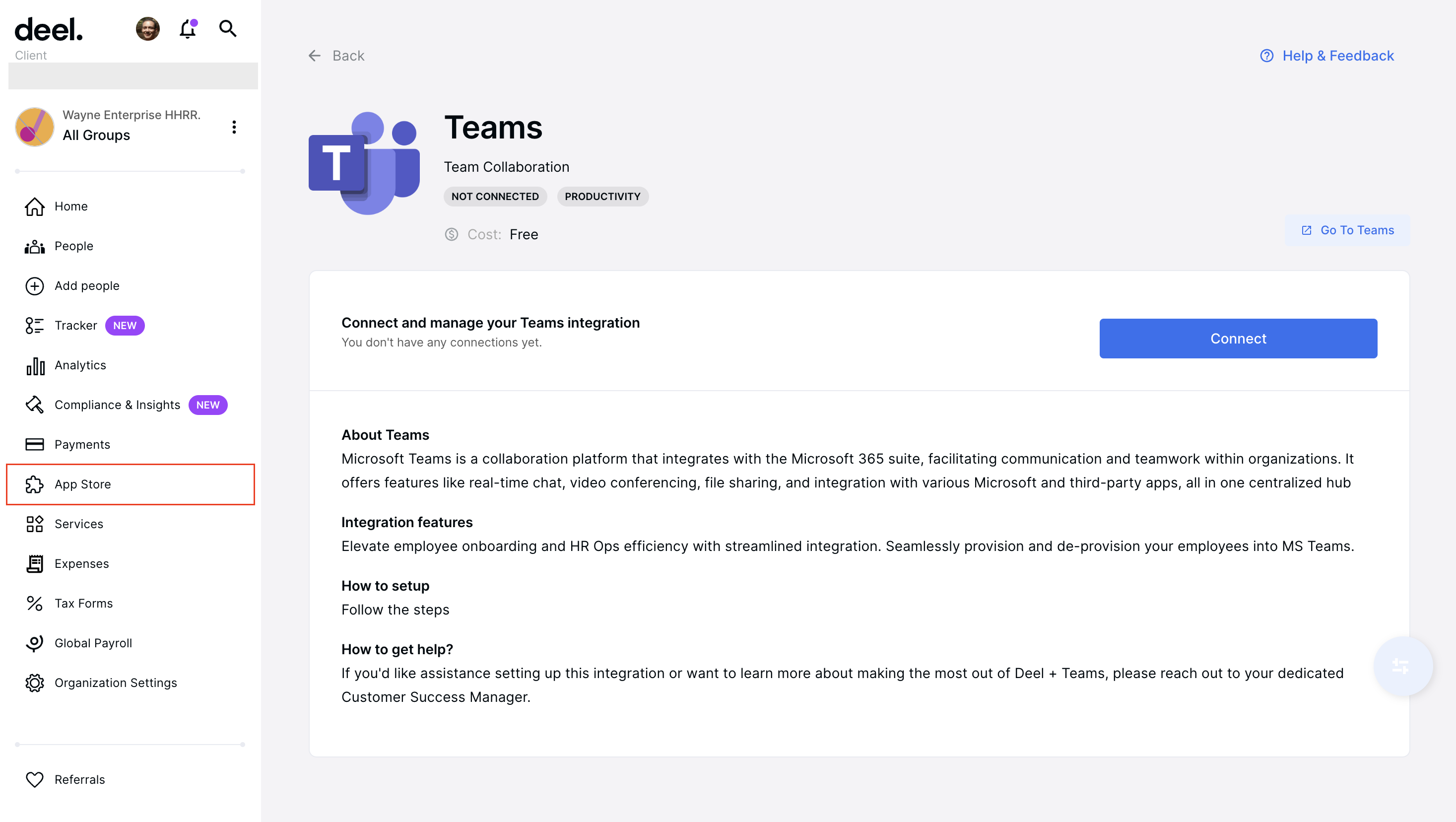 Microsoft Teams notifications
This plugin enables you to get notifications right from Microsoft Teams anytime something happens on Deel. These notifications are sent to channels and not direct messages hence there is no direct notification to approver or signee option. 
✅ Step 1 - Enabling the notifications
There are currently four scenarios you can enable notifications for:
1. Items pending approval: Receive alerts when items await administrative consent
2. Contract ready to sign: Get notified when contracts are prepared for signing
3. Contract updates: Stay informed of changes or amendments to contracts
4. Payment reminders: Be reminded when it's time to make or follow up on payments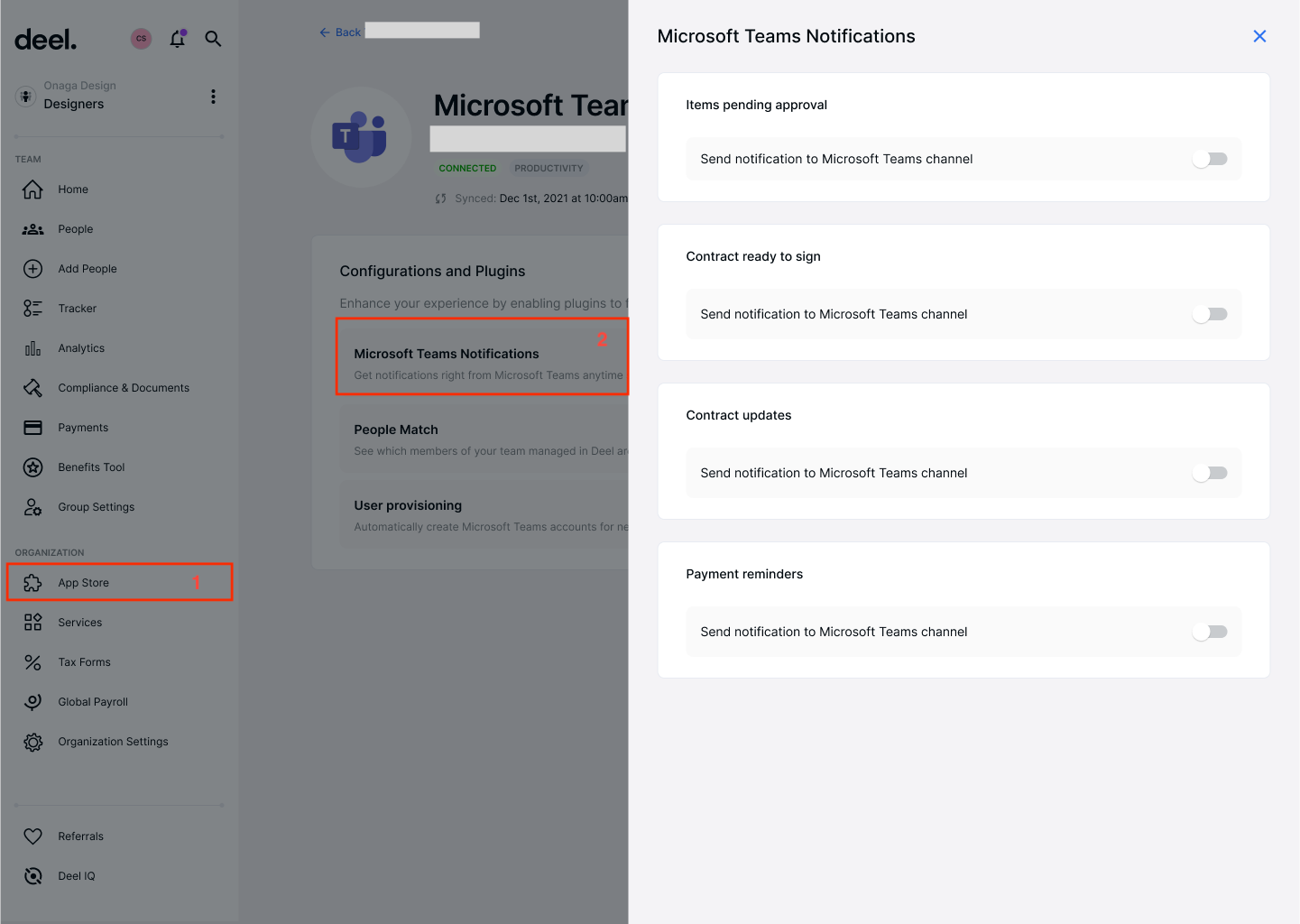 ✅ Step 2 - Sending notifications to a specific channel
By default all notifications are disabled, use the respective toggles on each card to enable that notification. You'll need to add a channel link and an optional channel name and test the notification.
To get your channel link:
1. Go to the Teams section, select the channel you want to sent notifications to and click on the three dots button select Connectors
2. Find Incoming Webhook and click on Configure.
3. Provide a name for the Webhook and click on Create.
4. Now copy the link provided, go back to Deel's platform and paste it on the Channel's link text field.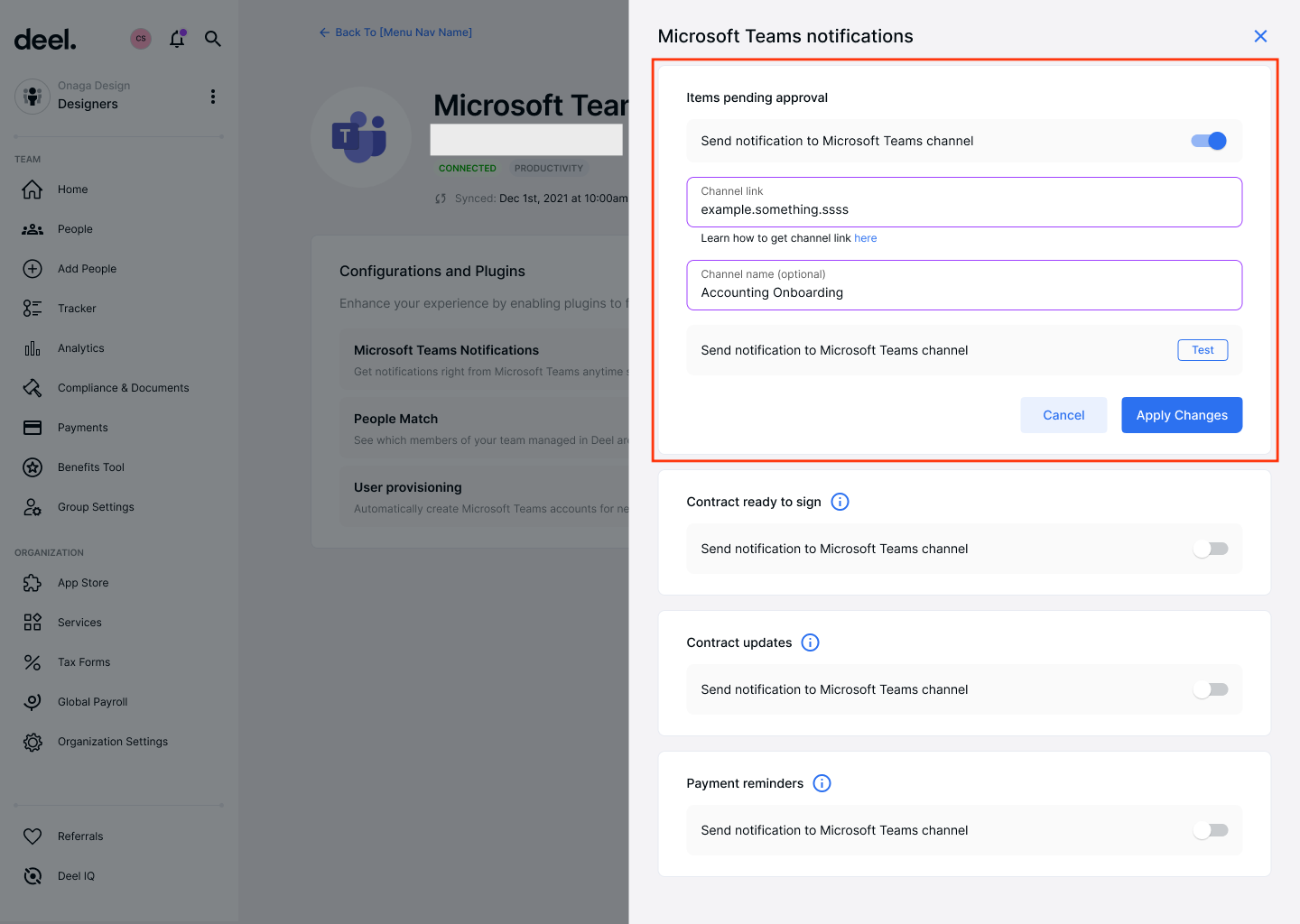 ✅ Step 3 - Disabling notifications
To disable a notification, simply set the toggle off on the particular notification's card and click on the disable button on the popup to confirm. 
People Match plugin
This plugin allows you to verify who is connected between Deel and Microsoft Teams and identify any unmatched users. From the Microsoft Teams account profile, you can readily see how many accounts are unmatched. Unmatched employees will not be able to receive notifications their email addresses have been updated.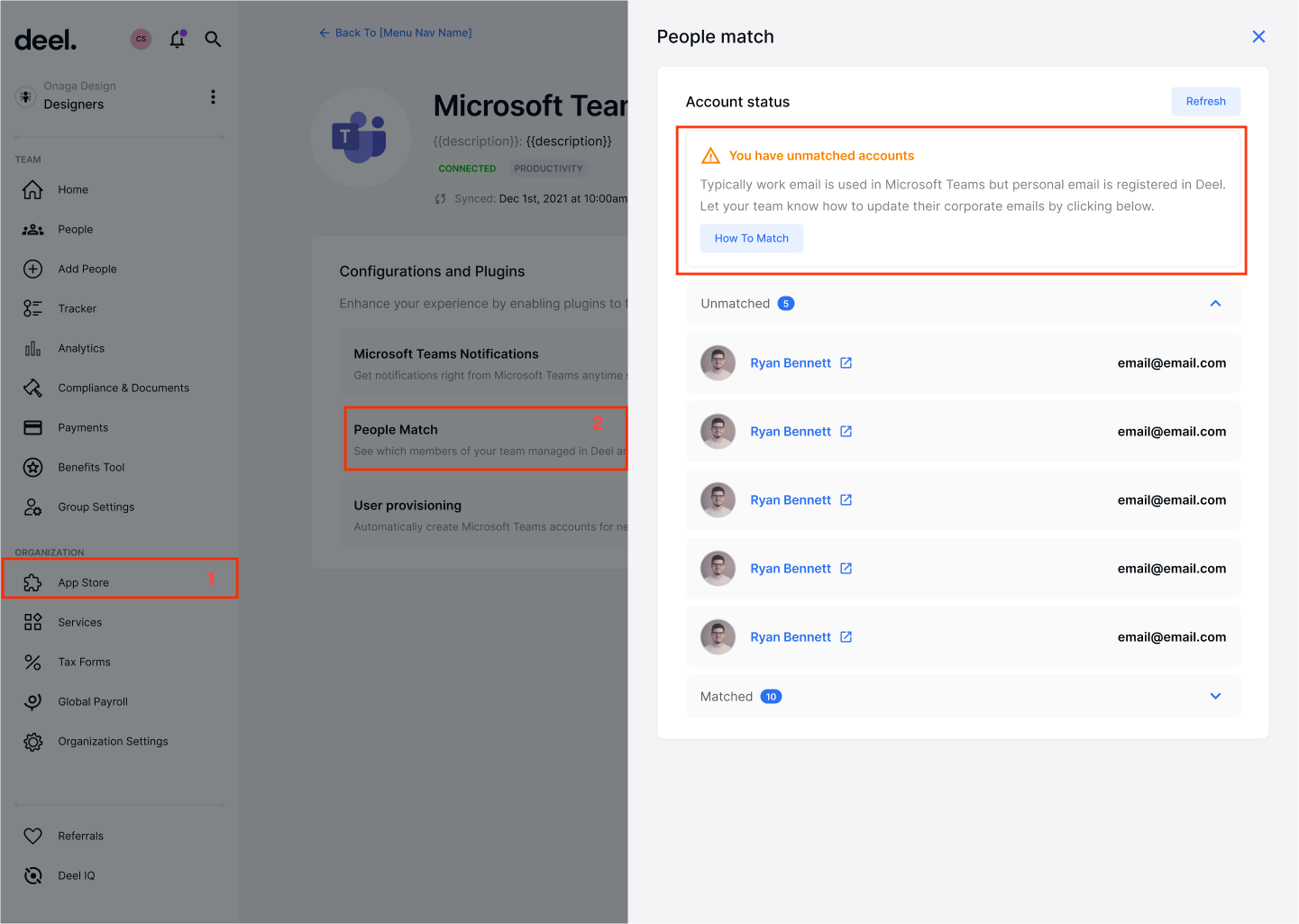 User Provisioning Plugin
This plugin simplifies the process of setting up Microsoft Teams accounts for new employees and revoking access when they leave the company. During onboarding, you have the flexibility to decide when the new hires get their Microsoft Teams access - whether it's before, on, or after their start date. You can also establish password guidelines like generating randomised passwords, personalising passwords, and mandating users to update their passwords upon their initial login. In the same way, during off-boarding you get to decide when accesses are revoked which saves time and ensures a consistent experience for all.