Pay as you go contracts are a good choice when a contractor is paid as they complete the work or submit the working hours (days or weeks). The creation process is simple and can be initiated by the client or the contractor.
Step 1
Go to your dashboard and click on "Create new contract", then select Pay as you go. Fill in the information and scope of work. This will be used in contract generation, so we suggest adding as many details as possible.
Step 2
Choose how the contractor will be paid (per day, week, month or task) and the amount
If necessary, enable the option for the Client to be the only one to submit work: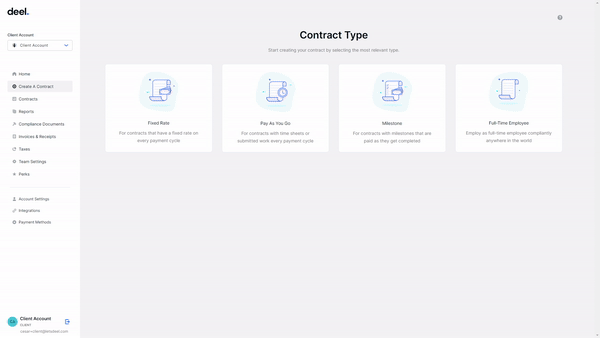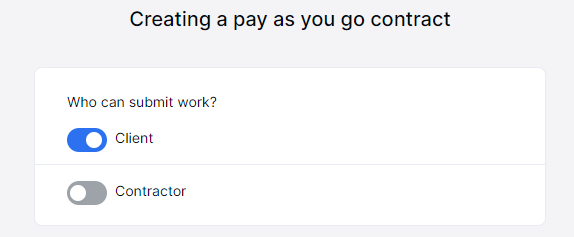 ‍
Step 3
Choose the payment cycle or how often the contractor will be paid (every week, every two weeks, every month or twice per month):
Every week - select a day when the payment is due weekly

Every two weeks - select a day when the payment is due every other week

Every month - select the last day of the month or any other specific date as the payment due date.

Twice per month - select the 15th and the last day of the month or two specific dates as payment due dates.
Step 4
Then you can add a termination date, change days of notice before the contract is terminated (10 days by default), offer stock options as well as any additional documents and special clauses if required‍. Use the Deel contract or upload your own signed copy of the contract.
‍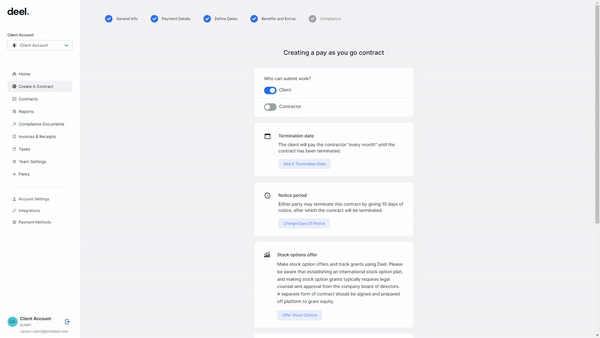 Contract activation:
The contract will be activated when both parties have signed the contract.
You can invite your contractor or client to sign the contract by adding their email address. You can include a note to the invitation. Alternatively, you can copy the Deel contract link and share it with them directly. You can preview and download the contract PDF before signing. If there is anything that needs to be changed, you can click on "Create New Template" and make the edits.
‍