Verifying your account will help unlock all of Deel's features such as withdrawing your clients' payments and many others.
Introduction to Account Verification
Deel works directly with banks and payment providers, which requires us to perform a KYC verification (Know Your Customer).

This is a process where we verify your identity in order to mitigate potential risks of illegal intentions - you can learn more about KYC here.
How do I know if my account is Verified/Unverified?
After setting up your account, you will see that Verification is needed in order to use all of Deel's features. Your settings will display the message "Unverified" until you complete the verification process.‍

Where to start?
Our verification process is easy and only takes a few minutes, thanks to our partner Veriff.
Here is what you need to do:
Start by clicking the "Verify" button on your verification tab on your Settings.
A pop-up will appear and take you through Veriff's process.
You will be requested to take and submit a selfie and a photo of your government-issued ID.
Once submitted, you just need to wait for the scan to be completed and your verification confirmed.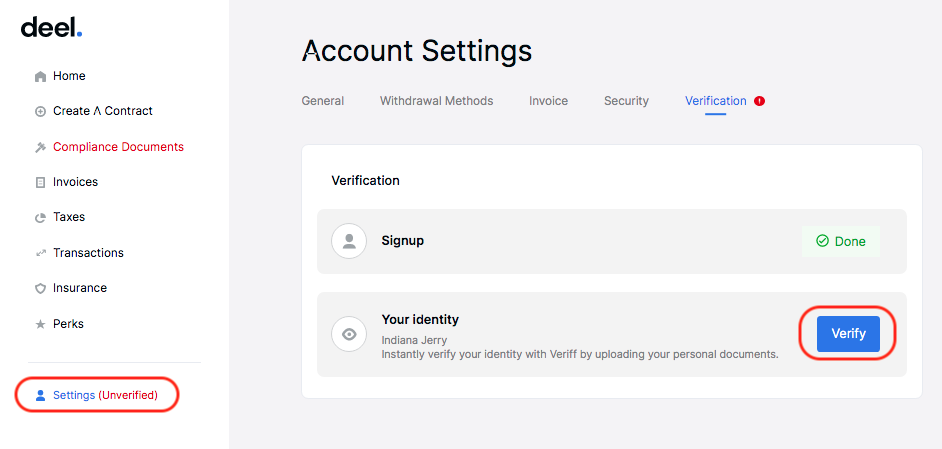 What if my document couldn't be verified in Veriff?
If the document can't be verified via Veriff, you'll be prompted to follow a different verification process from Account Settings.



Upload all the documents required by using the "alternate method" in the red pop-up and submit them for review. The process will take up to 2 hours.

If you have any questions, please don't hesitate to reach out to our 24/7 Support team - we're here to help! You can contact us at support@letsdeel.com.