Clients can set up different teams on Deel to easily view and manage their contractors and employees.
For example, you can set up a different team for tech support workers, and for delivery drivers, and for graphic designers.
In this article:
Benefits of creating teams in your organization
Benefits of creating teams
Creating teams makes it easier for you to manage your contractors or employees.
It also allows you to create managers (and org admins) for each team, limiting their ability to view and manage information that is only relevant to their role.
Other benefits of setting up teams include:
Creating teams within the Deel account to manage multiple items on a team-by-team basis (contracts, payments, invoices, etc.)

Having a dedicated set of admins for each team, where each admin will only be able to see the information that is relevant to them.

Allocating different payment methods for each team, which is a great benefit for clients that use bank accounts from several countries
Adding a new team
✅ Step 1 – Add new team
Select the Options menu on your home page and click Add A New Team.
You can also review existing teams, make changes, and add teams by selecting the Organization Settings tab on your home page, selecting the Teams tab, and clicking Add team.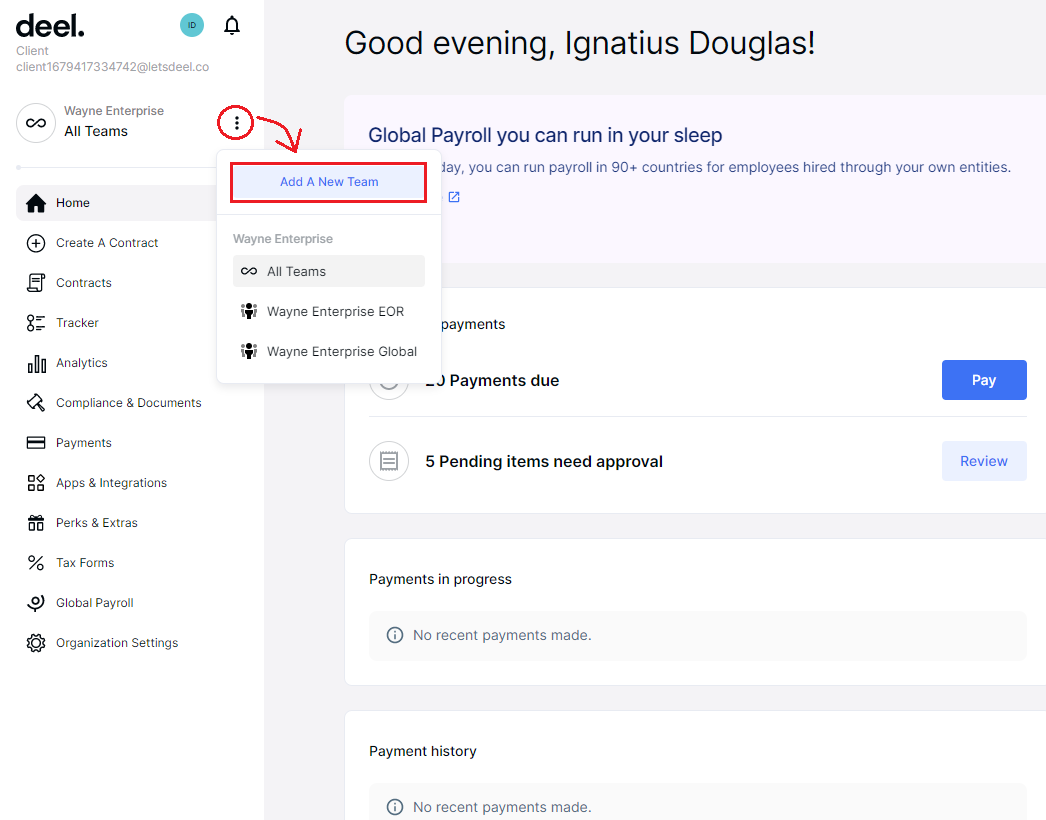 ✅ Step 2 –
Name the team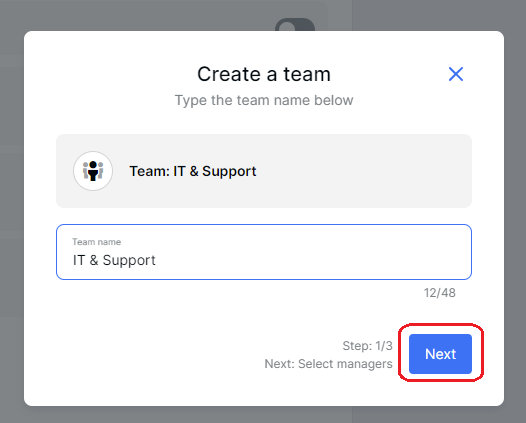 ✅ Step 3 – Add managers
Check the box next to the managers you want to add the team.
You can also search for a manager by entering a name or email address.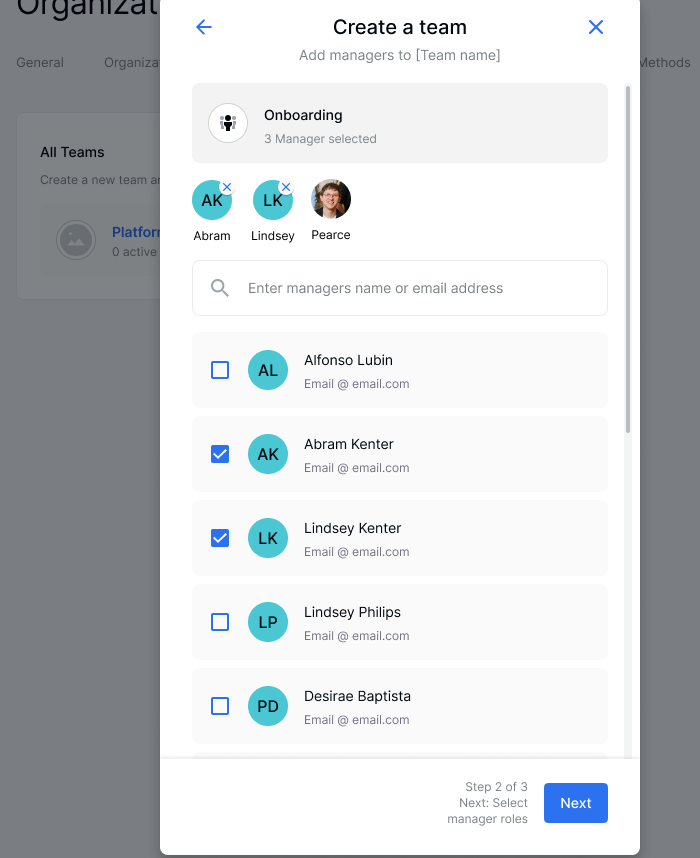 ✅ Step 4 – Select the role for each manager
Click Assign Role to assign the worker one of the seven roles that we offer for team managers:
Team Admin : Admins have the highest permission level and can manage all team settings
People Manager and Payer : Can manage people and contracts, and adjust and perform payments
People Manager : Can manage people and contracts and adjust payment items.
Payer : Can perform payments, adjust payment items, and file tax forms.
Onboarding Specialist : Can create, edit and set end date for contracts.
Viewer (Sensitive Data) : Can view both personal details and professional sensitive data
Viewer (Non-Sensitive Data) : Can only view non-sensitive professional information
Please see What Are The Different Roles For Team Managers In Deel? for a more comprehensive breakdown of what each manager role is permitted to do within the team.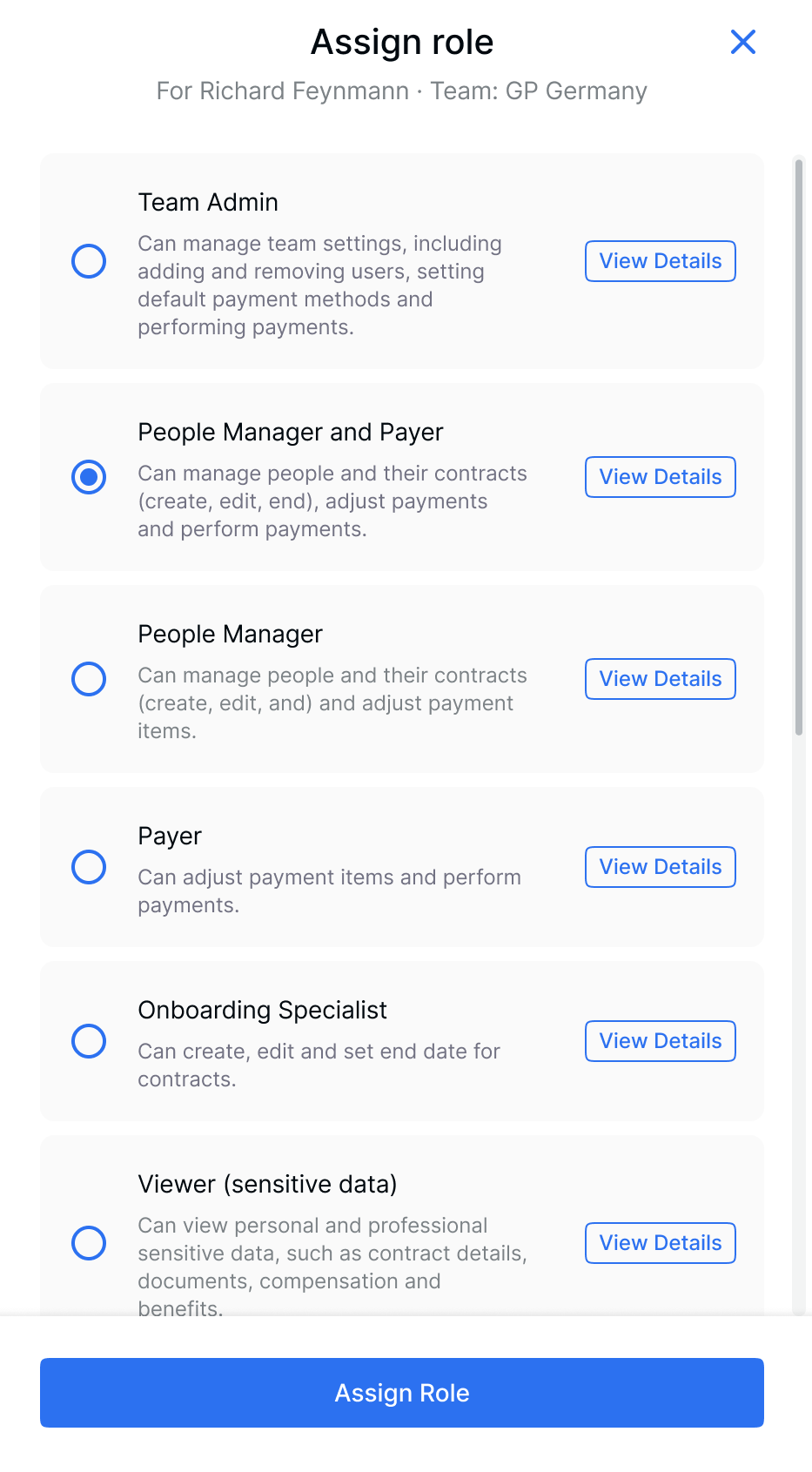 ✅ Step 5 – Create Team
You can only create the team when every manager has a designated role.
Team Admins can add managers and edit roles, but only in their team.
Organization Admins can edit roles and permissions, and add or remove managers, to any team.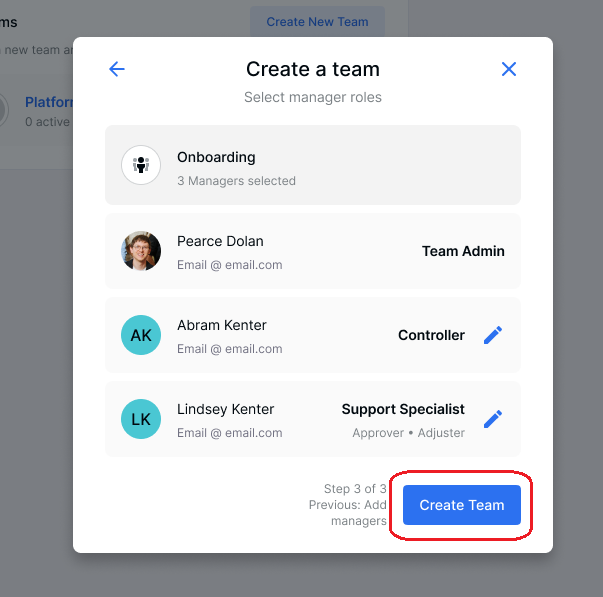 Editng team manager roles
✅ Step 1 – Open managers list
Select the (1) Organization Settings tab on your home page and then select (2) Managers
Click the manager's name that you wish to edit access.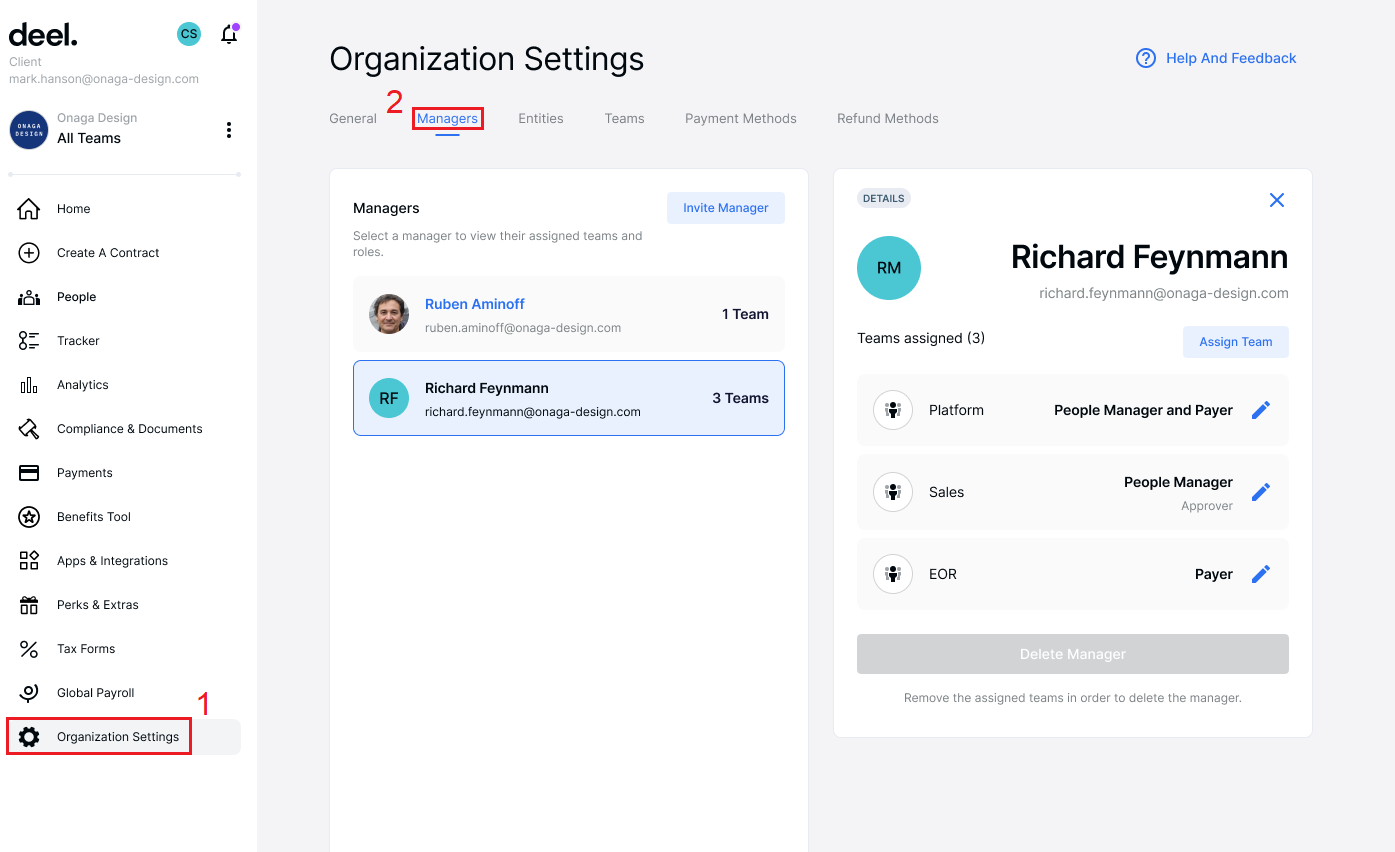 ✅ Step 2 – Edit or delete manager role
Click the blue pencil edit icon to change the manager role or remove from teams.
Click Assign Team to assign the manager to additional teams.
You can remove all manager access by clicking Delete Manager.