This article explains how clients can create a Milestone Contract for independent contractors in a few simple steps.
You can also create Fixed Rate or Pay As You Go contracts for contractors.
✅ Step 1 – Create an Independent Contractor Contract
Select the (1) Create a Contract tab on your home page then click the (2) Contractor box.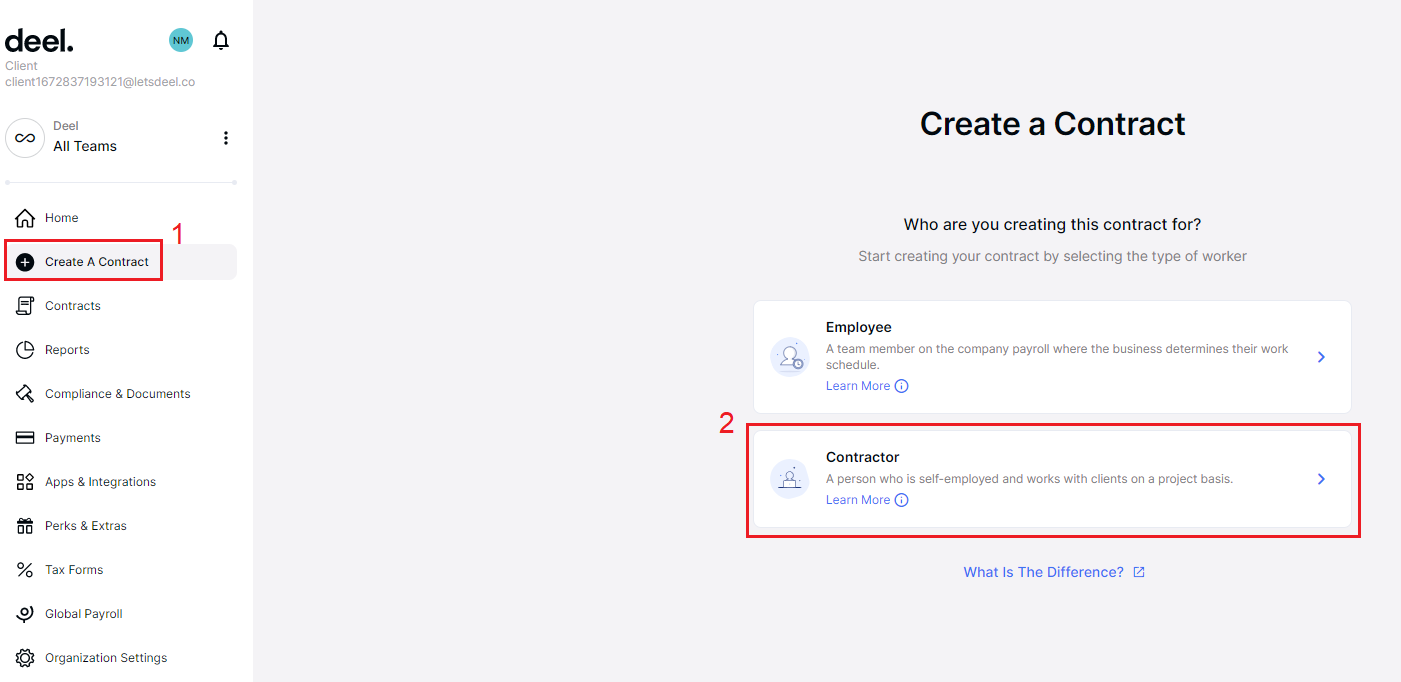 ✅ Step 2 – Select Milestone
Contractors with milestone contracts receive payment as they complete pre-determined project milestones.
You can not issue off-cycle payments, and there isn't a regular invoice cycle with this contract type.
From your Organization Settings tab, you can later permit contractors to mark milestones as complete.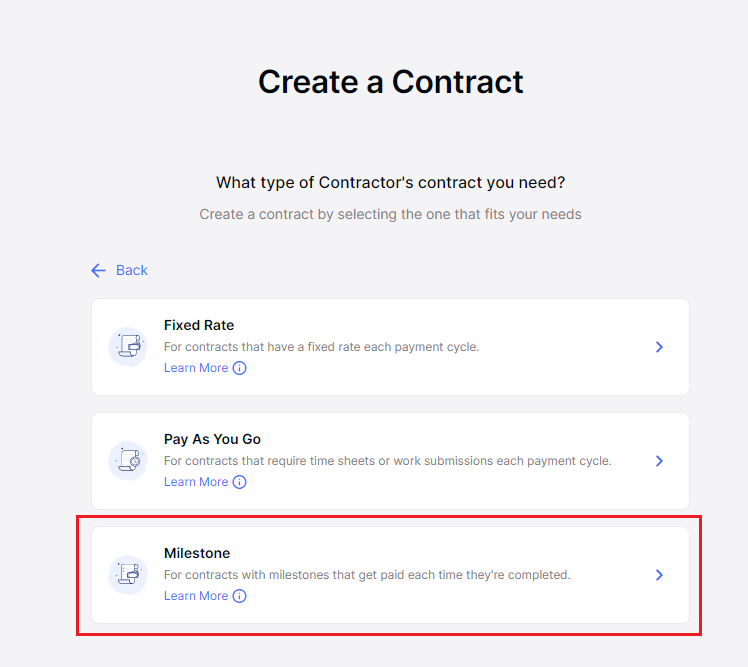 ✅ Step 3 – Enter contract details
Choose the Team and Entity, and fill out details like the contractor's tax residence and job title.
You can use one of our saved prompts for scope of work if useful.
After you fill out all required general information click Next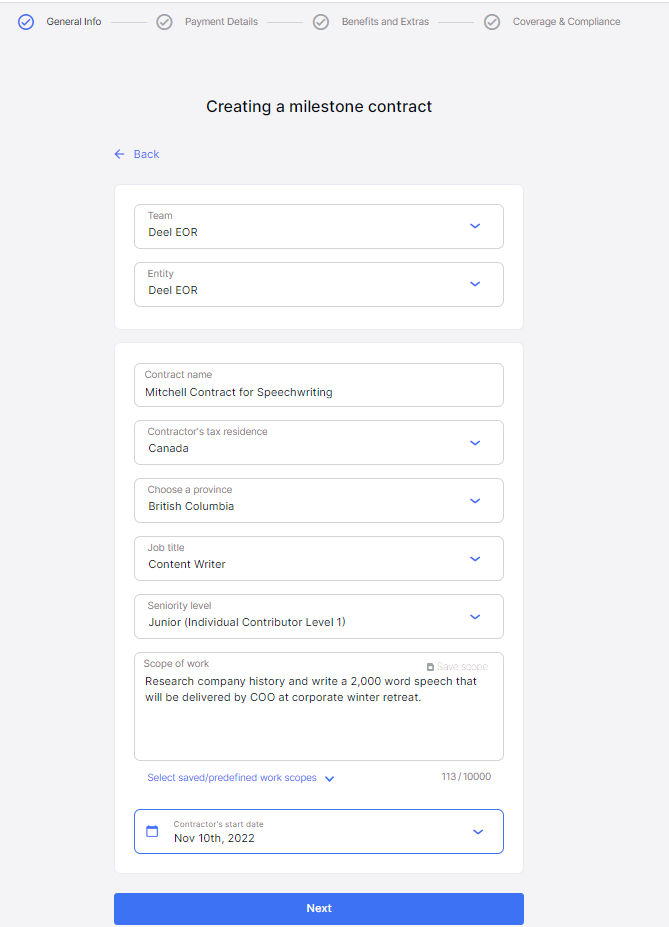 ✅ Step 4 – Enter Payment Details
Select the currency you will use for payment and provide details about the milestones.
Enter the amount that you will pay after the contractor completes the listed milestone.
You can attach a file, if needed.

Click Add A Milestone to add more milestones.
Click Next when finished.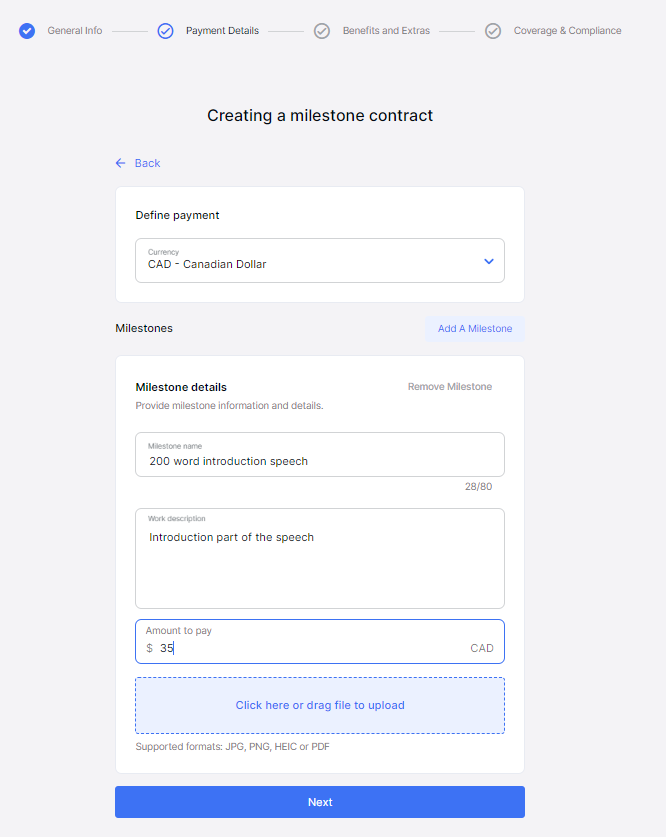 ✅ Step 5 – Add further details
You can choose a termination date. This means that you will pay the contractor after each milestone is completed, until the contract has been terminated.
A notice period can be created where either party can terminate the contract after the designated notice period.
You can also establish a Stock options offer.
Add any additional documents that you want to include in the contract, and you can even add a special clause to outline terms of a unique scenario.
✅ Step 6 – Upload Contract
You can upload your own pre-signed contract, or use Deel's standard contract that is locally compliant.
You can choose to require that the contractor upload standard identification and compliance documents, as per their local labor laws.
Click Create Contract.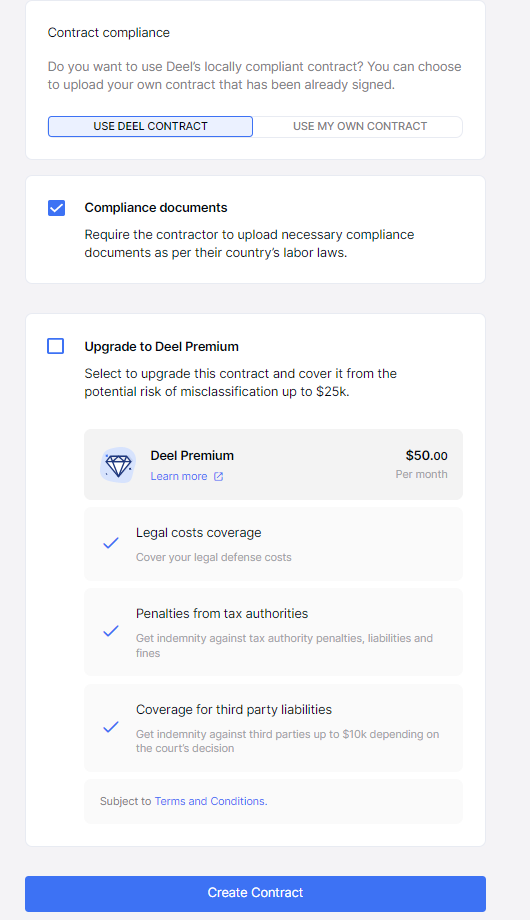 ✅ Step 7 – Confirm details and sign contract
Congratulations! The milestone contract has been created.
Review the contract details then click Review & Sign. You can then invite the contractor to sign, as well.
You can preview and download the contract PDF before signing.
You can include a personalized message with your invitation. Alternatively, you can copy the Deel contract link and share it with the contractor directly.
You can click Switch Signing Order to have the contractor sign first.
The contract will only be activated when both parties have signed.
Note: You can always add more Milestones to the existing contract, instead of creating a new one.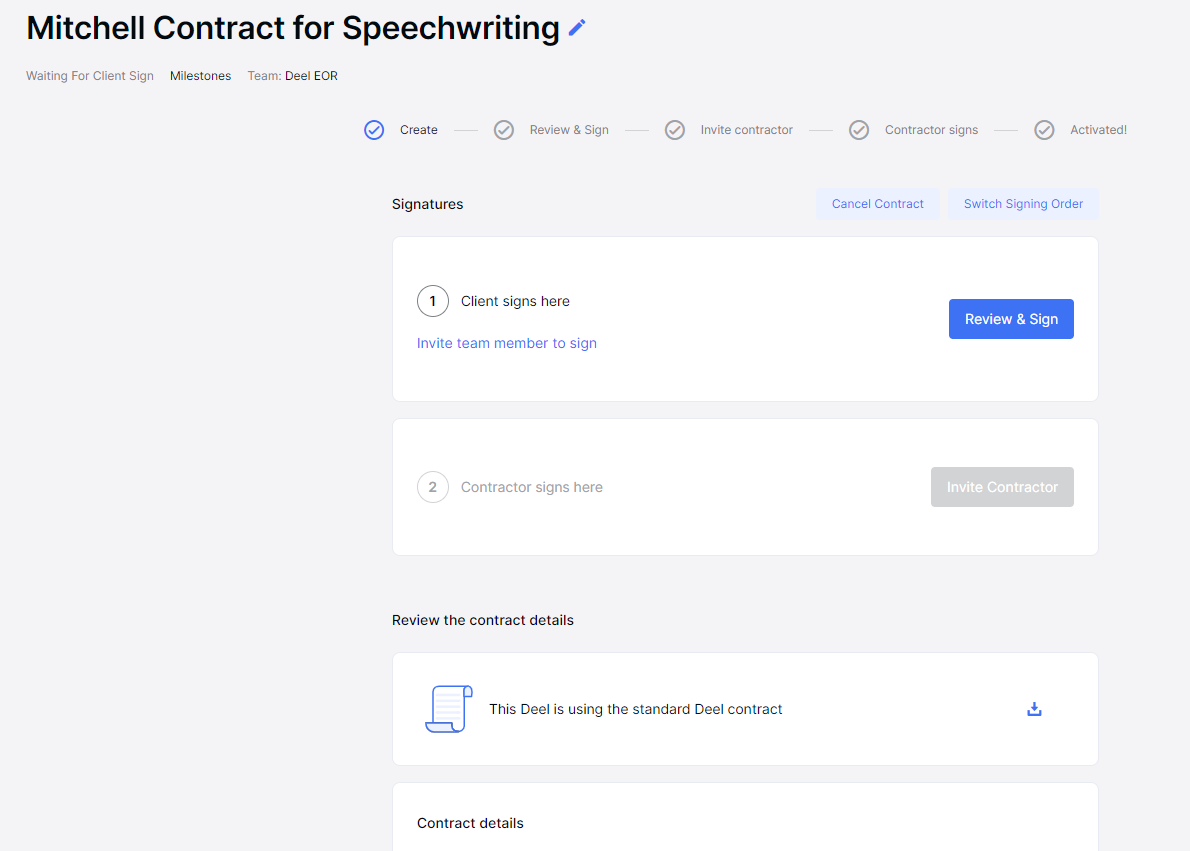 From your Organization Settings tab, you can toggle on the option to let contractors mark a milestone as completed.
This option means you won't have to manually approve each milestone achievement.