This article explains how clients can submit an amendment request to amend the Scope of Work or the Employment Agreement for an EOR full-time employee.
Amendments allow you to legally adjust certain employment-related details like job title, salary, scope, and more.

An amendment can only be created once the Scope of Work document has been signed
In this article:
How to submit an amendment request
What can and can't be amended in a contract
How to submit an amendment request
Jump to video tutorial
✅ Step 1 – Open an EOR employee contract
Select the (1) Contracts tab on the home page and (2) click on a full-time employee's name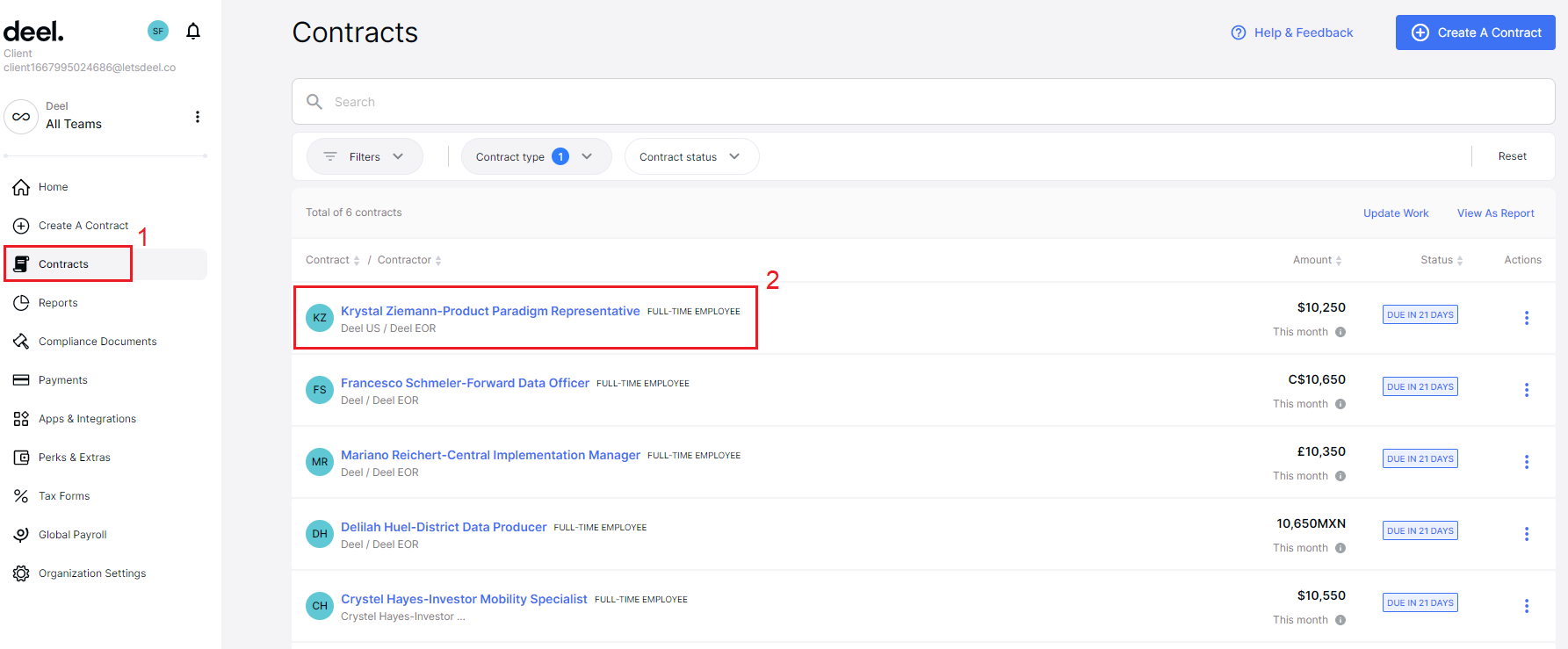 ✅ Step 2 – Click
Request Amendment
Select the (1) Contracts Details tab and (2) click Request Amendment in the amendments section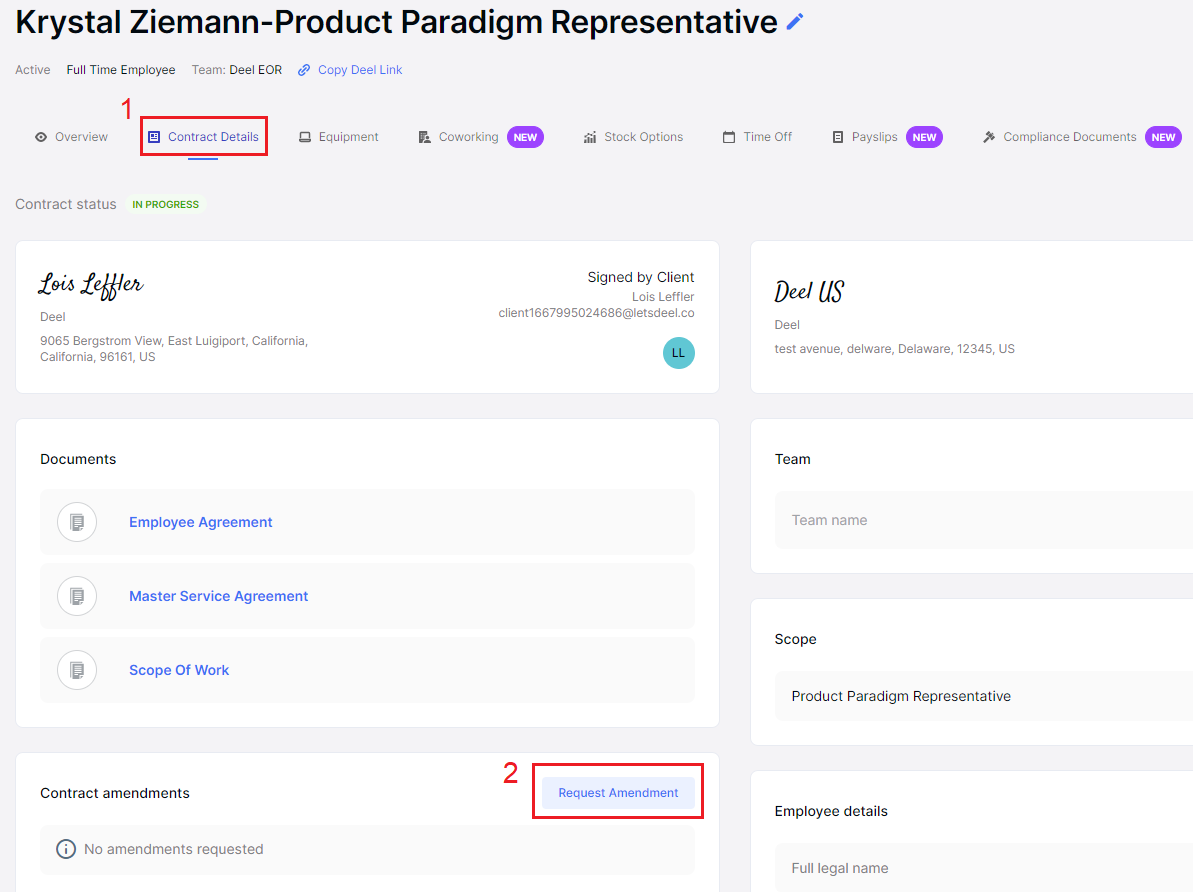 ✅ Step 3 – Click
Request Amendment
It takes approximately three business days to process the request and for it to become active, if approved.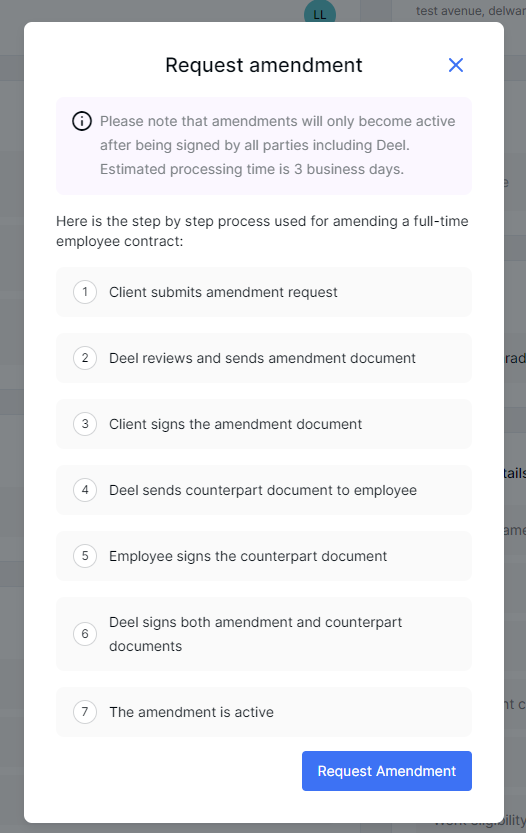 ✅ Step 4 – Click
Amend
on the section where you want to make changes
You can make multiple contract amendment requests, across different contract detail sections.
But you can not submit further amendment requests while an active request is still under review. So please include all your known amendment requests at once, before submitting.
Click Update after making your changes.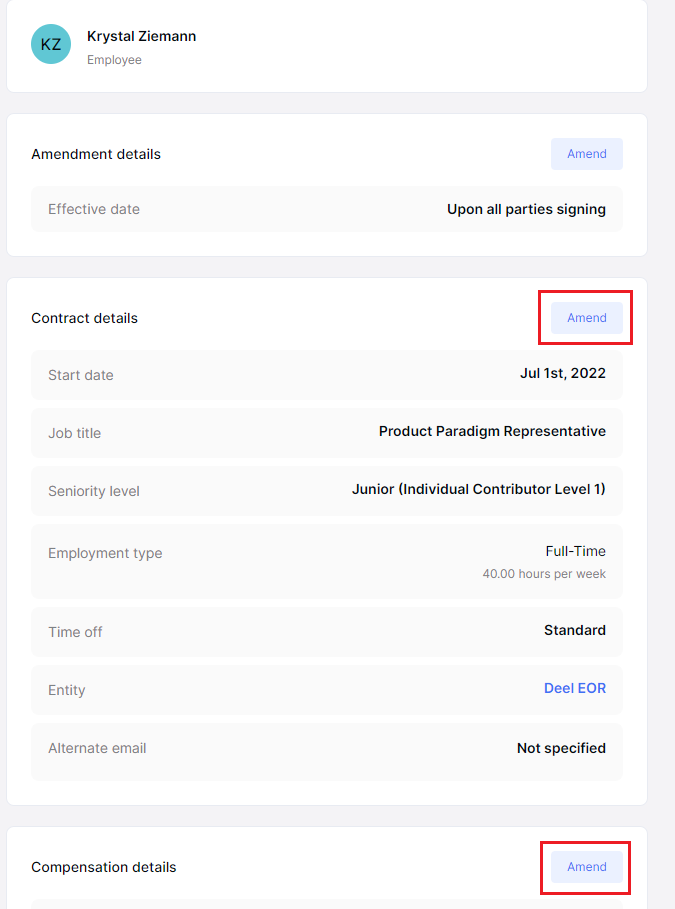 ✅ Step 5 – Click
Send Amendment Request
You can review the status of the request in employee's contract overview page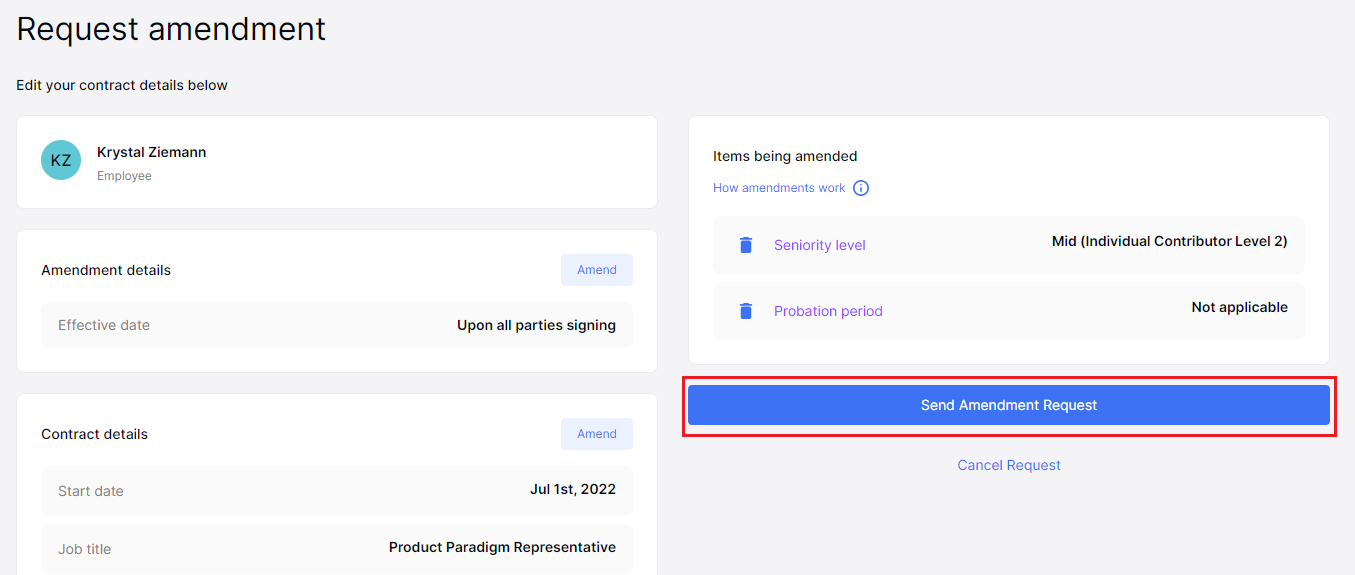 Video tutorial
The EOR Amendment Request Process
Client requests an amendment

The EOR team reviews the request and sends amendment documents to client if the change is approved

Client signs the amendment

Deel sends counter-amendment to employee

Employee signs the document

Deel signs both the client and employee's amendments

The amendment is now active
Items that can be amended in an EOR contract:

Amendments may be accepted or rejected based on the employer of record (EOR) team review.
✅ Moving start date to later date
We can push back the start date of a contract, to delay the employee's first day. We can not backdate start dates to a signed contract. For example, we can not amend the start date from June 15 to June 3.

If you need to backdate an employee's start date, an alternative can be adding a signing bonus to the first pay.
✅ Employee nationality
This amendment will require the employee to upload a new Proof Of Work document allowing them to work in the employment country
✅ Job title
For compliance reasons, we are unable to accept C-level or Founder job titles

C-level and founder titles may be changed to "Head Of" or "Director" to permit EOR contract services
✅ Scope
✅ Seniority level
✅ Contract term
✅ Salary
✅ Time off
Items that can't be amended in an EOR contract:
❌ Type of hire: Demotion from Manager > Employee
You can not demote from Manager to Employee if the Employment Agreement has been signed by the employee, but it is possible to demote if the EA hasn't been signed.
❌ Standard working schedule:
We can not force full-time employees to work hours in a different time zone than their employment country. For example, US employees can not work a standard working day based on Australian hours.
❌ Decrease in holiday days below the statutory minimum
The employee must have the minimum number of holiday days, as per their country's national law. National bank and public holidays in the employee's country have to be observed, but not public holidays in the client's country.
❌ Create an 'unlimited PTO' policy
You can leave the time-off as standard in the contract and make a direct arrangement with your employee, if you wish.
❌ End date
We can't change the contract termination terms from an indefinite period to a definite period if employee has already signed their agreement
❌ Employee full legal name
Minor typos and edits may be processed as an on-platform amendment, pending the Deel EOR team review
❌ Mentioning Deel or Client Details in Scope of Work
The Scope of Work must be generic to the role
FAQs
[ACCORDION]

Why has my amendment been rejected?
A: Deel ensures that all requested amendments are fully compliant. If your amendment has been rejected, this may be because it is not possible because it is not legally compliant.
To discuss this further, reach out to your Deel point of contact.
[ACCORDION]

Will I know why an amendment request was rejected by Deel?
Yes. If we reject an amendment, we will send you an email clearly explaining the reason for the rejection.
[ACCORDION]

What if an amendment affects payroll?
If you request an amendment that affects payroll or invoices after the cut-off date, it is reflected in the next pay cycle.
[ACCORDION]

I can't see an amendment for the contract details I'd like to change. What should I do?
If you can't see where you can make the change yourself, please contact us or reach out to your Deel point of contact.
[ACCORDION]

Will I need to increase my deposit to make contract changes?
Possibly, depending on the type of amendment you are requesting. A salary increase or increasing the number of holiday days may require an additional deposit.
A member of the Deel team will reach out directly if it is necessary to adjust the deposit amount.
[/ACCORDION]