To make adjustments to a signed contract, you may request an amendment. Here's how:
✅ Step 1 – From your Deel Dashboard, click the Contracts tab
✅ Step 2 – Select the specific contract that you wish to amend
✅ Step 3 – Go to the Contract Details tab, and click Request Amendment

✅ Step 4 –

Click Request Amendment from the pop-up window
✅ Step 5–

Make your desired adjustments to the contract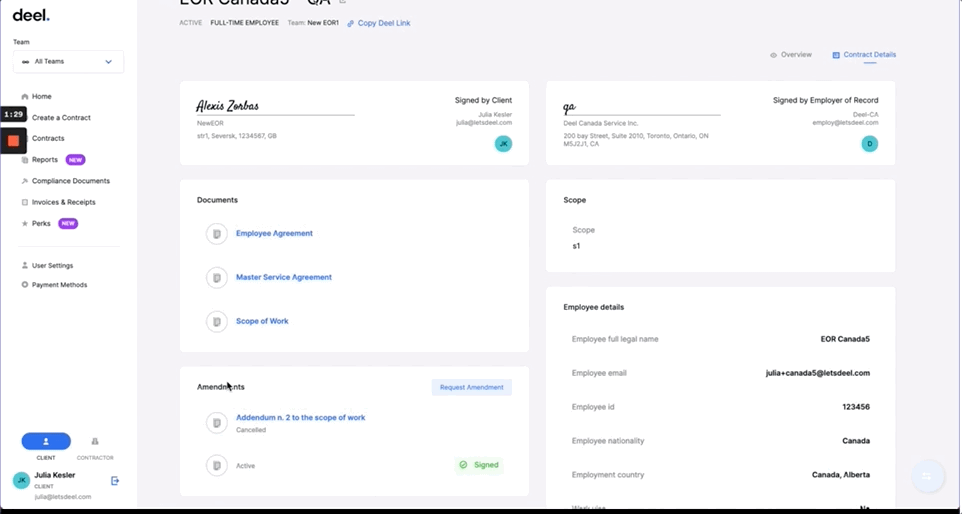 NOTE: It takes approximately three days to process amendments
The flow of an EOR amendment is:
The client requests an amendment

The EOR team reviews and sends the amendment documents to the client if the change is approved

The client signs the amendment

Deel sends counter amendment to the employee

The employee signs the document

Deel signs both client & employee's amendments

The amendment is now active
What can & can not be amended
Clients can make amendments to:
Contract details

Job title
Type of hire
Employment type
Work schedule
Holidays

Payment details

Scope

End of contract
Employee details

Employee full legal name
Employee nationality
Employee Passport or ID number
Amendments may be accepted or rejected based on the employer of record (EOR)team review. If an amendment is rejected, the reason for rejection is communicated to the client via email.
If the client requests an amendment that affects payroll or invoices after the cut-off date, it is reflected in the next pay cycle.
Note: An amendment can only be created once the employment agreement has been signed.