Deel Clients have many payment methods available to settle their invoices.
While Direct Debit is the recommended method, some clients may need to send international bank transfers through the SWIFT network.


Local bank transfers can take two to three business days to process.
International (SWIFT) bank transfers can take three to seven business days to process
✅ Step 1 – Click Pay on your home page
Your home page will show you have many payments are due. You can also access this information from the Payments tab.

✅ Step 2 – Select the contractors you are including in the payment
By default all groups will be checked so you can pay everyone at once.
However, you can mass unselect all your groups and choose only individual contractors you wish to pay.
Then click Continue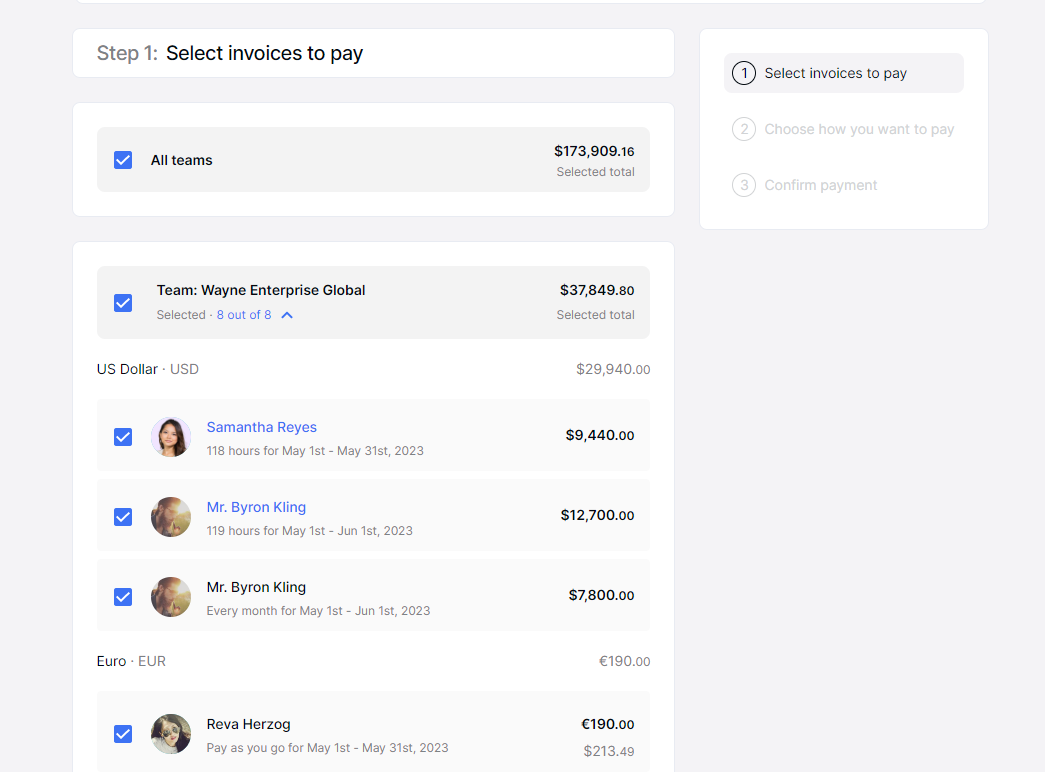 ✅ Step 3 – Select Manual Transfer
Manual transfers are done outside the Deel platform through your local bank account.
Based on the country and currency you select, you will see the relevant details for making either a local transfer or SWIFT transfer.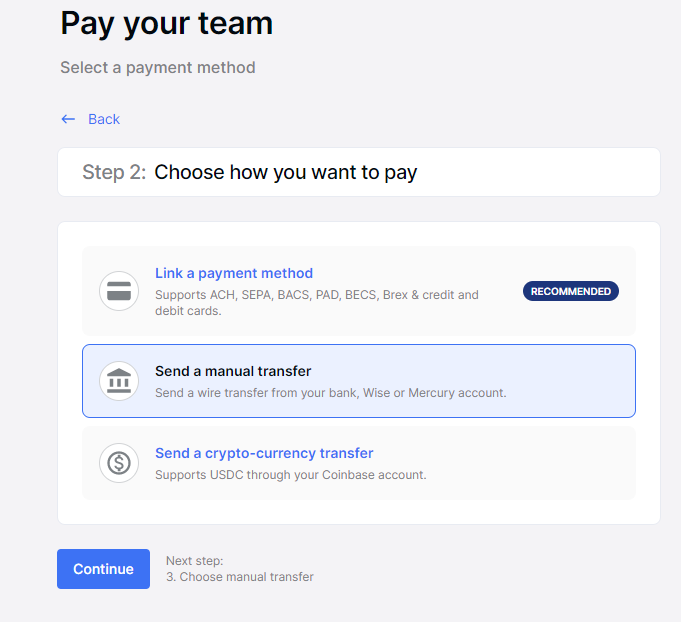 ✅ Step 4 – Select Bank Transfer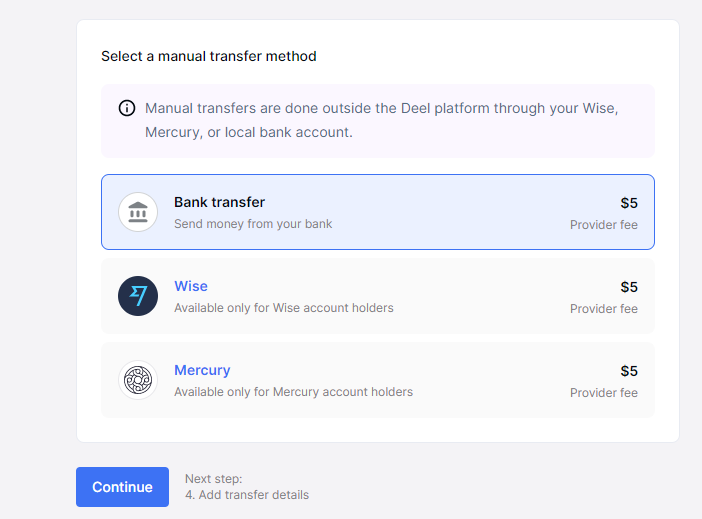 ✅ Step 5 – Add transfer details
Based on the country and currency you select, you will see the relevant details for making either a local transfer or SWIFT transfer.

✅ Step 6 – Review payment summary
Confirm the details are correct and click Continue to Pay.
After generating the invoices, you must send payment from your bank account.
Note: you won't be able to make changes after generating the invoices.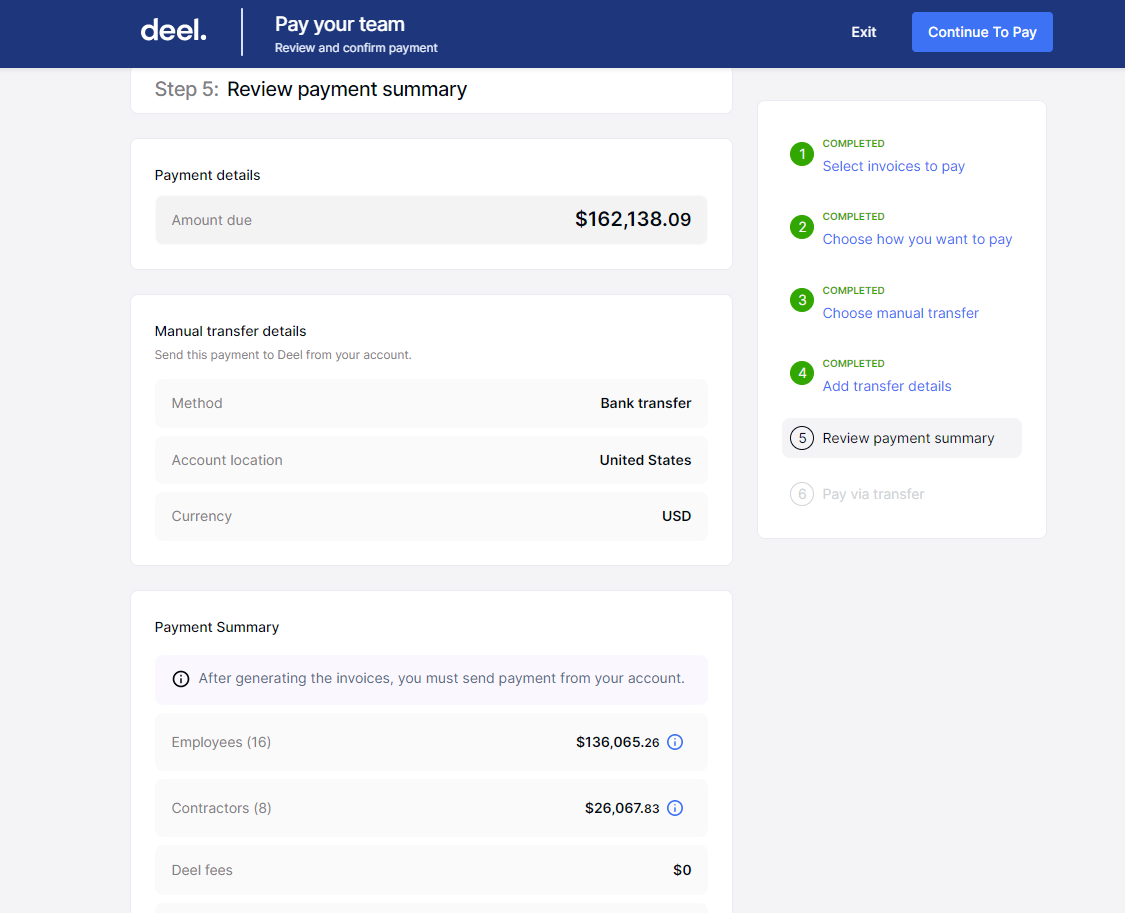 ✅ Step 7 – Send money from your bank
You can download the invoice on this page. Once the invoice is generated, you must send the payment manually from your bank.
If we receive the funds late, then your workers may be paid late.
Please copy the Deel reference number listed in the invoice details box. 
This number is how we reconcile invoices to payments, so please copy the number for your records.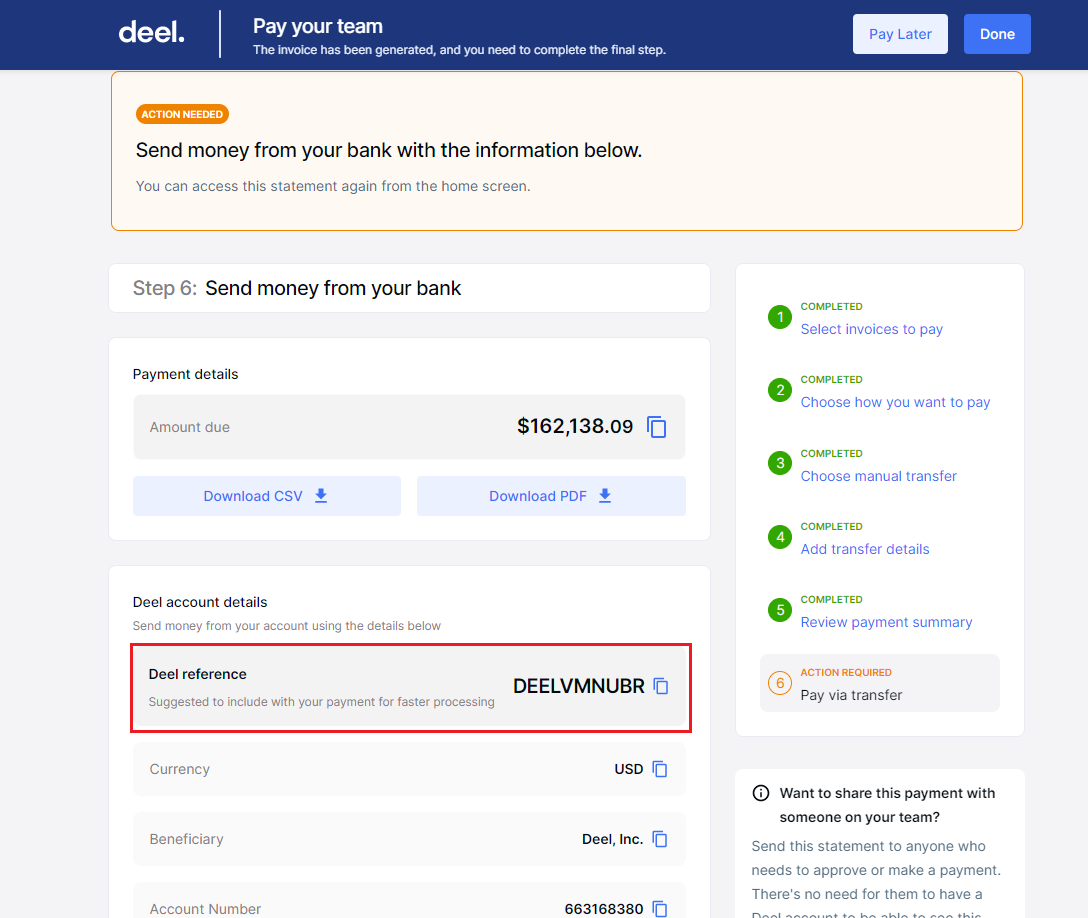 Frequently Asked Questions
What do the "OUR," "BEN," and "SHA" options mean in the Details of charges section?
You can specify how transfer-related fees are handled when initiating an international bank transfer via SWIFT.
Most banks will charge a transfer fee to send a wire. Your sending bank may also need to route the payment through other banks to complete the payment. These are called intermediary or correspondent banks.
Those banks will often also deduct a fee from the amount before it reaches the final recipient. The total amount of these fees depends on your bank and intermediary/correspondent banks involved in processing the payment.
You must cover any transfer fees incurred when paying Deel invoices via international bank transfer, including intermediary bank fees—covering the costs guarantees that Deel receives your payment in full and that your contractors get paid on time. Field 71A (Details of Charges) on the form provided by your bank determines who will pay the transfer fees.
When in doubt, please check directly with your bank and confirm that the beneficiary will not be charged transfer-related fees. This ensures your contractors can be paid out on time.
Note: Always select "OUR" when sending an international wire to Deel.
Selecting OUR avoids additional intermediary bank fees and ensures Deel receives the total amount and can settle your payment immediately.
Options defined
OUR: The sender covers transfer fees in full. The total transferred amount is delivered to the beneficiary. Payments to Deel must be made with OUR instructions.
BEN: The beneficiary covers the transfer fees. Any fees are deducted from the transfer amount. Therefore, the beneficiary receives the transferred amount net of all fees.
SHA: The transfer fees are shared. The sender covers fees charged by the sending bank. Any fees charged later by intermediary/correspondent banks are deducted. The beneficiary receives the transferred amount net of any intermediary bank fees.