Connecting Deel to your HiBob directory allows you to onboard your workers into Deel in just a few clicks.
The integration is a one-way sync from HiBob into Deel.
In this article:
Setting up the HiBob integration on Deel for EOR employees and contractors
Plugin to sync Global Payroll direct employees
Global Payroll payslips plugin
Preparing your HiBob settings
✅

Step 1 -

Create sites in HiBob

Site is a standard field in HiBob used primarily for integration with payroll providers so that we better understand how the employee is getting paid.

To add a new site, please follow the HiBob instructions here.

You must set up your sites on HiBob per country.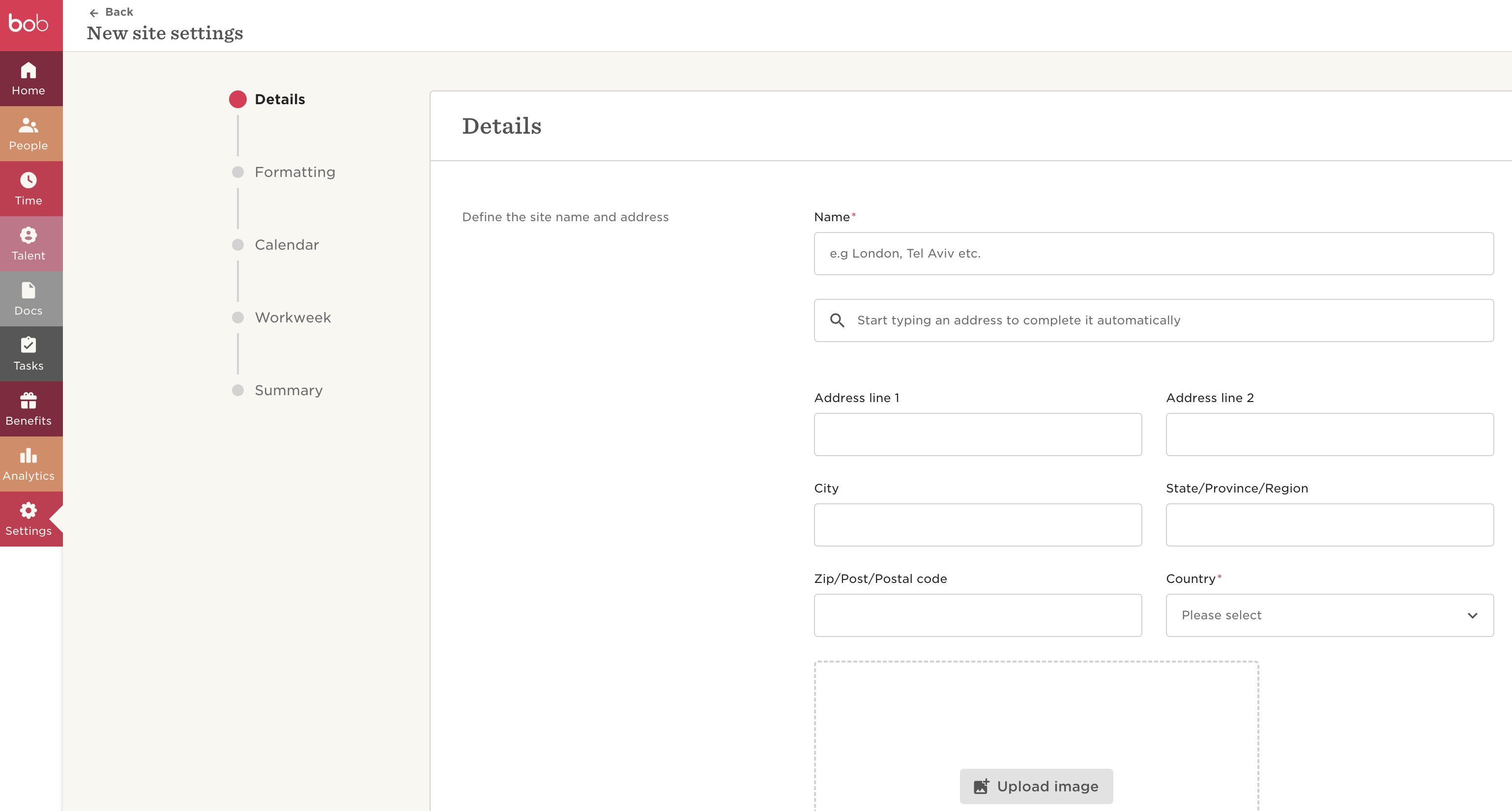 ✅

Step 2 -

Assign sites to employees in HiBob

You need to have permission to edit employee data in HiBob.

Select the Work tab of an employee in HiBob and click on the Site field.

Choose the correct corresponding site from the dropdown menu.

Click Add.

You will need to repeat this step for all employees you want to sync. There will be a sync error if the country of employment for an employee doesn't match the entity country of the pay group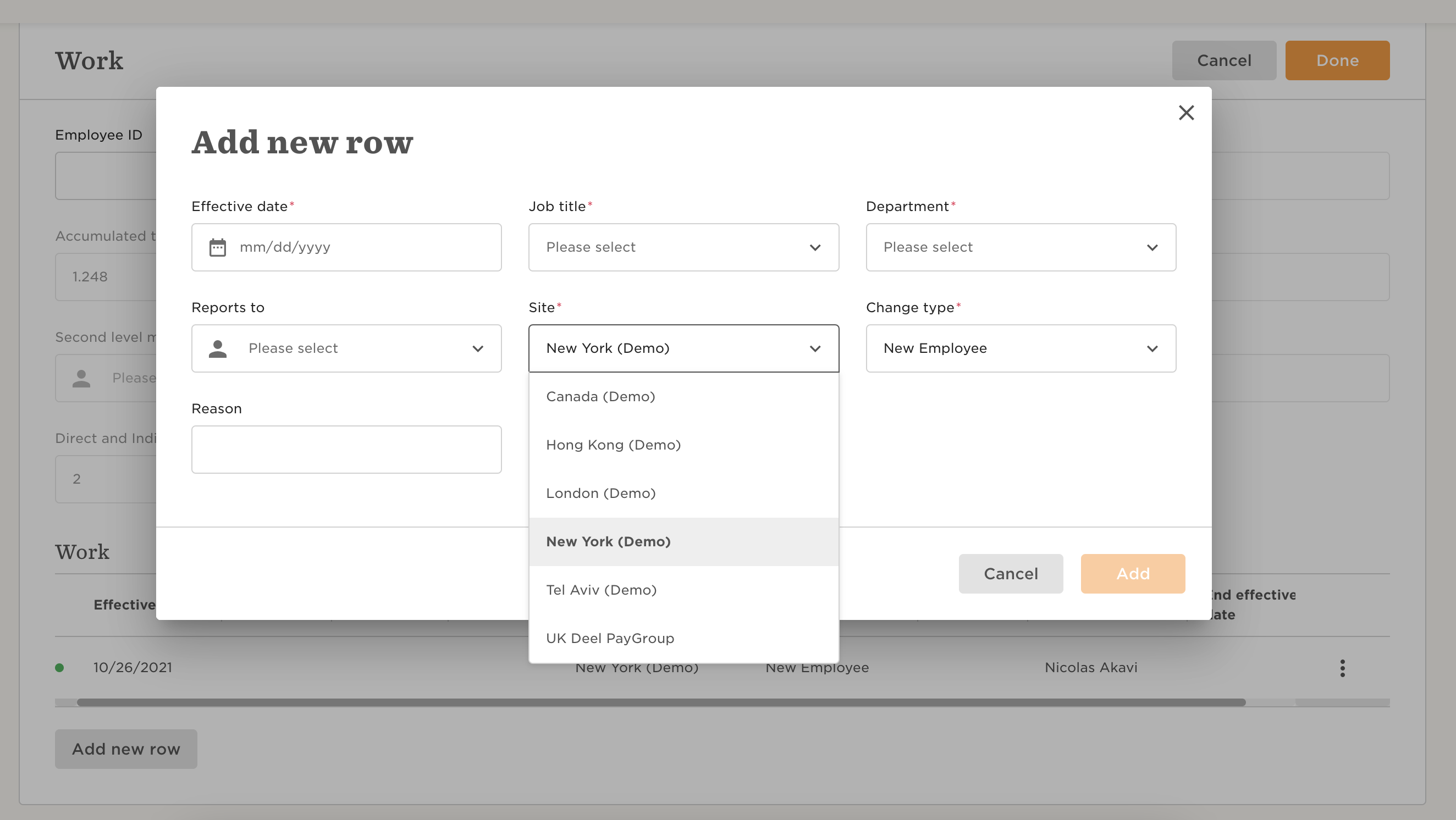 Setting up the HiBob integration on Deel for EOR employees and contractors
If you have Global Payroll direct employees please click here to learn how to sync employee data
✅

Step 1 - Connect to HiBob

Select the (1) Apps & Integrations tab on your home page, click the (2) HiBob integration, and then click Connect to continue.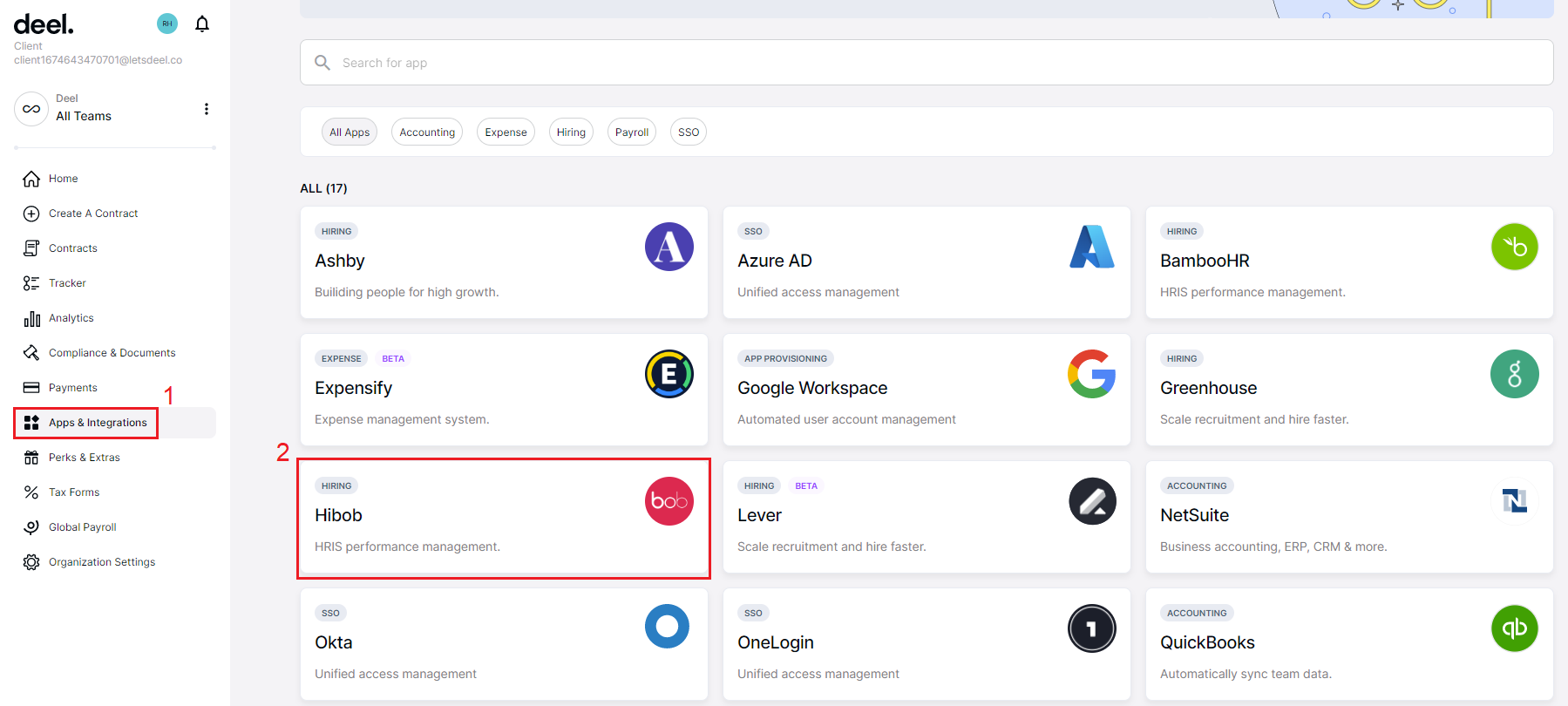 ✅

Step 2 - Enter your HiBob credentials and sync your information

You can do this by either using the User service ID and Token or using an API key:


For the User service ID and Token:
Jump to video tutorial
✅ Step 1 - Sign in to HiBob
✅ Step 2 - Select Settings, and under Account, click Integrations
✅ Step 3 - Select the Service Users app in Automations section
✅ Step 4 - You can either Create New Service User to get credentials, or use an existing service user
✅ Step 5 - To Give permissions to this user, go to Settings -> Account -> Role & Permissions -> Select a group or create a new one (ensure the service user you created is in that group)
✅ Step 6 - The group needs permission to:
a. Company → People → Directory → View the company's people directory
b. Other employees → People → Address → View selected employees' Address sections
c. Other employees → People → Payroll → View selected employees' Payroll sections
d. Other employees → People → Lifecycle → View selected employees' Lifecycle sections
HiBob Service User Settings
For the API key, please:
✅ Step 1 - Sign in to HiBob
✅ Step 2 - Click your avatar in the upper right
✅ Step 3 - Select API Access in the dropdown
✅ Step 4 - Copy and add the Access token
✅ Step 5 - Select all Approved scopes boxes and save



Global Payroll direct employee plugin sync
This plugin will help automate onboarding, amendments, and terminations into Deel for your Global Payroll direct employees.
This process will help you decide which entity team to create or sync Global Payroll contracts for, according to the HiBob site.
✅

Step 1 - Enter the Global Payroll Employee Sync plugin
✅

Step 2 - Select Entity Settings and click Add
✅

Step 3 - Select an entity and select a site

Select a site that matches the entity country. The sites come from HiBob.

Please make sure that the site correctly corresponds to the desired entity that we are running payroll from.
✅

Step 4 - Select a team
✅

Step 5 - Click Apply


Once you have used a pay group and entity you can not use them again.

You will be unable to delete or edit these mappings without first contacting our support team.
✅

Step 6 - Repeat this process for any other desired entities
Data mapping
You may have a customized, tailored field setup and so data mapping is done on a case-by-case basis.
For now, only Deel can perform this step.
Please reach out to your onboarding manager to set up the data mapping.
When the integration is first installed, we install a default mapping packet; however, this can to be customized to your needs.
Syncing data and log report
Once mappings have been completed, you must sync data by clicking Sync HiBob in the integration.
This will run a poll of your HR system and sync details for any employee with a mapped pay group.
You can see the last time a sync happened under the connected status.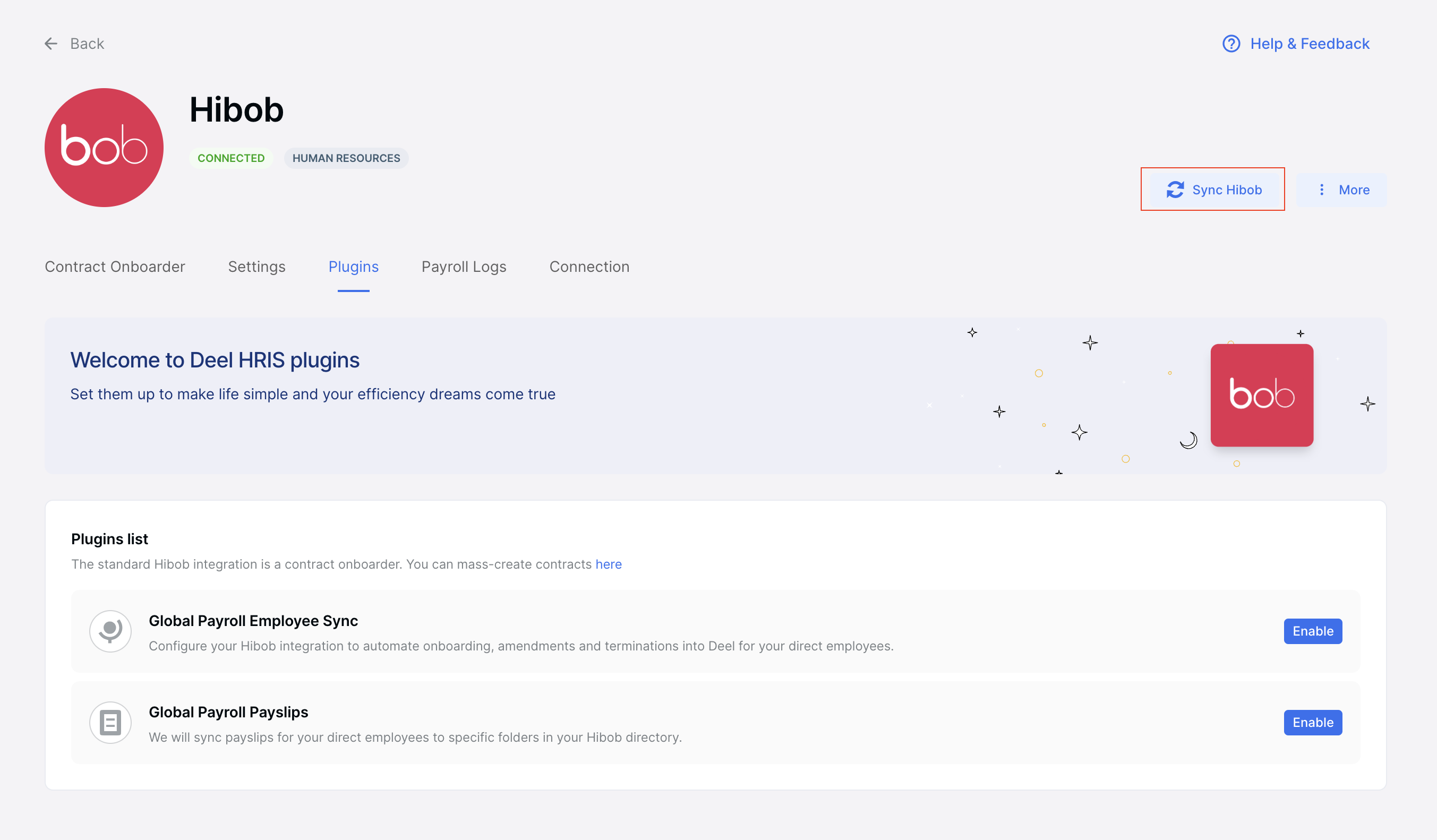 Payroll Logs
The Payroll Logs tab will show you the log report from the last sync.
This report allows you to easily open up a HiBob profile to investigate any issue, or open up a GP contract (if available) to do the same.
If you are unsure about the errors, please contact our support team 24/7.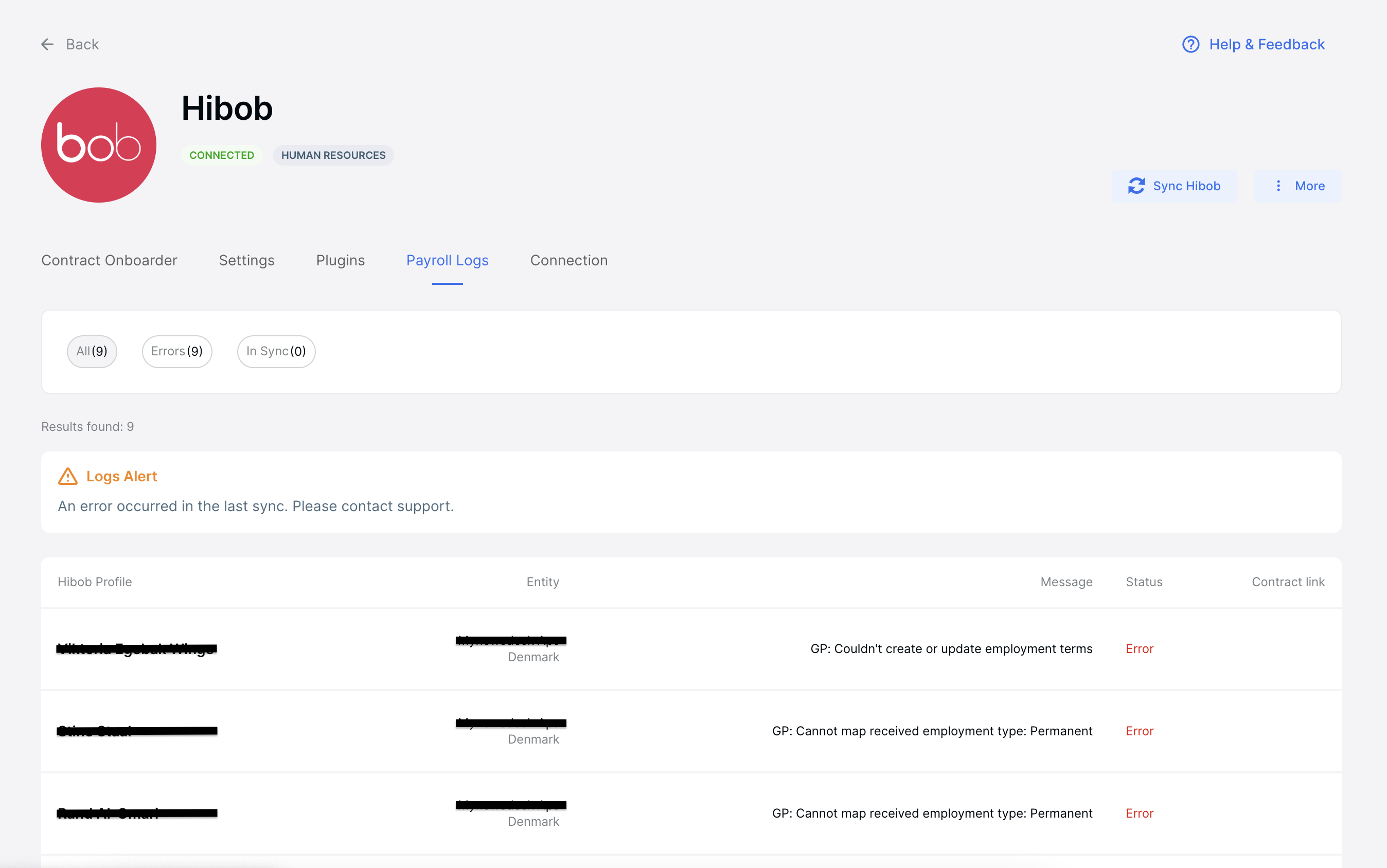 Global Payroll payslips plugin
The integration with HiBob also syncs published payslips directly to a document folder that we create for the employee's benefit.
Select the Plugins tab and click Enable next to Global Payroll Payslips.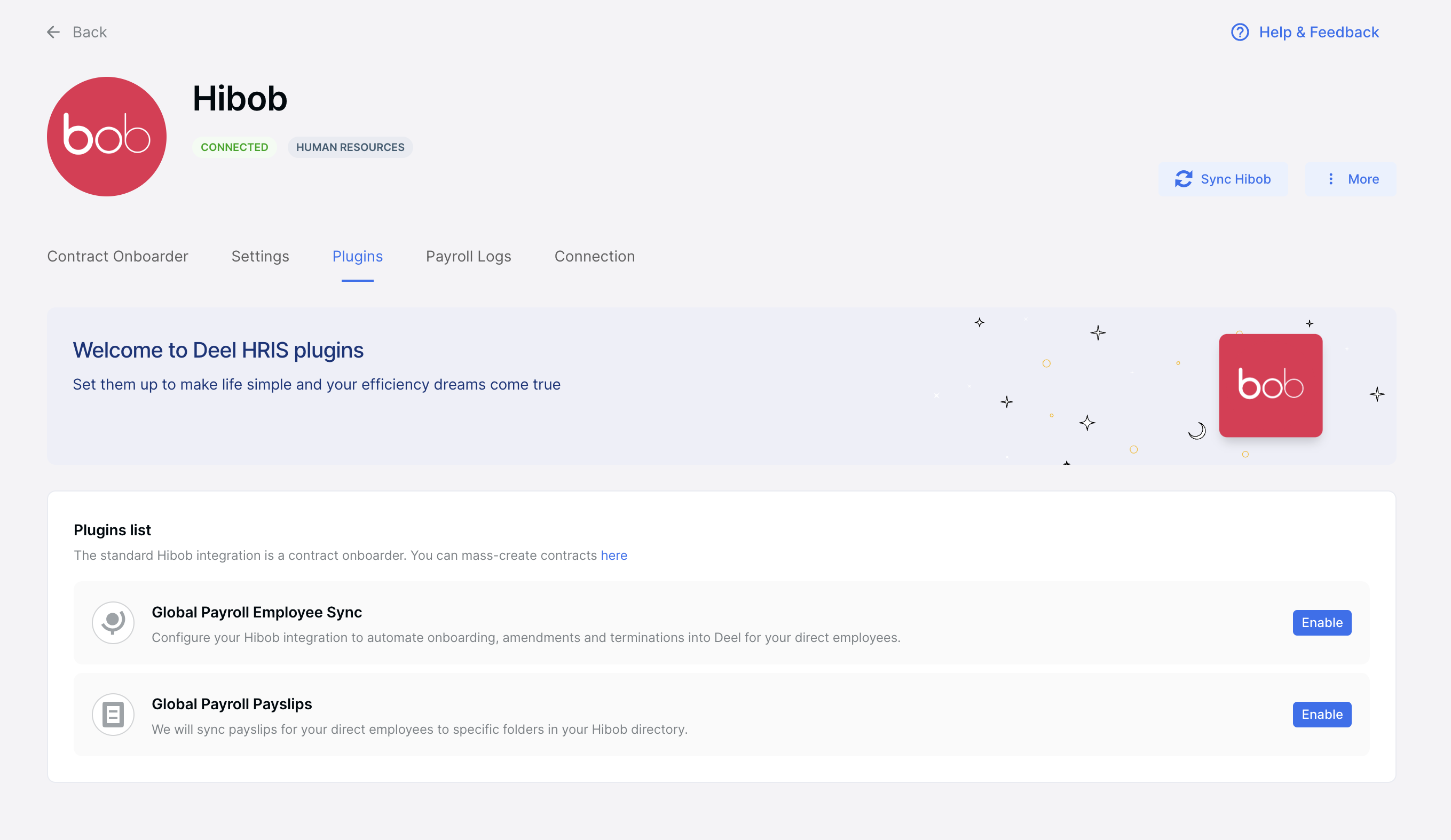 Once enabled, we will sync payslips into the yearly folders that we create.
In the year 2022, for example, we will create a "2022 Payslips" directory folder in HiBob when payslips are first synched; in the new year, we will create a "2023 Payslips" folder.
We can only sync payslips from the point where the "Enable payslip syncing" toggle is on.
The payslips go into the yearly folders we create.
Payslips will sync to HiBob when they are published in Deel.