This article explains how to initiate termination or resignation for an Deel EOR Employee, commonly known as "off-boarding". Only clients may initiate a termination or resignation on the platform.
If you are looking for information on terminating an independent contractor, please read our article on how to terminate a contract.
In this Article:
About the off-boarding process
How to initiate the off-boarding process
About The Off-Boarding Process
Off-boarding employees, whether by resignation or termination, is a complex legal process. Different jurisdictions have different requirements with respect to employee off-boarding. Deel will always comply with local requirements when completing an off-boarding request. For more information about local off-boarding requirements see our Global Terminations Landscape Guide.
Under the terms of Master Services Agreement (MSA) Deel requires 30 days notice when initiating a termination. In some cases, such as termination during the probation period, Deel may process your termination request in less than 30 days.
As the employer of record, Deel's will carefully review all the facts and circumstances. In certain situations Deel may advise you of the need to adjust your request including your desired termination date in order to comply with local legal requirements to ensure a lawful termination.
Due to local compliance and privacy laws, Deel will take the lead on all communication with the employee about their off-boarding. Please do not notify the employee of your intention to terminate their employment agreement.
Throughout the off-boarding process your primary point of contact will be your Customer Success Manager (CSM). If you do not have a CSM, one will be assigned to your case to guide you through the process, request additional information as needed, and provide updates to you.
Initiating an Off-Boarding Request
Only clients can initiate an off-boarding request in platform. This includes resignation requests.
✅ Step 1 - Navigate to the Employee Contract you wish to terminate
Select Contracts from the navigation menu and locate the employee contract you wish to terminate
✅ Step 2 - Request to End Contract
From the Contract Details tab, scroll down to the Contract End section and click Request to End Contract.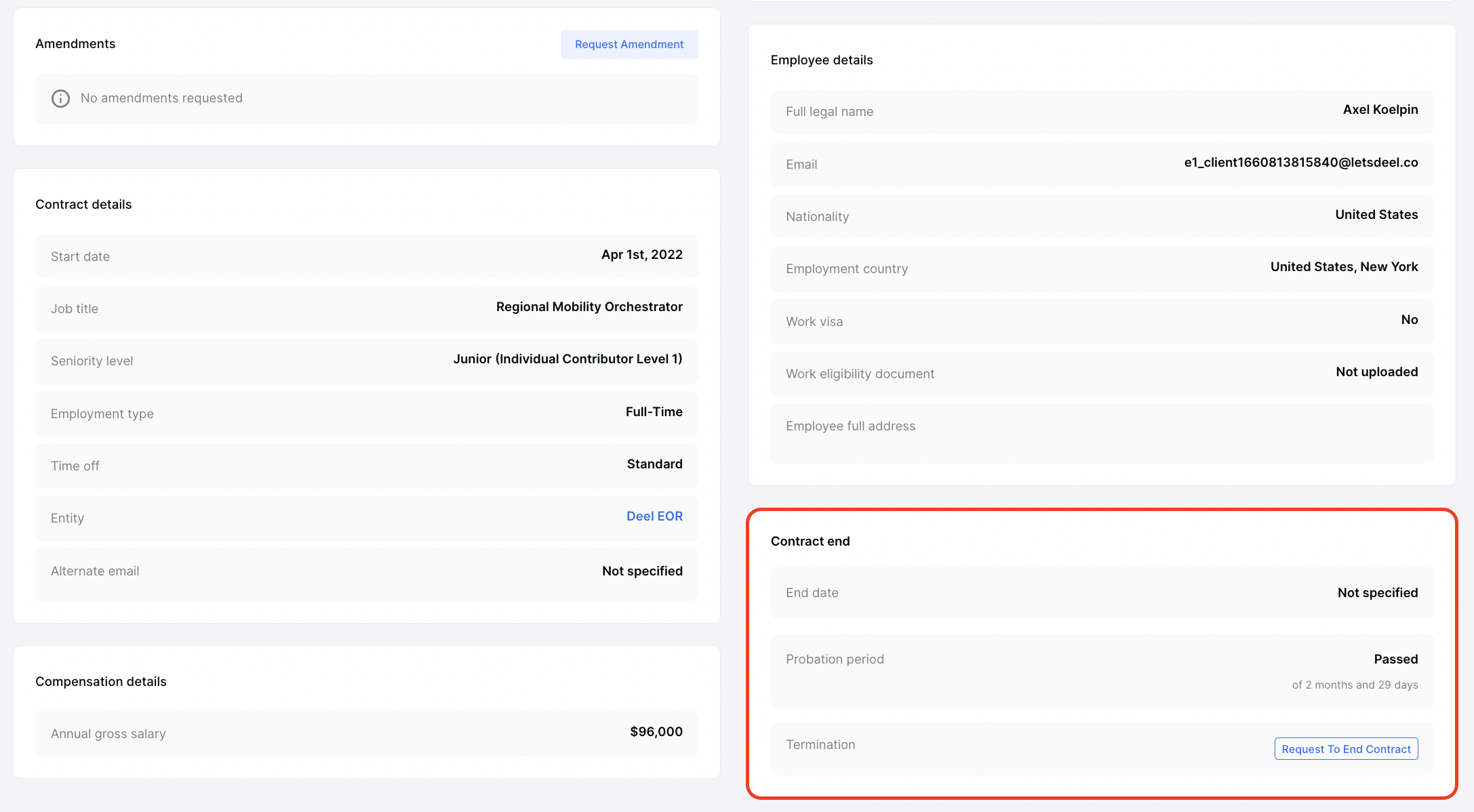 ✅ Step 3 - Share details of your termination request
When you initiate your request, Deel will ask you to provide the following information regarding the termination:
the reason
whether you have informed the employee
any relevant or supporting documentation
a desired off-boarding date
confirmation of used leaves
desired severance and other entitlements
You must provide all details relevant to the off-boarding request. See our Global Termination Landscape Guide for information about local laws and regulations for termination.
Please share any relevant documentation including evidence of alleged wrongdoing, performance management plans and reviews, attendance information, and all other documentation necessary to support your request.
Deel will contact you if additional information is required.
Please note that due to local laws and requirements it may be necessary to adjust your desired contract end date.
✅ Step 4 - Submit your request
Click Submit to confirm your request. Deel has received your request! Deel will review the details of your request and contact you shortly to begin the termination process.
If you have additional questions, please do not hesitate to contact your account manager and we'll be happy to assist.