This guide will tell you everything you need to know so that you can connect Deel to Expensify, configure your policies, and sync your expenses.
With Deel's Expensify integration you can use Expensify's approval flows to ensure your team gets paid on time through Deel.
When you have connected your Expensify account you can select the Expensify policies you want Deel to scan for approved expenses, enabling Deel to pull those expenses into the platform for reimbursement.
In this guide you will find:
Configuring Your Expensify Policies
Connecting Your Expensify Users to Deel
How does Expense Synching Work?
Frequently Asked Questions about Expense Synching
Before you start:
Establishing a connection requires several things. Please ensure that you have the following permissions:
Deel Organization Manager permissions

Expensify Admin permissions
Expensify Admin permissions can be complex. Please refer to Expensify's Introduction to Integration and information about admin capabilities.
Connecting Expensify to Deel
✅ Step 1: Launch the authentication process
Select Apps & Perks from the navigation menu. Click the Integrations tab, and locate Expensify in the Expense Management section. Click New Connection to begin.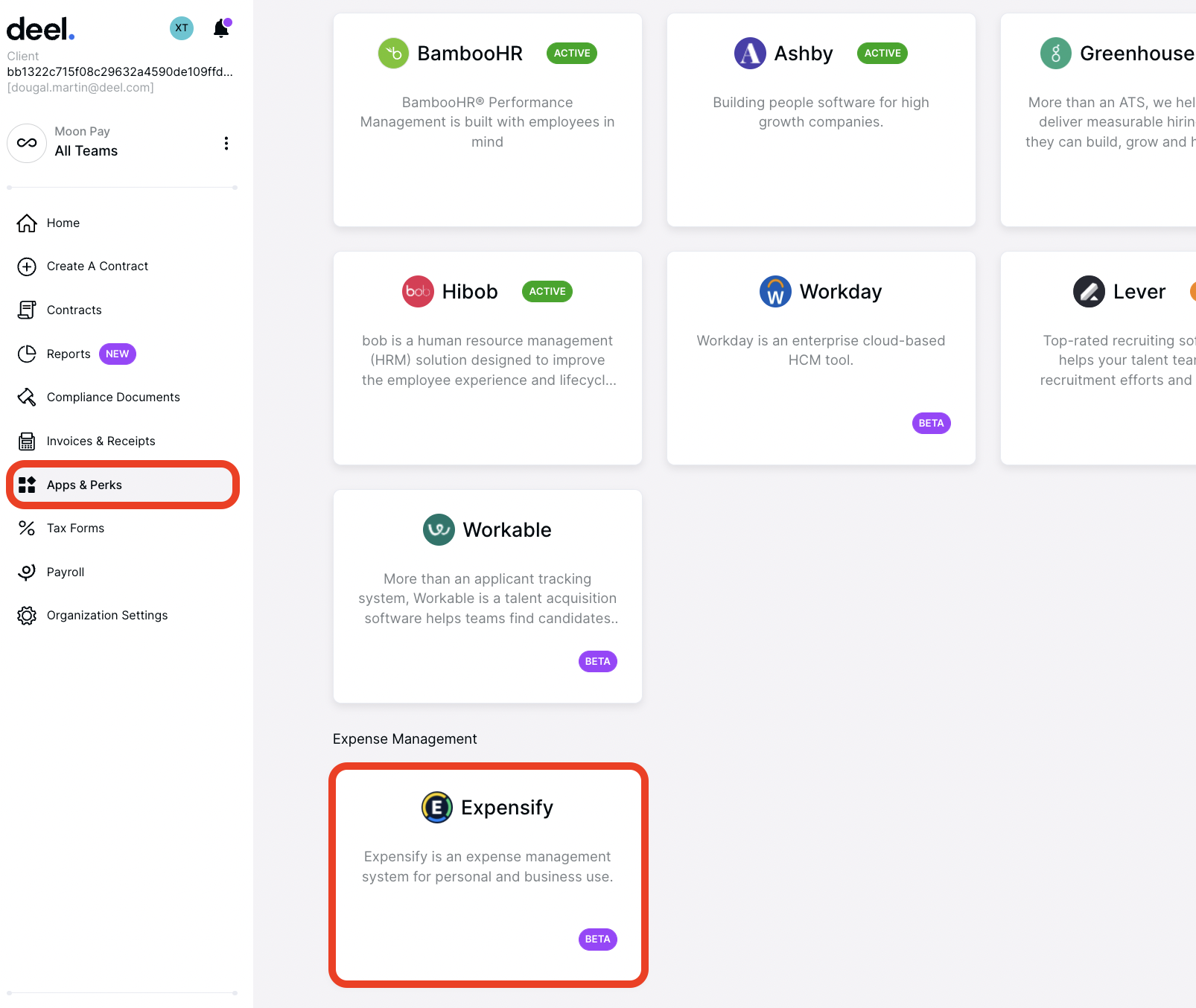 ✅ Step 2: Obtain your Expensify Partner Credentials
Your Expensify Partner Credentials will be used to authenticate your integration. These credentials are not the same as your expensify login and password.
To obtain your credentials go to www.expensify.com/tools/integrations/ and sign-in to your account. Your credentials include a PartnerUserID and a PartnerUserSecret.

✅ Step 3: Connect to Expensify
Return to Deel and enter your expensify integration credentials and click complete connection.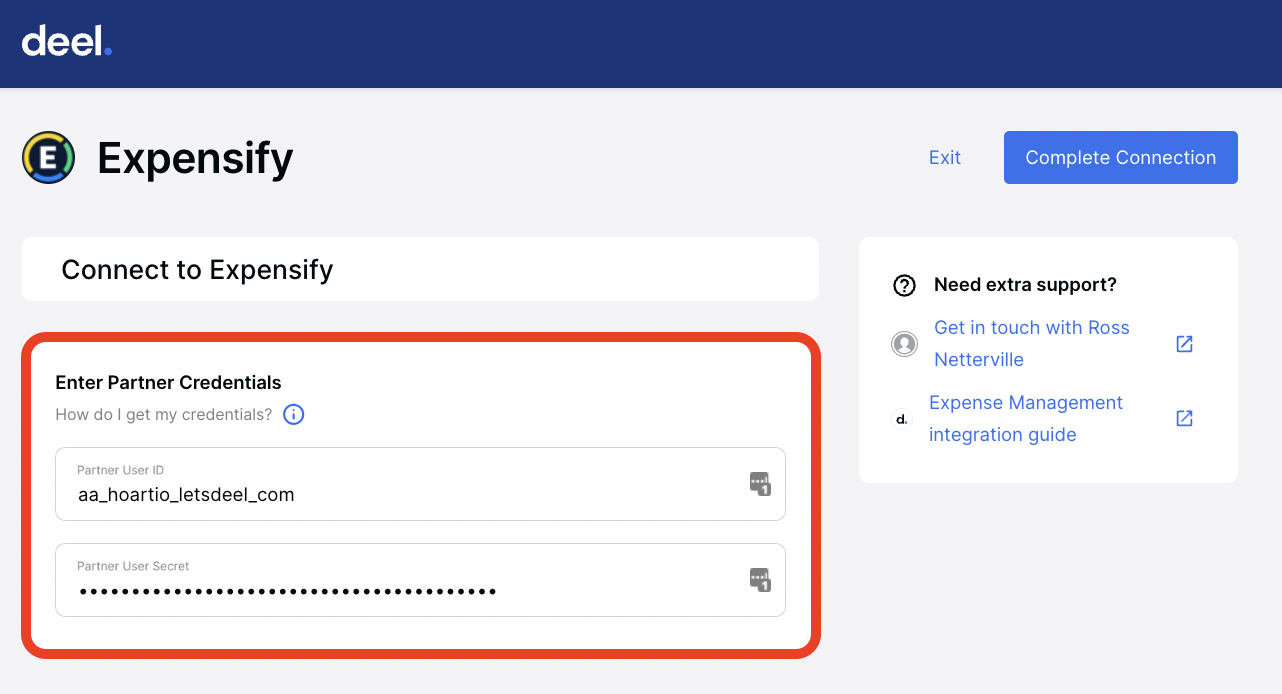 Well done! You have now successfully connected Expensify to Deel. Read on to learn how to optimize your configuration.
Configuring Your Expensify Policies
To ensure your expenses are synced with Deel it is important you configure your policies in Expensify.
You need to take the following steps in Expensify. You can learn more about creating and configuring expensify policies in the Expensify Community Forum. You can access your policies in Expensify under the settings tab in the navigation menu.
✅ Step 1: Synchronize your currencies
Deel requires the expense policy currency to match the invoice currency for each employee that will be submitting expenses as the policy currency determines the report 'output currency.' You should create at least one policy for each currency that you are invoiced in by Deel.
For example, if you have Independent Contractors and Deel-EOR employees in European countries using Euros, the United States, and Brazil, you need to have at least three policies - one for each invoicing currency.
✅ Step 2: Set receipt thresholds for Deel-EOR employees
Deel requires a receipt for every EOR employee expense reimbursed through the platform. For each policy covering Deel-EOR employees set the receipt requirement threshold to zero to ensure that the employee submitting the expense for reimbursement includes a receipt.
Expenses for Deel-EOR employees that do not include a receipt will generate an error.
To set your receipt policy, return to Expensify and access your policies under Settings>Policies. Select the policy for your Deel-EOR employees, and then click Expenses. Set the Receipt Required Amount to zero.

✅ Step 3: Verify user policies
Ensure that each user in expensify is covered by a policy that matches the currency of that employee's contract on Deel.
✅ Step 4: Enable your policies in Deel
From the Deel platform, return to your Expensify Integration under Apps & Perks.
When you first initiated your Expensify integration on Deel your expenses policies were automatically imported. They are defaulted as "disabled'. You can\ enable them now. If you do not see a policy included here, click refresh.
Your Expensify integration will begin working immediately when you enable the policy in Deel.
Please note: All your Expensify policies will appear here. You only need to enable policies connected with employees and contractors paid through Deel.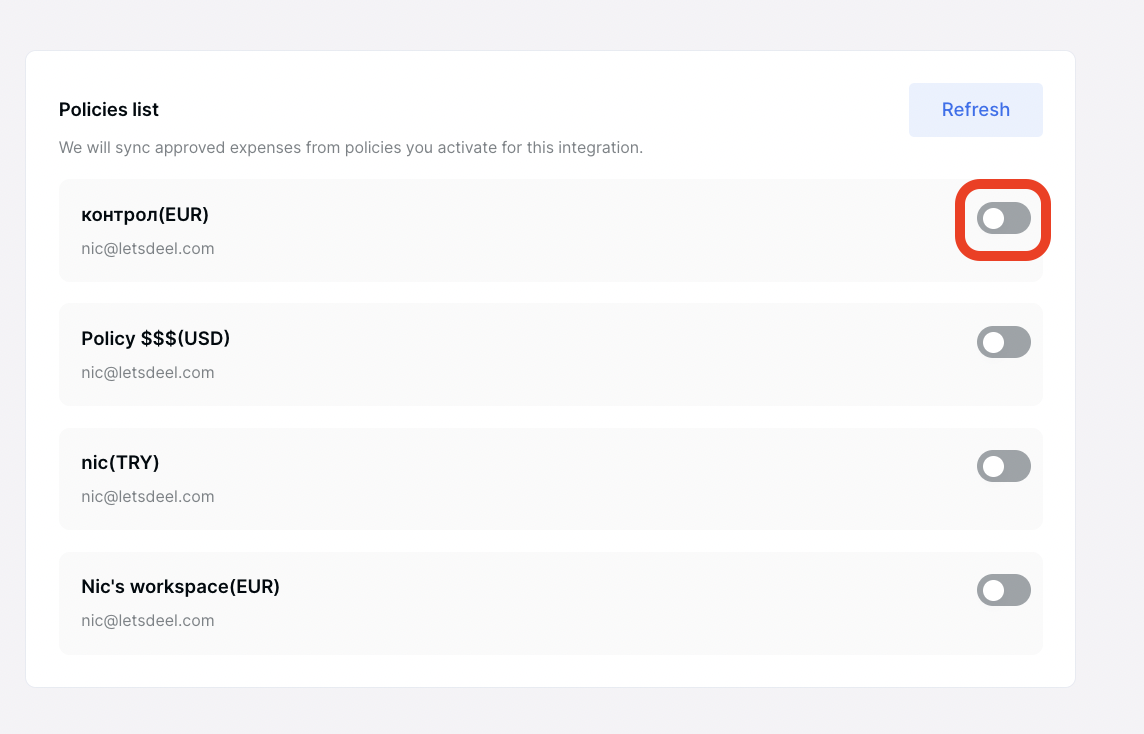 Connecting Expensify Users in Deel
In order for expenses to sync we need to establish a connection between each of your expensify users and their corresponding profiles in Deel. Expensify user accounts are typically connected to work emails, whereas Deel accounts are frequently connected to personal email addresses. For this reason, we rely on userID tags for each profile in Deel and add it to the corresponding user profile in Expensify.
✅ Step 1: Set your custom field
Expensify has two user-level fields available to identify common profiles for integrations: Custom Field 1, and Custom Field 2. You will need to use one of these fields to connect your users in Expensify to their contracts in Deel.
Navigate to your Expensify integration console on Deel and locate the Deel contract OID setting. This field will correspond to a field in Expensify. By default we use Custom Field 1, but you can change this to Custom Field 2 if you prefer.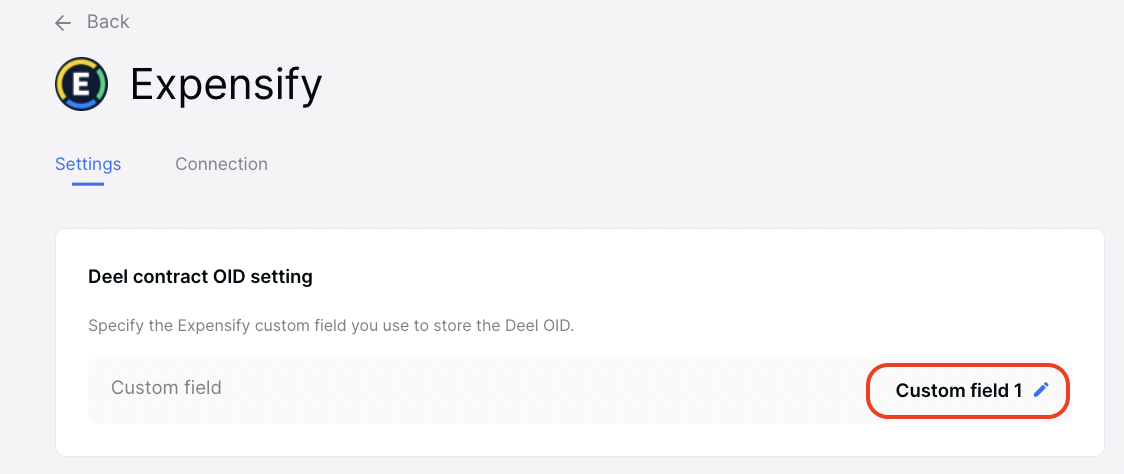 ✅ Step 2: Locate the ContractID for your Deel user
The following steps will need to be completed for each employee and independent contractor in Deel who is logging expenses in Expensify.
From your Deel dashboard, select Contracts from the navigation menu. Select your first employee and copy the ContractID from the URL: the mix of characters and numbers that follow the /. Copy this ID.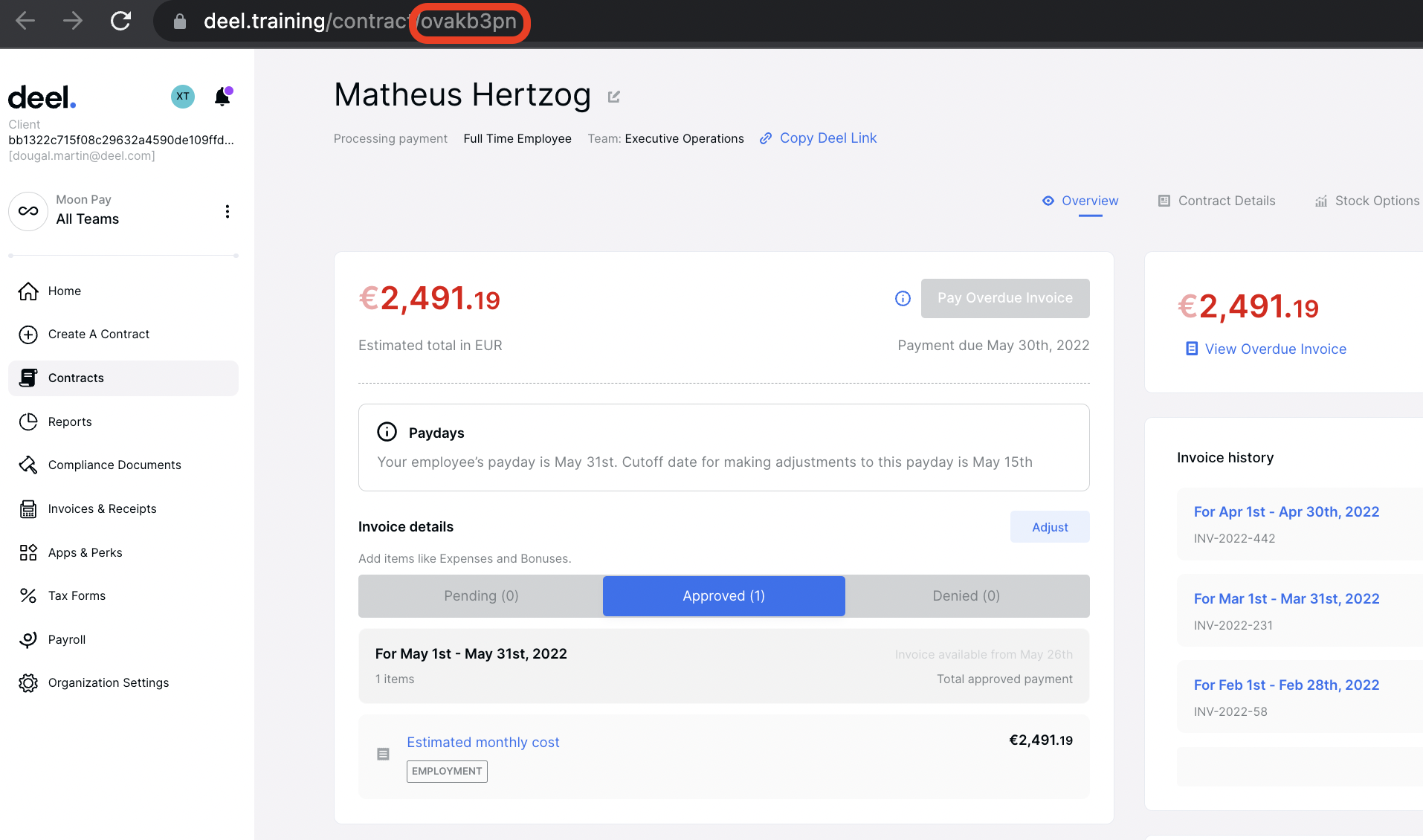 You can also locate ContractIDs under Reports. You can view a report of all contracts and their corresponding IDs. This is helpful if you have a large number of employees or contractors in Deel that you need to match to users in Expensify.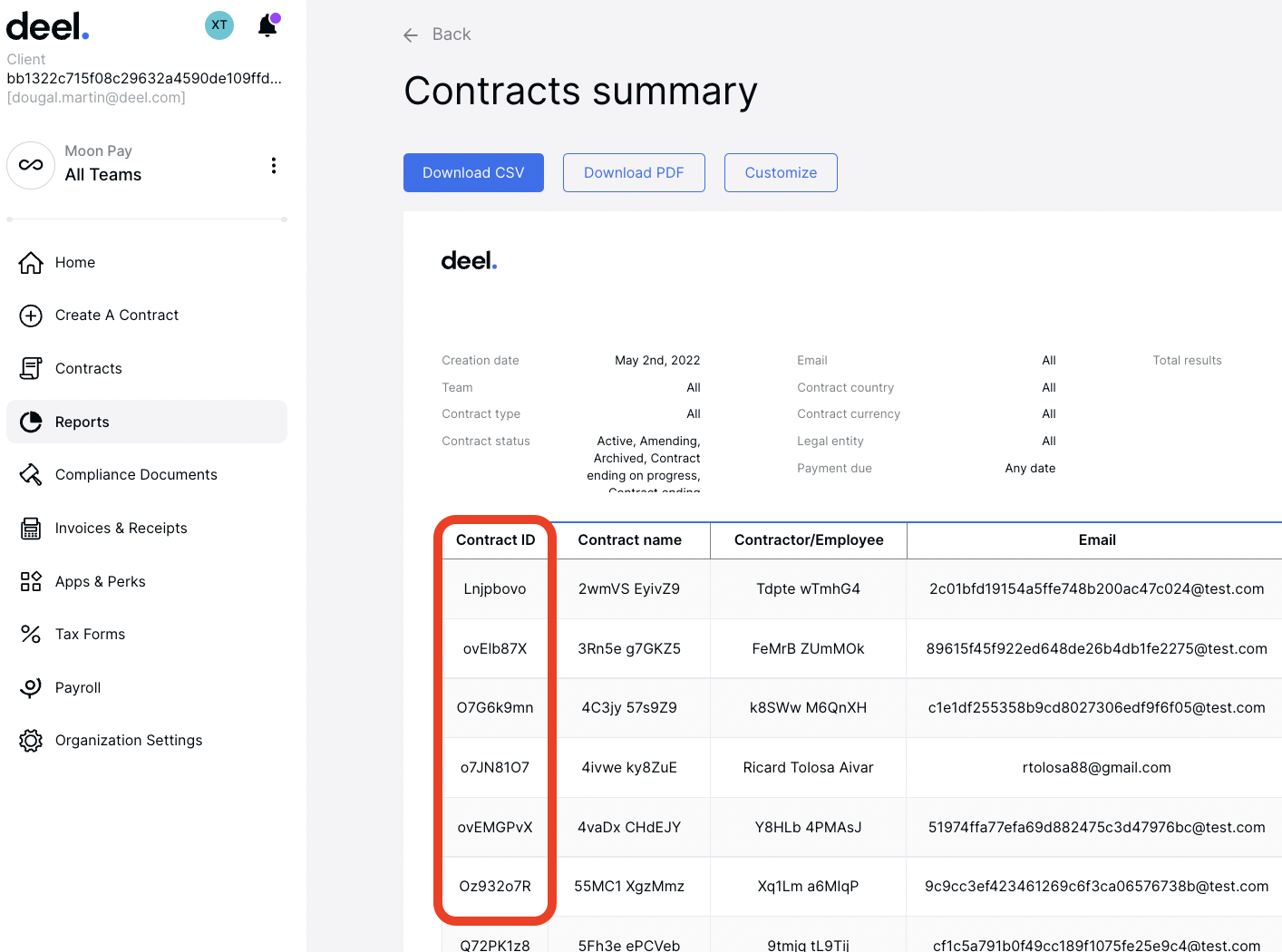 ✅ Step 3: Locate the User in Expensify
In Expensify, locate the corresponding user in the Expensify policy by navigating to Settings>Policies>People.
Click Settings to open that User's profile.

✅ Step 4: Add the Deel ContractID
Add the Deel ContractID for that employee or independent contract into the corresponding field for that user in Expensify. Remember to use the same custom field you set in Step 1[link] of this section.
When you have added the ContractID click save.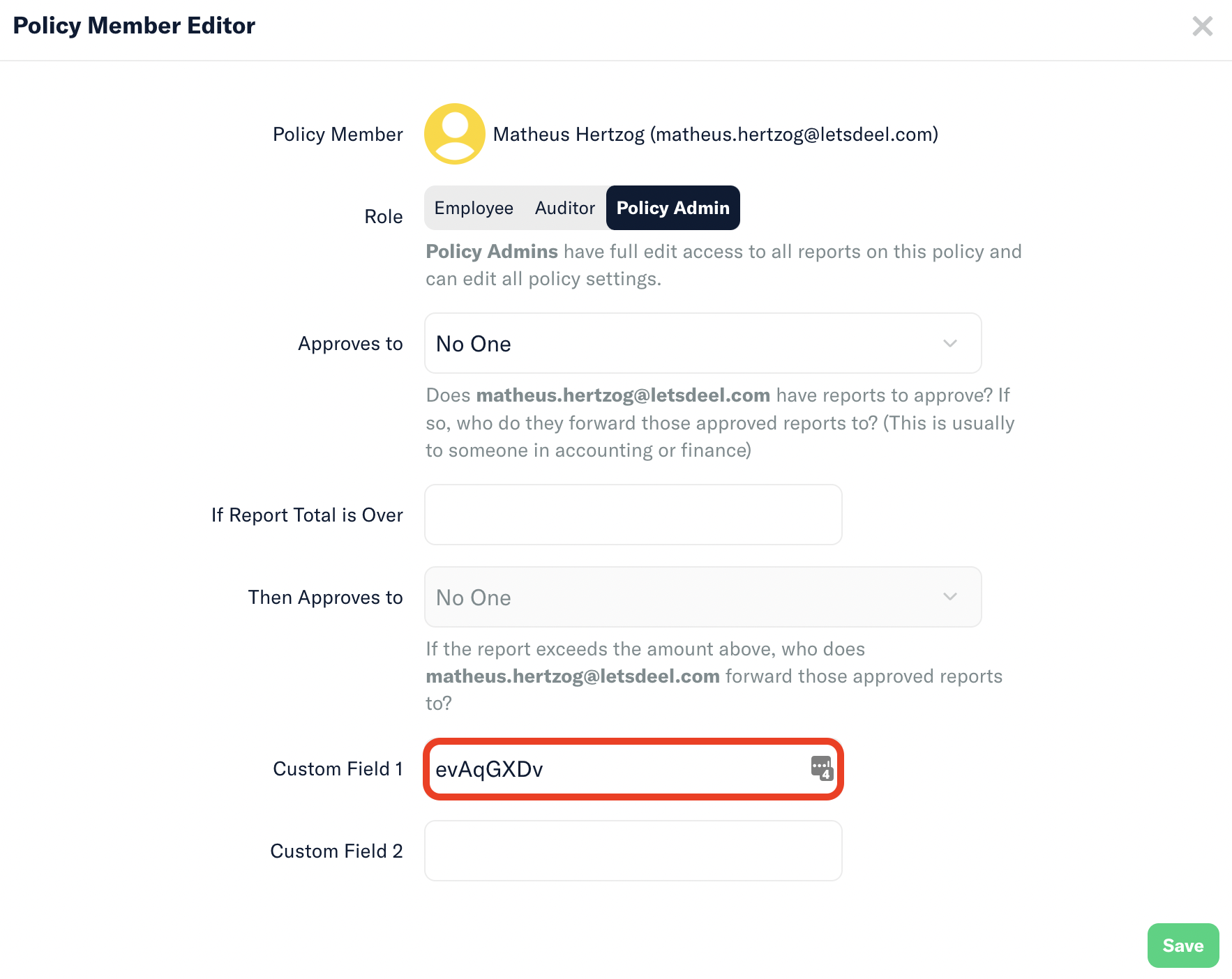 ✅ Step 5: Repeat these steps 2 through 4 for each user
In order to sync expenses with Deel, you will need to add the ContractID for each Deel Employee and Contractor to their corresponding profile in Expensify.
How Does Expense Synching Work?
Expenses in Expensify must be in a report and in a 'final approved' state before they can be synched to Deel. When synched, Deel bypasses the usual approval flow and expenses are synched to Deel as 'approved'. There is no need to re-approve these expenses in Deel.
For EOR-employee expenses any expenses synched after the the payroll cut-off dates will be included in the next payroll cycle.
When expenses are synched to Deel we are capturing the following information from Expensify and inputting it into the description field:
Expensify Description

Expensify Expenses Category

Expensify Report ID
We are mapping over the dates from Expensify as follows:
Expense date > date the expense was incurred

Expense approval date > date of approval

Expense submission date > the date the expense was synched to Deel
Frequently Asked Questions
How frequently are expenses synched with Deel?
Deel pulls data from Expesnify every hour. You can trigger a sync on demand by pressing the sync button in the integration settings.
Which contracts and users are supported?
Deel supports expense synching expenses for both Deel-EOR and Independent Contractors.
How do I approve expenses?
Deel only pulls approved expenses. Please review and approve expenses in Expensify in order to sync to Deel. There is no need to re-approve the expenses in Deel.
What happens if I need to un-approve an expense?
Once an expense is approved in Expensify it is synchronized to Deel and cannot be unapproved in Deel. You can use the payment adjustment feature in Deel to correct for any un-approved expenses.
Can an Expensify User be included in more than one policy?
Yes - provided that the currency for both policies matches the Deel contract currency for that user. If a user is included in two (or more) expensify policies, Deel will sync to both - or all - of them.
What additional Expensify features is the integrations team working on?
We are continually working to improve our integration features. Our road map includes updates for the following:
Block your team members from entering expense adjustments in Deel if their contract is connected to an Expensify policy

The ability to easily view which employees and contractors are connected to Expensify users and which policy they under

The ability for Independent Contractor and Deel-EOR employees to see that they are connected to expensify within Deel

Provisioning of new expensify users with the contract OID populated, into policies when contracts are fully countersigned in Deel