This article explains how to use Binance to withdraw your Deel balance. Use Binance to withdraw your funds in BUSD - Binance's US dollar-backed stablecoin. You can withdraw your funds directly to the Binance platform.
This withdrawal method is only available to independent contractors using the Binance International platform. Unfortunately this withdrawal method is not compatible with Binance.us at this time.
If you are a full-time employee please see our section on Getting Paid.
In this article:
How to set up Binance withdrawals
Before you start
Both your Deel and Binance accounts must be registered to the same email address. Please contact us if you would like to use another email address.

You will need your Binance Pay ID. See How Do I Find My BInance Pay ID?
How to set up withdrawals with Binance
✅ Step 1
- Add a new withdrawal method
(1) Go to Account Settings, (2) Select the Withdrawal Methods tab, and (3) click Add Method.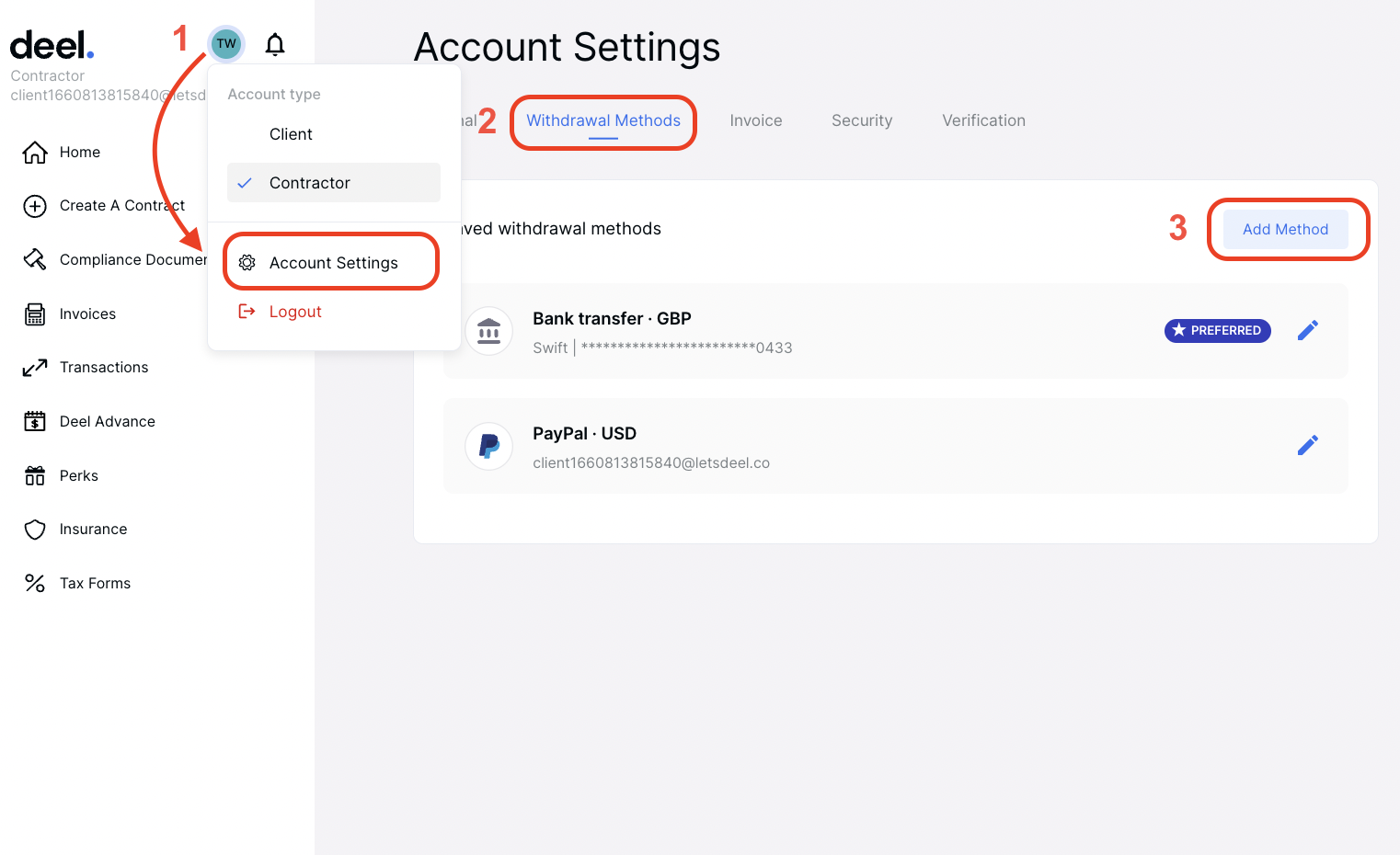 ✅ Step 2
- Choose Binance
The fee for a Binance withdrawal is 1.6%
✅ Step 3
- Add your email address and Binance Pay ID
The email address registered to Binance must match the email address registered with Deel. If you need to use a different email address please contact us.
You can find your Binance Pay ID on the Binance website. See: How do I find my Binanace Pay ID?
✅ Step 4
- Make a withdrawal
Congratulations! Binance is now available in your saved Withdrawal Methods.
You can set Binance as your preferred withdrawal method and enable auto-pay to withdraw automatically to Binance every payday.
Frequently Asked Questions
What is the fee for using Binance?
The withdrawal fee is 1.6% with a minimum fee of $5 USD
How long does a Binance withdrawal take?
Usually within seconds, but up to one business day.
Is there a minimum withdrawal?
You have to withdraw a minimum of $5 USD
Can I withdraw in other coins?
Withdrawals to Binance are in BUSD - Binance's US dollar stable coin. From the Binance platform you can exchange BUSD for other coins.
How do I find my Binance Pay ID?
Why doesn't my binance.us account work?
At this time, we can only support withdrawals to binance.com accounts.