This article explains the Deel Shield service and how it provides clients an extra level protection against misclassification.
With Deel Shield, we can legally hire contractors on your behalf and assume total liability in the event of misclassification claims.
In this article:
What is Deel Shield?
Deel Shield allows Deel to hire contractors on your behalf.
Deel will handle pretty much everything- hiring, compliance, invoicing, and payment of contractors.
With Deel Shield, Deel will take on total liability in the event of a misclassification claim.
It's a higher level of protection, but the same great flexibility and level of service for you and your contractors.
It provides clients with access to a global team without the risk of non-compliance or the hassle of managing HR or administrative tasks.
Deel Shield may be the right solution if you are:
Considering opening entities in many countries to avoid misclassification risks but you need an interim solution.

Looking for a cost-effective alternative to using an Employee of Record model and prefer to outsource the risk
What are the advantages of Deel Shield?
No misclassification legal risk for you: Deel is the hiring body, so we're responsible for the classification of that contractor. Deel is fully liable should any misclassification cases arise.
Worker classification: Deel uses our global expertise to determine who should be classified as a contractor and who should be an employee, allowing clients to outsource that decision.
Access to a flexible, global workforce: Shield provides the flexibility of hiring global contractors combined with outsourcing the risk of misclassification
Read more in our blog about the benefits of Deel Shield!
How do I sign up for Deel Shield?
If you are an existing client, you may see an information banner about Deel Shield on your home page.
A pop-up window will appear with general details and pricing information.
Click Get Started to start creating the Master Services Agreement.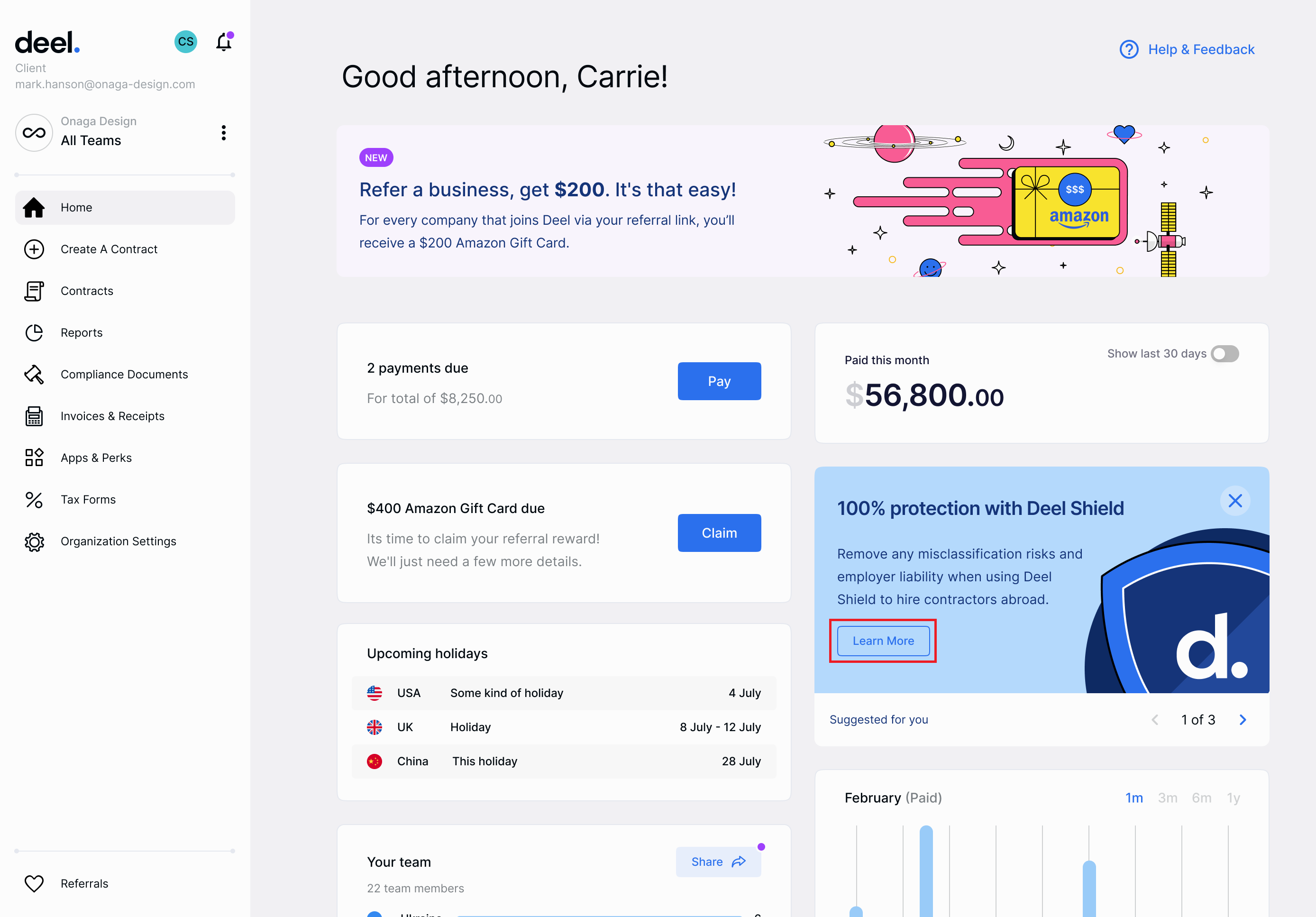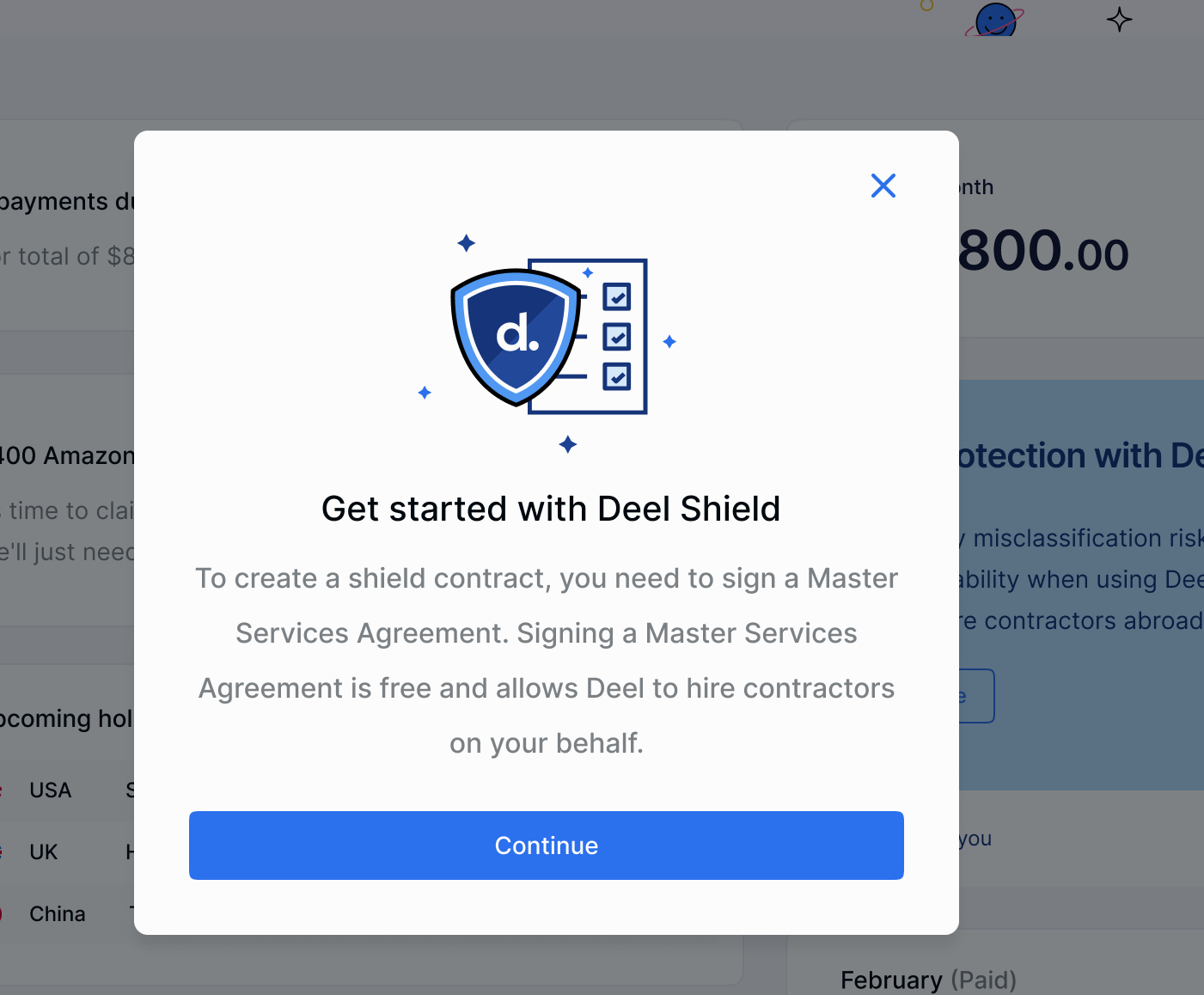 If you don't see the option to sign up for Deel Shield on the app, please follow these steps:
Our team of employment experts will review your information and decide whether you are eligible for Deel Shield.
✅ Step 2 -
If you are approved for Shield, we'll create a Master Services Agreement (MSA)
Once you have signed a Deel Shield MSA, you can toggle on the option to Safeguard with Deel Shield in Benefits & Extras section of the contract creation flow.
✅ Step 3 - Check Deel Shield eligibility
To be eligible, you must use the standard Deel contractor agreement with no amendments or changes.
You must also be hiring a contractor outside the country in which you are based.
The contract can not be backdated.
Click Start Assessment to begin a brief eligibility check.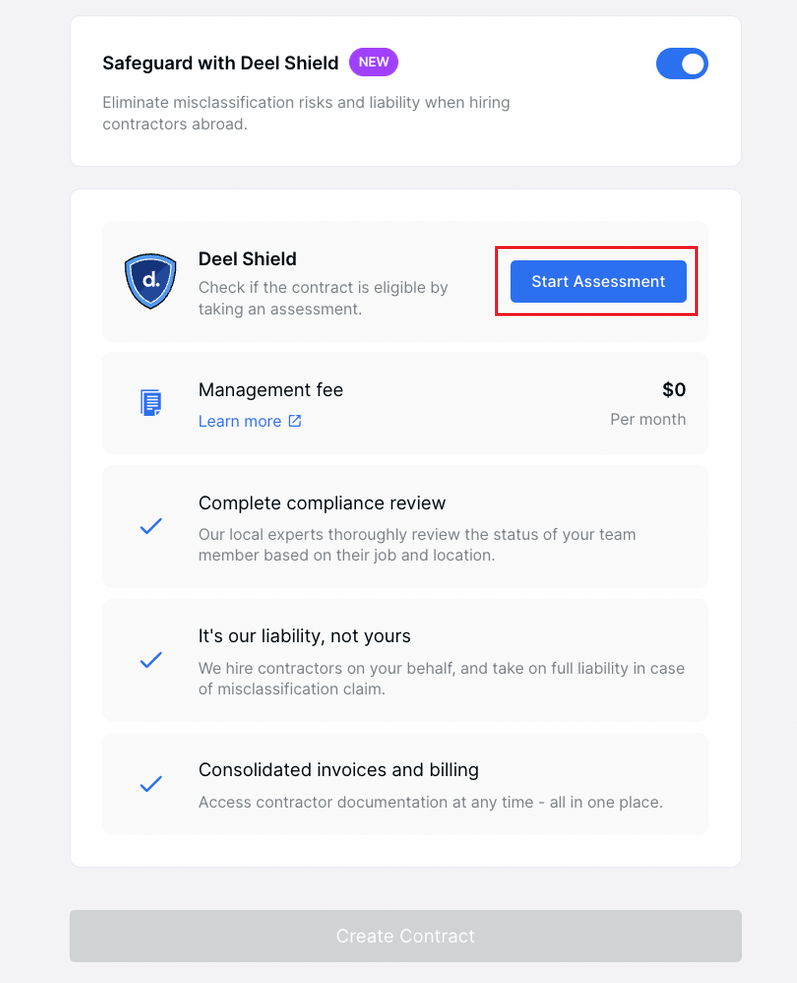 FAQs
How much does Deel Shield cost?
Deel Shield pricing comes with a management fee Please speak to your account manager or contact us for details!
Is a deposit required for Deel Shield?
For Deel Shield, deposits are only required for Fixed Rate contracts, not for Pay As You Go or Milestone contracts.
Since Deel takes on all the liability and the indemnification for this contractor, we are obligated to the pay the contractor their wages even if a client does not make the payment to us.
For the deposits, we require a one month security of the contractor wages plus the Deel fee to hold in case of emergency.
Deposits are held on the balance sheet of Deel Inc., in our bank accounts with JP Morgan Chase at 270 Park Avenue, New York, NY.
How is Deel Shield different than Deel Premium?
With Deel Shield, Deel legally hires the contractor on your behalf.
With Deel Premium, you still hire the contractor and sign the contract with them, but you are protected in the event of misclassification legal action.
Can contracts be backdated for Deel Shield?
No, we can not backdate any contracts when using Deel Shield.
Can I offer stock options for contractors on Deel Shield?
No, it is not possible to issue stock options to contractors hired through the Shield model.
What payment cycles can I use?
There are no restrictions on the payment cycles. You can choose the cycle that works best for you to pay your contractors.
The Shield management fee will be invoiced according to Deel's cycle, generally around the 26th of the month.
Is there a minimum notice period for Deel Shield?
Yes, the minimum notice period is 30 days for Deel Shield.
The notice period will be paid out even if the contractor stops working for you before the 30 day period is up.
You can breach the notice period on the contract only if the contractor has resigned.
Can contractors sign the Shield Contract before I do?
Yes, clients can switch the signing order on their Shield Contracts, and invite the contractor to sign before the client signs.
Can we offer Equipment for contractors on Shield?
Shield contractors can rent computing devices through Hofy like mobile devices, laptops, tablets, and desktops. Peripheral equipment like desks will not be available for rental.