Got questions about your Deel contractor account? We have answers.
This article covers some of the most Frequently Asked Questions from independent contractors.
Invoices
Where can I see my adjustments for the current invoice cycle?
You can select the Invoice Details section from your contract overview page.
Any adjustment you make will be set as pending and must be approved or denied by the client.
You can choose to delete an adjustment by clicking the blue trash bin.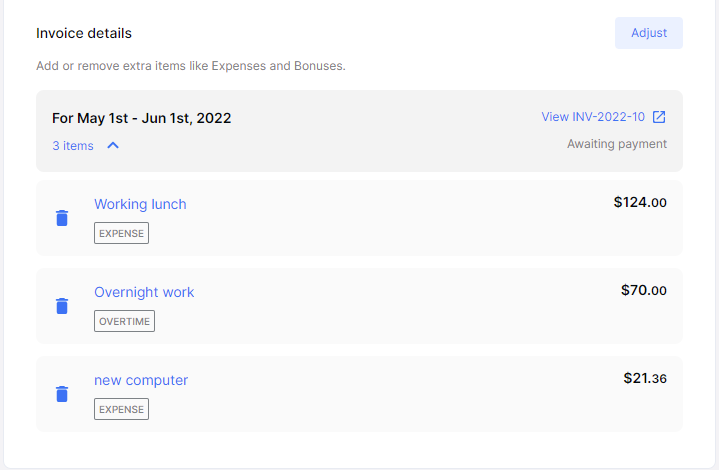 Can I delete an invoice adjustment?
Yes, you can delete an adjustment by clicking the blue trash bin next to the adjustment in the Invoice Details section.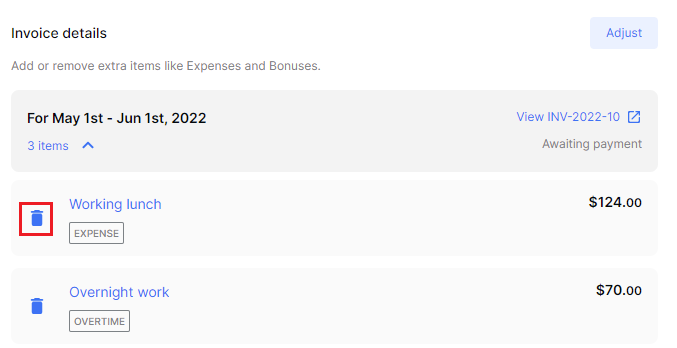 When does my invoice cycle end?
Select the Contract Details tab on your contract. Invoice cycle information is listed in the Payment Details box.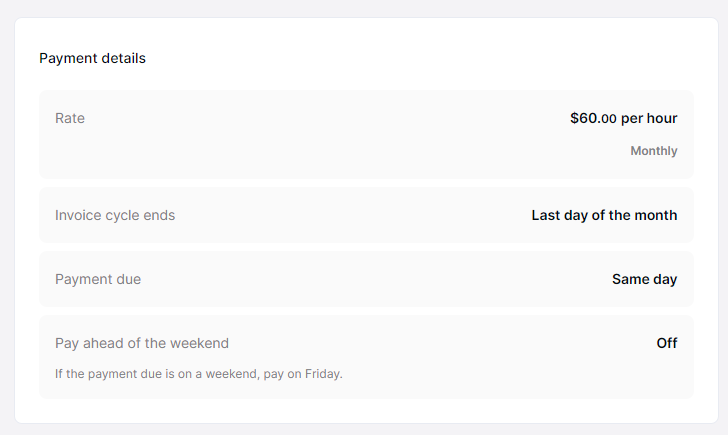 Adjustments
Is there a limit to expense adjustments?
Your client may have created customized expense categories for you to choose from. If your client has set a maximum limit for expenses, it will be listed under the Amount box.
Why can't I submit my hours?
If you have a Pay As You Go contract, the submit work section will not appear if the client enabled the Only Client Can Submit Work option during contract creation.
In this case, only the client can submit hours.
You can see if your client enabled this option for your contract in the Contract Details tab.
Time Off
Can I request time off as a contractor?
Time-off can be requested for Fixed contracts and Pay As You Go contracts.

You can not submit a time-off request with a Milestone contract. This is because you get paid only once work is completed, and regular invoice cycles do not apply.
For Fixed contracts:
✅ Step 1 – Select the Time Off tab
✅ Step 3 –
Add Time Off
Fill out the dates for your request and add additional details.
You will receive an email when the request has been accepted or rejected.
Important! Clients can choose if time-off will be paid or unpaid. If the days off are unpaid, the client will have to manually input how much they are deducting from the next invoice.
You can check the status of your request from the Time Off tab. You can cancel your request by clicking the blue garbage bin.
For Pay As You Go Contracts
For this type of contract, you can only include time-off as an invoice adjustment for your client to review and approve.
While you do not have a paid time-off option with this contract type, you may request 0.01 as the minimum amount to be deducted.
✅ Step 1 – Click Adjust in the Invoice Details section
✅ Step 2 – Select Time Off from the dropdown menu
✅ Step 3 – Add time off details
Add the amount to be deducted from the invoice, and provide additional details.
The minimum amount you must put as a deduction adjustment is 0.01.
Click Submit
You can check the status of your adjustment from your contract Invoice Details section.You can cancel your adjustment by clicking the blue garbage bin.
Contract details
Can I edit my contract details?
No, you can not edit contract details. Contact your client if you want to update the contract information.
Where can I find the contract termination date?
Select your contract from your Dashboard and select the Contract Details tab. Your contract End date will be listed, if applicable.

What if my client has not approved work that I completed?
Deel was built on the premise of ensuring trust and safety between clients and contractors.
We encourage our clients and contractors to try and settle conflicts between themselves. Deel does not provide a Resolution Center and does not mediate any disputes.
Taxes
Do I need to fill out tax forms?
If you work with clients from the US, you will be asked to fill in a W-9 Form if you are an American citizen.
If you are not an American citizen but are working with US clients, you will fill out a W-8BEN(E) Form.
Insurance
Can I request health insurance as a contractor?
Deel partners with health insurers who understand remote working, both in your country and internationally.
We have exclusive discounts that make it safer than ever to work with remote teams.
Learn more about health insurance for remote workers.
Requesting a quote from our health insurance partners can be done in just a few clicks.
✅ Step 1 – Select the (1) Insurance tab and (2) choose your location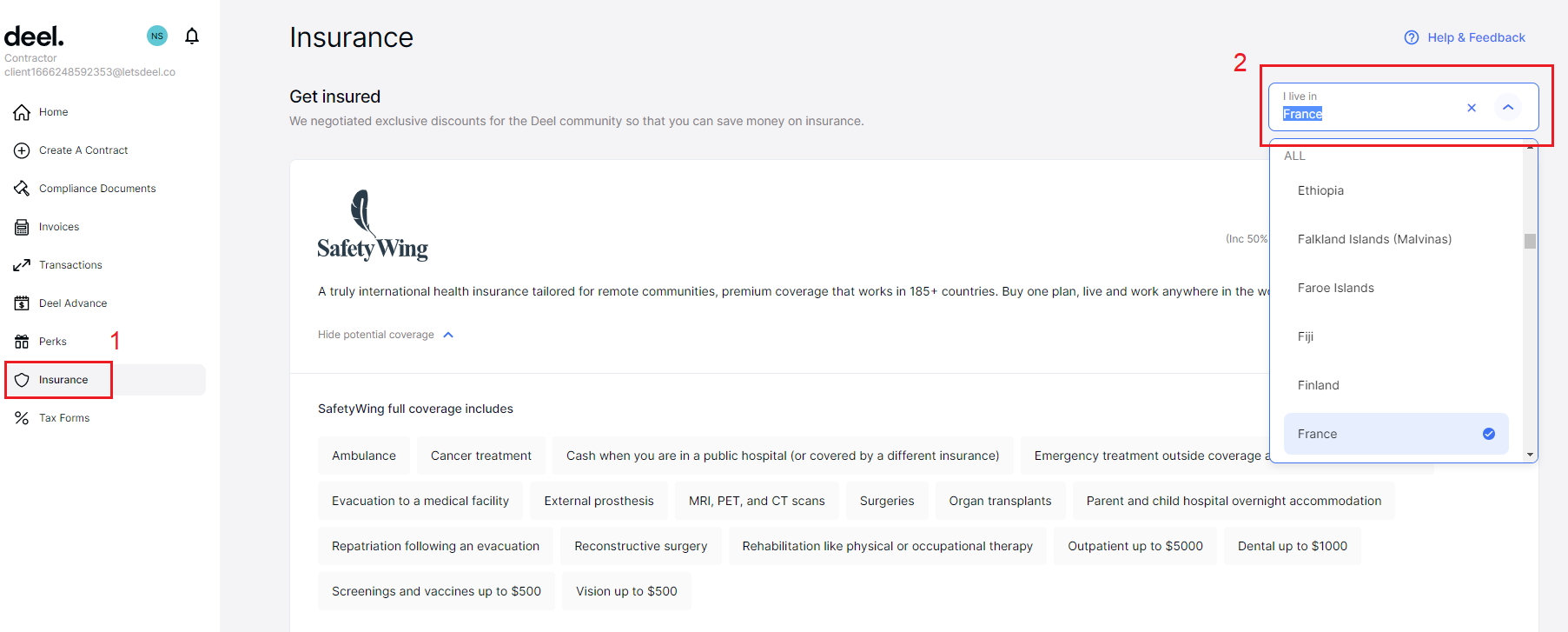 ✅ Step 2 – Click Apply for Coverage
You will receive a follow up email from the insurer. Complete the set up process on their website.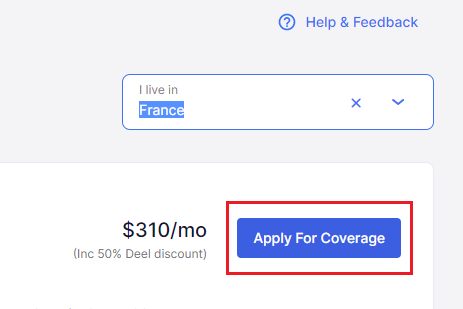 With Deel health insurance you can:
Get general health and long-term-stay travel coverage in 178 countries, just about everywhere except Canada
Set up your policy in minutes, entirely online, without additional paperwork or going to the insurer's office
Get flexible add-ons as your needs or location change
Choose the insurance plan that fits your needs and get exclusive discounts
Using Expensify
How do I know if the company I perform work for is using Expensify?
Your client administrator should alert you if the company is using Expensify to track and approve expenses.
If your Deel profile has been matched to an Expensify profile, then you will be prompted to log your expenses in Expensify. If your profile is unmatched, you will be prompted to add an alternate email address to your Deel profile.
Sync errors can arise from large file sizes or other matching errors. You will be alerted both by email and a notification on your Deel Dashboard when there's a sync error with your expenses.
You can review your errors in the app and see what steps you can take to resolve them.
How does expense synching work?
For an expense to be synched, your profile in Expensify must be matched to your profile in Deel.
Only approved expenses are synched from Expensify to Deel.
Deel does not back-sync expenses. This means that any expenses submitted and approved in Expensify prior to your profile being matched to Deel will not sync. Please delete and resubmit these expenses in Expensify.
How often are expenses synched?
Expenses are synched periodically throughout the day. If the company you perform work for has recently approved an expense in Expensify, please wait a few hours before you check if it has been synched to Deel.
When will my expense be reimbursed?
For Independent Contractors, expenses approved and synched before the end of your invoice period will be included in your next invoice for reimbursement.
For EOR Employees, expenses approved and synched before the monthly payroll cut-off date will be reimbursed on your next payday.
Stock Options
[ACCORDION]
Can I be issued stocks as an independent contractor?
Yes! Deel allows clients to grant an equity promise to both full-time employees and independent contractors.
Clients will use their own equity platform solution to actually grant equity.
If your employer is offering you stock options, you will be able to see the offer from your home page.
✅ Step 1 – Click on the Stock Options tab
✅ Step 2 – You will see two lists: Stock options Offered, and Stock Options granted.
Click Stock Options offered
✅ Step 3 – Review details of the offer in the pop-up window, including aggregate value, vesting schedule and cliff.
Note: Deel allows you to view you client's equity promise and the vesting timetable, but we are not actually granting equity. Your client must use a separate equity granting platform