What is the W-8BEN form?
Form W-8BEN (Certificate of Foreign Status of Beneficial Owner for United States Tax Withholding and Reporting) is a tax form that non-US citizens and business entities use to verify their country of residence for tax purposes.
In case you want more information about these tax forms, visit our blog article here. To find official instructions, please check IRS's website: W-8BEN and W-8BEN-E.
If you are a Deel user, you will be taken through the simplified flow when signing your contract, but the PDF form (found in the taxes tab of your Dashboard) will match the official one.
‍
W-8BEN Form for Individuals
This is how the W-8BEN Form looks like. For the official form, go here.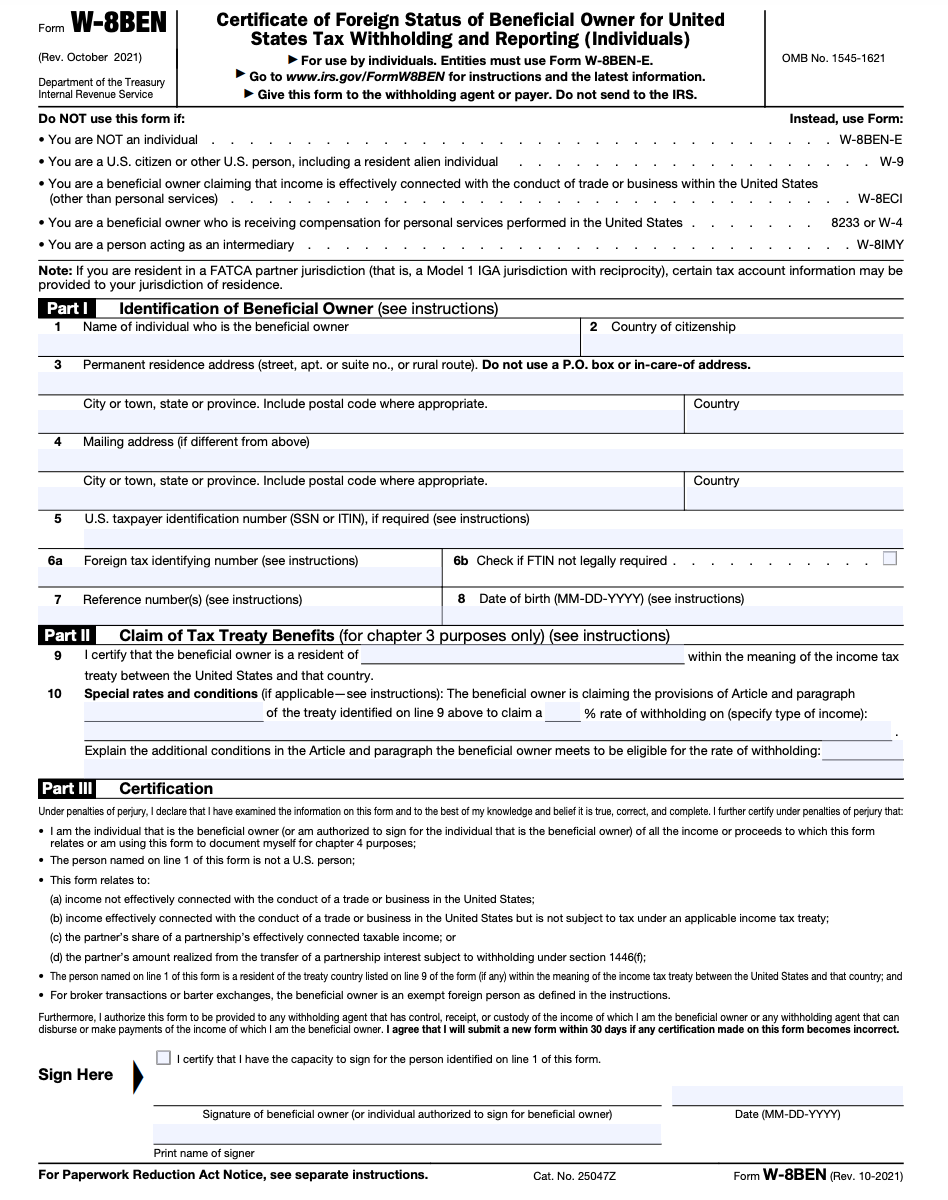 W-8BEN-E Form for Entities
This is how Page 1 of the W-8BEN-E Form looks like. For the full form, go here.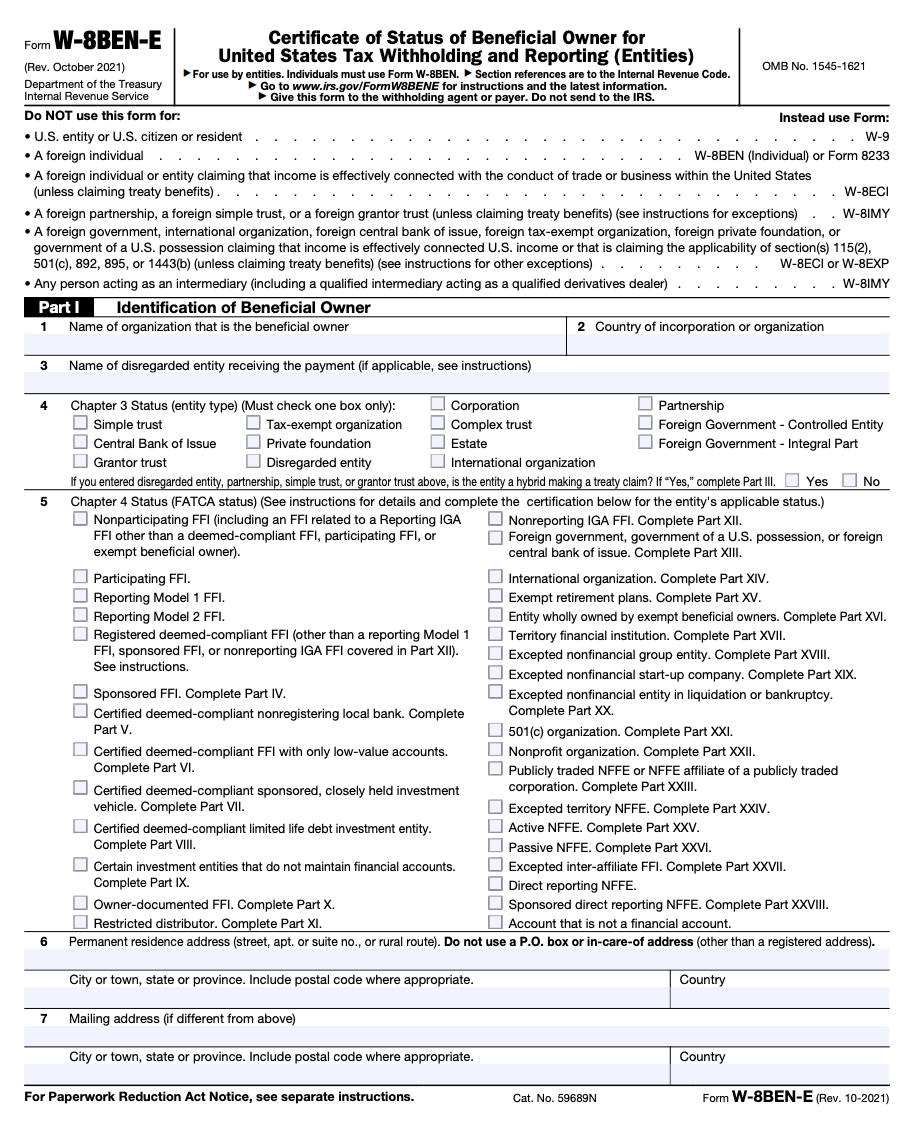 Filling out the tax forms
Identification of Beneficial Owner (Part I):
For W-8BEN (individuals): Name — Enter your legally given name as shown on your income tax return.

For W-8BEN-E (entity): Name of Organization — Enter the full legal name of your organization. If you are a disregarded entity, enter the name of the entity that owns the disregarded entity.

Address (State, City, Address, Address 2, Zip) — For Address, include the building number and street name (e.g., "52 Market Street"). For Address 2, include the apartment, suite, unit, building, or floor number.

Foreign Tax Identifying Number (TIN)— Enter your tax identification number issued from your country of residence. If you don't have one, put your ID number instead.
Claim of Treaty Benefits (Part II):
If you reside in one of the countries listed below, please select your country of residence under the section "Claim of Treaty Benefits (Part II)".
List of countries
Armenia, Australia, Austria, Azerbaijan, Bangladesh, Barbados, Belarus, Belgium, Bulgaria, Canada, China, Cyprus, Czech Republic, Denmark, Egypt, Estonia, Finland, France, Germany, Greece, India, Hungary, Iceland, Indonesia, Ireland, Israel, Italy, Jamaica, Japan, Kazakhstan, Kyrgyzstan, Latvia, Lithuania, Korea (South), Luxembourg, Mexico, Malta, Moldova, Morocco, Netherlands, New Zealand, Norway, Pakistan, Philippines, Poland, Portugal, Romania, Russian Federation, Slovakia, Slovenia, South Africa, Spain, Sri Lanka, Sweden, Switzerland, Tajikistan, Thailand, Tunisia, Trinidad and Tobago, Turkey, Turkmenistan, Ukraine, United Kingdom, United States, Uzbekistan, Venezuela
Certification (Part III):
Sign with your full legal name, and add the date of the signature.
For other sections of the W-8BEN-E Form, check the boxes that apply to you.
‍
Disclaimer: This article is to be used as a guide only and should by no means be considered as tax advice. Always check the official IRS website for the latest information, or seek legal advice.
‍