The Referral Program rewards you, our customers, for inviting others to join Deel. For every business that signs up with your referral link and pays at least four contractors or one employee, you receive a $200 Amazon Gift Card.
Find out more:
Who qualifies as a Referral?
A qualified referral is any company that becomes a Deel client with at least one employee or four contractors.
Any company that becomes a new Deel client is a referral

Referrals must be

new

to Deel. They may not be previous Deel clients or have received a Deel demo

Referrals must onboard at least four contractors or one employee and must pay them within four months of signing up on the Deel platform
How to submit a referral
1. From your Deel Home Page and select Referrals
From here, there are three options:
2a. You can copy the link under Invite business via link and send that to your referral. This link sends them to a Demo request page to enter their information and set up a time to talk with someone from Deel.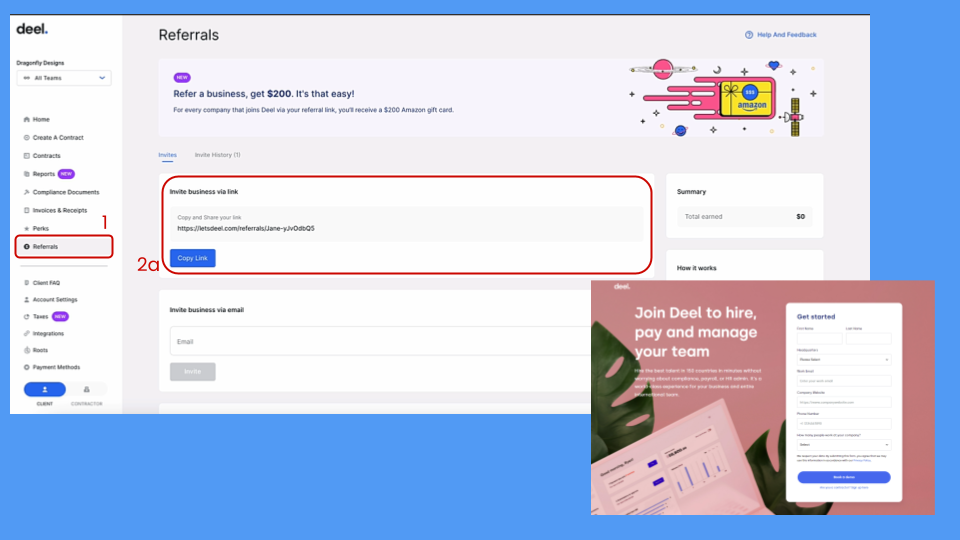 2b. You can also enter their company address under Invite business via email. Click OK from the confirmation page.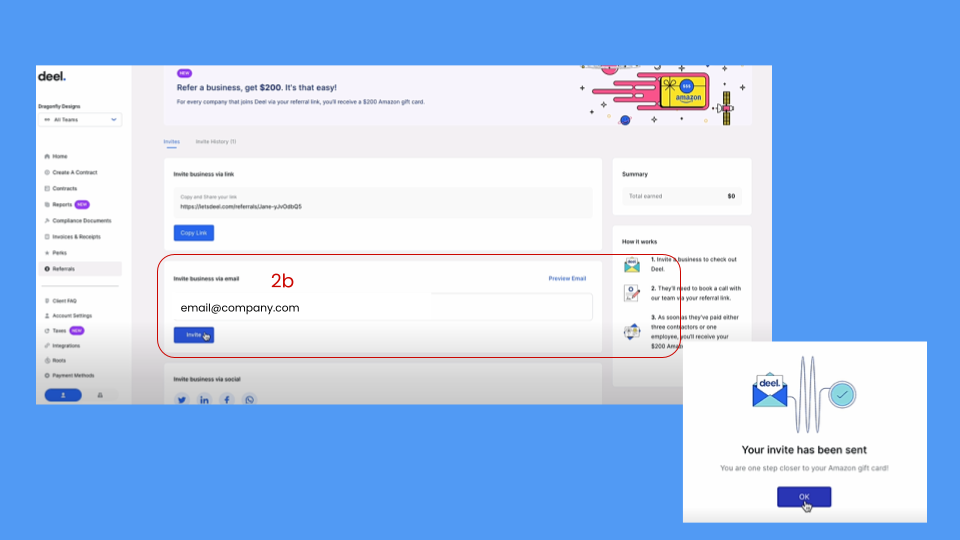 2c. You can use one of the social media channels listed at the bottom of the screen. Clicking any social media options will pop up the media and a suggested post.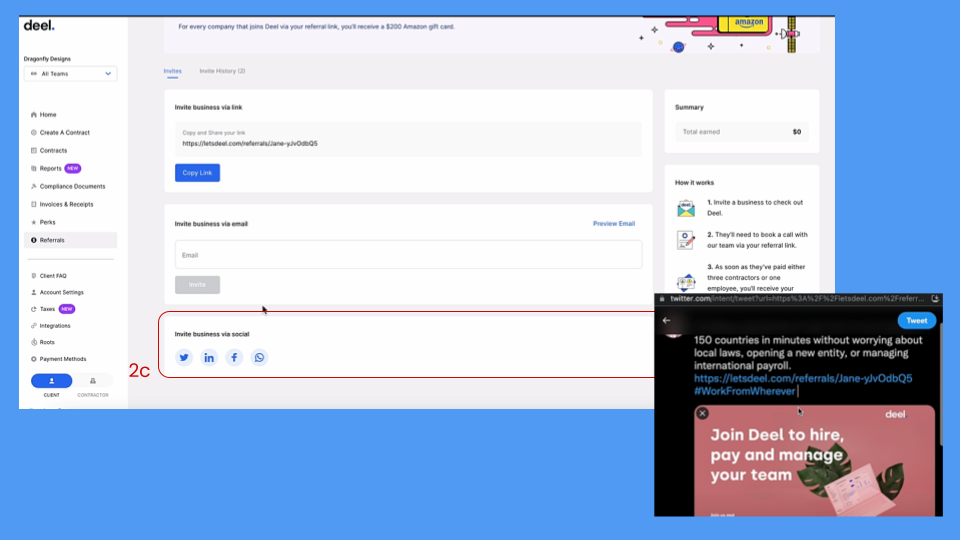 3. You can see all of your referrals using the Invite History tab
4. You can also see the referral status if they have scheduled a demo, hired people, or made their first payment.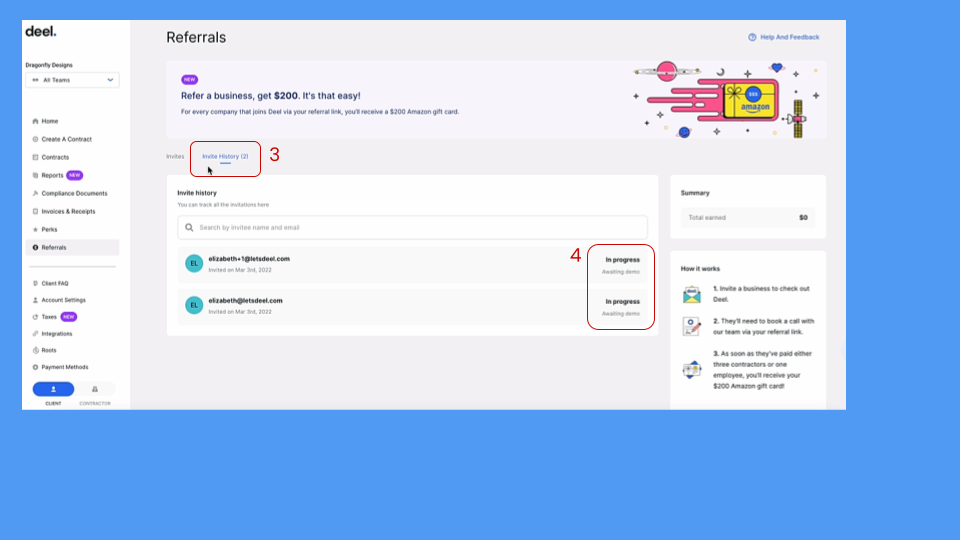 How to get the referral program gift card?
Once your referral has completed the requirements (see "who qualifies as a referral" for details), follow the steps below to receive the gift card:
1. From the notification email or directly in the Deel platform, select Claim Your Reward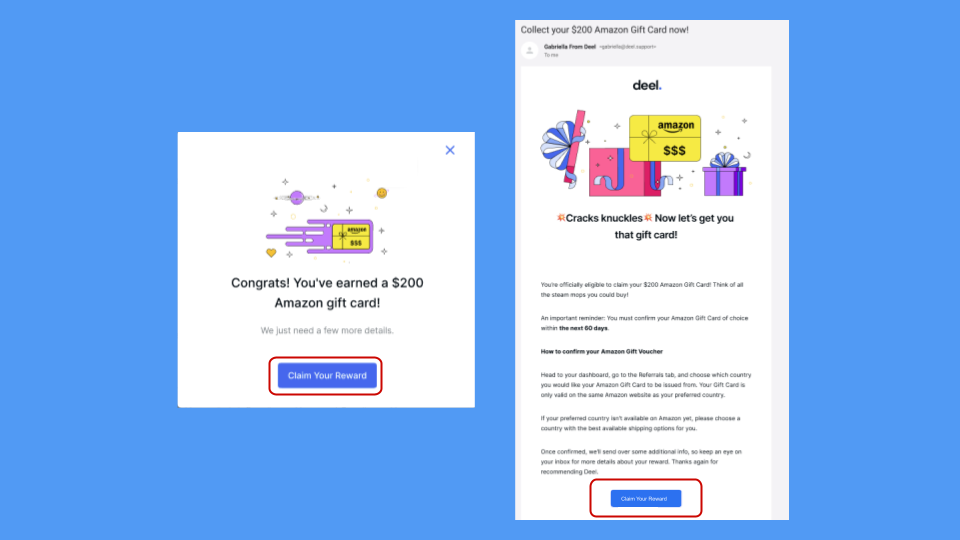 2. Select your country and select OK from the popup.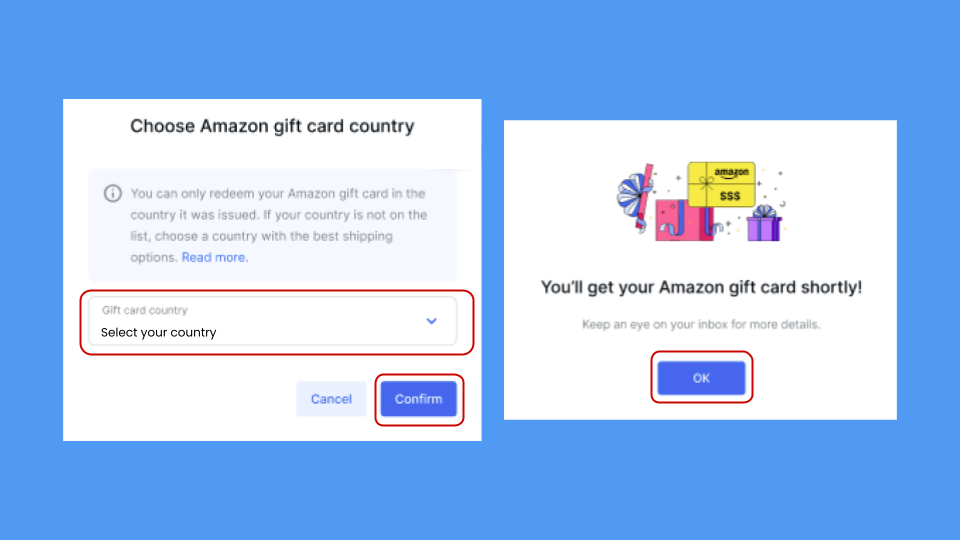 Gift cards are available in the following countries:
Australia

Canada

France

Germany

India

Italy

Japan

Mexico

Netherlands

Poland

Saudi Arabia

Singapore

Spain

Sweden

Turkey

United Arab Emirates

United Kingdom

United States
If your preferred country is not on this list, the Gift Card will be issued from a listed country with the best shipping options.
3. Gift cards are emailed from an automated Amazon email address to the email you provided in the original referral.
Please note: Deel reserves the right to declare a referral ineligible if program abuse is suspected.