This guide will inform you on how to integrate BambooHR for Global Payroll.
If you want more information about using Global Payroll with Deel, please see Global Payroll Overview
In this article:
Onboarding the Global Payroll Employees plugin
Before you begin:
You must have both
a valid BambooHR login
Admin organization manager permissions in Deel, to configure and sync BamboorHR profiles

Note: It may take several hours for updates and profiles to appear on BambooHR.
Preparing your BambooHR
✅ Step 1 - Create the Pay Group in BambooHR
Pay Group is a standard field in BambooHR used for integrating with payroll providers to understand how the employee is getting paid.
You must have Admin permissions in BambooHR to proceed.
Click on the Gear icon located at the top-right of your screen on BambooHR.
Click on (1) Employee Fields in the left-hand menu
In the sub-menu, find and select (2) Pay Groups
To add your first Pay Group click (3) New Pay Group and create an option for each entity where you want to set up Deel Global Payroll.
If you have at least one option defined, you can assign a value for any employee you want to be synced to Deel within the Job tab for each employee under compensation.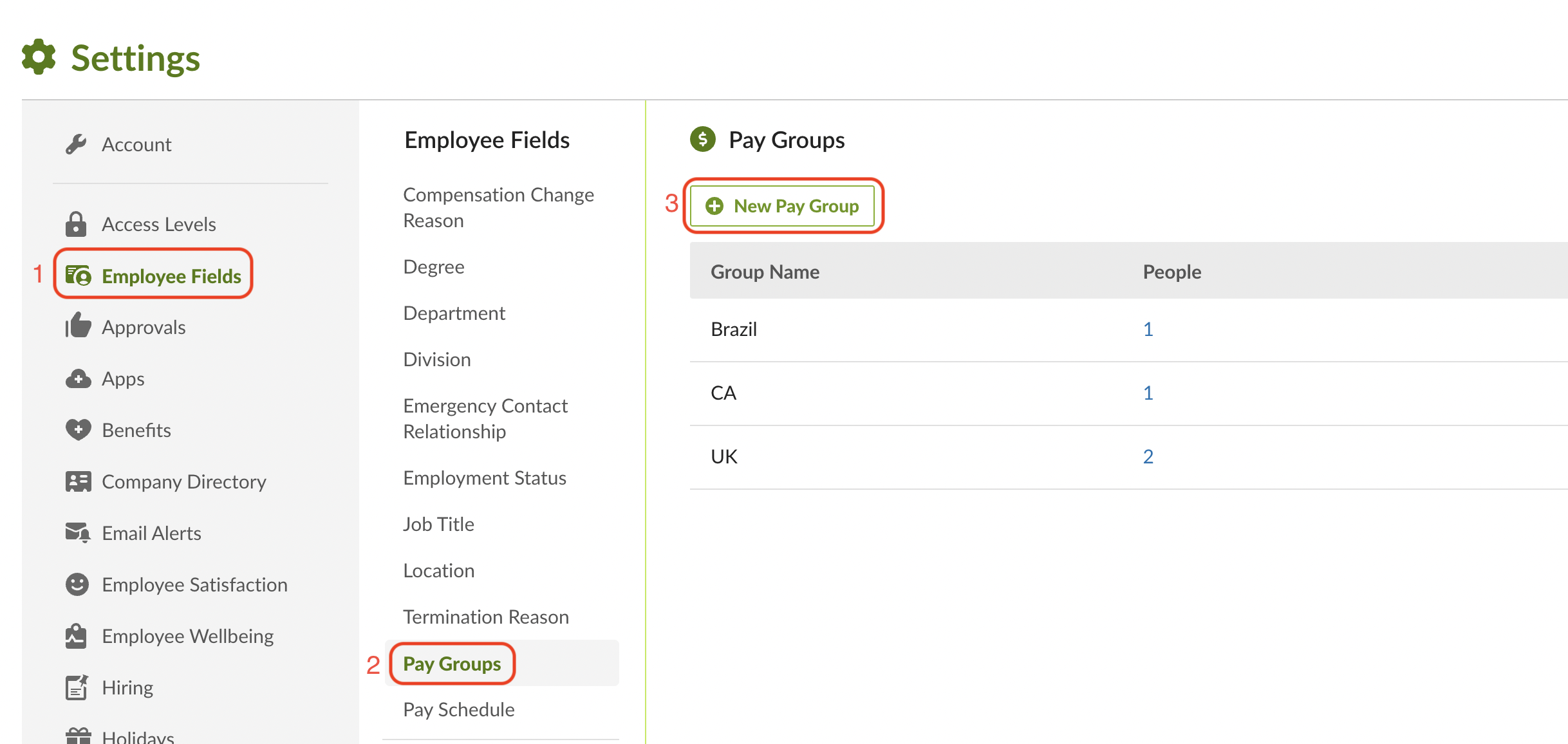 ✅ Step 2 - Assign Pay Group to employees
You must have Admin permissions in BambooHR to edit employee data
Go to the Job tab of an employee
You view and edit employee details like Hire Date, Standard Hours Per Week, Pay Group, EEO Job Category, and more.
Select the Pay Group from the dropdown options
Click on Save Changes to apply the selected Pay Group for the employee.
Follow the above steps for all employees you want to sync.
You may experience a sync error if the country of employment of an employee does not match the entity country of the pay group.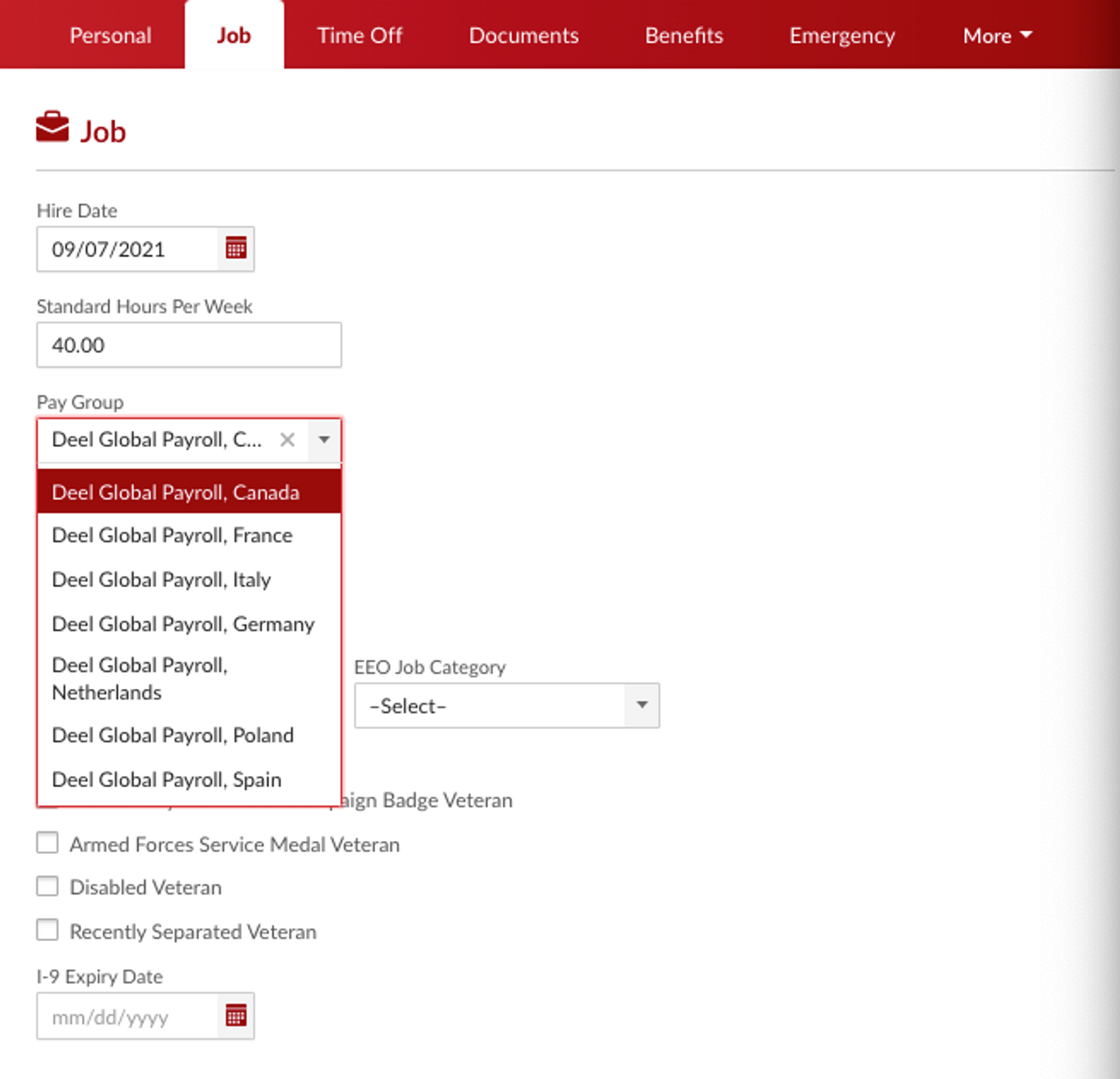 Integrating Deel to BambooHR
✅ Step 1 - Select Apps & Integrations from your home page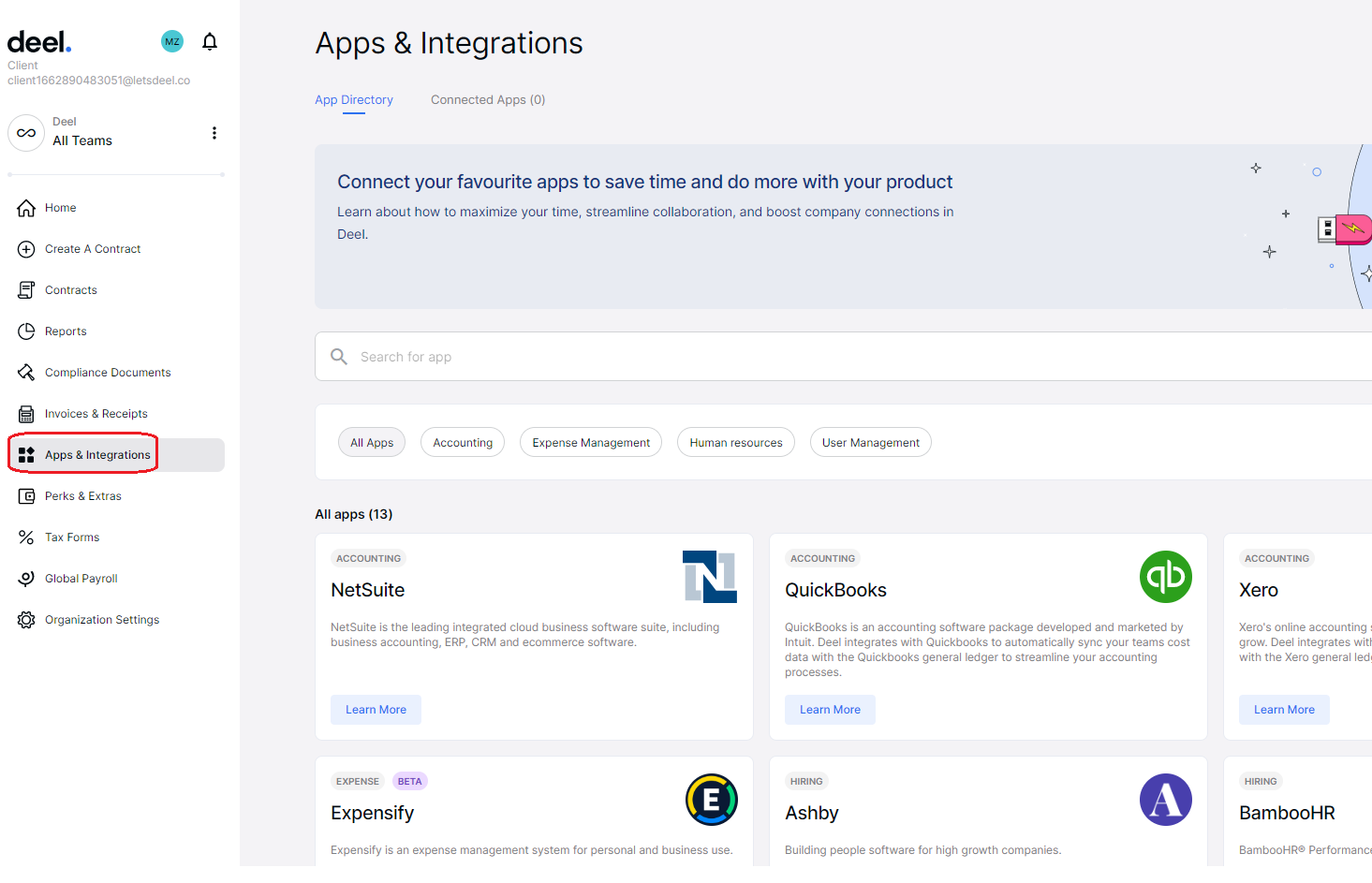 ✅ Step 2 - Click BambooHR
✅ Step 3 - Click Connect

✅ Step 4 - Enter your BambooHR subdomain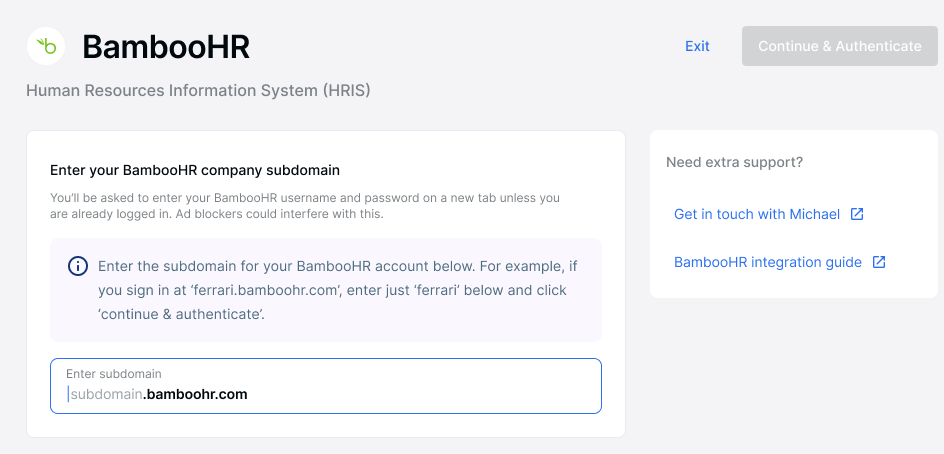 How can I find my BambooHR subdomain?
To locate your subdomain log in to BambooHR and view your URL.
Your company subdomain is the string that precedes the BambooHR domain.

Copy this subdomain and enter it into the Deel platform and click Next.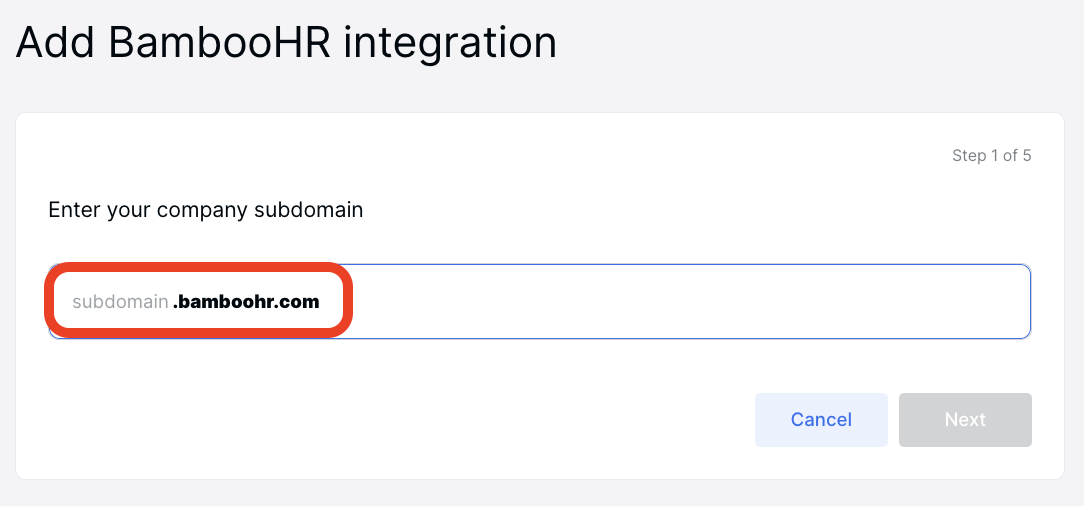 ✅ Step 5 - Click Continue & Authenticate
You'll be asked to enter your BambooHR username and password on a new tab unless you are already logged in.
You may need to disable adblockers to see the new tab.
✅ Step 6 - Click Allow Access on the pop-up window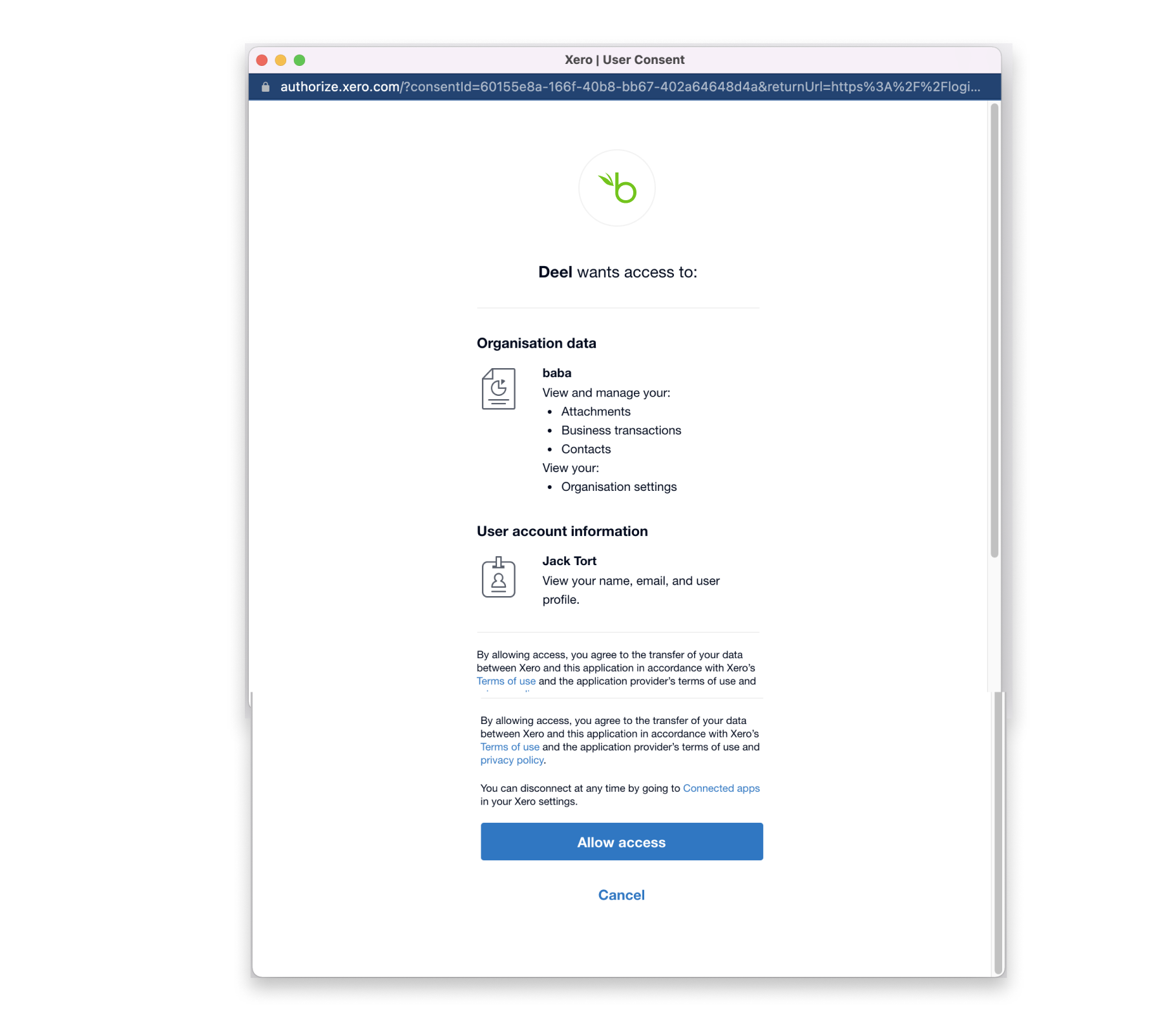 ✅ Step 7 - Congratulations! You can now enable plugins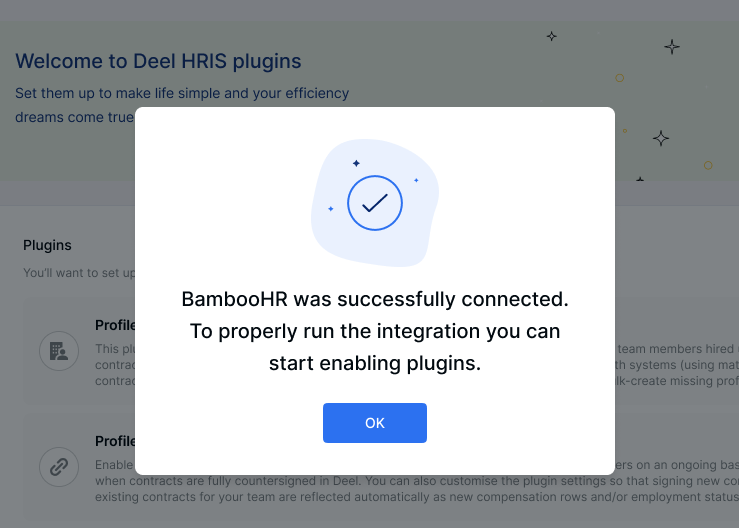 Onboarding the Global Payroll Employees plugin
The following steps will help you decide which entity team to create or sync Global Payroll contracts for, according to the BBHR pay group.
This step is highly sensitive so ensure to be very careful!
✅ Step 1 - Select Entity
Select the (1) Onboarding for Global Payroll Employees plugin.
In the Entity settings page, select an entity from the existing list or click (2) Add to add a new one.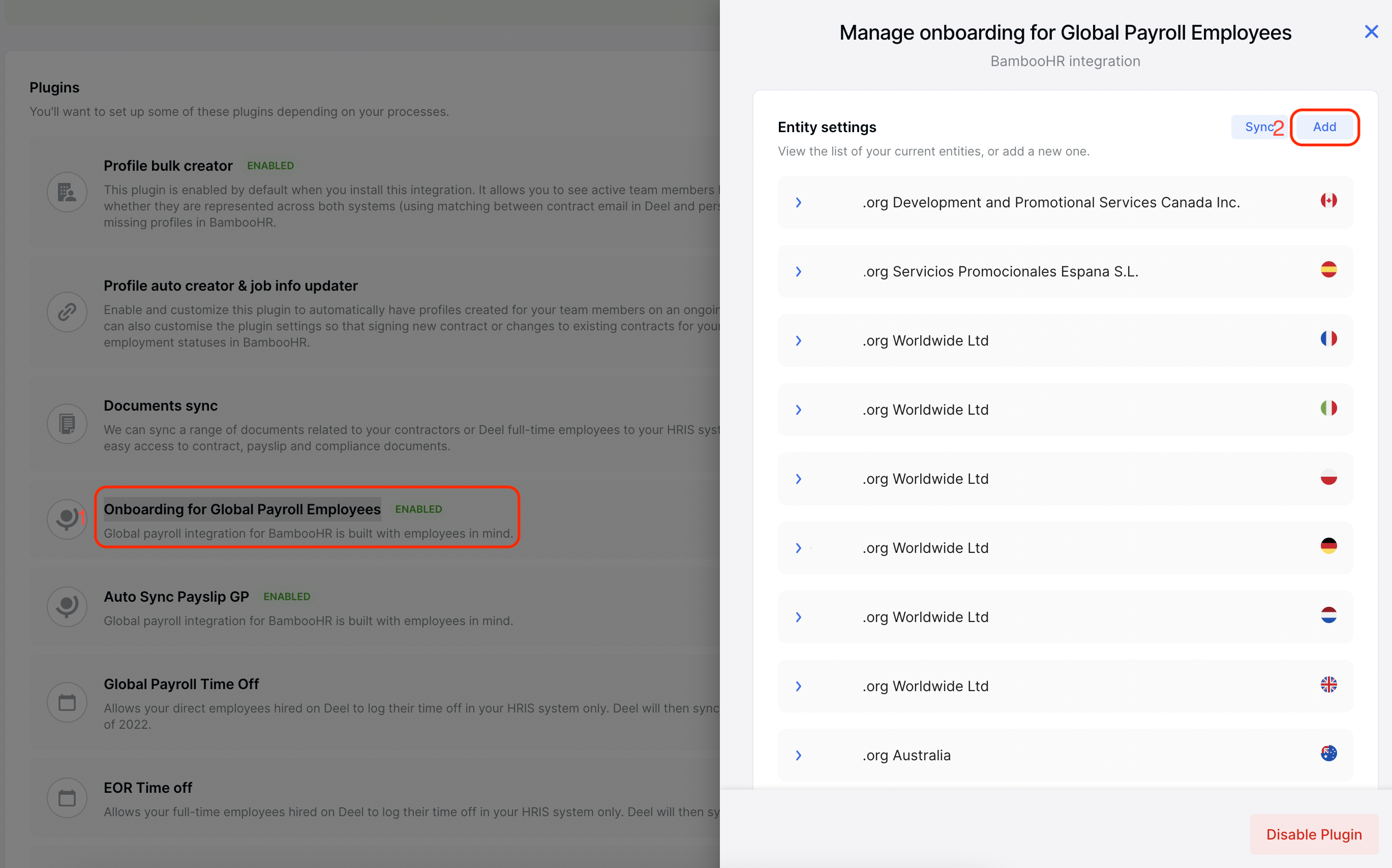 ✅ Step 2 -

Select a Pay Group Entity (with reference to BambooHR) that matches the entity country.

Note: Take extra care to correctly complete this step to ensure that the pay group you select corresponds to the desired entity you are running payroll from
✅ Step 3 - Add Team
Global Payroll contracts require a team.
Select an Organization reference and Team. Click Add
Repeat the above steps for any other desired entities

Please be aware that once you have 'used' a pay group and entity, you cannot use them again.
You will not be able to delete or alter these mappings once approved. If you need to change, please contact the Deel support team.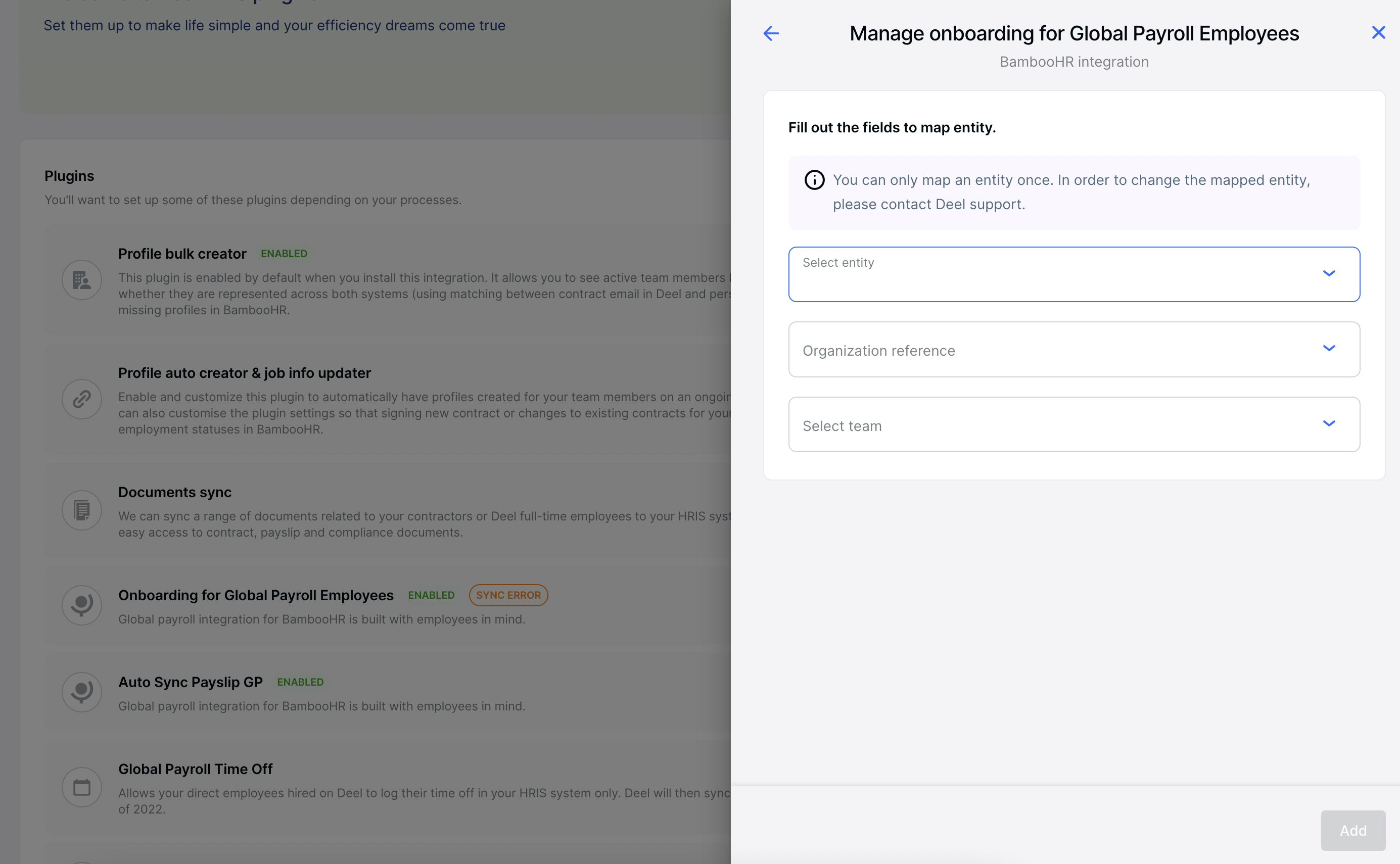 Data Mapping
You may have a customized field setup, so data mapping is done on a case-by-case basis.
During the initial integration setup, Deel will install a default mapping packet. This can be customized to your needs.
We will help you set up your specialized data mapping, so please reach out to your onboarding manager or customer success manager for assistance.
Syncing data and log report
After you complete the mapping you will need to sync data by clicking Sync BambooHR in the integration.
A poll of your HR system will now sync in details for all the employees with a mapped pay group.
You can see the last time that a sync was completed in the top left corner.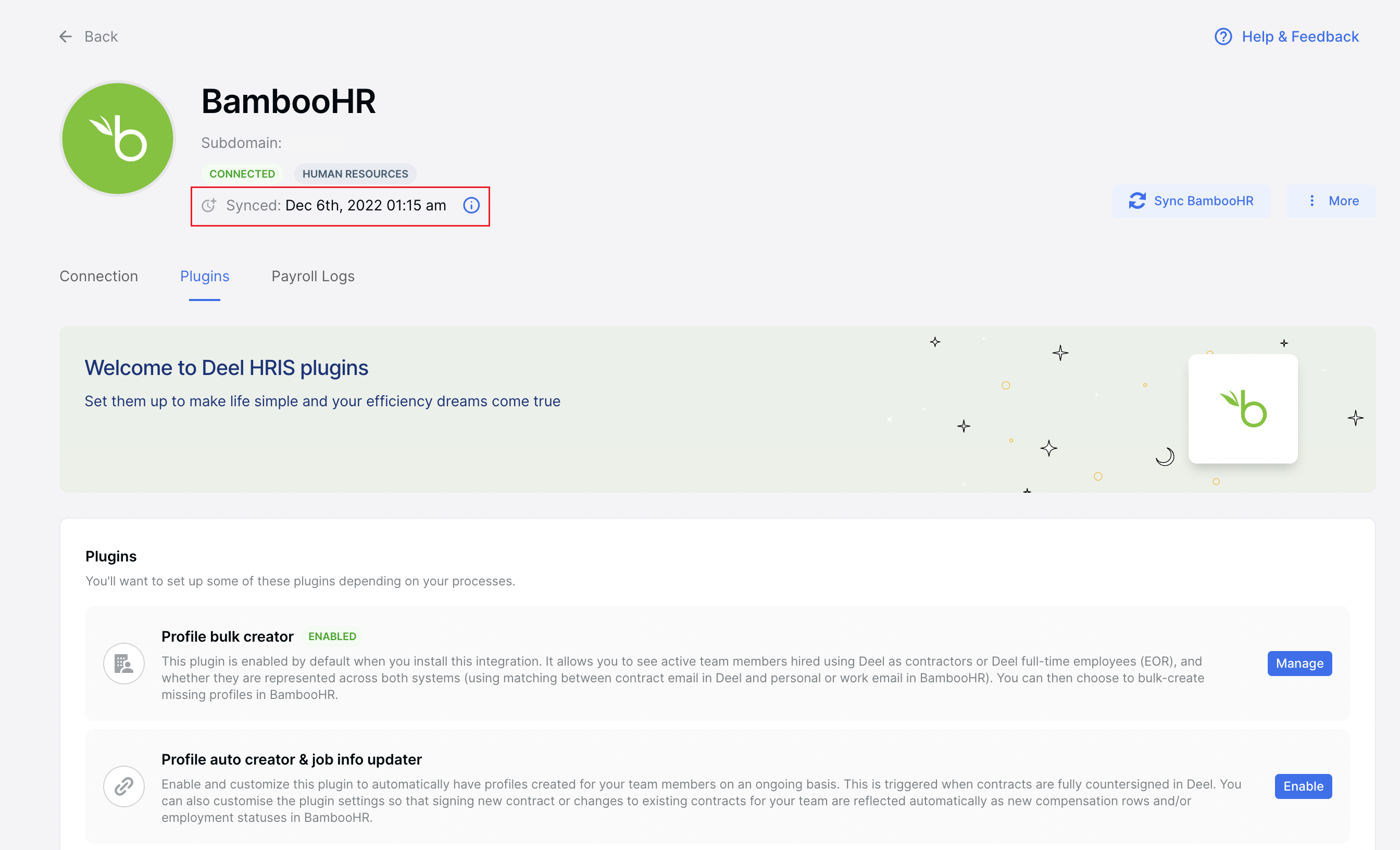 Payroll logs
To view the log report from the last sync, select the Payroll Logs tab.
You can use this log report to open up a Bamboo profile or a Global Payroll contract (if available), to investigate any issue.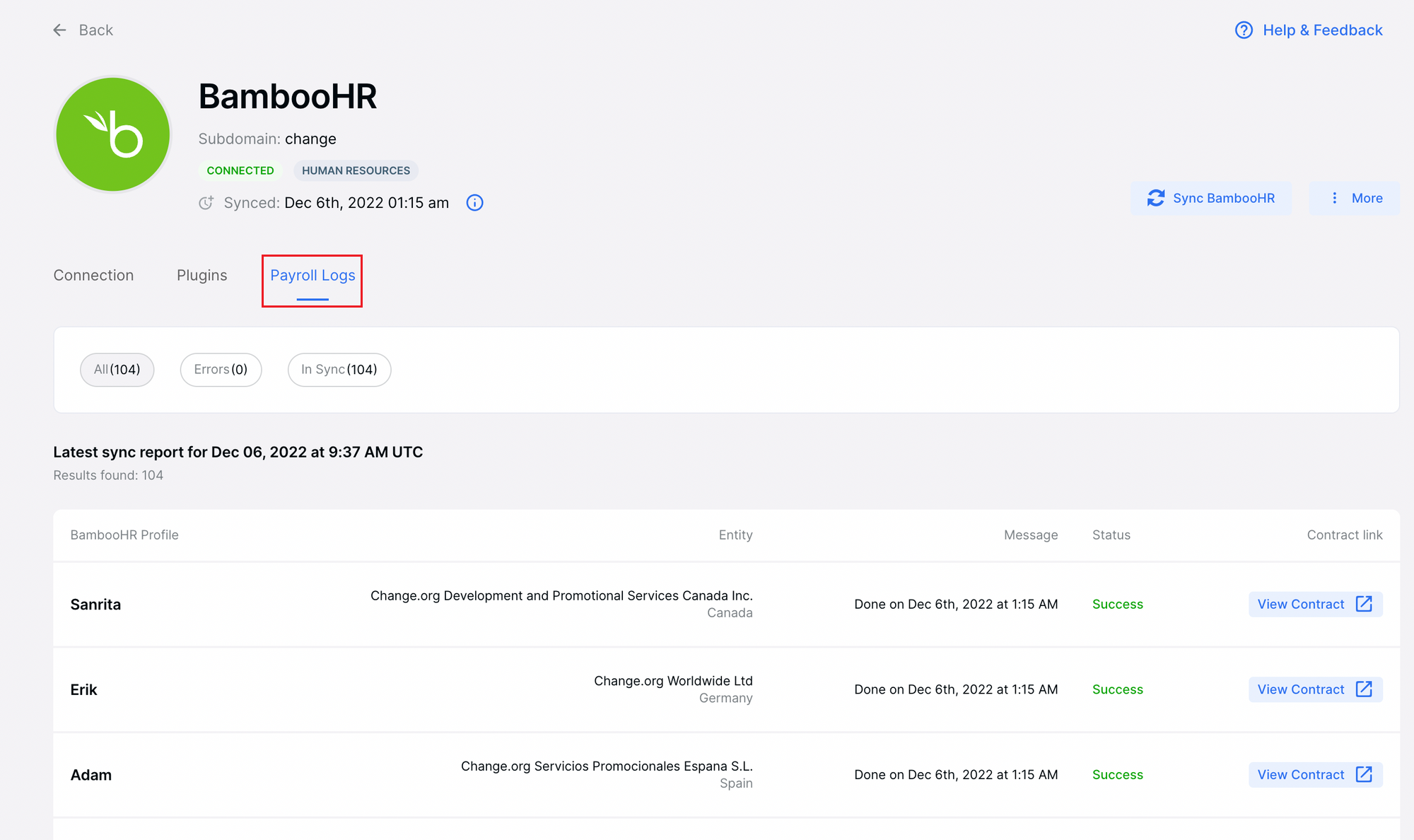 Syncing Payslips
The integration with BambooHR also syncs published payslips directly to a special document folder that we create for the employee's benefit
To set up this, enable the Auto Sync Payslip GP plugin.

When this plugin is enabled, it will create a yearly folder and sync all payslips into it.
The payslips can only be synced after the date when you first enable the Enable Payslip Syncing toggle.
Payslips will sync to BambooHR when they are published in Deel.
FAQs
[ACCORDION]
What types of data can be mapped with this integration?
Currently there are three types of data that can be mapped
Global Payroll contract fields
Additional Information fields
Annual Compensation
[ACCORDION]
What field types are not supported?
Currently, these field types are not supported with the integration:
Bank account details
Time Off
Payroll items
[/ACCORDION]