This guide will tell you everything you need to know so that you can connect Deel to BambooHR.
With this integration, changes and additions to contracts managed in Deel will be reflected in your organization's BambooHR profiles, giving you improved organizational visibility and accuracy.

In this article you will find:
Connecting Deel to BambooHR
Jump to video tutorial
✅ Step 1 - Select Apps & Integrations from your Dashboard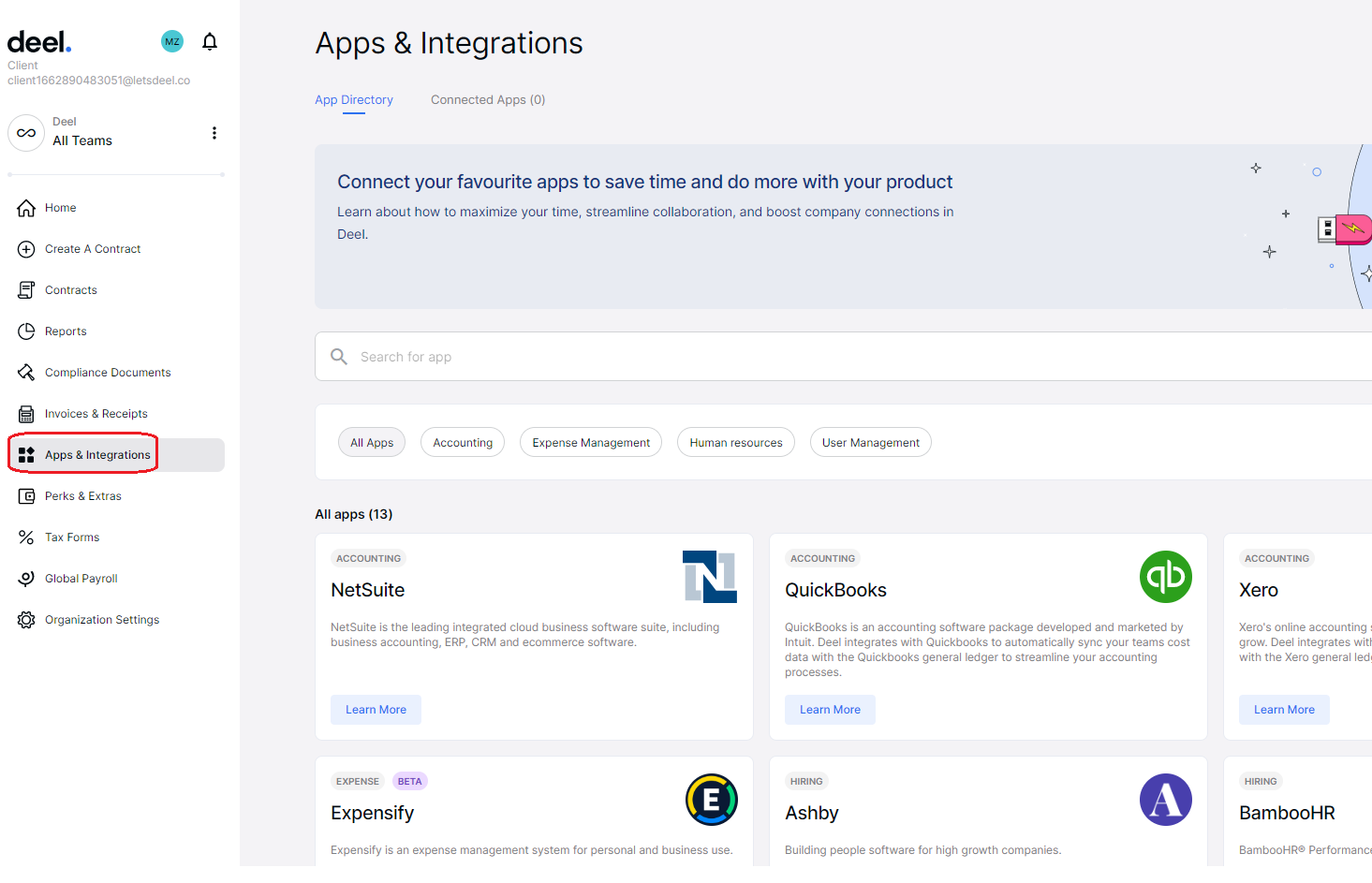 ✅ Step 2 - Click BambooHR
✅ Step 3 - Click Connect

✅ Step 4 - Enter your BambooHR subdomain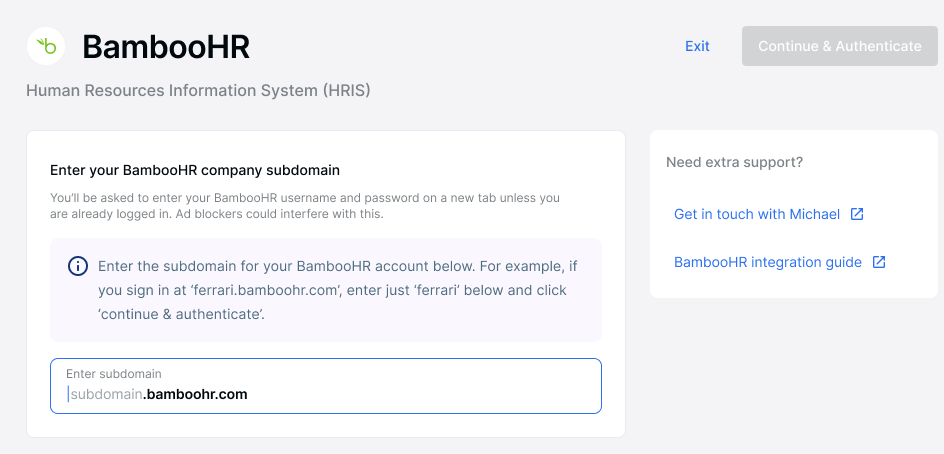 How can I find my BambooHR subdomain?
To locate your subdomain login to BambooHR and view your URL.
Your company subdomain is the string that precedes the BambooHR domain.

Copy this subdomain and enter it into the Deel platform and click Next.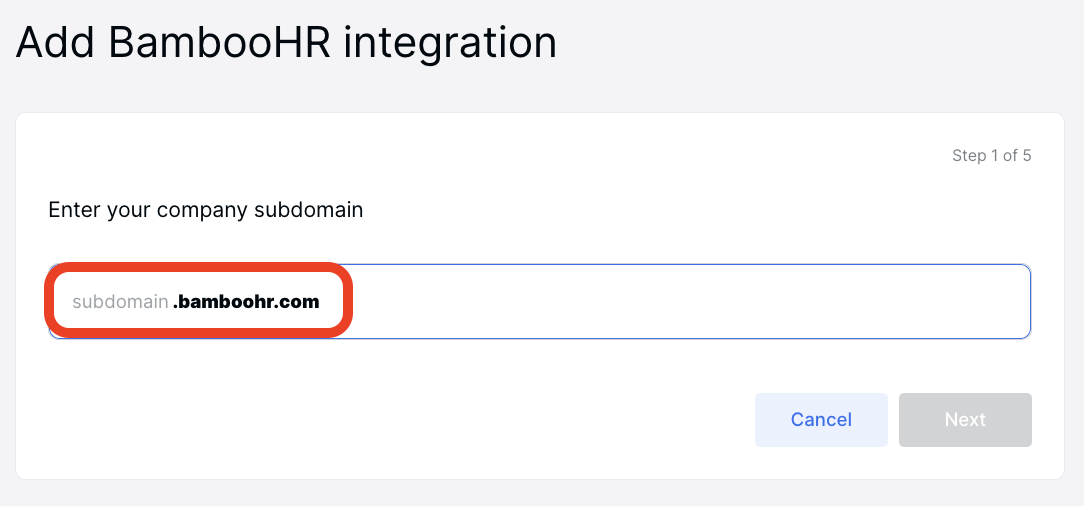 ✅ Step 5 - Click Continue & Authenticate
You'll be asked to enter your BambooHR username and password on a new tab, unless you are already logged in.
NOTE: You may need to disable ad blockers to see the new tab.
✅ Step 6 - Click Allow Access on the user consent pop-up tab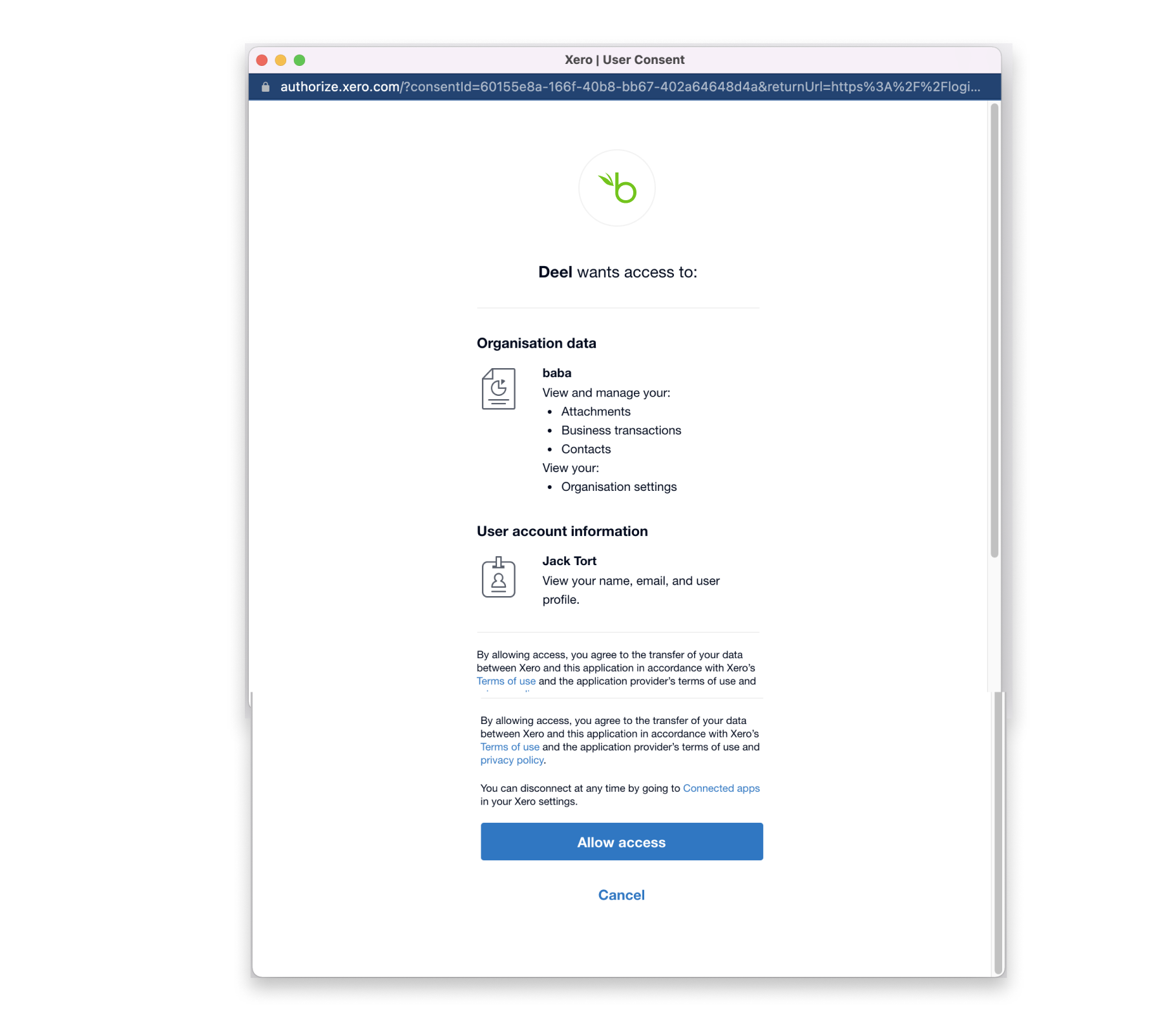 ✅ Step 7 - Congratulations! You can now enable plugins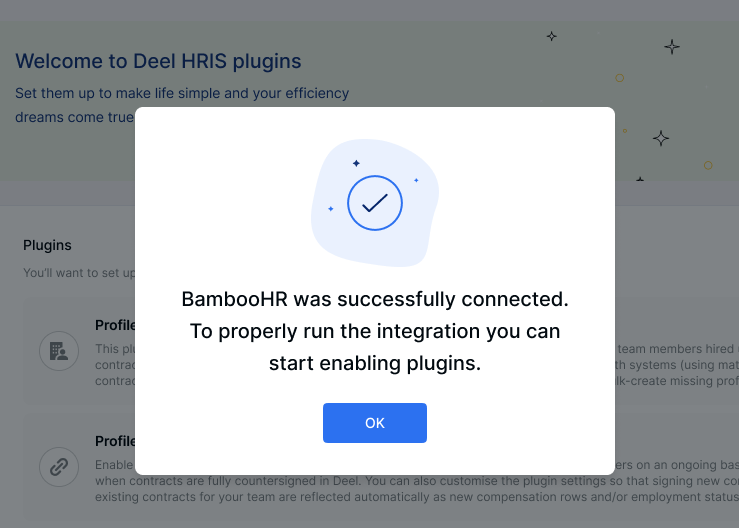 Enable or Manage Profile bulk creator
This plugin is enabled by default when you install the integration.
The Profile bulk creator allows you to see active workers hired using Deel, both contractors and EOR Employees.
✅ Step 1 - Click the Plugins tab on the BambooHR integration
✅ Step 2 - Click Manage next to Profile bulk creator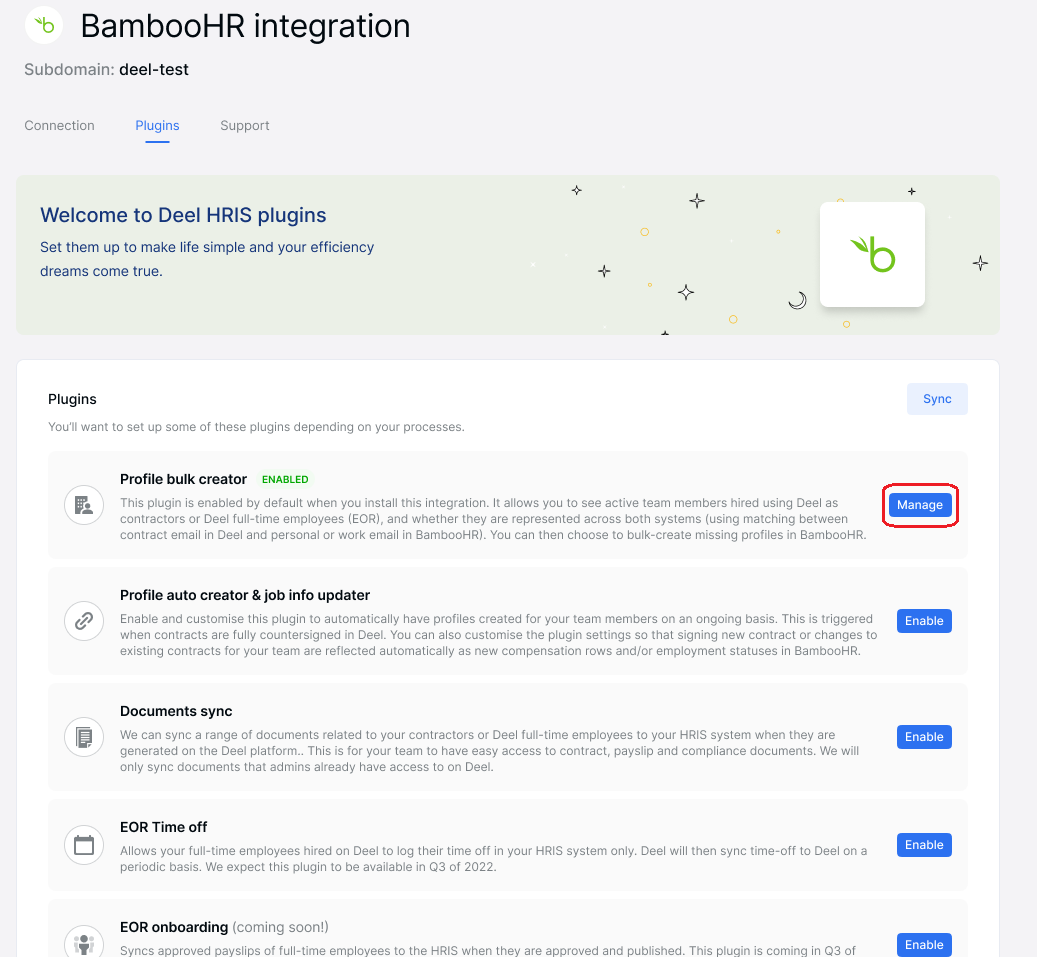 ✅ Step 3 - Review your Team Members list and click Next
Bulk create new profiles in BambooHR for team members that do not already have an HRIS profile. This allows us to easily sync data for them between the systems.
You can see which team members are currently found in both BambooHR and Deel, and which teams members are not found in Bamboo HR.
You can choose to Re-Sync the list here if you want.
You can also unselect individual team members from the bulk creator option, if you wish.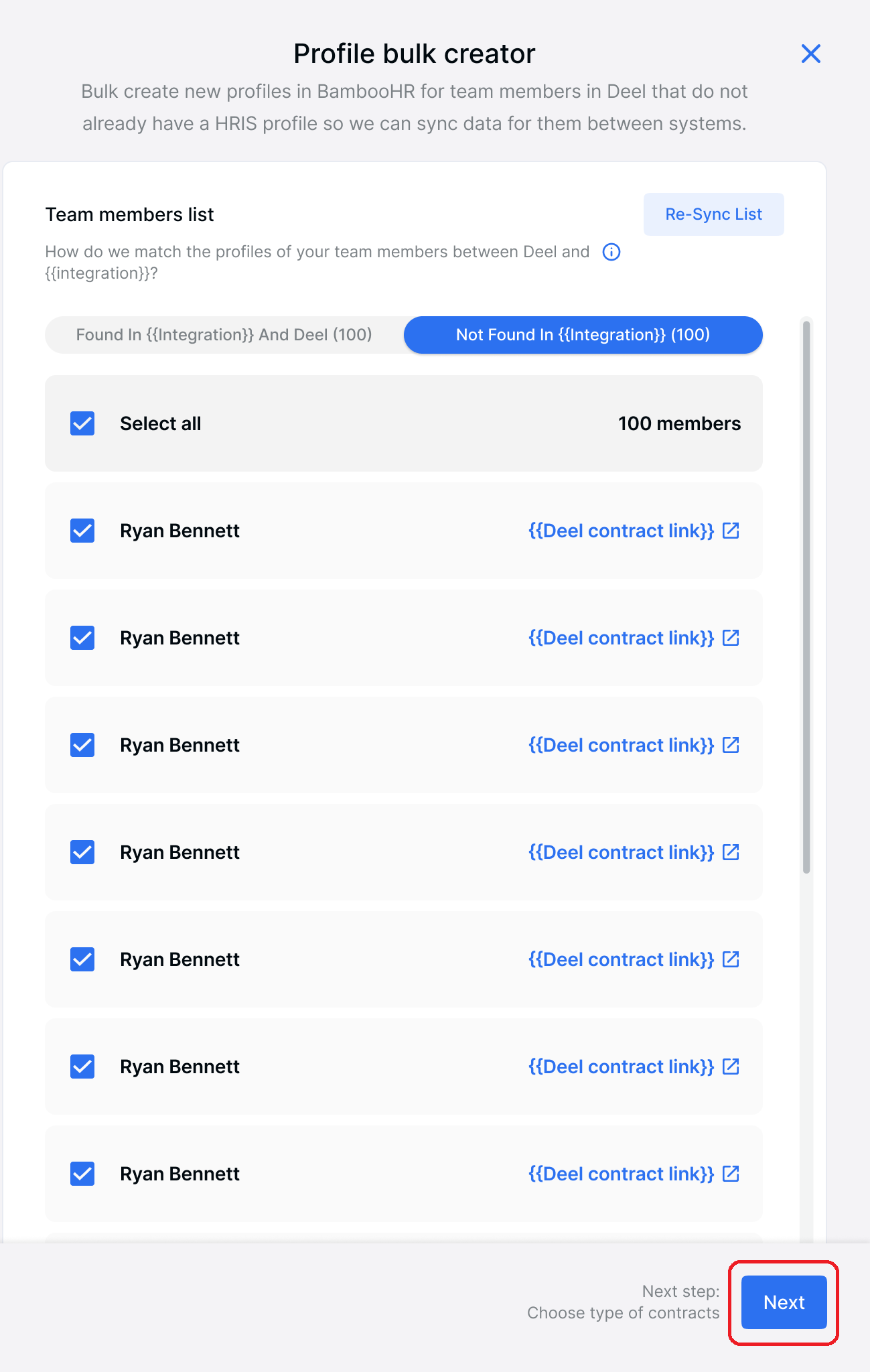 ✅ Step 4 - Choose the type of contracts and click Next
By default, you will create BambooHR profiles for all active team members.
You may select or unselect from the contract list if you want to create profiles for only certain types of Deel contracts.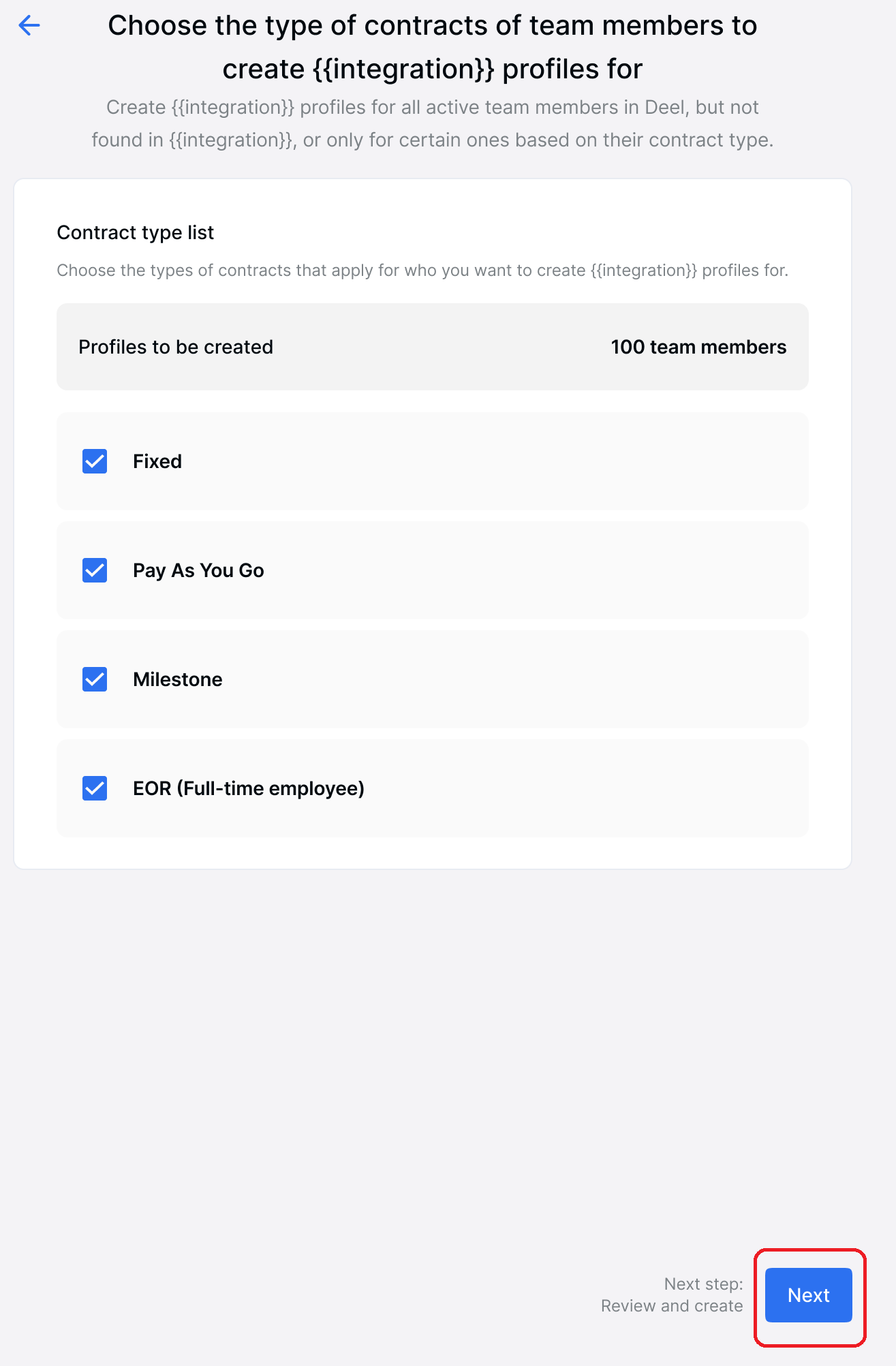 ✅ Step 5 - Click Create Profiles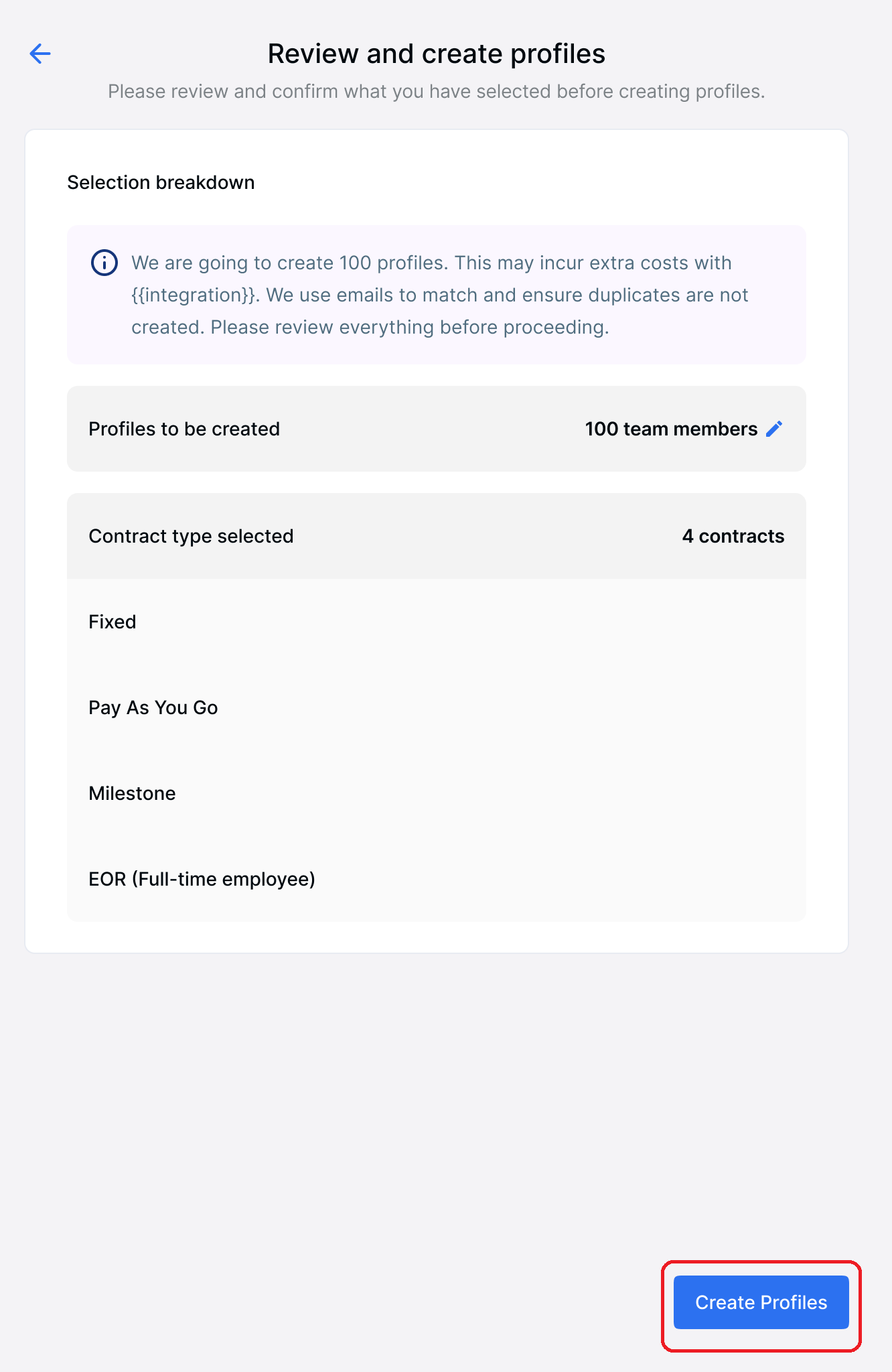 Deel creates the selected profiles inside BambooHR, which look like this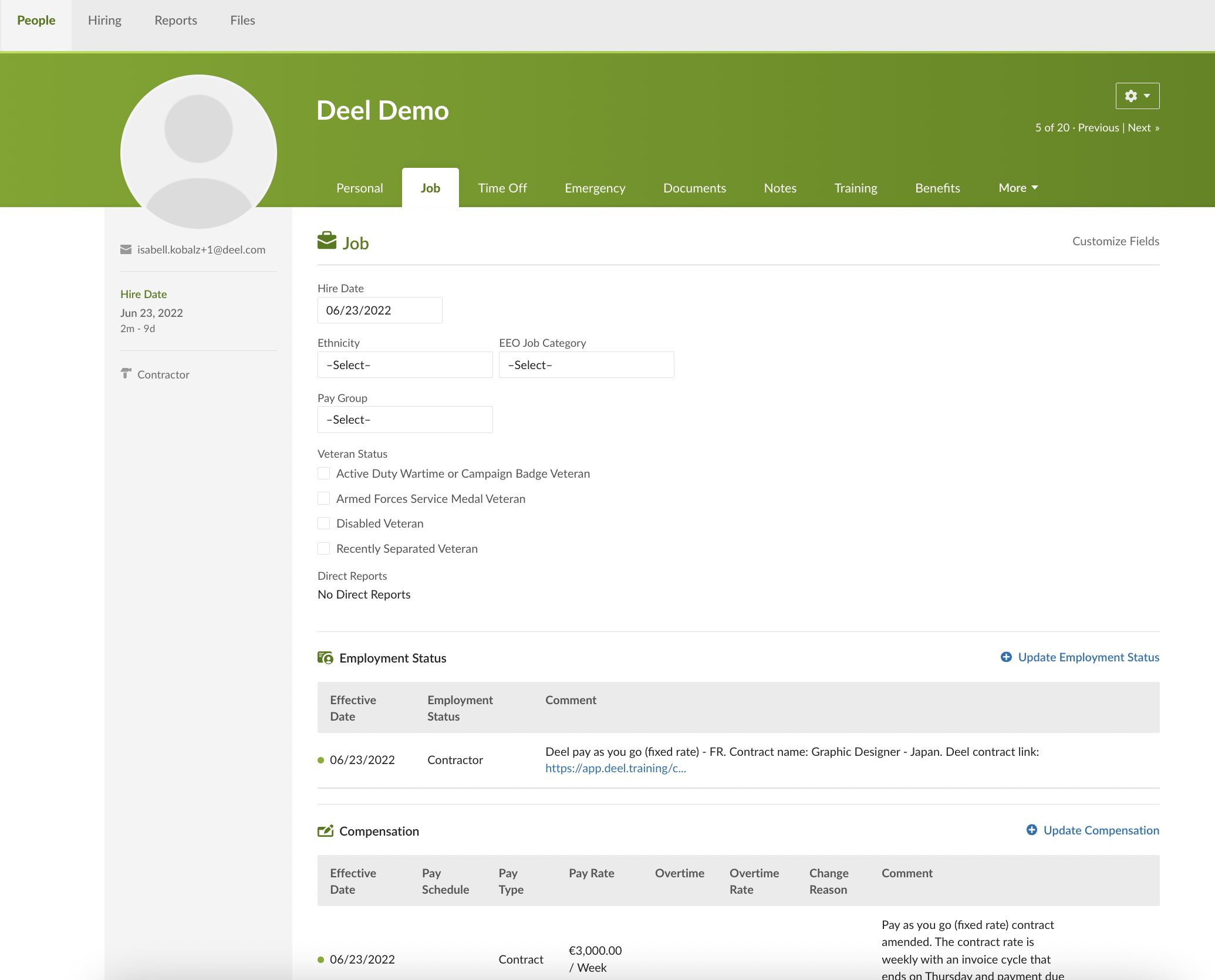 Enable Profile Auto Creator & Job Info Updater
This plugin allows you to automatically have profiles created for your team members on an ongoing basis. You can customize this plugin so that new contracts or contract amendments are reflected automatically in BambooHR as new compensation rows or employment statuses.
This is triggered when contracts are fully countersigned in Deel. Please note that it may take several hours for updates to appear on BambooHR, until the next scheduled sync.
✅ Step 1 - Click the Plugins tab on the BambooHR integration
✅ Step 2 - Click
Enable for Profile Auto Creator & Job Info Updater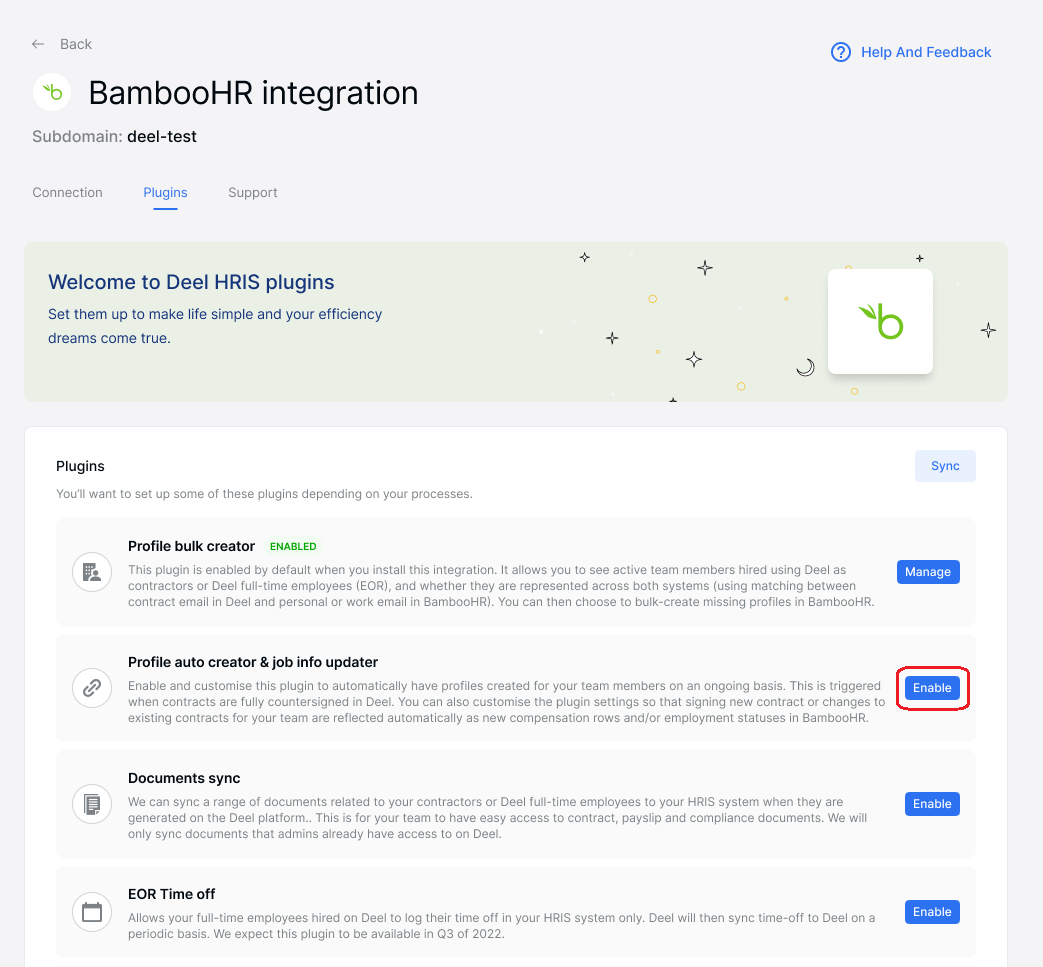 ✅ Step 3 - Customize plugin by clicking Activate on the creation list
There are three plugin options to choose from, and you can activate as many as you wish:
Profiles creation: Auto create profiles for team members not found in integration using contract type
Employment Status: Automatically update employment statuses used in Deel contract type
Compensation: Automatically update compensation used in Deel contract type
These plugins will automatically create profiles for team members when they sign their contracts in Deel.
The 'mapping' process is the same for all three plugin options.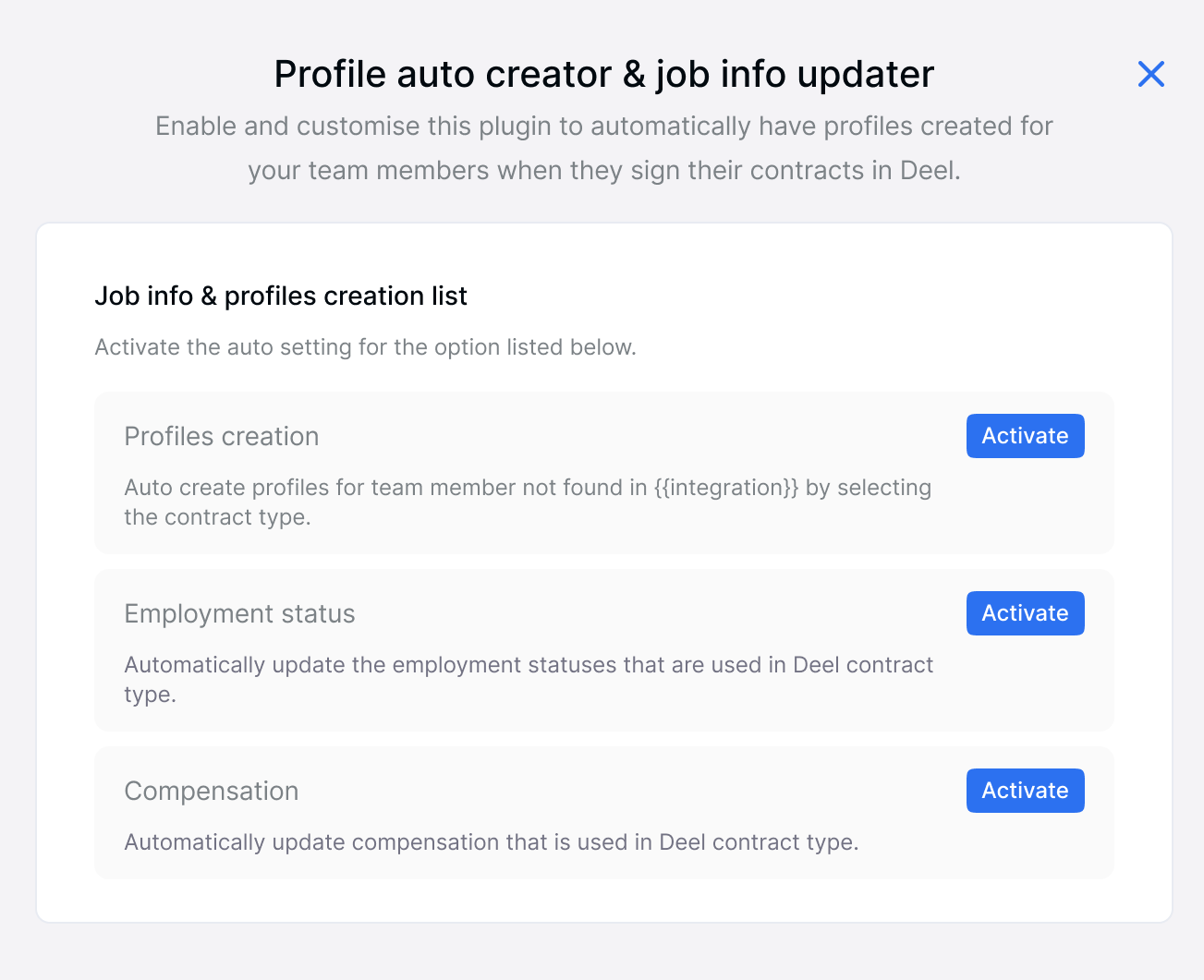 ✅ Step 4 - Map Deel contract type with BambooHR employment status
Deel offers four contract types: Fixed, Pay As You Go, Milestone, or EOR Employee.
Select an option on the drop-down list to link with the corresponding Deel contract type.
You must map at least one contract type to the BambooHR employment status in order to activate auto synching when contracts are signed or amended.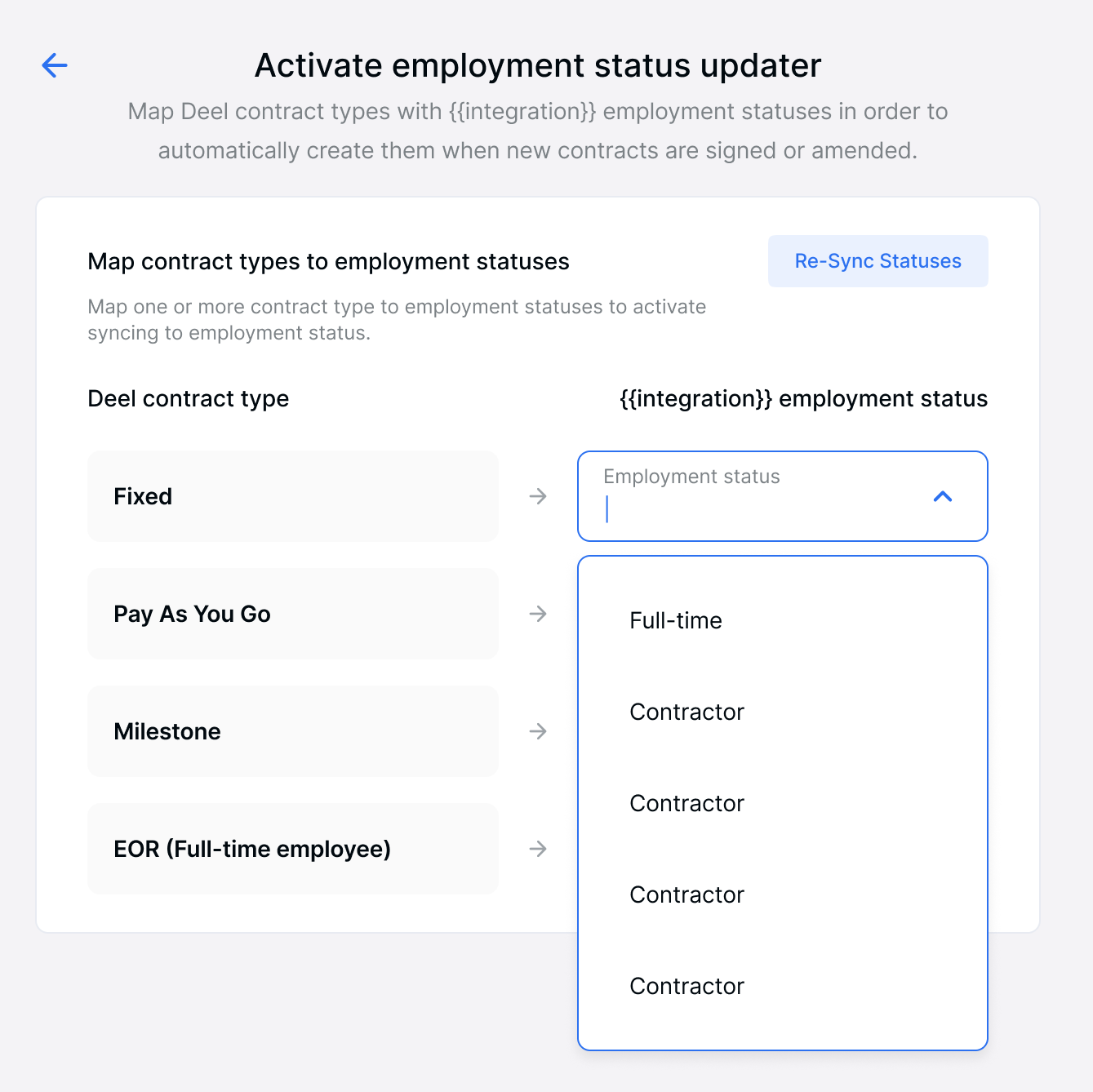 ✅ Step 5 - Click Activate
✅ Step 6 - You will see Active on the creation list
Click the blue pencil next to Active if you want to edit the plugin.
Click Activate if you want to enable auto-updates for other plugin options, and repeat the contract mapping process.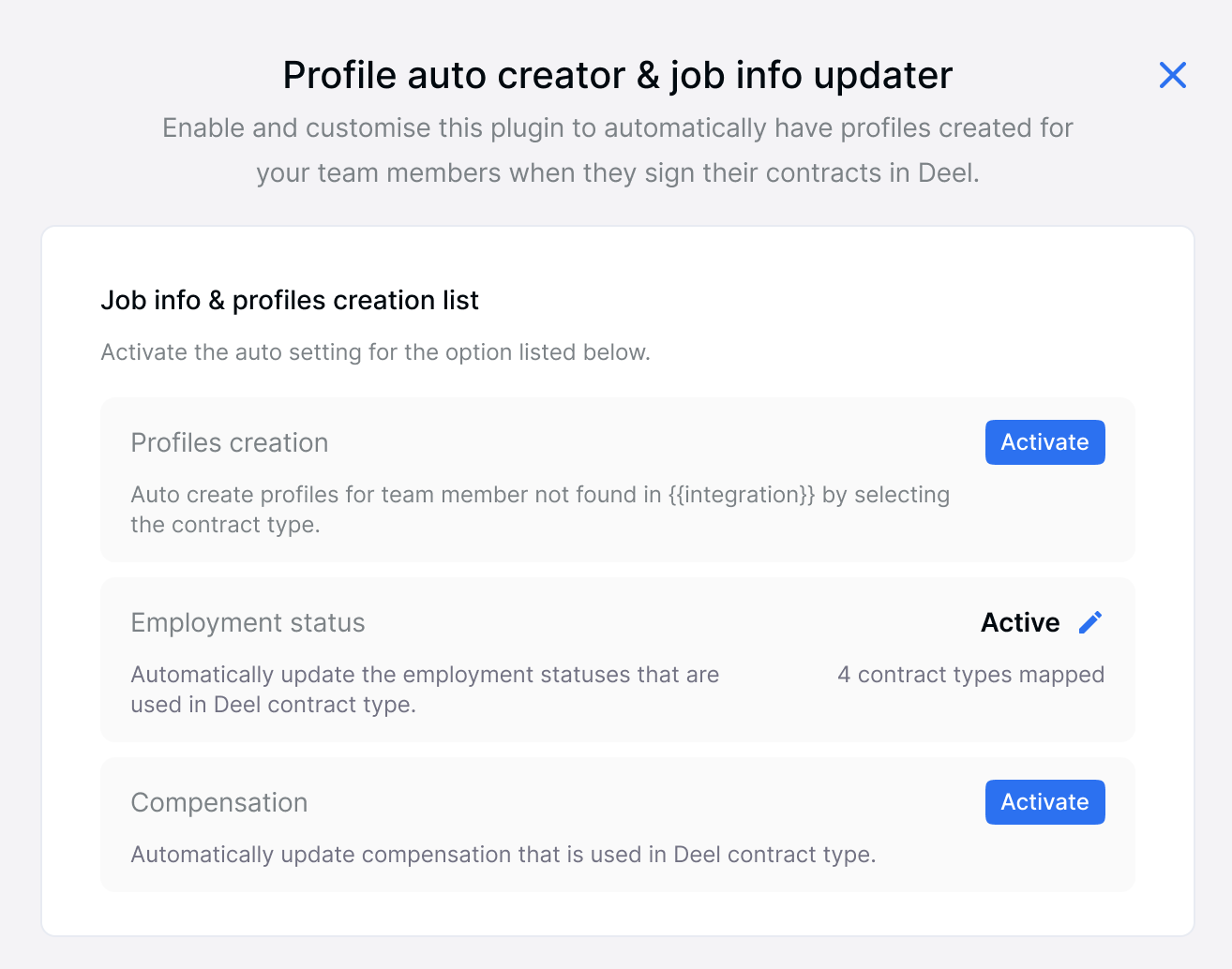 Details about employment status and compensation are automatically pushed through to BambooHR, as seen below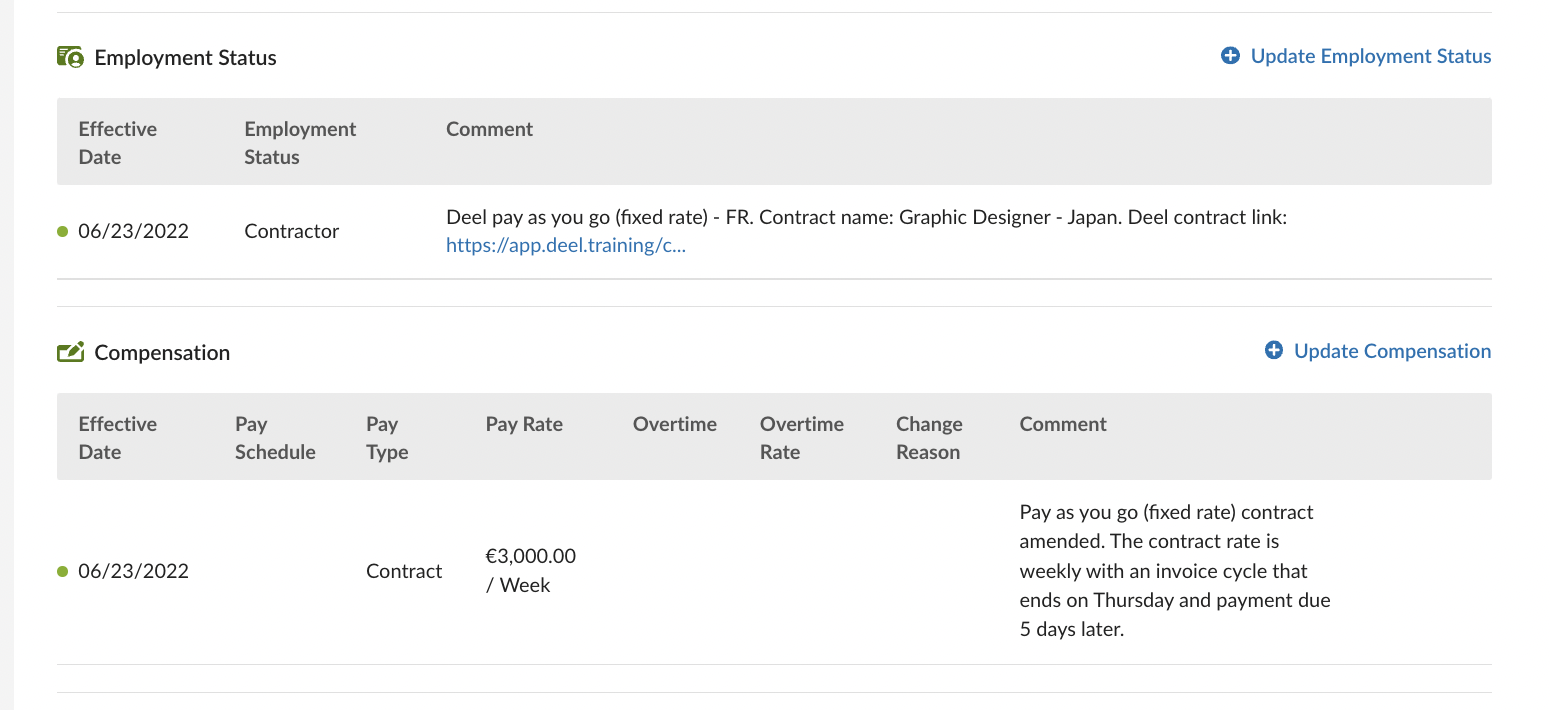 Enable Document Sync Plugin
This plugin lets your employees and contractors have easy access to contracts, payslips, and compliance documentation. We can only sync documents that Admins already have access to on Deel.
Please note that it may take several hours for updates to appear on BambooHR, until the next scheduled sync.
✅ Step 1 - Click the Plugins tab on the BambooHR integration
✅ Step 2 - Click
Enable next to documents sync

✅ Step 3 - Choose the documents you wish to sync to BambooHR
You can activate the toggle to sync documents like the contractor agreement, DPA agreement, Passport or National ID numbers, and more.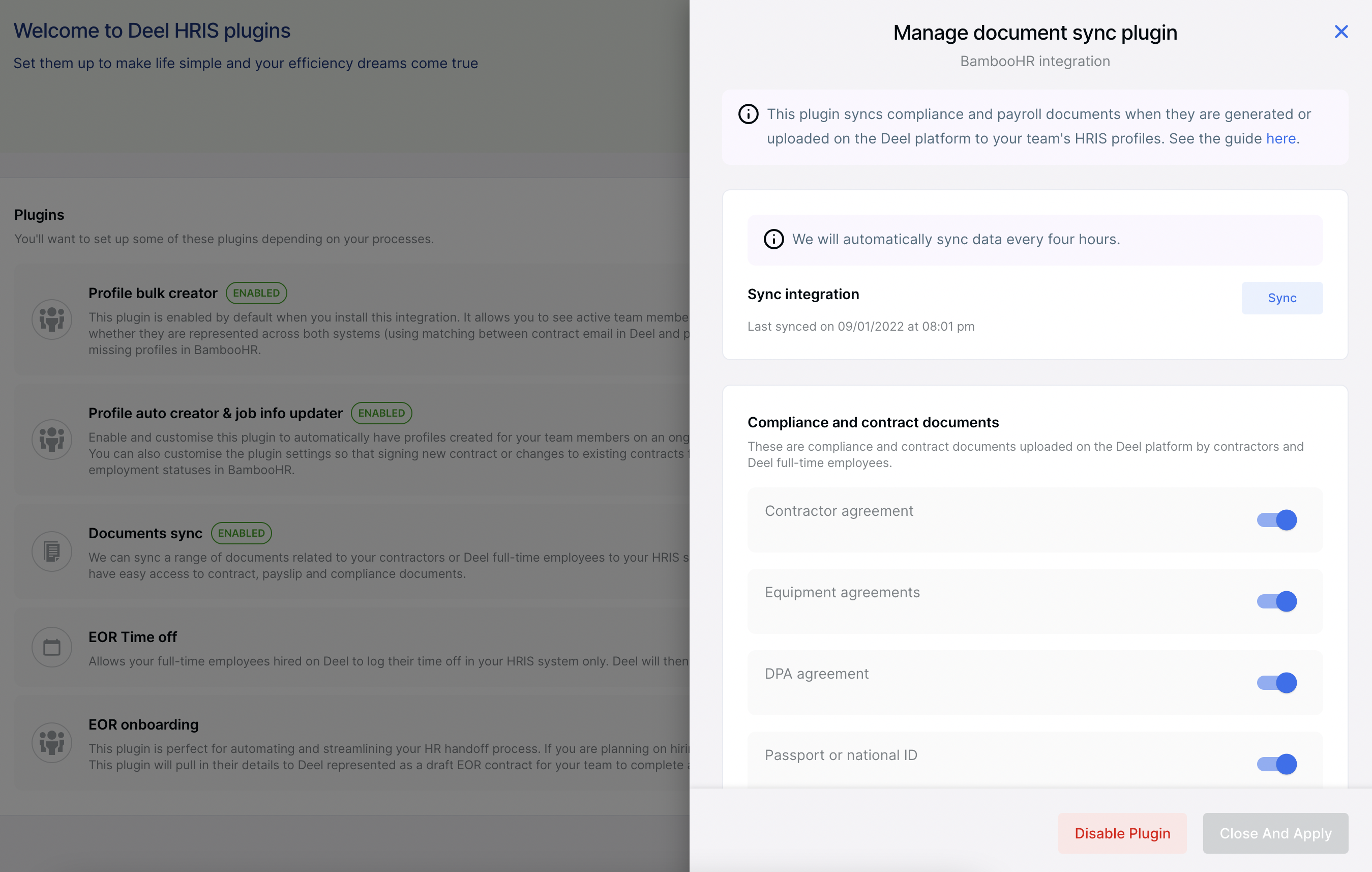 In BambooHR, you can see the synced documents by selecting the Documents tab for the employee.
Deel will create a Deel documents folder, as seen below

Note:

Deel will only sync payroll and payslip information for EOR Employees that have enabled sharing on their Deel profiles
EOR Time-off Plugin
This plugin enables Deel to read time-off information in BambooHR. Your EOR Employees hired on Deel will log their time off in BambooHR only. We will then periodically sync that time off to the Deel platform.
This will only work for Deel EOR employees linked to a BambooHR profile.
✅ Step 1 - Click the Plugins tab on the BambooHR integration
✅ Step 2 - Click
Enable next to EOR Time off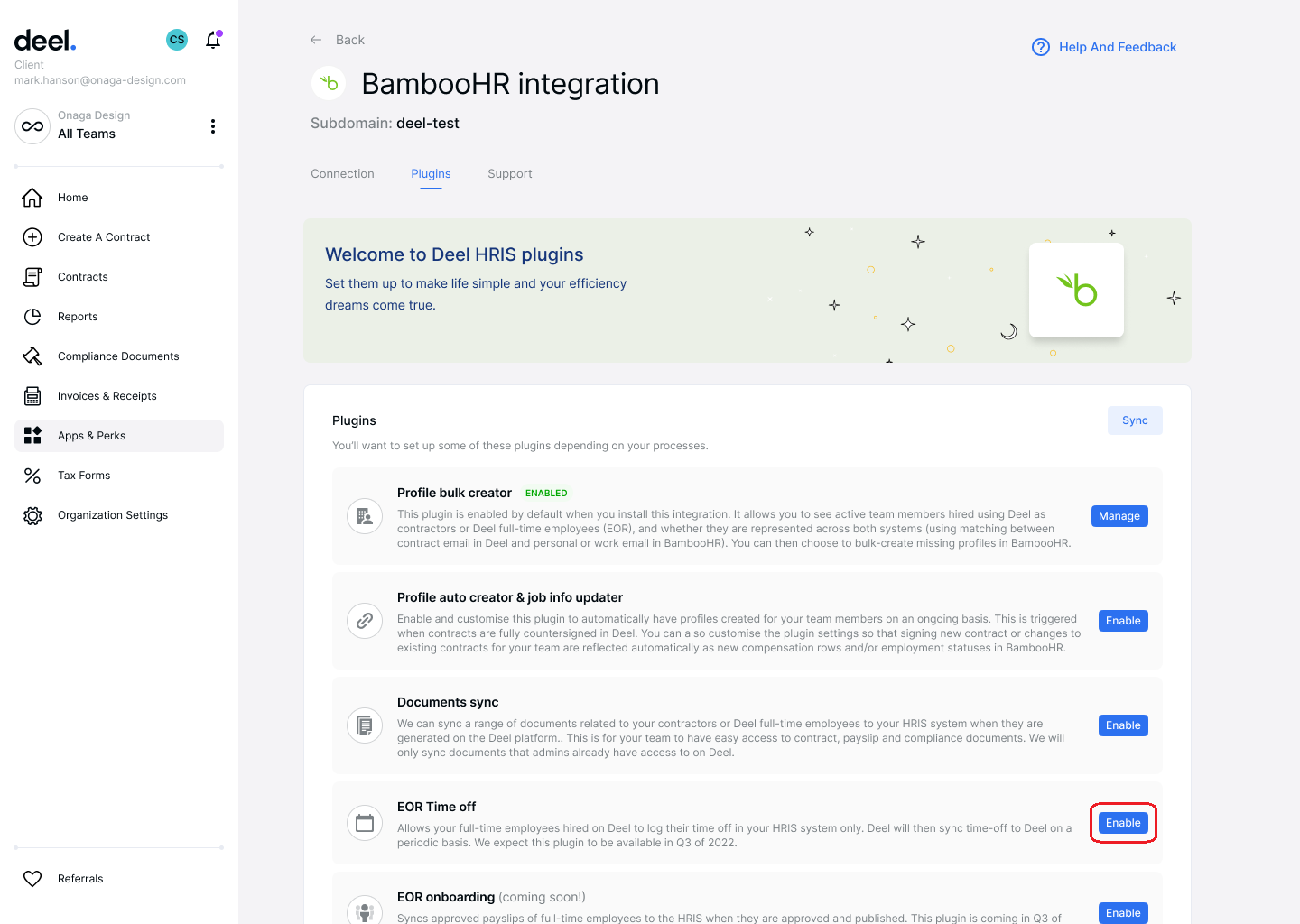 ✅ Step 3 -
Drag and Drop items from the BambooHR list into the Deel boxes
You must drop an HRIS time-off type into one of the three Deel boxes: Holiday/PTO; Sick Leave; Other Leave.
Important! There must at at least one item from the BambooHR list in each Deel EOR box.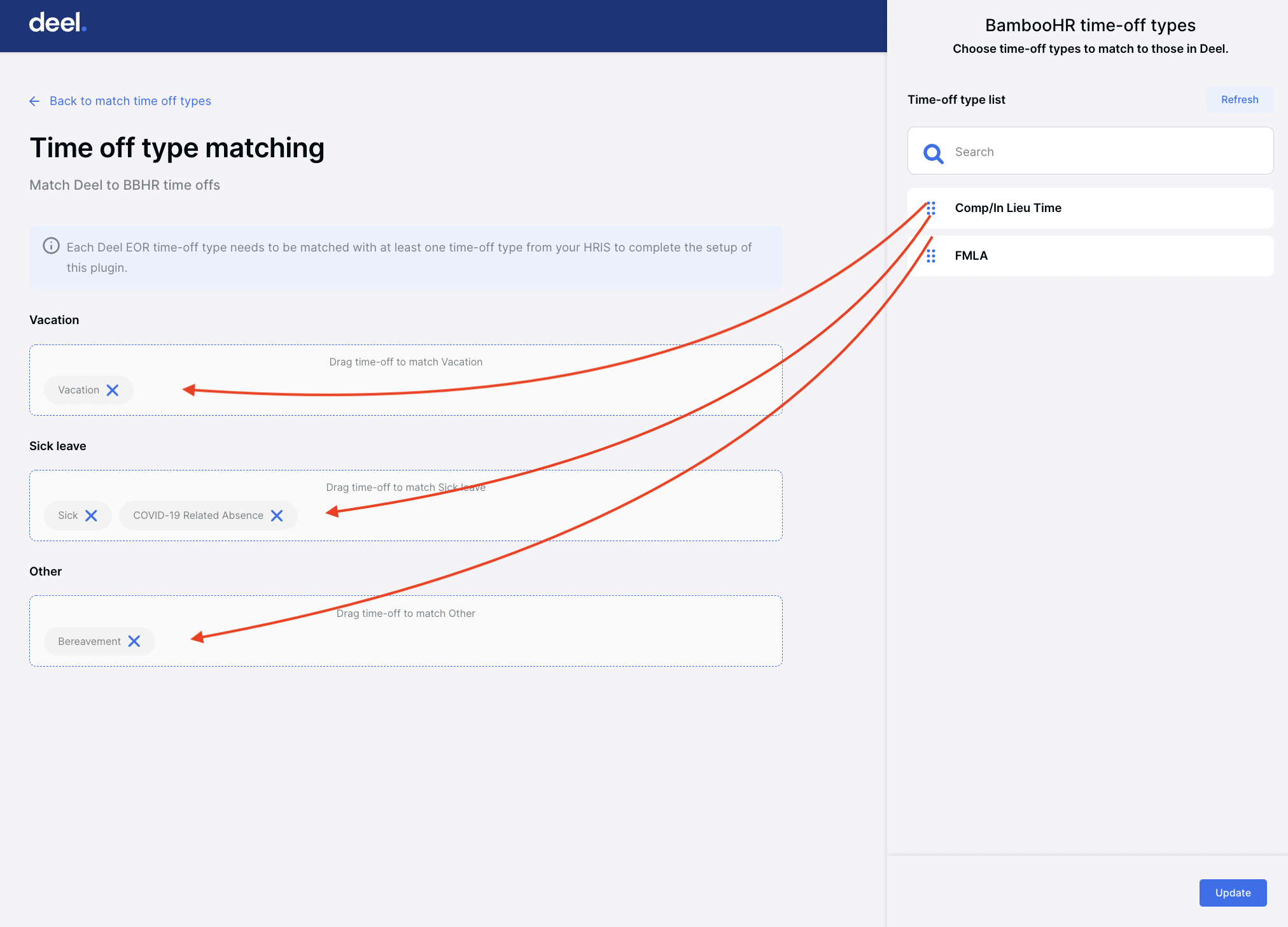 Note: Deel

only supports time-off types that are configured in your system
✅ Step 4 - Click Enable Plugin to complete the setup
Enable EOR Onboarding Plugin
The EOR Onboarding Plugin will link an employee's details to Deel, represented as a draft EOR contract for completion and signature. This allows your team to join the HR 'handoff' process when you make the decision to hire someone using a Deel EOR entity.
You can read more about Deel's quote creation process here: How to create a EOR contract
You may find this plugin beneficial if:
You create full-time employees in BambooHR before you onboard them in Deel.

You want to limit administrative access to Deel due to sensitive functionality

You want to eliminate double-keying of information.
✅ Step 1 - Click the Plugins tab on the BambooHR integration
✅ Step 2 -
Click
Enable next to EOR Onboarding

✅ Step 3 –

Select worker type to use for EOR contract
You can also add worker types in BambooHR under Settings>Employee Fields>Employment Status.
This can be useful if you want to sync certain employees to Deel, but not all employees.
If you need to change this setting, you will need to delete and reinstall the plugin.
✅ Step 4 – Click Enable Plugin
You will return to the main plugin menu. From here you can click Manage to enter the plugin settings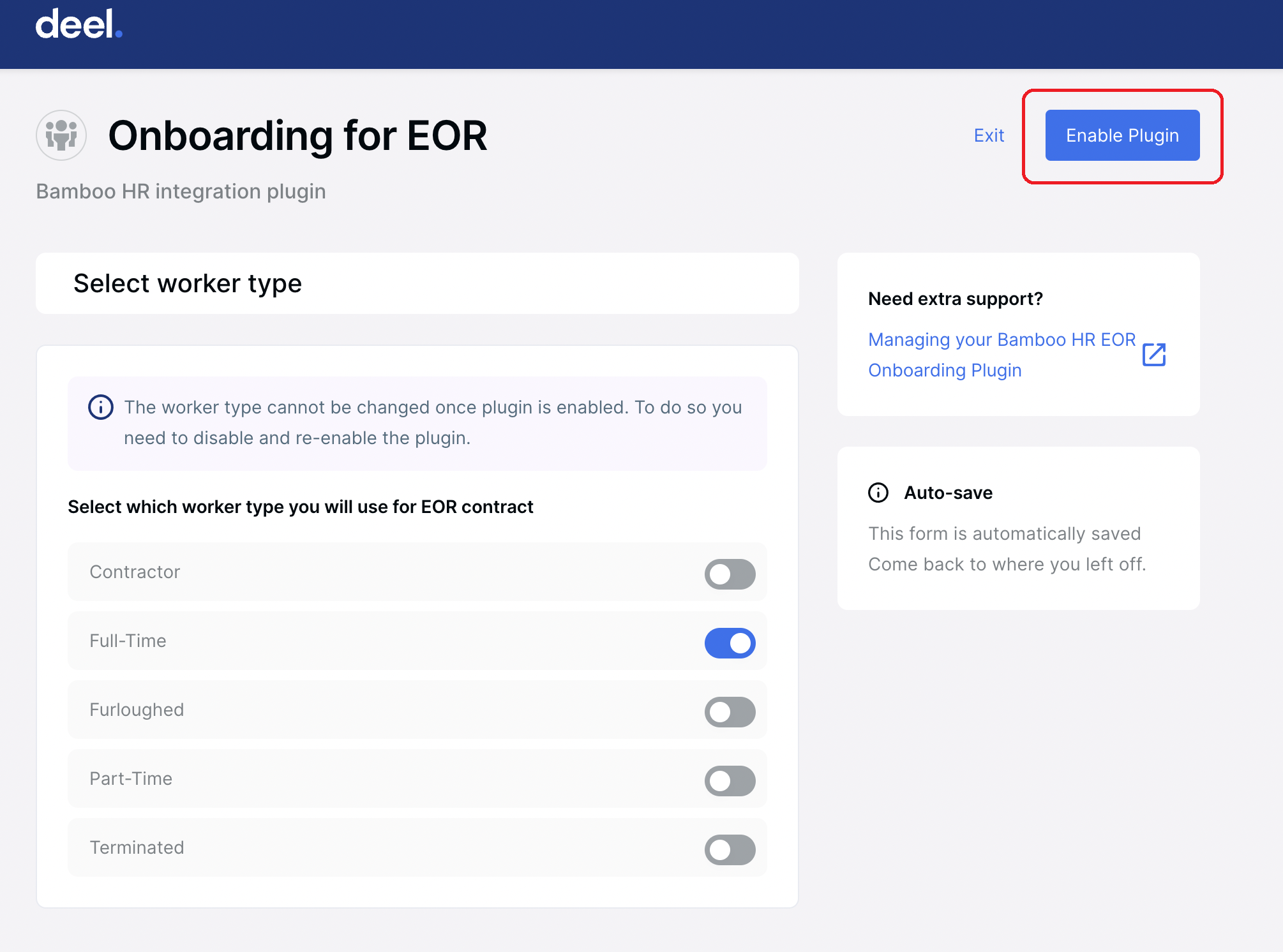 How Draft EOR Contract Generation Works
Now that you have set-up your onboarding plugin we can generate draft contracts to assist with the HR 'handoff' process. The Deel platform requires just first and last name to create a draft contract.
While we do not require you grant us permission to complete all recommended data fields, we highly recommend configuring a group that will give us additional access to information.
Finding your Draft Contracts
You can access draft contracts by going to the Contracts tab and filtering by Contract Type and selecting Draft.

The status says Draft. You can also see the source of the draft contract in (parenthesis).
When you select a draft contract to review, it will include a summary of the information that Deel collected from BambooHR.
Click Complete Contract to submit the contract for a quote review.

Video Tutorial
If you prefer video, here is a short tutorial for the BambooHR integration