Deel offers you a simple way to sync up any contracts you wish with Xero; you can select a handful, or every single one.
You must have an admin role in Team Settings to be able to link contracts on Deel with Xero.
In this article you will find:
Getting started
✅ Step 1 – Select Apps & Integrations on your Dashboard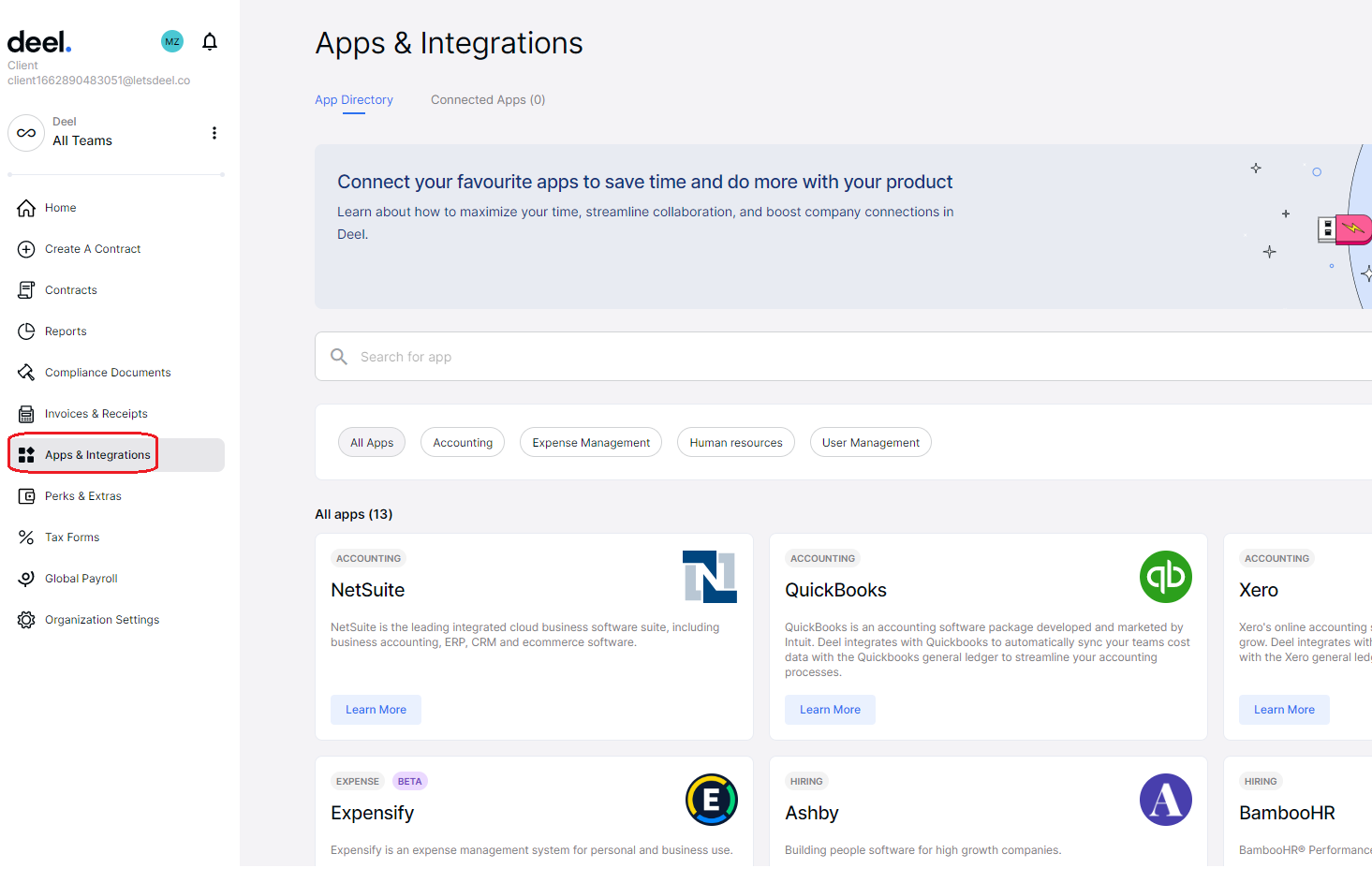 ✅ Step 2 – Select Xero on the Integrations tab and click Connect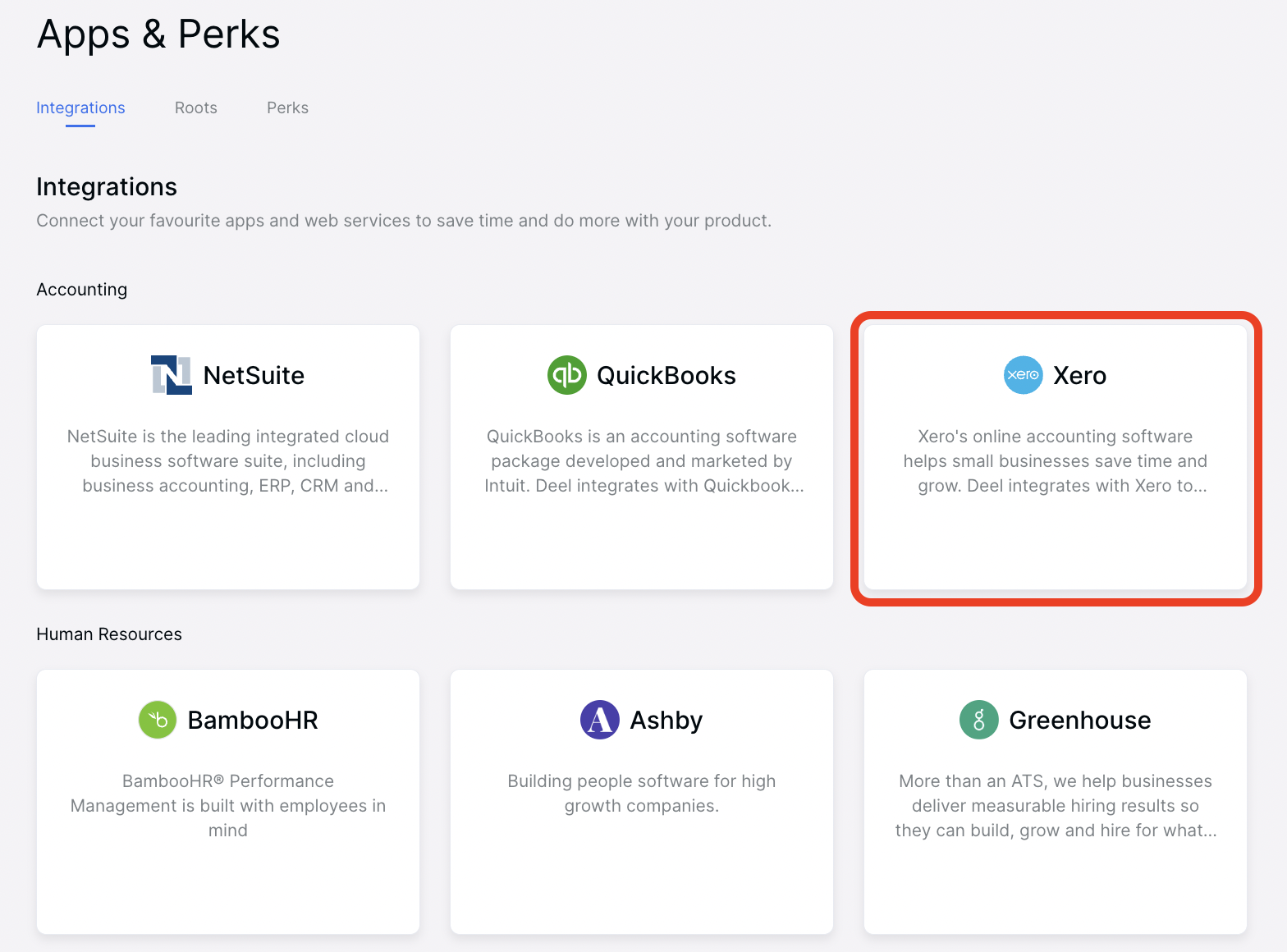 There are 5 installation steps to set up your integration with Xero and Deel.
✅ Step 1 – Authenticate Deel to access Xero and choose your Xero entity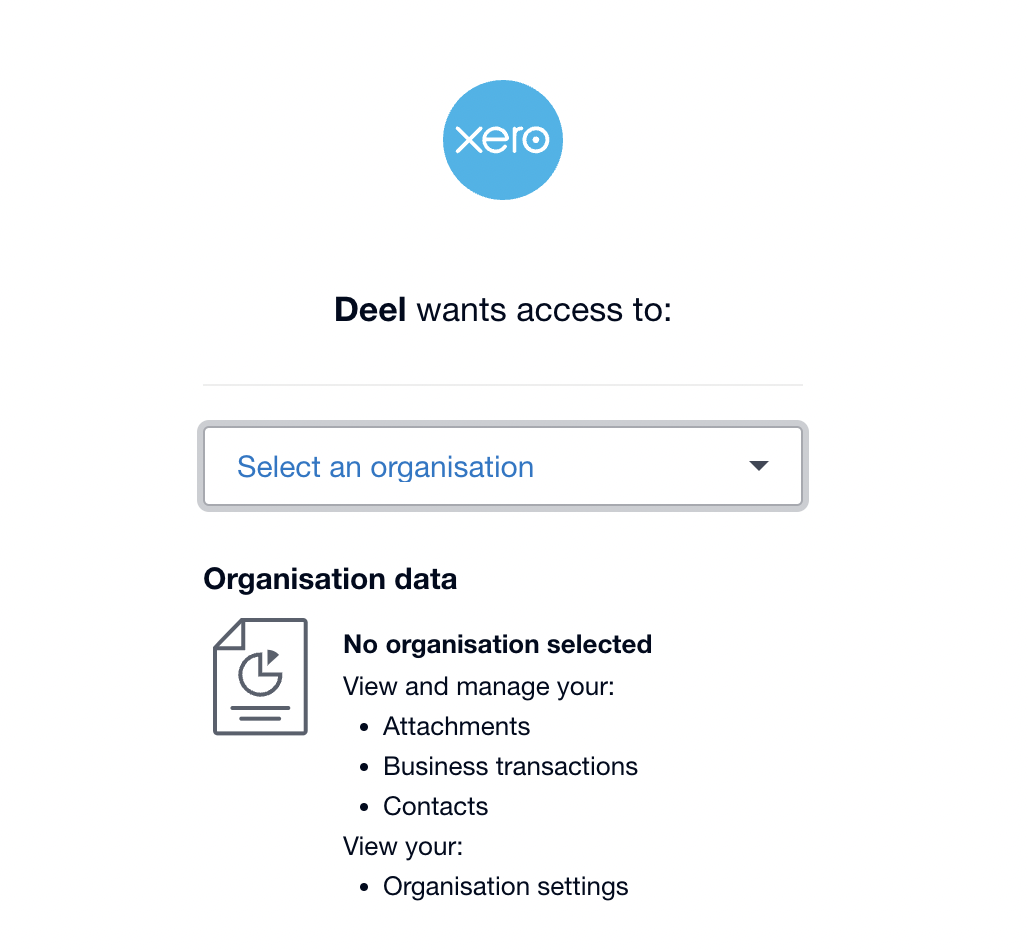 ✅ Step 2 - Select the entity you wish to integrate from the drop down menu and click next
.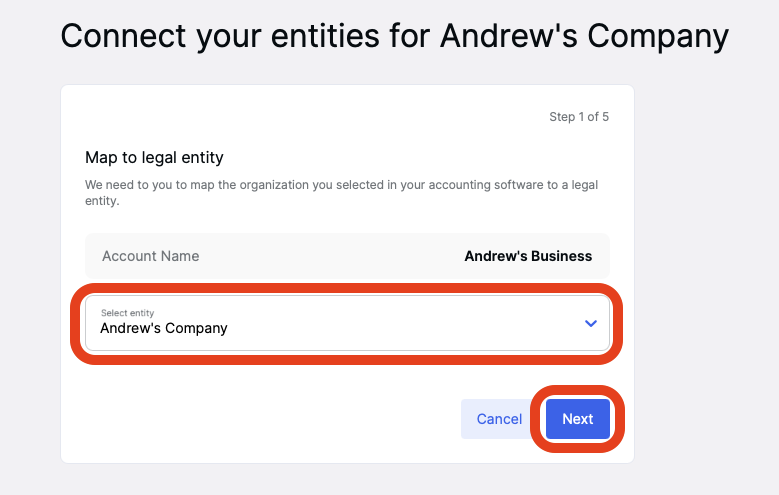 ✅ Step 3 – Select the Xero account to use for each bill and click next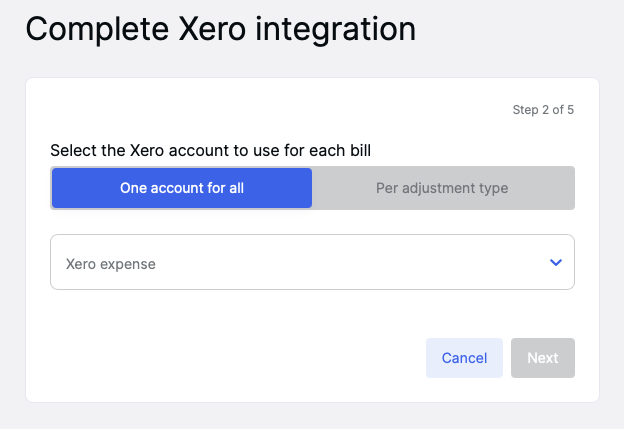 ✅ Step 4 –
Customize your integration
If you want to sync all new contracts with your integration automatically, you can enable that feature now.
Additionally, you can see if multi-currency has been set up in Xero. You can jump to the Xero multi-currency support section of this article to learn more.
Finally, you can choose if you would like Deel to sync your invoices in the invoice currency or in the payment currency.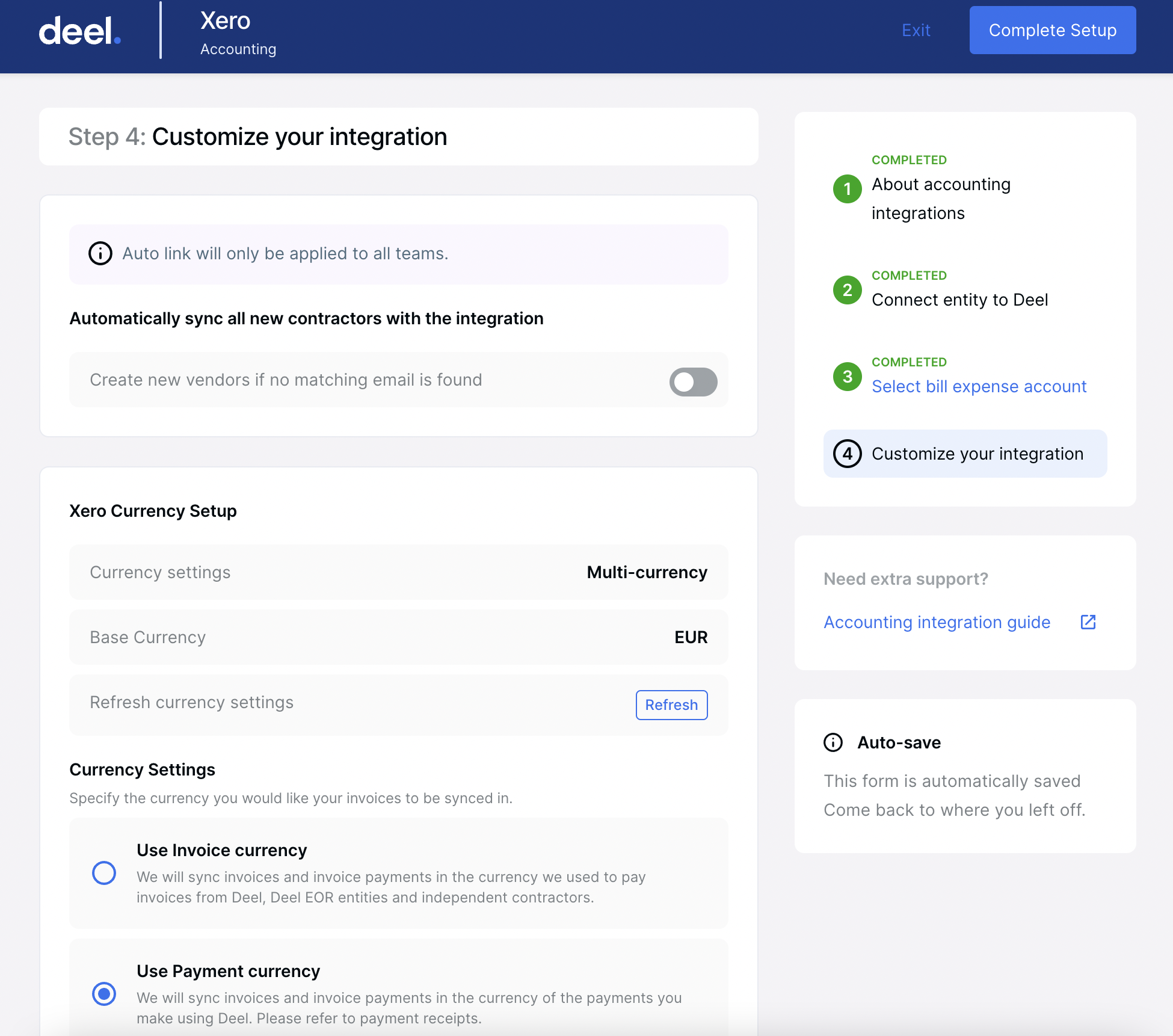 ✅ Step 5 –
Click "Complete Setup"
Congratulations, you just integrated your Xero account to Deel!


Walkthrough video with step-by-step instructions
Xero tracker categories
Xero tracker categories help customers to categorize their spending with greater granularity (beyond chart of account mapping) in the way they define it. It is possible to set up a maximum of 2 tracker categories in Xero.
Clients can set up and edit categories in Xero via their Advance Settings. Doing this maps the invoices from Deel to Xero, according to the tracker category that they set.
Categories cannot be configured during the initial setup process as this is an advanced feature, so it needs to be done once the integration has been set up.
Setting up tracker categories
To map an existing tracker category in Xero to Deel, the client can do this on a default level or on the contractor level.
✅ Step 1 – Select the Apps & Integrations tab on your Dashboard
✅ Step 2 – Select the Integrations tab and click Xero, then Settings
You will see a Xero tracker category card.
If you have tracker categories set up in your Xero account, they will be pulled through to this card.
The default level will be set to "Uncategorized", but you can select a default option for each tracker category. This will then automatically be applied to all contractors whose invoices are being pulled via Deel, unless you choose to configure the trackers on an individual contractor level.
If you want to set up configurations on a contractor level, you will have to do so on a one-by-one basis. Here's how:
✅ Step 1 – Go to the Contractor tab and select a contractor from the list.
✅ Step 2 – Review available tracker categories that can be configured
You can see the availabile categories on the box on the right-hand side
✅ Step 3 – Click on the tracker category to select which option you want it to map to
This will remove the default mapping and change it to their individual tracker setting.
Any invoices from this contractor going forward will now be linked to this tracker.
Xero multi-currency support
Deel recommends that you enable multi-currency on Xero in order to prevent errors.
If multi-currency support is not setup, log in to Xero and follow these steps to enable it:
✅ Step 1 – Go to Settings
✅ Step 2 – Select Currencies
✅ Step 3 – Select Add currency and choose the correct currency
✅ Step 4 – Click Confirm to add currency
✅ Step 4 – Return to the Deel Integrations page and click Refresh.
Plugins
✅ Step 1 - Documents Sync plugin
This plugin allows you to sync the PDF of the invoice and the attachment files with Xero by simply switching the toggle on or off.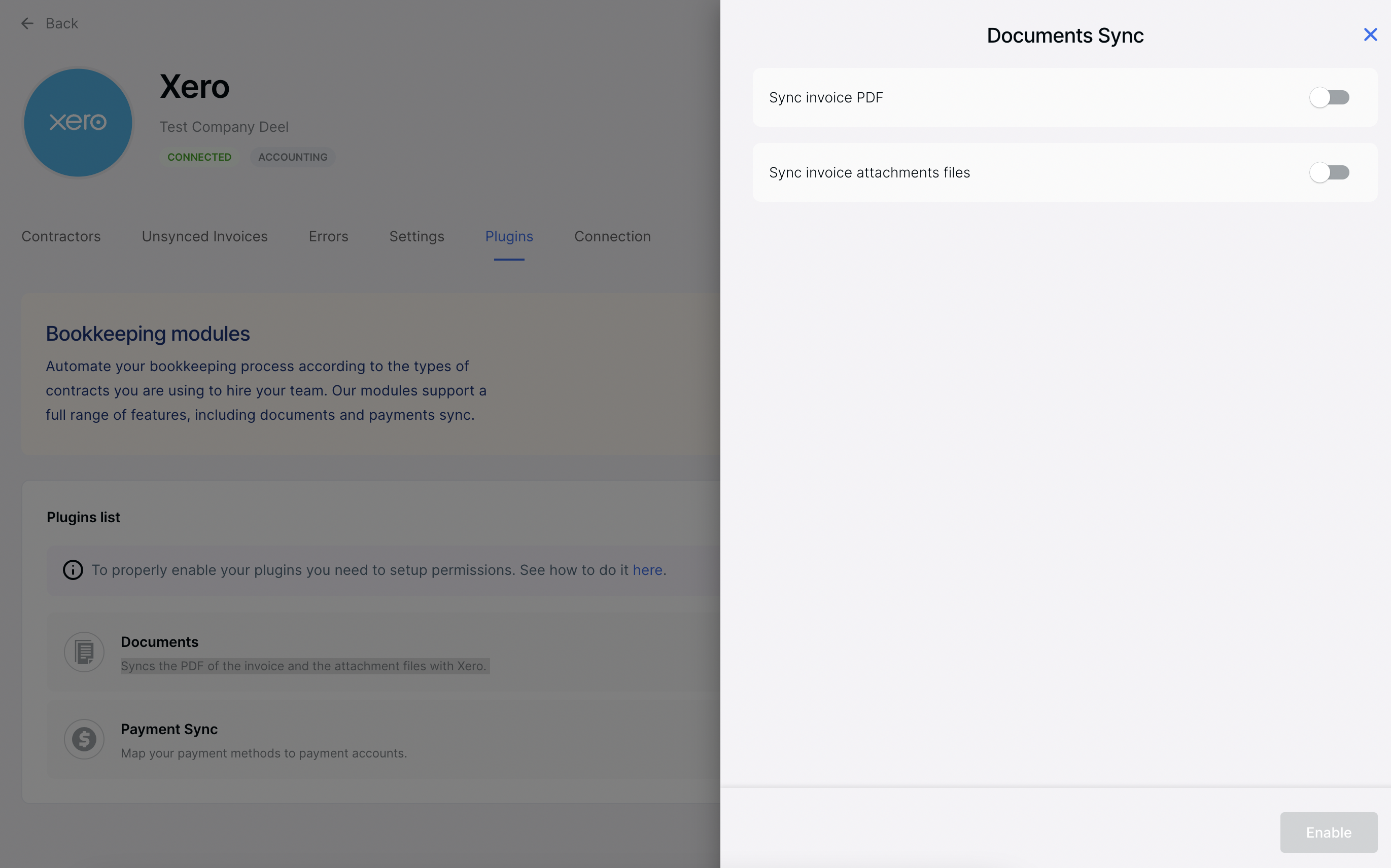 ✅ Step 2 - Payment Sync plugin
This plugin allows you to map your payment methods to payment accounts.

You can map a default payment account that Deel will use for all invoice payments made using bank transfers or unmapped saved payment methods. You can select one default payment per currency.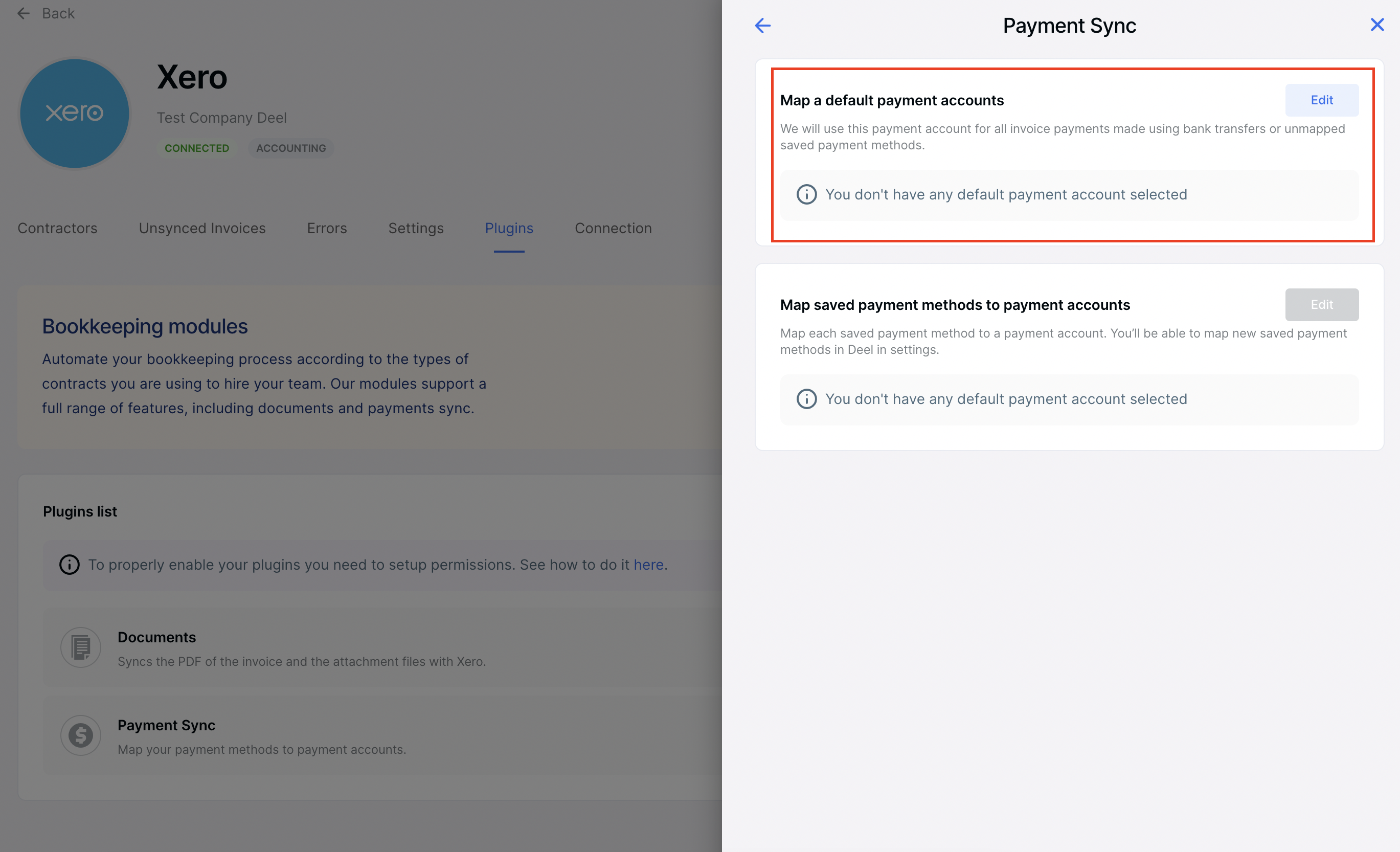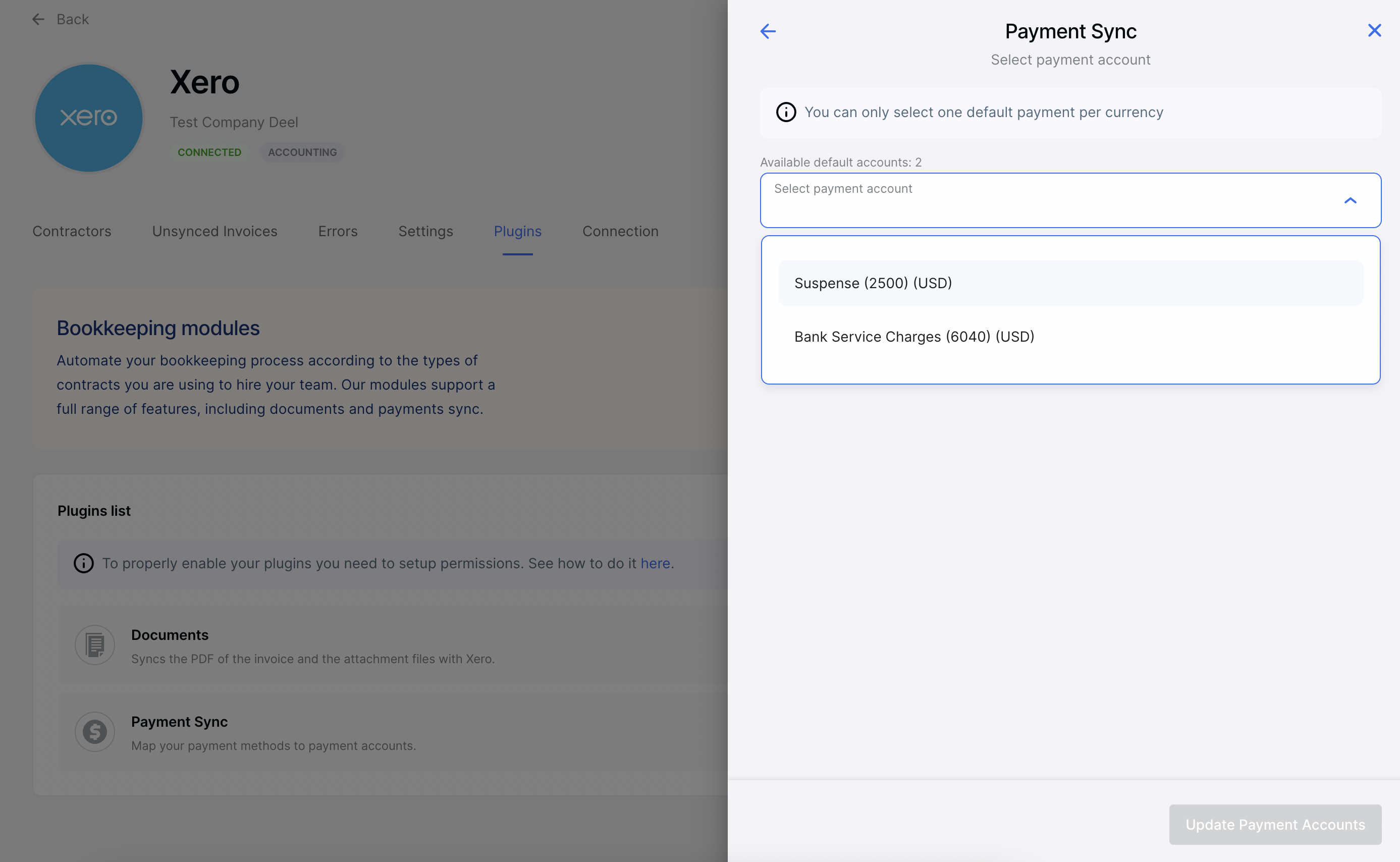 You are also able to map each saved payment method to a payment account. You'll be able to map new saved payment methods in Deel in settings.
FAQs
Can I synchronize past invoices?
Yes, you can. To load past invoices, choose the date from which you want to sync retroactively.
Will my invoices be automatically synchronized?
Yes, Deel will automatically sync all the invoices starting from the date of integration.
How can I disconnect Xero?
Go to 'Integrations', select 'Settings' along the top, scroll down, and select 'Delete integration'. For step-by-step instructions, check this article.
What if the person who set the integration up leaves?
You can set up an email notification to go to several inboxes so if someone is off, or has left the organization, there isn't a single point of failure.
Do I get notifications if there is an issue with the integration?
An email notification setting has been added to the Xero integration, and the user can add as many email addresses as they wish so people get notified.
‍
Contact us

24/7 and we'll be happy to assist you if you have any additional questions!