This guide explains how time-off plugins sync with Deel. If you are looking for information on installing an HRIS integration, please refer to our integration guides.
In this article you will find:
Enabling and Managing your plugins
Updating time-off type matching
How does time-off synching work?
National Holidays and Weekends
Supported Time-off Plugins
Deel currently supports BambooHR as a time-off plugin on a continuing basis.
We are working to add Workday and Hibob time-off plugins in the near future!
Enabling and managing your time-off plugins
To access your HRIS plugins, select Apps & Integrations from the navigation menu and locate your HRIS integration to launch the integration console. Click the plugins tab to enable or manage your plugins.
For detailed steps on enabling the plugin, please refer to your HRIS integration guide.
PLEASE NOTE: once you have enabled an HRIS time-off plugin. your employees will no longer be able to request time-off on Deel. Please ensure that you have communicated to your employees any policies and processes related to time-off requests in the relevant HRIS platform.
Matching users between your HRIS and Deel
Deel's HRIS integrations rely on the following details to match profiles:
Contractor email
HRIS work and personal emails
This might not be enough to match profiles. If no match is found Deel will attempt to match profiles based on:
First name and last name
Date of birth
Auto-Sync for new users
When you initially installed your integration you were invited to turn on auto-sync to enable synching for new users. If you chose not to enable this feature, you can return to the integration console to turn it on now. You also have the option of manually matching users.
Select Apps & Integrations from the navigation menu, and select your HRIS integration to access the integration console. Select the People tab to enable auto-sync or manually match users.
Updating Time-off Type Matching
Deel only supports time-off types that are configured in your HRIS system.
When you installed the time-off plugin during the integration set-up you initially matched time-off types between Deel and your HRIS system.
You can add or update new time-off types at any time through the plugins tab of your integration console. Locate the time-off plugin and click manage.
You must drag and drop an HRIS time-off type from the list and into one of the three Deel boxes: Holiday/PTO; Sick Leave; Other Leave.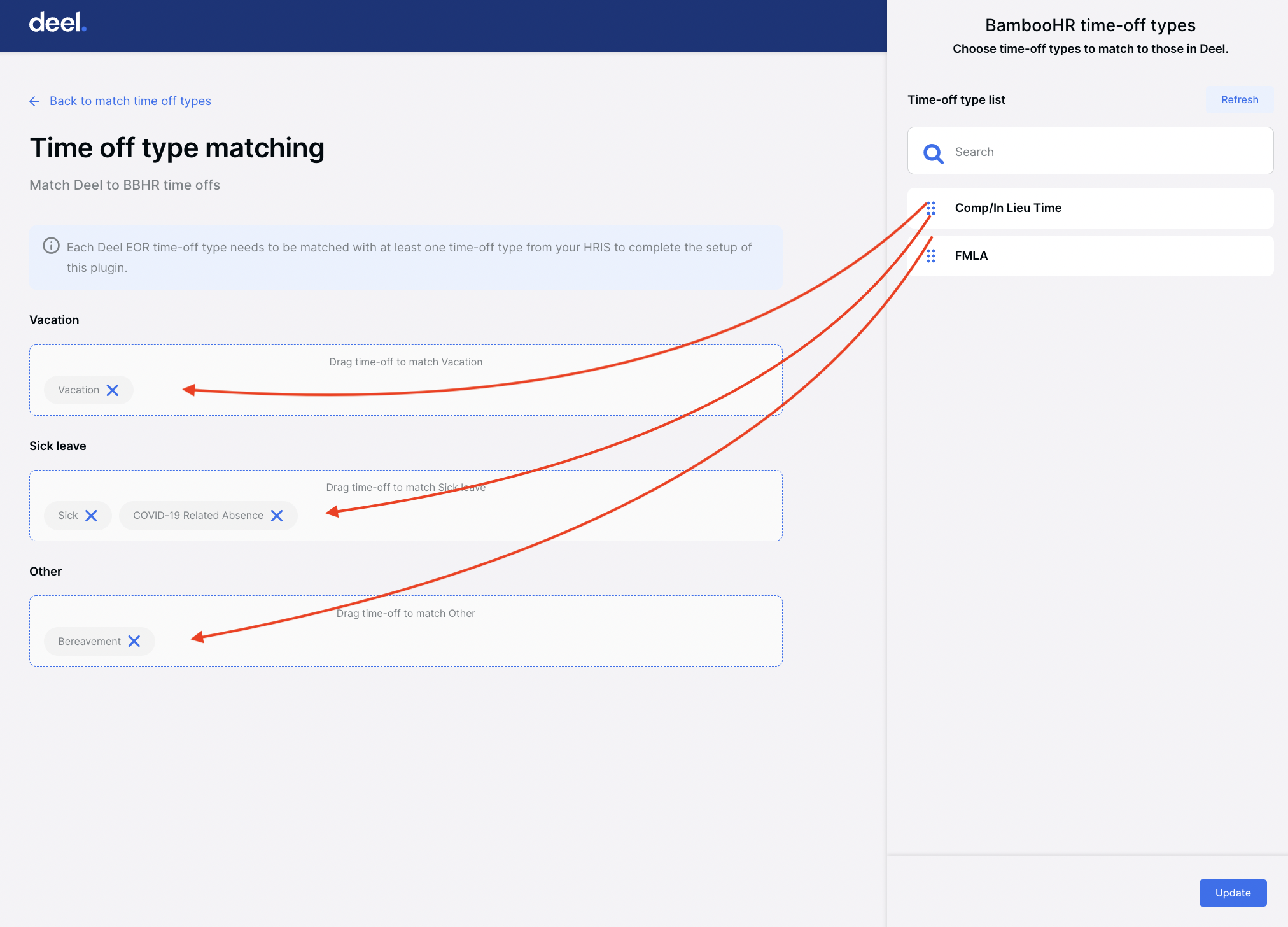 Important Considerations
Deel's EOR time-off plugin only supports time-off types in your system that are configured to access time-off in half- or whole-day increments.
Half-days can only be applied at the stat and end of a time-off period. This means that a half-day occurring in the middle of a time-off period will be logged as a whole day off.
Deel considers eight (8) or more hours or one (1) day to be a full day off. Anything under eight (8) hours or one (1) day - for example, a fraction) is considered to be a half-day off.
If your team member wants to take a half-day off at the start or end of the time-off period they should enter a sum of less than one day or less than eight hours, depending on how you have configured your time-off type in your HRIS.
How does time-off synching work?
This plugin aims to make your HRIS the single source of truth for your team's time off. As such, Deel's EOR Time-off plugins only sync approved time off from your HRIS to Deel in an approved (or used, if they happened and were approved in the past) state in Deel. If time off was logged in Deel, but not in your HRIS, we do not send it back to the HRIS.
If you enabled auto-sync when you installed your integration, time-off will sync every four hours. When synching occurs, Deel will look one year into the past and one year into the future to ensure accuracy with your HRIS platform.
If you need to turn on auto-sync or want to manually sync your HRIS plugin with Deel you can do this from the integrations console:
Select Apps & Integrations from the navigation menu and select your HRIS platform to access the console. Select the Plugins and locate your EOR plugin and click Manage. A pop-up menu will appear with. From here you can toggle auto-sync on, or click sync to trigger a manual sync.
National Holidays and Weekends
Deel recognizes all national statutory holidays and two-day weekends. This information is based on the location of the employment contract.
Time-off requests and approvals that include national holidays and weekends will be net of those days. For example, A two-week time-off request will count for 10 days. If a national holiday occurs during the time-off period, the request will count for only 9 days.
During synching with your HRIS system, Deel will merge your HRIS information into the platform and reconcile it with weekend and holiday data based on the location of the employment contract.
Approving Time Off Requests
Once you have enabled your HRIS time-off plugin, all time-off requests must be approved in your HRIS platform for connected team members. You will no longer be able to approve these requests in Deel. Please refer to your HRIS instructions for assistance on approving requests.
Contact us 24/7 and we'll be happy to assist you if you have any additional questions!