This article explains how EOR employees can verify their Deel accounts, so they can complete the mandatory onboarding checklist and begin receiving their salary.
We need to verify your identity - with government-issued photo ID - to ensure compliance and protect your personal details.
Luckily, this verification process is quite fast - usually less than 5 minutes, thanks to our external provider Veriff.
If a manual review of documents is required, however, account verification will take up to 1 business day.
How do I verify my account?
Our verification process is easy and should only take a few minutes, thanks to our partner Veriff.
If you see an onboarding reminder on your home page, click View Onboarding Checklist.
Or, open My Onboarding to verify the account.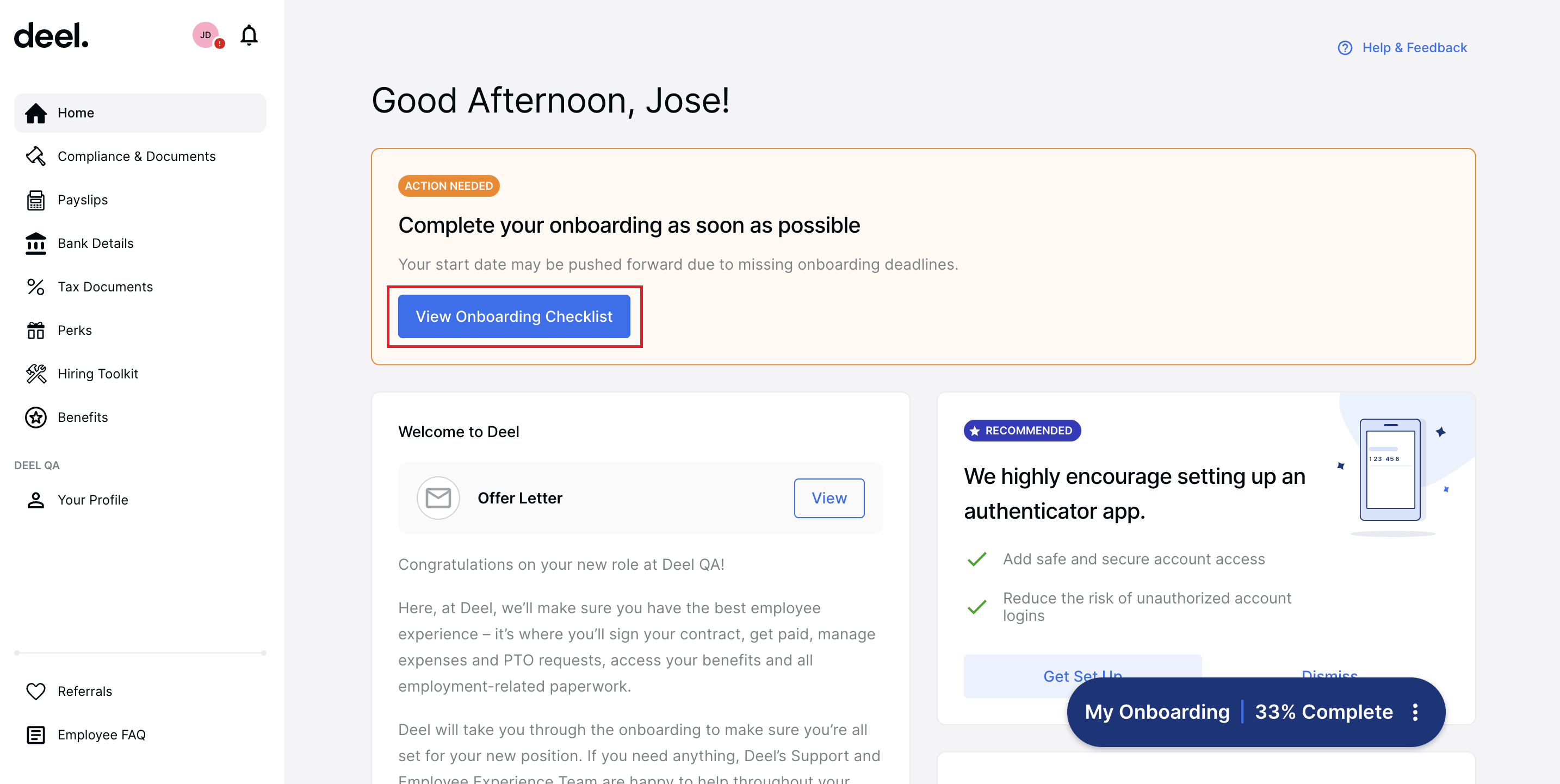 ✅ Step 1 – Open My Onboarding checklist
Select My Onboarding on your home page, and click Start on Verify your Identity.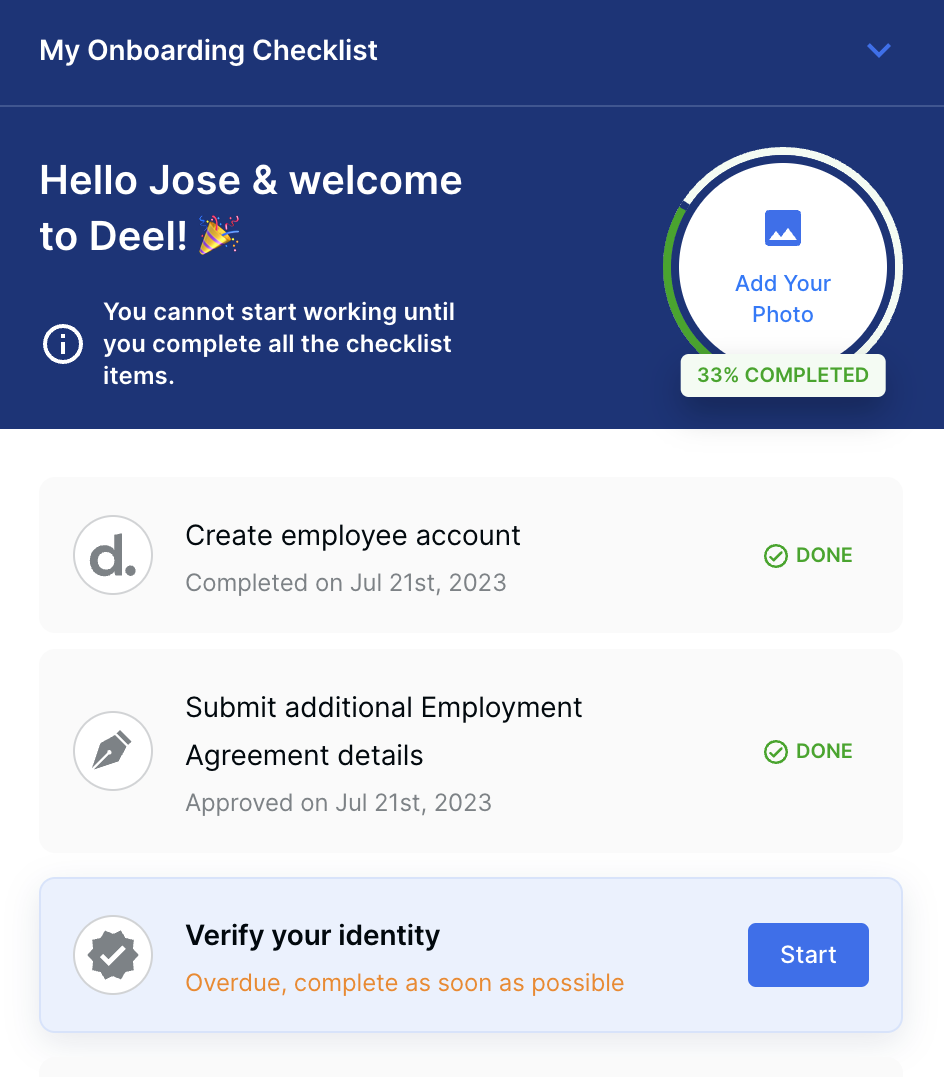 ✅ Step 2 – Complete Veriff process
We will request that you submit a selfie and a photo of government-issued identification, like a passport or driver's license.
If submitted via Veriff, you just need to wait for the scan to be completed and your verification confirmed!
If you fail the Veriff verification process twice, don't worry! Deel can help you manually verify your documents. However, the manual review process can take one full business day.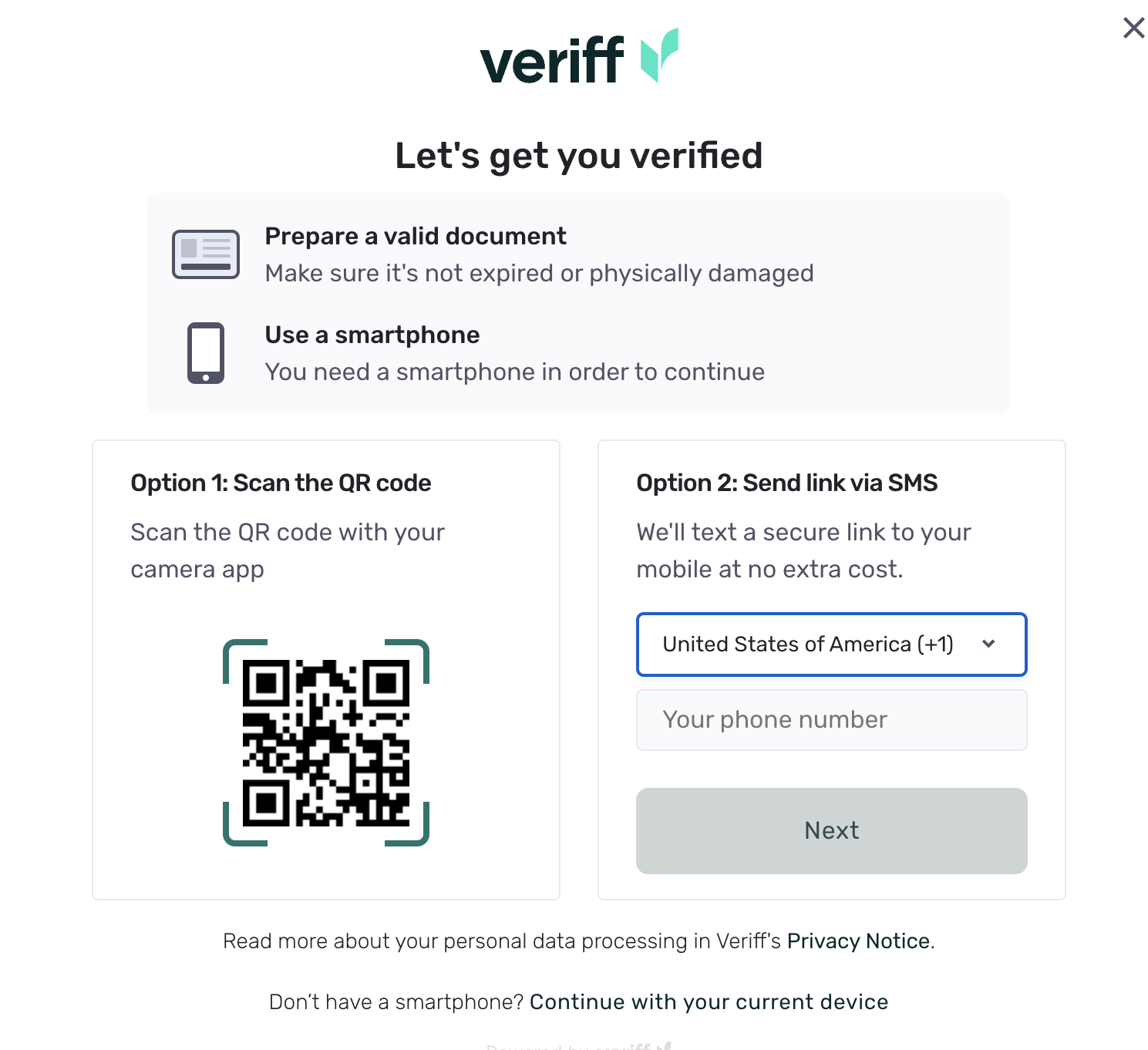 How to manually verify your account
✅ Step 1 – Click
Start Manual Verification
on your home page
✅ Step 2 – Upload your documentation and click
Next
The manual review process may take one full business day, so please be patient with us. We are unable to complete verifications on weekends.
Frequently Asked Questions
[ACCORDION]

Why wasn't my document accepted by Veriff?
Common reasons that a document may not be approved include:
✘ Image was taken from a screen
✘ Image is blurry or distorted
✘ Corner of document missing
✘Document has expired
If the document can't be verified via Veriff, you may be prompted to resubmit.
[ACCORDION]

Can I still sign my Employment Agreement if my account hasn't yet been verified?
Yes, you can still sign the EA if you have not completed the "Know Your Customer" verification process.
However, Deel can not countersign the agreement until you pass the verification. This could impact your onboarding timeline and delay your start date.
[ACCORDION]

How do I know if my account isn't verified?
We will make it clear if your account is not yet verified. There will be red circles and red exclamation points on your home page and Account Settings page.
If your account is not Verified, you will be unable to use many of Deel's features.
Your home page will display the message Verification Required until you verify your account.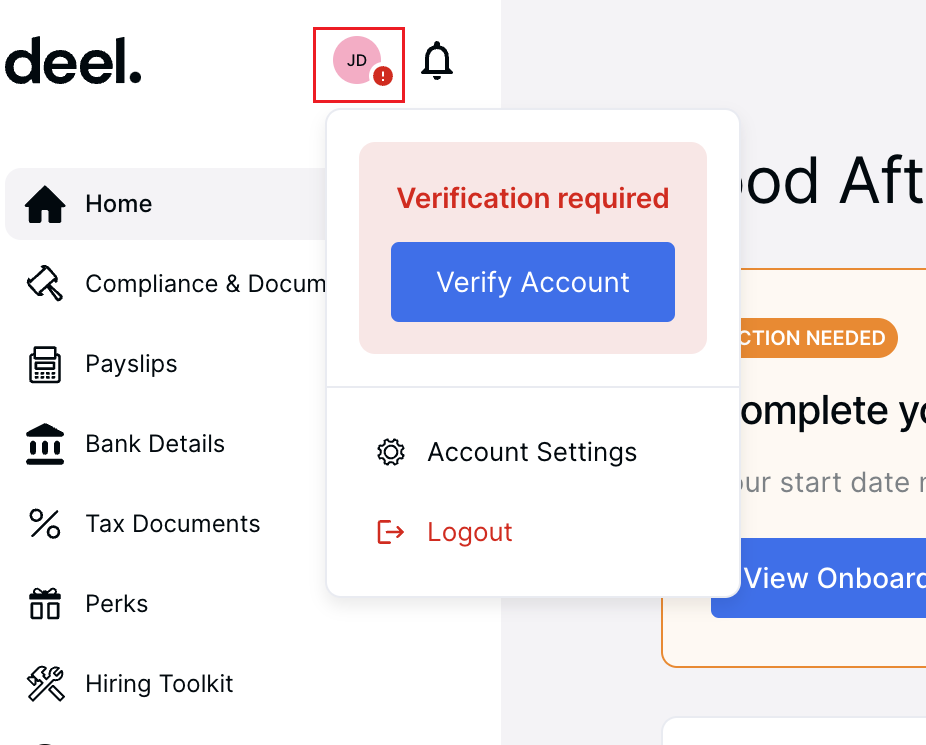 [/ACCORDION]