Congratulations on your new job!
You will use Deel as your go-to platform for anything related to your employment - payslips, tax documents, personal detail directory, even perks and benefits!
The onboarding process is designed to ensure that new employees are fully compliant with local employment laws and regulations, and that they have all the information they need to get started with their new job.
You will first need to create an account, sign your contract, and complete a mandatory onboarding checklist.
You can contact us 24/7 and our support agents will be happy to help you!
[DROPDOWN]
Please use the dropdown menu below to learn more about the onboarding process:
[DROPDOWN-OPTION] Step 1: Activate Deel Account
You will receive a welcome email from Deel with instructions on creating your employee Deel account.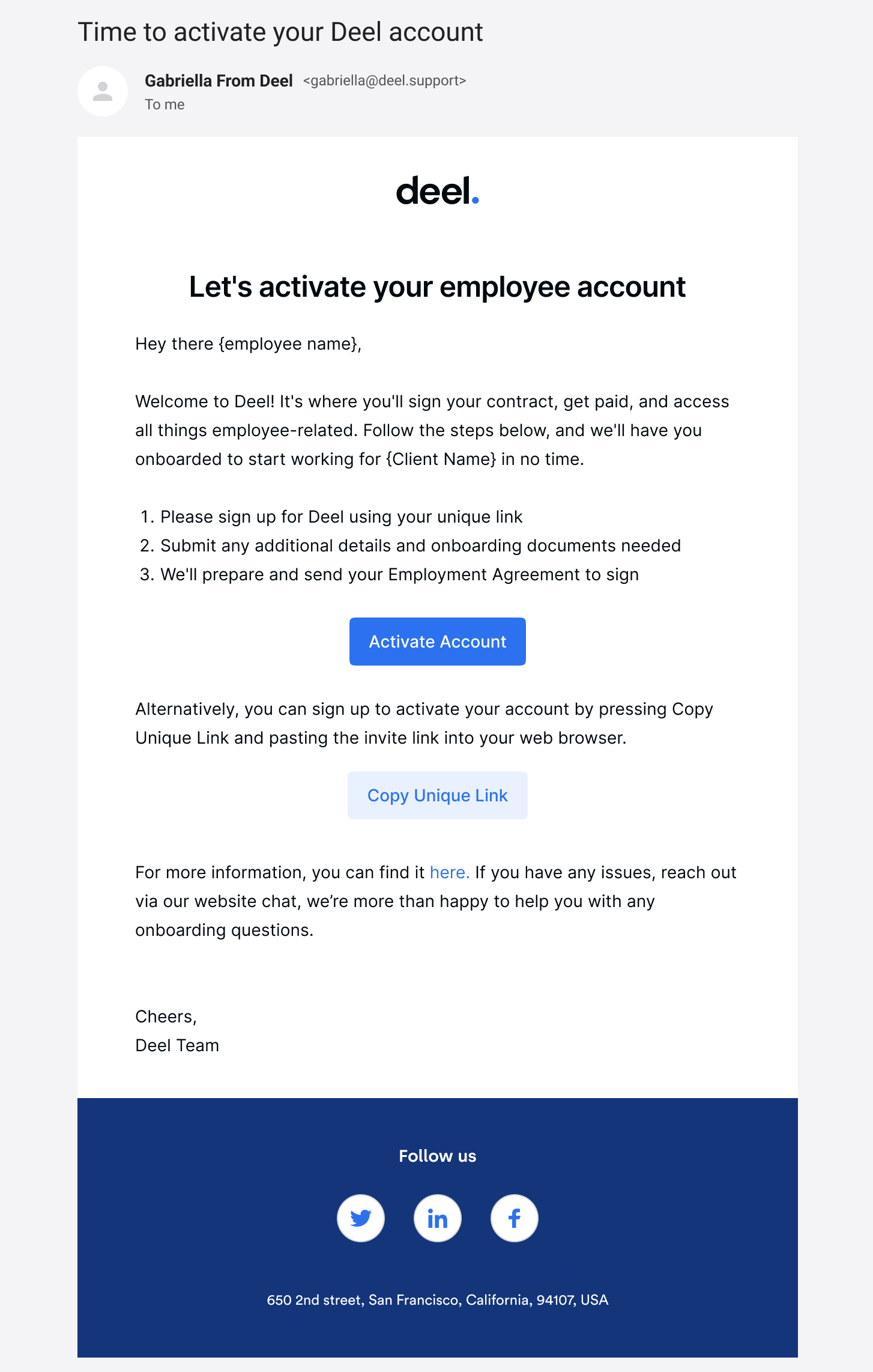 By the time you get the email, your company has already signed a Master Service Agreement (MSA) with us. But you will need to sign an Employment Agreement.
When you log on to your account, you will see your Onboarding Checklist. You cannot start working until you complete all items on the list.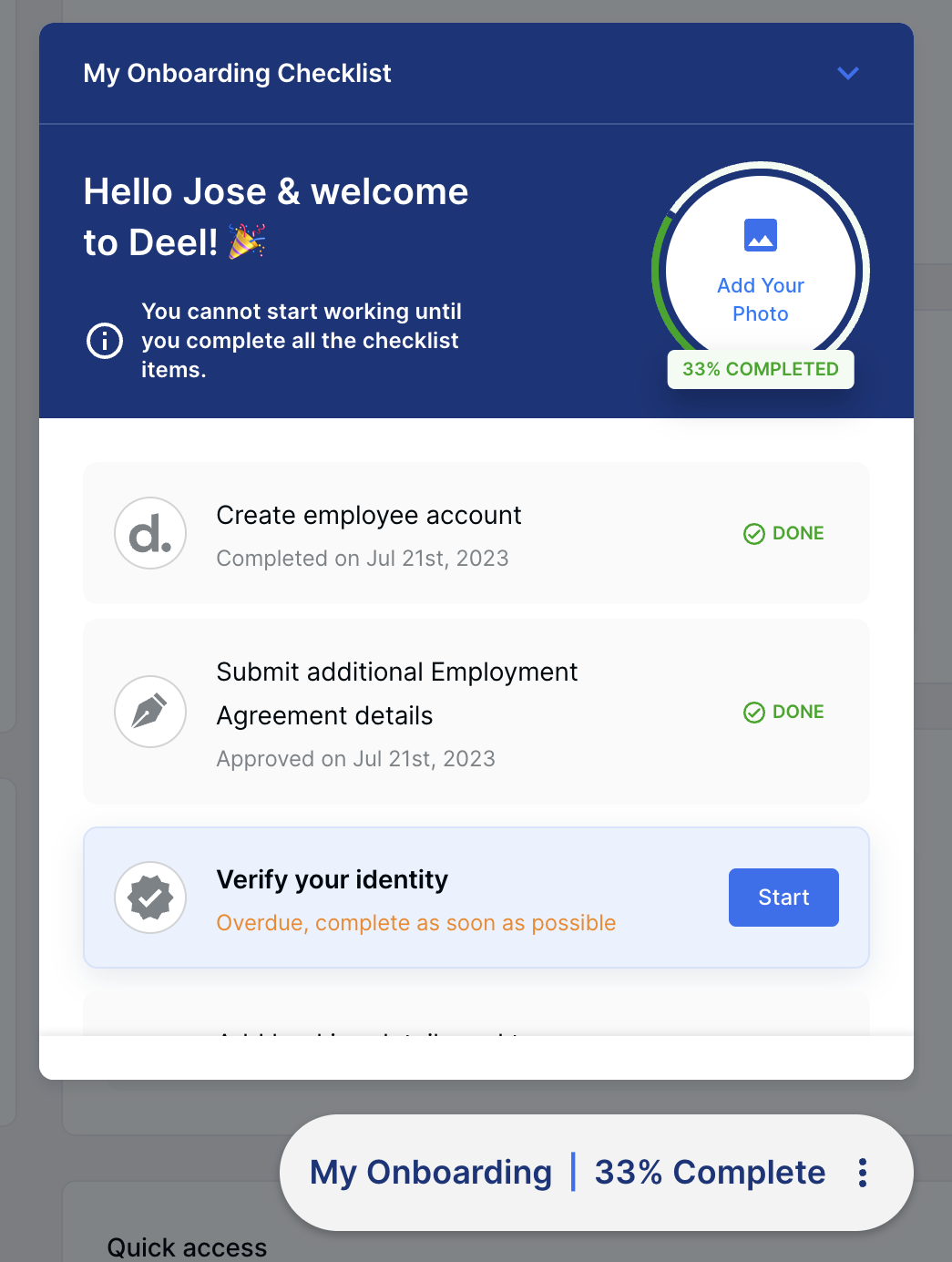 Please also see: How To Create A Deel Account As An Employee
[DROPDOWN-OPTION]
Step 2: Upload Compliance Documents
You must upload your mandatory compliance documents directly to the app. The documents are specific to your country of employment.
These documents may include, but aren't limited to:
A copy of your passport or other government-issued ID

Proof of address

Tax identification number (TIN)
You will be prompted to upload missing documents when you log into your Deel account, and you can view required documents for your country by selecting the Compliance & Documents tab.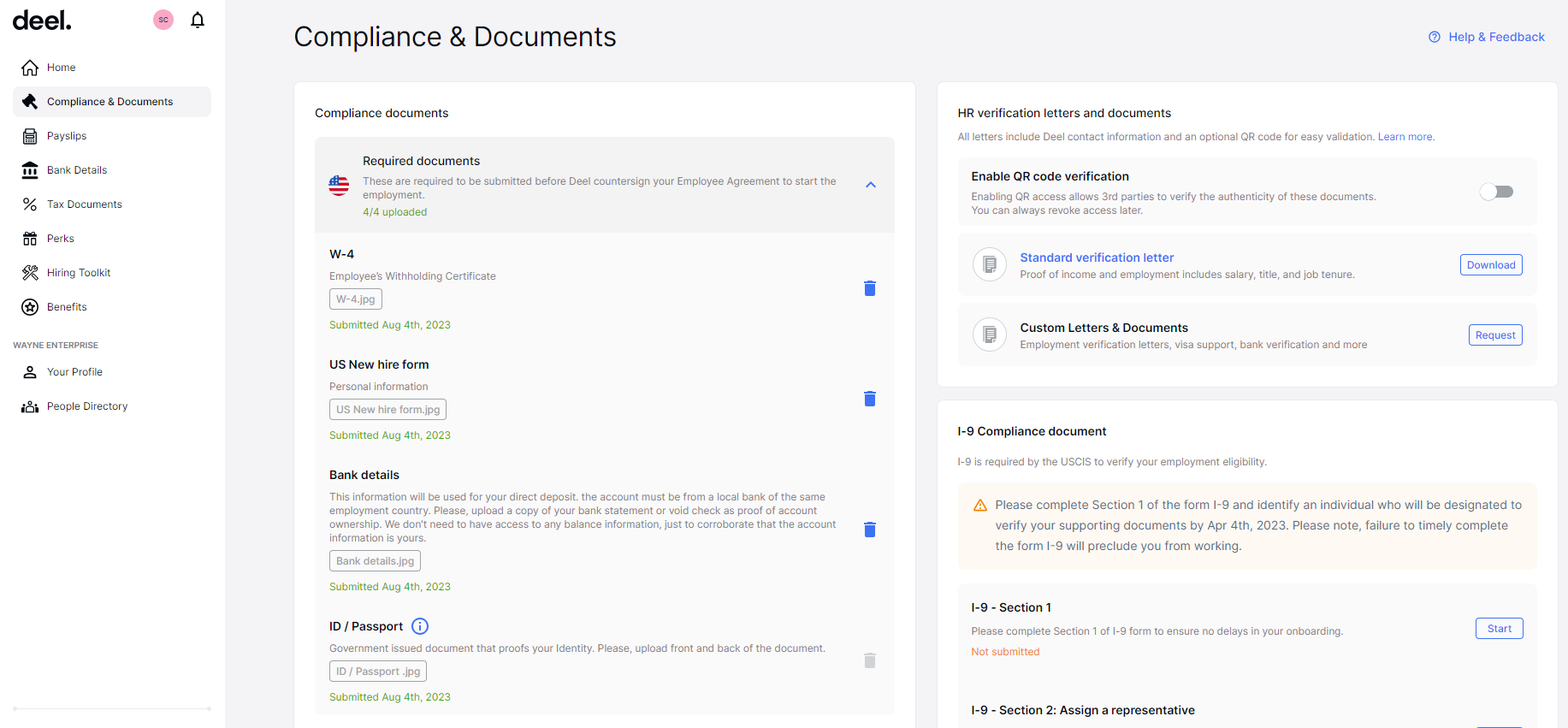 [DROPDOWN-OPTION]
Step 3: Verify Your Identity
We need to verify your identity - with government-issued photo ID - to ensure compliance and protect your personal details.
This can be done by submitting a selfie and a photo of your government-issued ID.
Please see: Verifying Your Employee Account
[DROPDOWN-OPTION]
Step 4: Sign the Employment Agreement
The Employment Agreement (EA) is the contract between you and Deel.
This agreement outlines the terms and conditions of your employment based on the information available in the Scope of Work (SOW) document.
Once your identity has been verified, you will be able to sign the EA in the employee app. The EA will be countersigned by us shortly after.
Please see: What Is My Working Relationship With Deel?
[DROPDOWN-OPTION]
Step 5: Add Bank Details
Your salary will be paid directly into your bank account every pay cycle.
A local bank account under your name is needed for tax and compliance reasons in your employment country.
We will collect your bank details and direct deposit information so you can automatically receive your salary.
If you wish to change your bank details, you can do that in the app by going to Account Settings under Bank Details.
If you change your details after the cut-off date for a particular pay cycle, you will see a warning that the updated account will be used for the next cycle.
[DROPDOWN-OPTION]
Step 6: Health Insurance and Additional Benefits
If health insurance, life insurance, pension plans, or other benefits are available to you based on your location, you will receive a separate invitation with further instructions on how to complete the enrollment process.
[/DROPDOWN]
Using Your Deel Account
[ACCORDION]
Additional Pay
In addition to your salary, you may also be eligible for additional payments, such as commissions, expense reimbursements, and bonuses.
Expense reimbursements are generally tax-free, be sure to save your receipts!
Open up your contract and select Add Item on the contract overview tab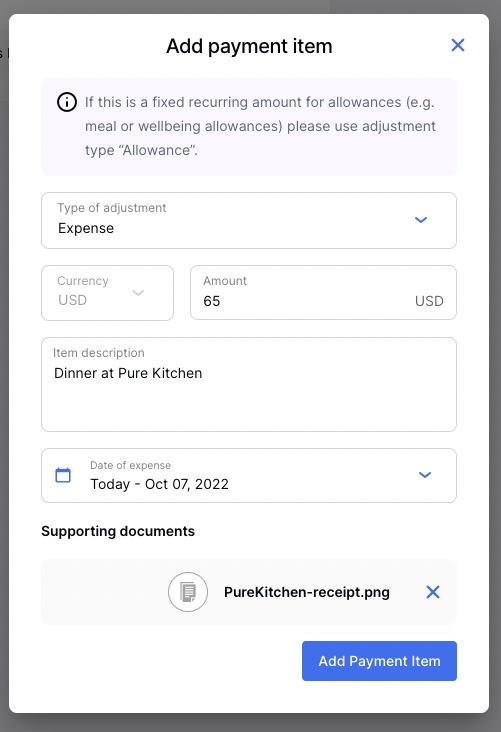 Please see: How Do I Add An Expense Or Allowance To My Pay?
[ACCORDION]

Time-Off Requests
You can submit time-off (PTO) requests right from the Deel platform.
Click on your name in the Contract card, then select the Time-Off tab
Your PTO entitlement will depend both on local legal requirements and your employment agreement.
You will see your annual PTO entitlement and how many days you have used so far.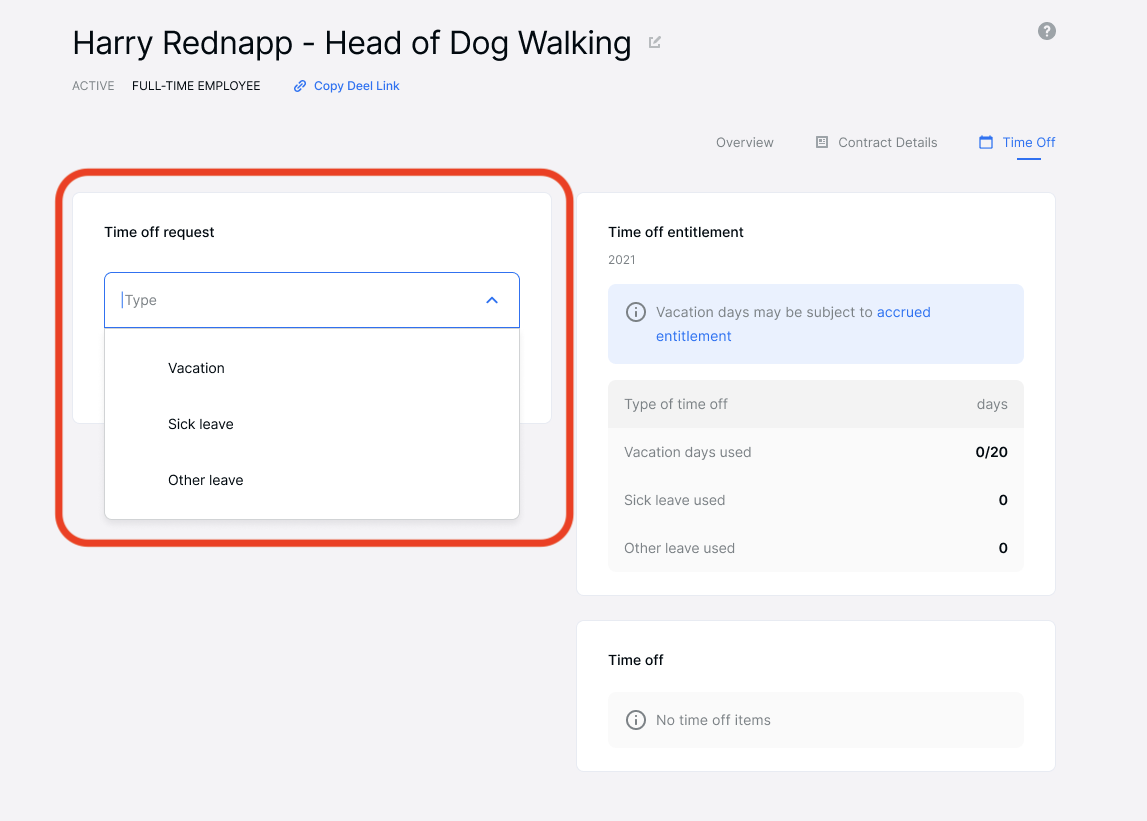 Please see: How do I request time off?
[ACCORDION]

Employment Verification
You can download an employment verification letter, request a custom document, and even ask us to help you with an application.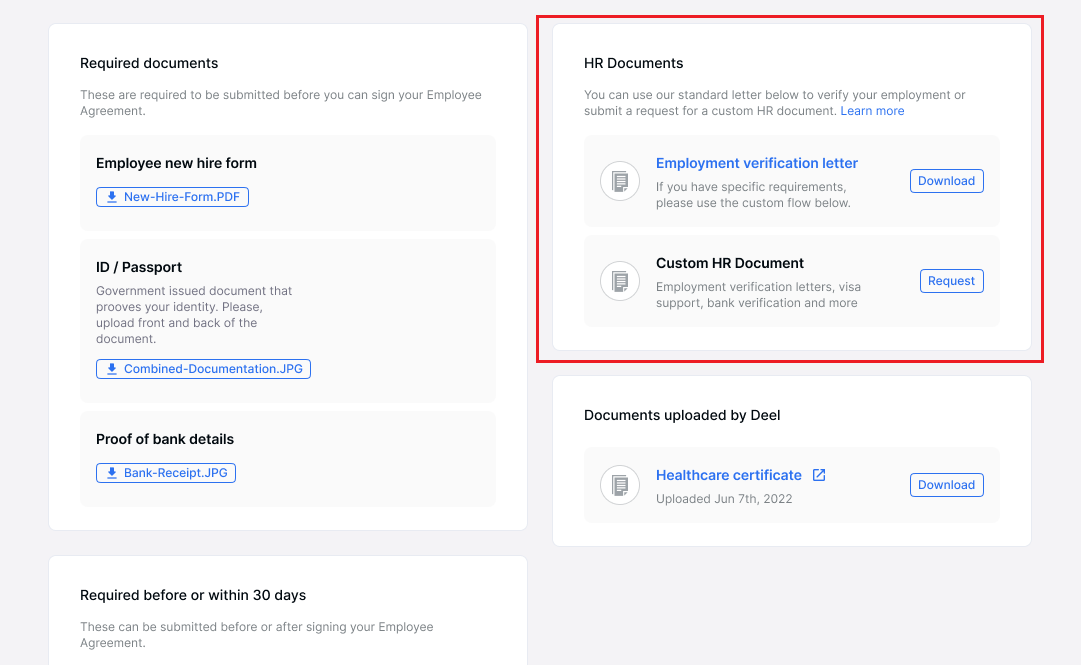 Please see: How To Request An Employment Verification Letter
[ACCORDION]

Contact Deel
The best way to reach us is by live chat. We have agents available 24/7 to help you!
If you don't have an account yet with Deel or don't have time for a live conversation, you can also send us a message with this form and we'll assist you as soon as we can.
Please see: How to Contact Deel
[/ACCORDION]