Elevate your hiring game by linking your Applicant Tracking System (ATS) to Deel. In a few simple steps, you can synchronize your candidate data and ensure seamless transitions between recruitment and onboarding. This guide will help you set it all up.
If you already have set up an ATS integration, then you can read this article about how onboarding works when the candidate is pushed from your ATS to Deel.
In this article
Connect Deel Built ATS Integrations
Manage Connected ATS Integrations
Connect Third Party ATS Integrations
Before you begin
Permissions:
Be an Org Admin, IT Developer Admin, or Integrations Admin-People.
Have the necessary ATS rights and permissions
Connect Deel Built ATS Integrations
✅ Step 1 - To find your Deel ATS integration, simply navigate to the "App Store" once you've logged in. Keep an eye out for Deel's native integrations with Greenhouse, Ashby, Lever and Workable.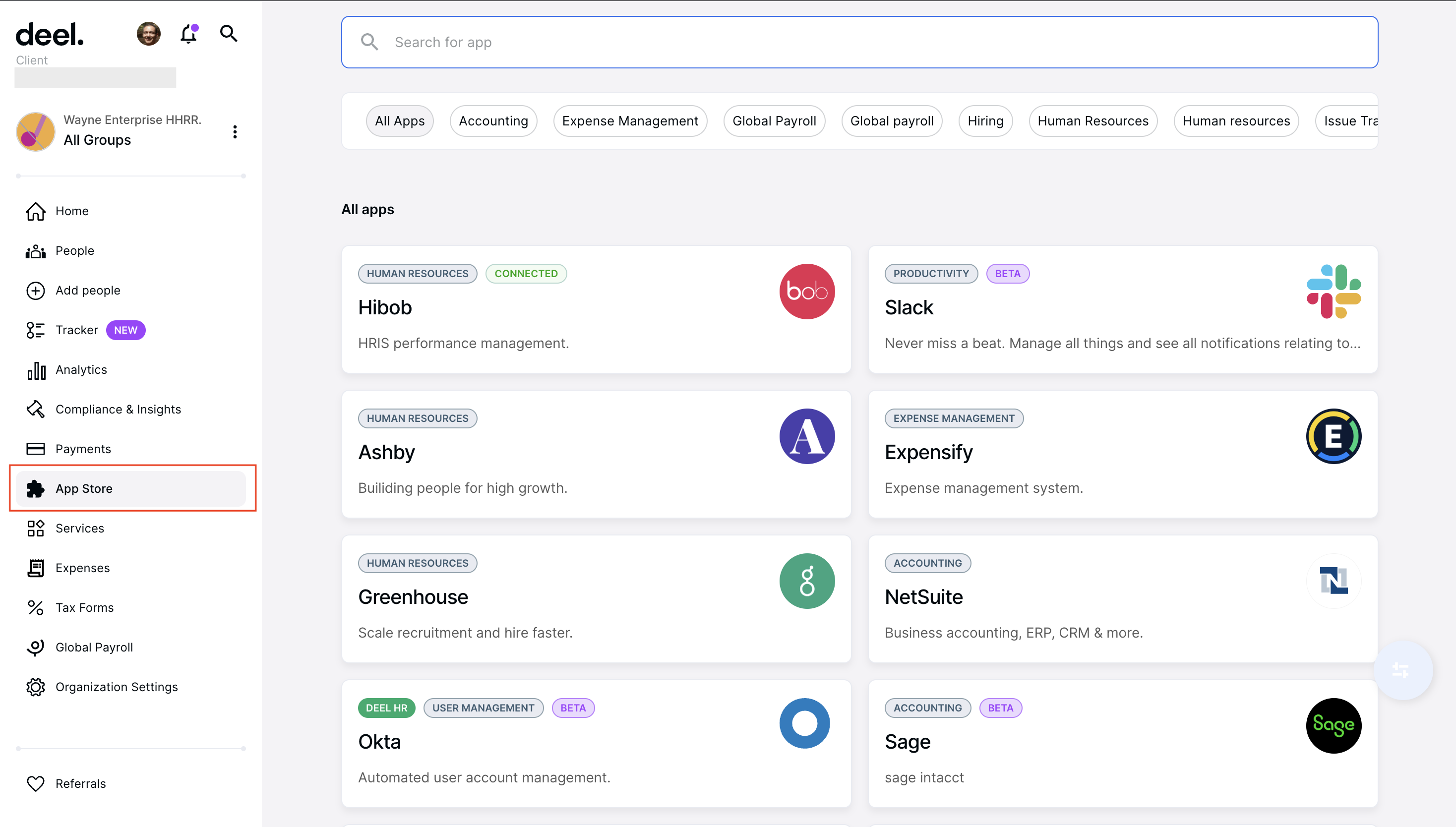 ✅ Step 2 - Dive into your chosen software and click on connect. From there, follow the steps to authenticate your integration. While Greenhouse and Ashby work with an API key, Lever and Workable prefer Oauth2.0.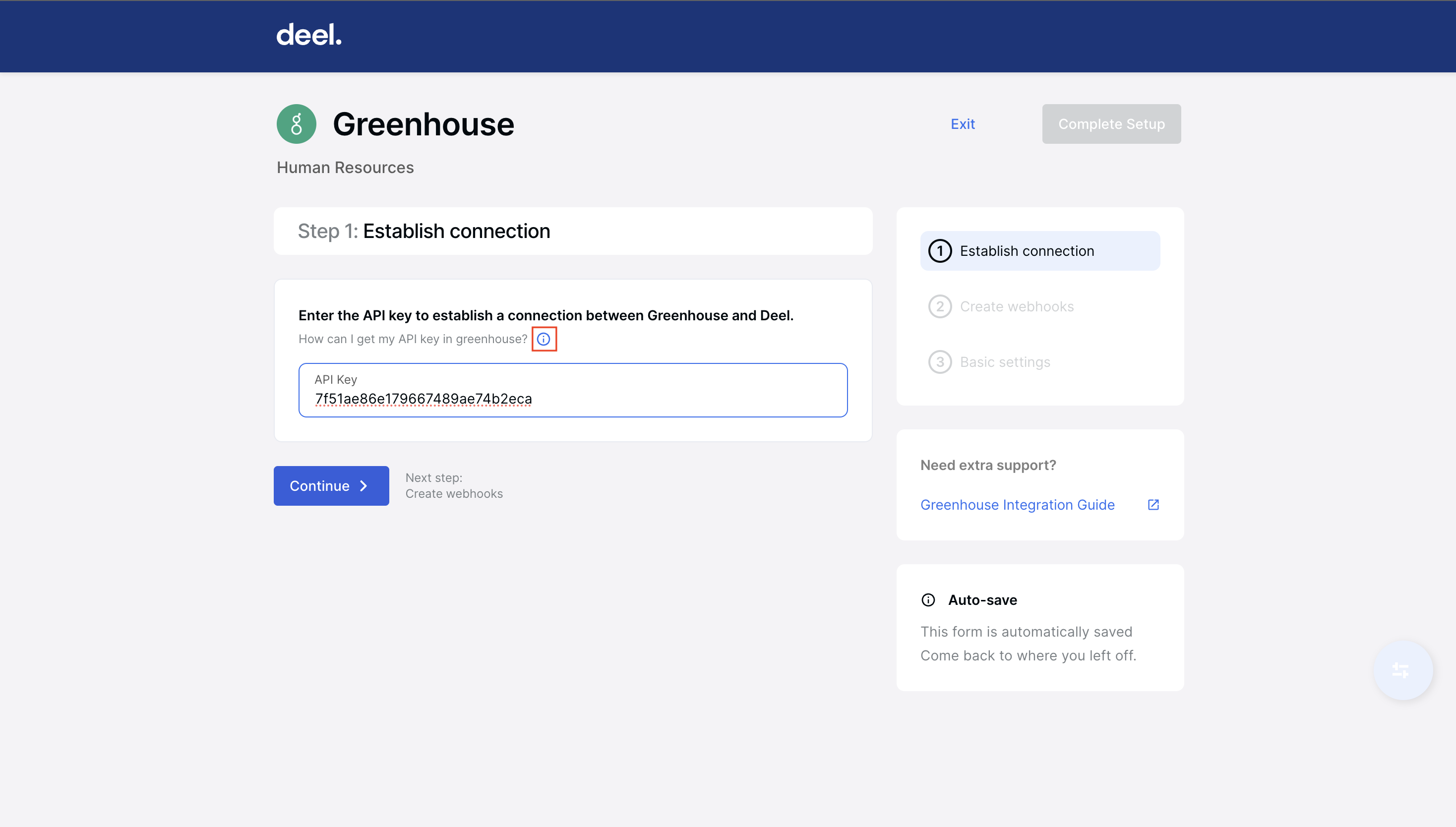 ✅ Step 3 - Set up and confirm webhooks within your ATS. Handy step-by-step instructions, tailored to your specific ATS, are available on the platform to guide you.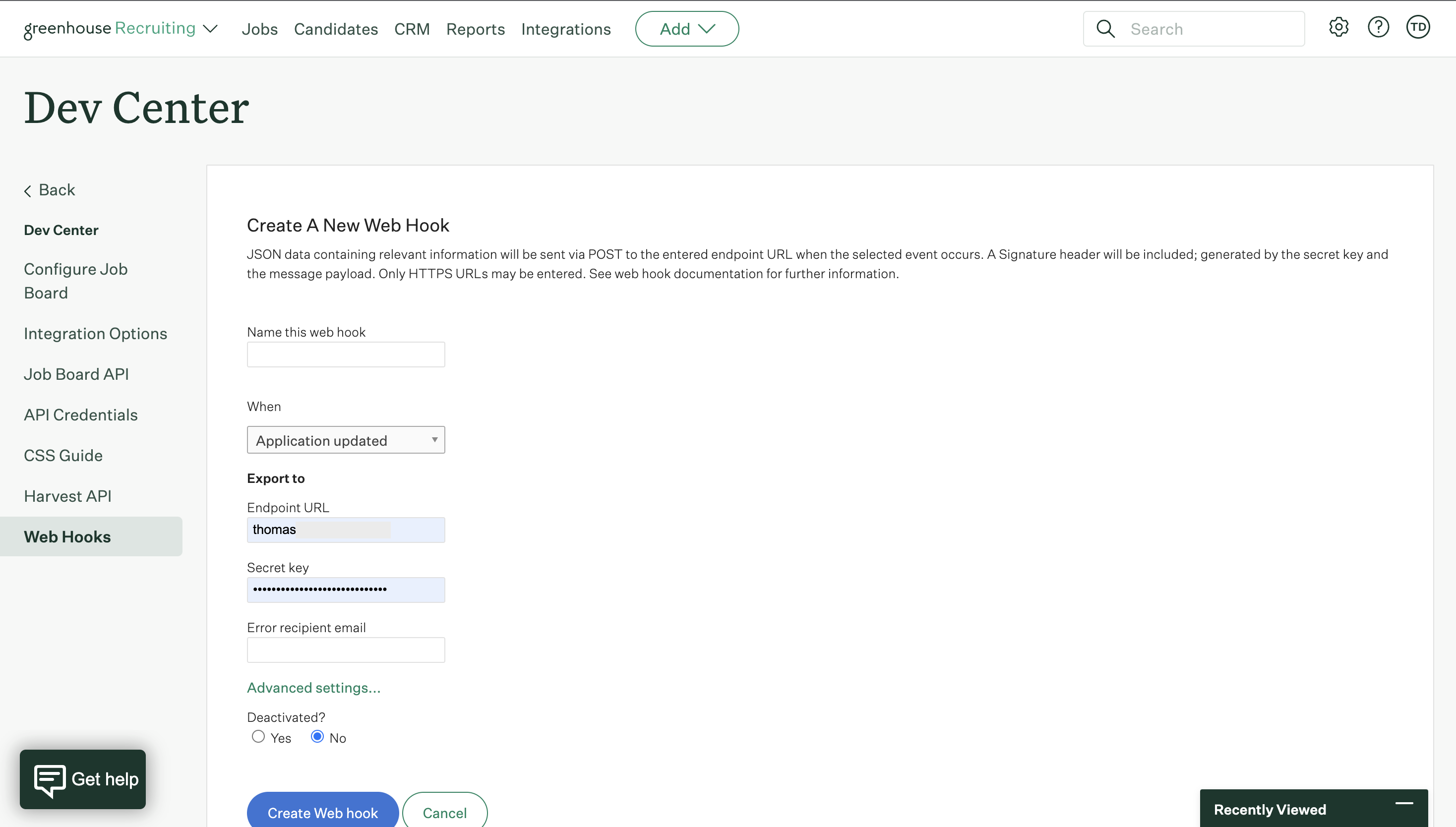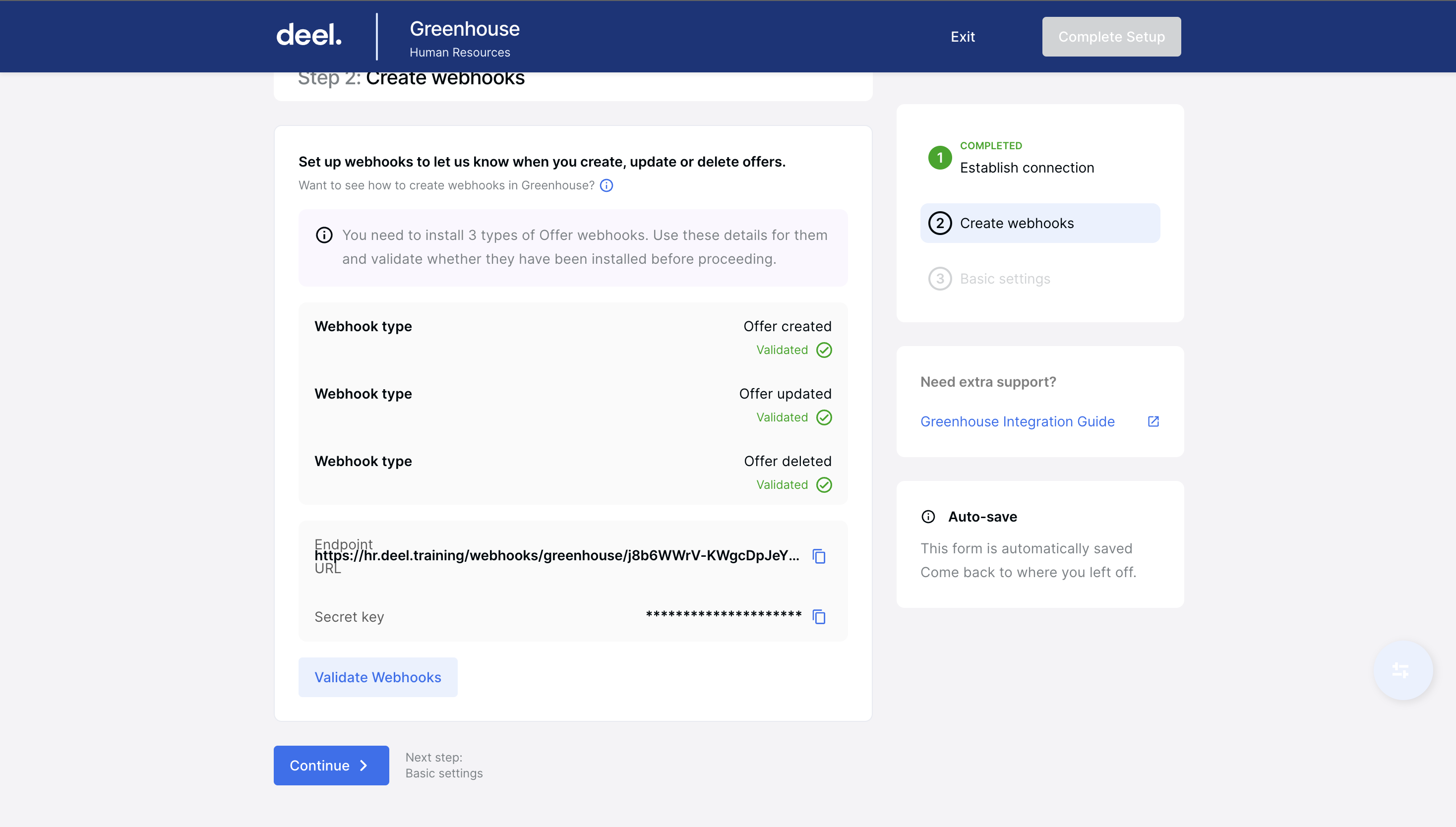 ✅ Step 4 - Basic Settings - Here, decide when you'd like to forward candidates for hiring. For Greenhouse users, for example, this can be at the time of offer creation or acceptance, though choices might differ across platforms. If you don't use Deel to run payroll for your entire team, you can use our "Exclusion Rules" feature to set which candidates should not push to Deel for onboarding.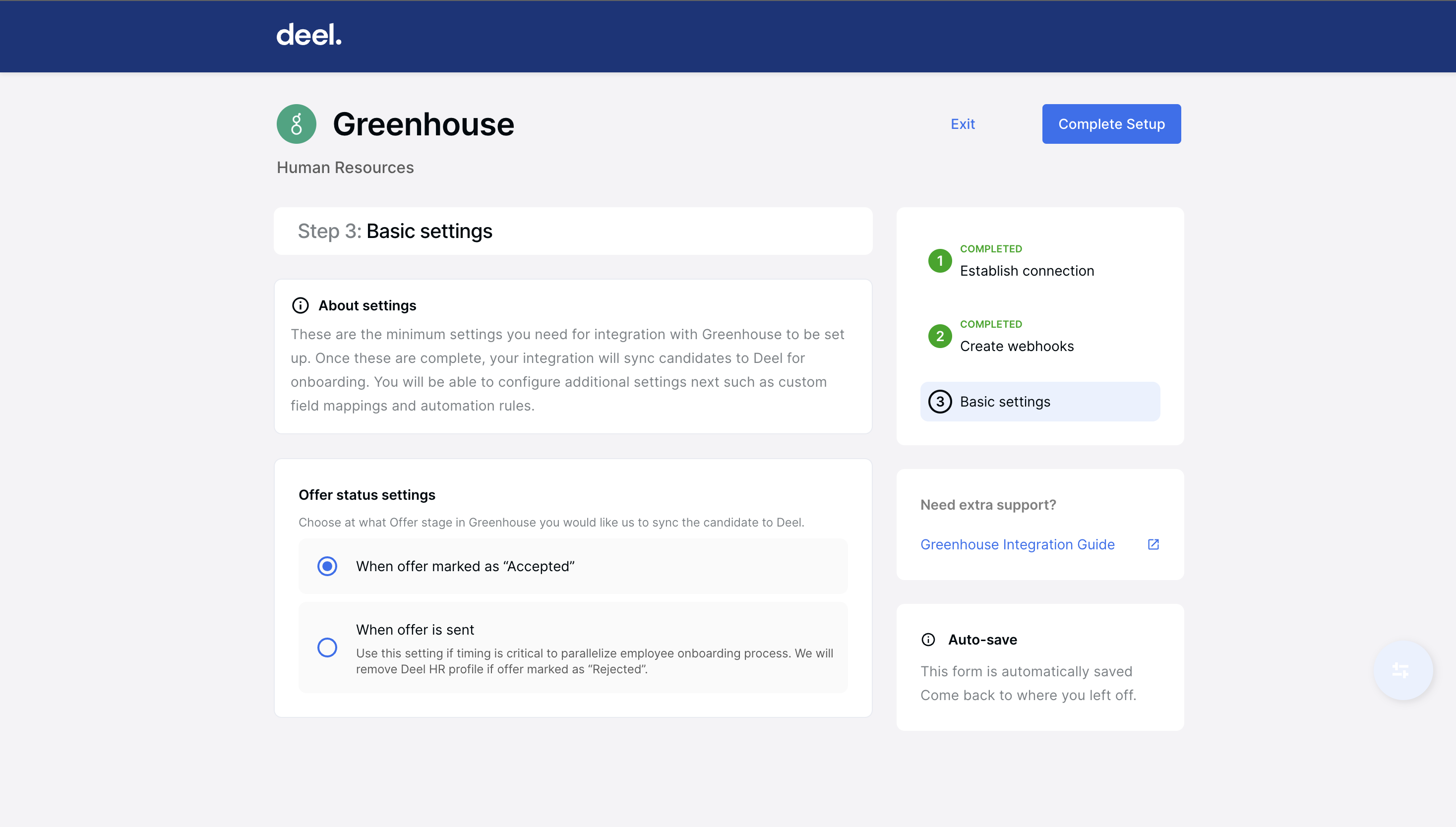 Manage Deel Built ATS Integrations
Once you've successfully connected, you have the flexibility to tailor the integration to your organization's requirements. You can adjust settings related to groups, job details, custom fields, and exclusion rules.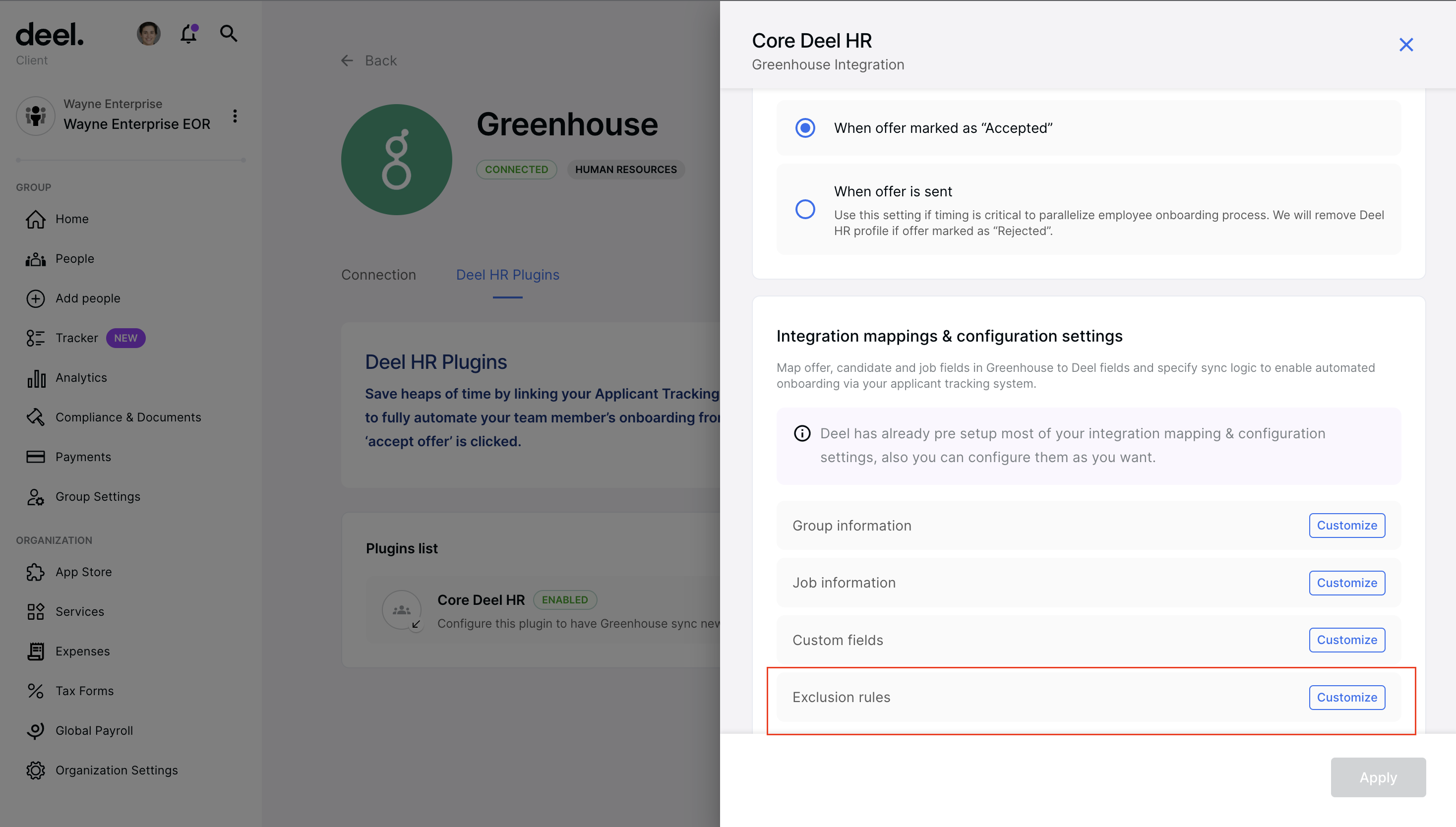 Exclusion Rules is a vital feature that lets you dictate when specific data shouldn't be synchronized. In essence, they tell Deel: "If under a certain condition, a particular field matches a specific value, then don't initiate onboarding in Deel." Each part of this rule is easily selectable from dropdown options.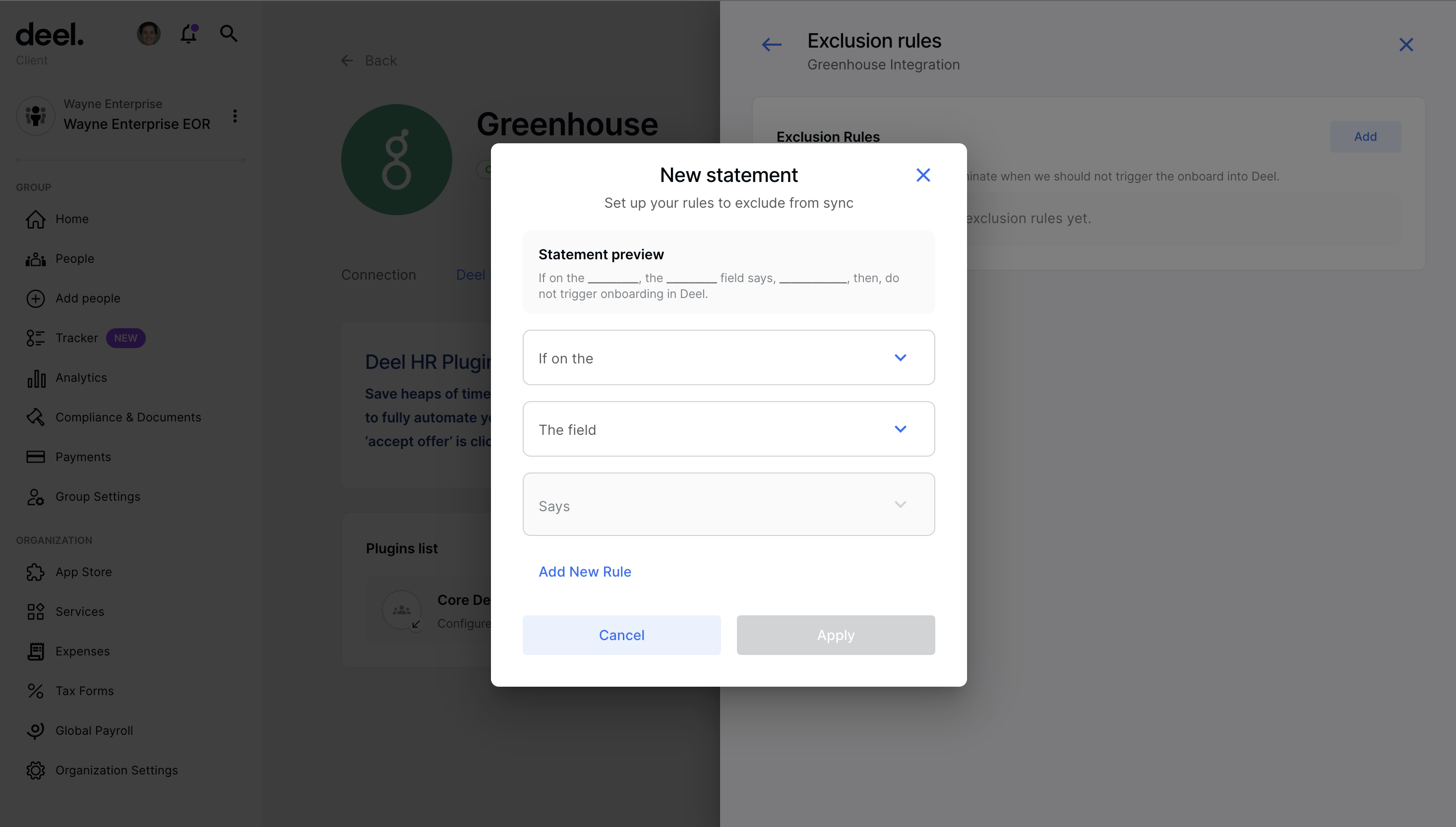 Connect Third Party ATS Integrations
On the Deel App Store, you'll currently find third-party ATS integrations like JazzHR and JobAdder. While our ATS partners continually expand our integration offerings, our product team ensures the quality of each addition. If your preferred ATS isn't yet listed, reach out to your CSM representative with a request. Once you select an ATS integration, you'll be provided with detailed setup instructions, a link to a related article, and a support email for any further assistance.