Connecting Deel to your Hibob directory allows you to seamlessly onboard members of your organization onto Deel in just a couple of quick steps. You can connect accounts in a few clicks if your service user is configured with all required directory credentials.
The integration is a 1-way sync from Hibob into Deel. This integration lets you see your team members and select them for mapping into a new freelancer or Deel full-time employee contract. This integration saves you heaps of time.
In this article, you will find:
Walkthrough video with step-by-step instructions


Setting up the integration
Step 1 -- Select Apps & Integrations on your Dashboard

Step 2 -- Locate HiBob in the Human Resources section and click connect on the next page.



Step 3 -- Select Continue to begin the integration.

Step 4 -- Enter your HiBob credentials and sync your information.
You can do this by either selecting to use the User service ID and Token or using an API key:


For the User service ID and Token, please:
1. Sign in to Hibob
2. Go to Settings, and under Account, click Integrations
3. Go to Service Users app in Automations section
4. Either Create New Service User to get credentials or use an existing service user
5. To Give permissions to this user, go to Settings -> Account -> Role & Permissions -> Select a group or create a new one (ensure the service user you created is in that group)
6. The group needs permission to
a. Company → People → Directory → View the company's people directory
b. Other employees → People → Address → View selected employees' Address sections
c. Other employees → People → Payroll → View selected employees' Payroll sections
d. Other employees → People → Lifecycle → View selected employees' Lifecycle sections

For the API key, please:
1. Sign in to Hibob
2. Click your avatar in the upper right
3. Select API Access in the dropdown
4. Copy and add the Access token
5. Select all Approved scopes boxes and save

After this process is completed, you will have completed the setup: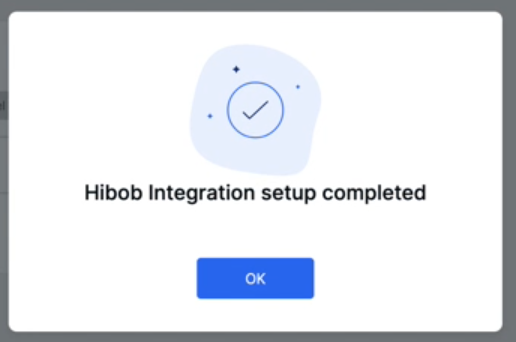 Utilizing the integration
You should now see your Hibob team members available.
You can search and pick a team member to generate a new contract. You can create a contract for someone who is not in Deel or an additional contract for someone for whom you have already used Deel to pay:
1. Find the person you want to create a contract for
2. Click on the Onboard [name] in Deel button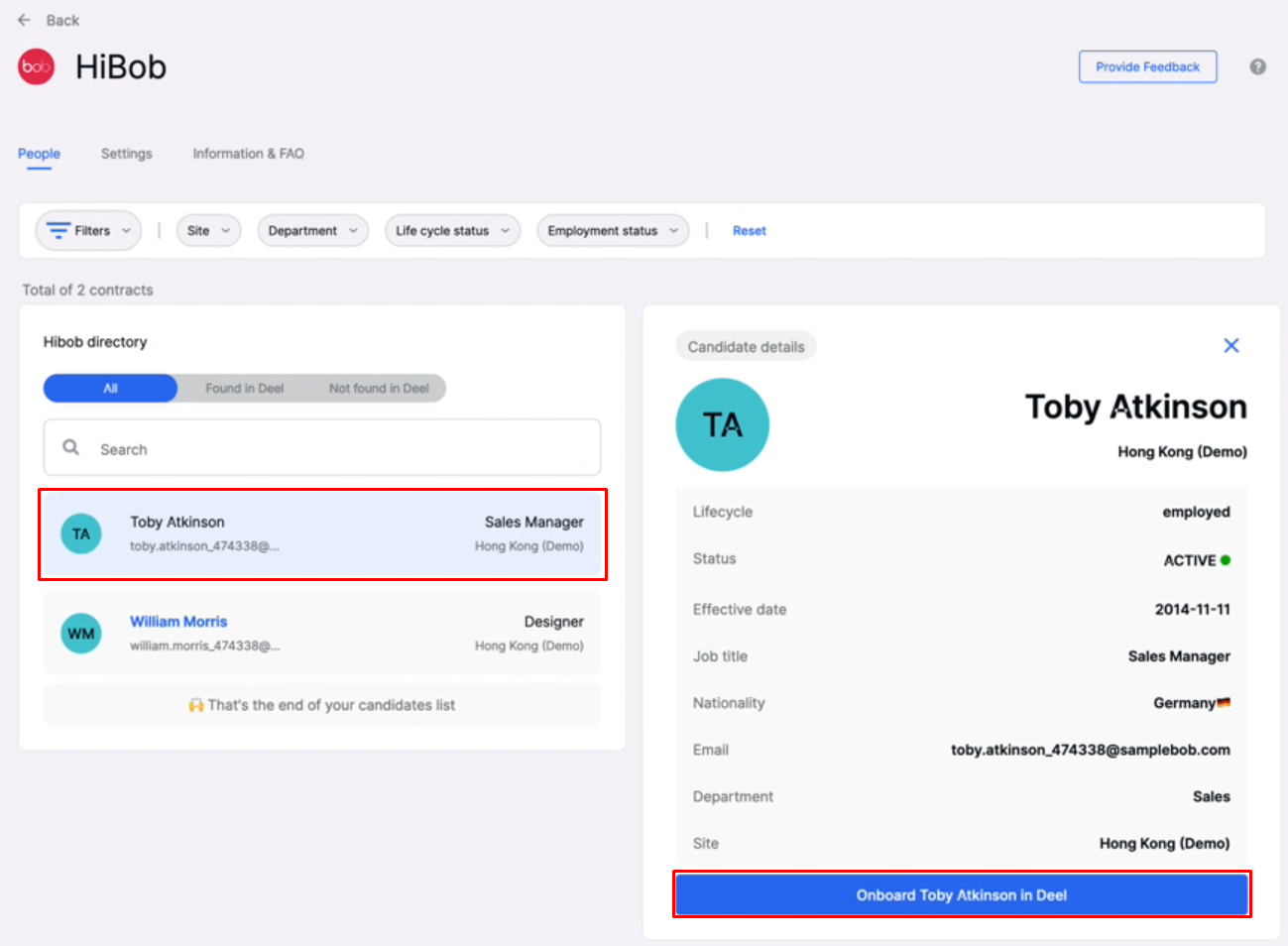 3. Select the preferred contract type. You can find out more about different contract types here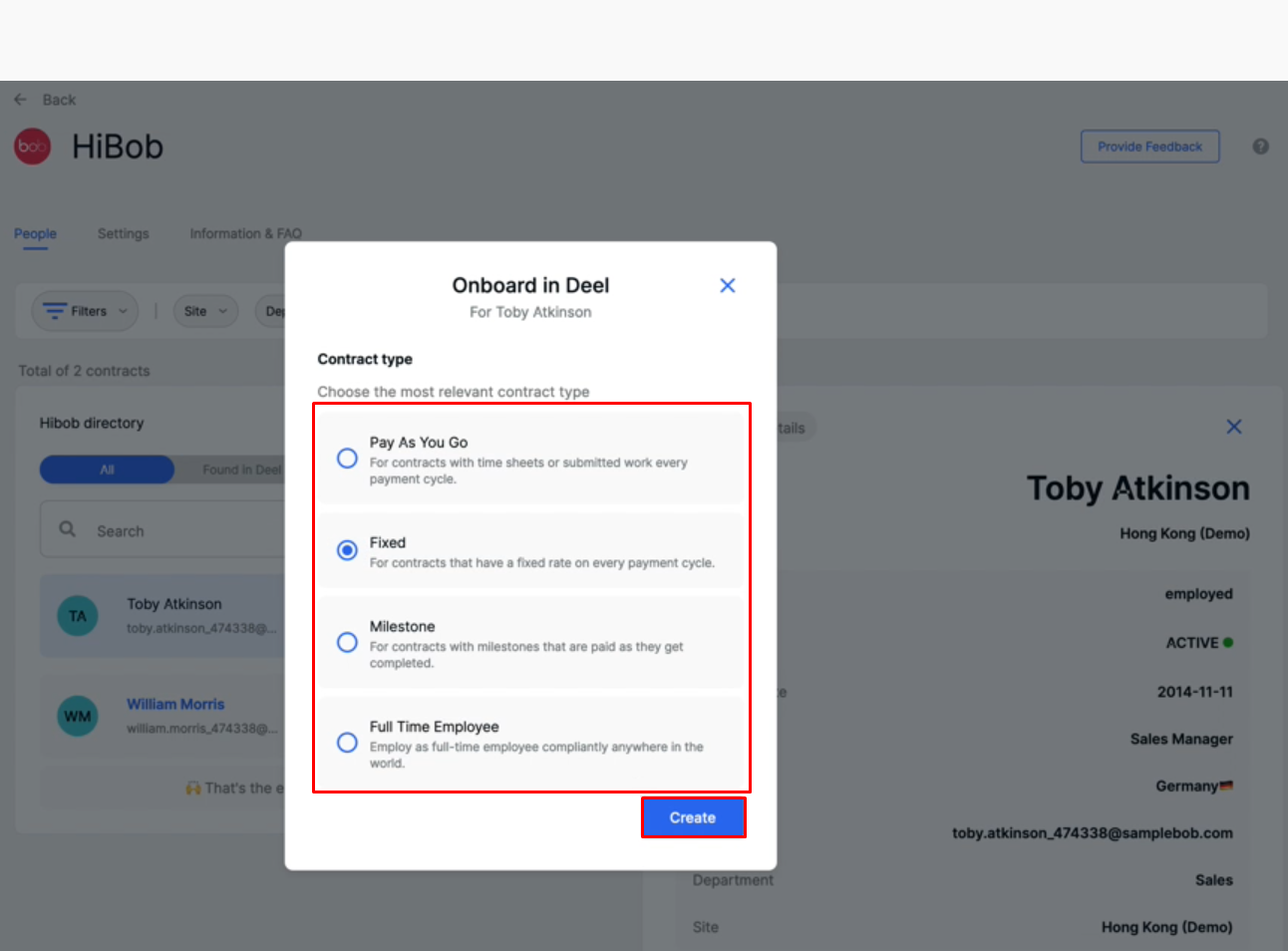 4. Proceed with onboarding. Many fields from Hibob should already be prepopulated in the Deel contract forms. See more details of the fields that come across in the next section.
Hibob <> Deel Field Mapping
Find a description of the data that gets mapped across when you choose to onboard using the HiBob integration.
| | | |
| --- | --- | --- |
| Hibob Field | Deel Field | Notes |
| First name | First name | For full-time employees |
| Last name | Last name | For full-time employees |
| Annual Salary | Annual Salary | For full-time employees |
| Monthly Amount | Rate | For a fixed-rate monthly contractor |
| Payment currency | Currency of rate or salary | All contract types, provided we support it. |
| Email (work or personal) | Email | We default to using personal email if available |
| First nationality | Nationality | |
| Effective date | Start date | |
What's coming up
We continually respond to clients' needs and plan on further building this integration to respond to those needs. Please have a look at our Hibob <> Deel integration roadmap.
Near future:
Ability to sort by "Employment Type" to define options and sort them within Deel
Ability to mass-create draft contracts into Deel from the integration to supercharge your onboarding
Mid-term:
Restrict who is pulled into Deel from Hibob based on "Employment Type" options
Additional field mappings
Long-term:
Sophisticated integration to support Deel Global Payroll
Time-off syncing
Document syncing
FAQs
What direction is the integration?
Direction is from Hibob to Deel.
How often does data refresh?
Data refreshes nightly, but at any point, you can re-sync data in the Settings section by pressing the Sync button.
How can I delete the integration?
Go into Settings, and at the bottom, press Delete integration.
How are the Email notification settings in Settings used?
Adding this will send notifications if we have lost connectivity/permission to your Hibob directory. You might want to use it and input a group HR email so that if the person who set up the integration leaves or deletes the permissions, someone will know about it. We automatically delete integrations if connectivity is lost for greater than 30 days.
I do not see those contractors in Deel in the Found in Deel tab. How can I fix this?
Please ensure that the Work or Personal email field in Hibob is the same email used in the Deel contract. This is because Deel reads both Hibob email fields to make this match. Once you have rectified this, you can go into settings and click Sync, and everything should be sorted.
Contact us 24/7 and we'll be happy to assist you if you have any additional questions!