This guide explains how independent contractors can sign up to Deel, create contracts, withdraw money, and more!
In this article:
Early Withdrawal and Deel Advance
Create an Account
You can create an account on Deel in just a few clicks.
Jump to video tutorial
✅ Step 1 – Sign Up
Click the Log In link from the Deel wesbite and then click Sign Up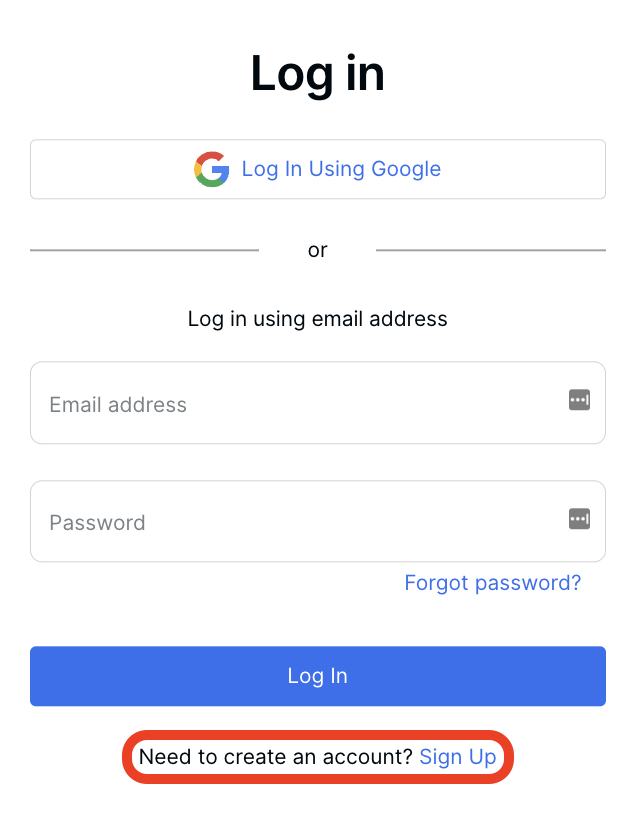 ✅ Step 2 – Choose Account Type
Select the I'm A Contractor tab and click Next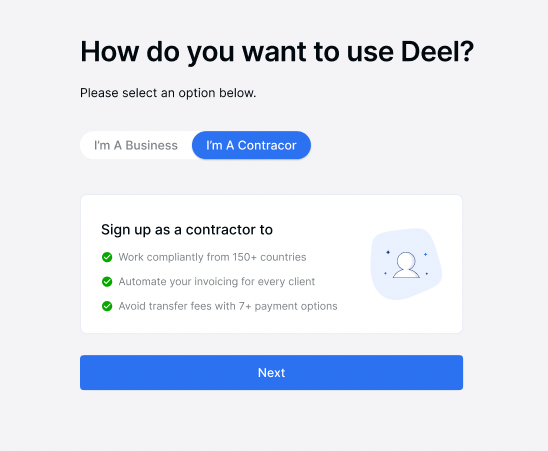 ✅ Step 3 – Fill out contact information
Fill in your personal information and click Create Your Deel Account.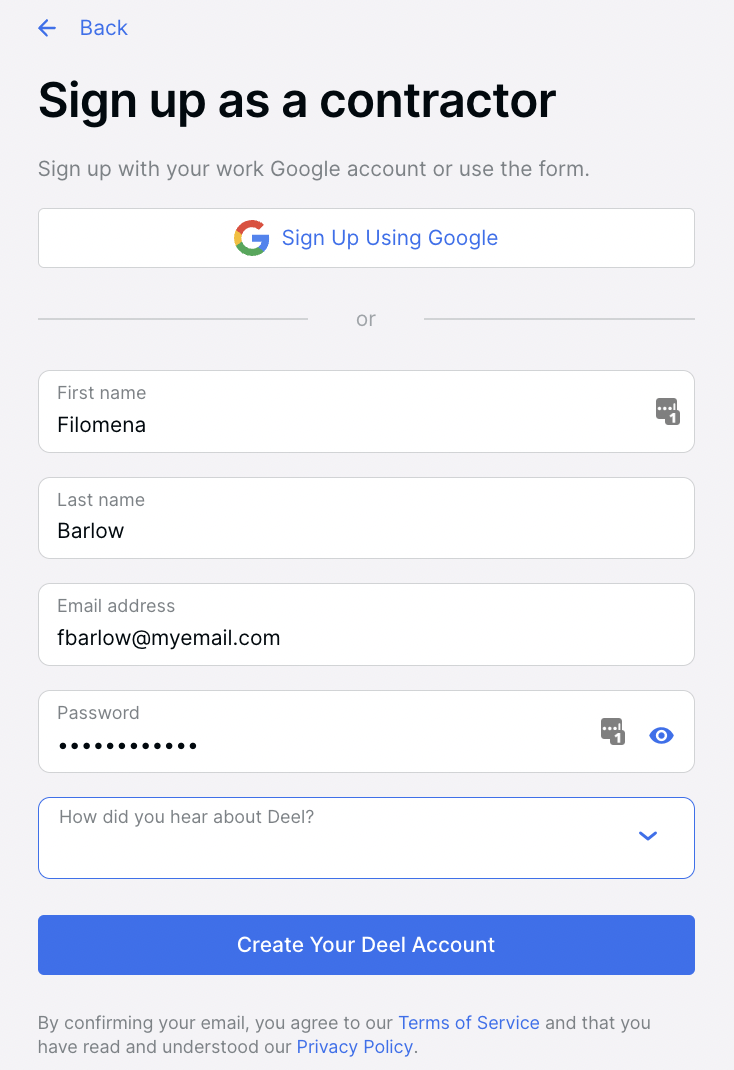 ✅ Step 4 – Determine contractor status
You will need to identify what kind of contractor you are - if you are an individual and your personal information is used for invoices ; or if you are set up via an entity.
Some jurisdictions may require additional information or registration to operate as an entity.
If you sign up as an entity you will be asked to provide additional information.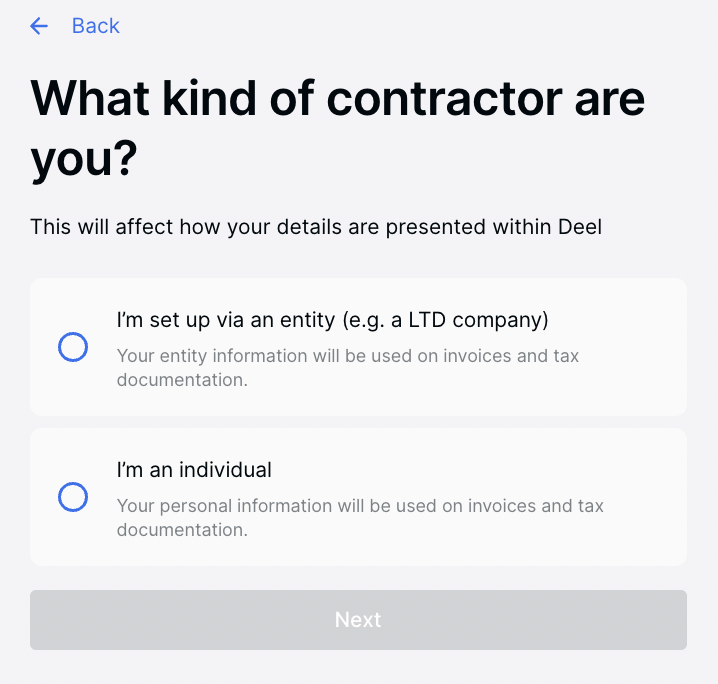 ✅ Step 5 – Fill out personal details
We will need a few personal details for your profile, including address and information about your tax residency.
Click Complete Profile and your account is now active!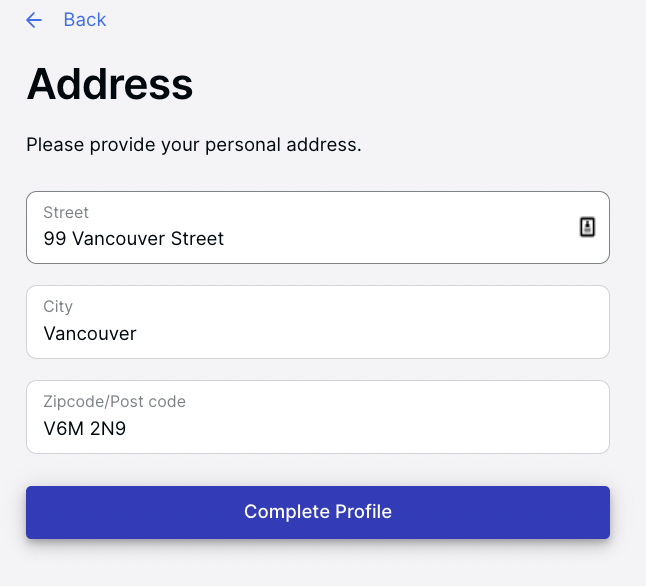 What if I accidentally created the wrong account type?
You can add another account by selecting your avatar and clicking Account Settings.
You can switch between your client and contractor accounts by clicking on your avatar.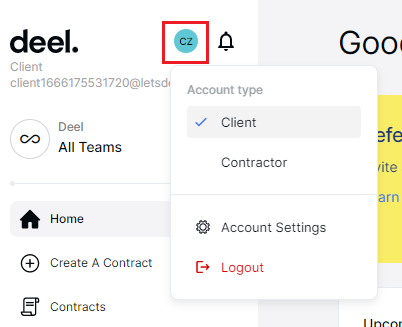 Verifying your account
You will need to verify your identity in order to withdraw money from Deel.
This is because Deel works directly with banks and a variety of popular payment providers, and we want to ensure your protection and reduce risk.
We request that you take and submit a selfie and a photo of your government-issued ID.
Signing your contract
Your client may have already sent you a Deel contract to sign. Please review the details and sign it with your digital signature.
You may also create a contract yourself and send it to your client to sign.
In order to activate acontract, both the client and the contractor must sign. If only one party signs, the contract will remain inactive until the other party signs it.
Deel offers three contract types: Fixed, Pay As You Go, and Milestone.
Fixed - you get paid in regular payment cycles
Pay As You Go - You are paid at a variable rate depending on factors like 'hours worked' or 'tasks.'
Milestone -

You are paid a predetermined amount when you reach milestones along a project timeline.
You can learn more about the invoicing proces for each contract type here
If your client created the contract and sent it to you
You will receive an email invitation to sign the contract.
Click the Review & Sign link in the email, and digitally sign the contract on the Deel app.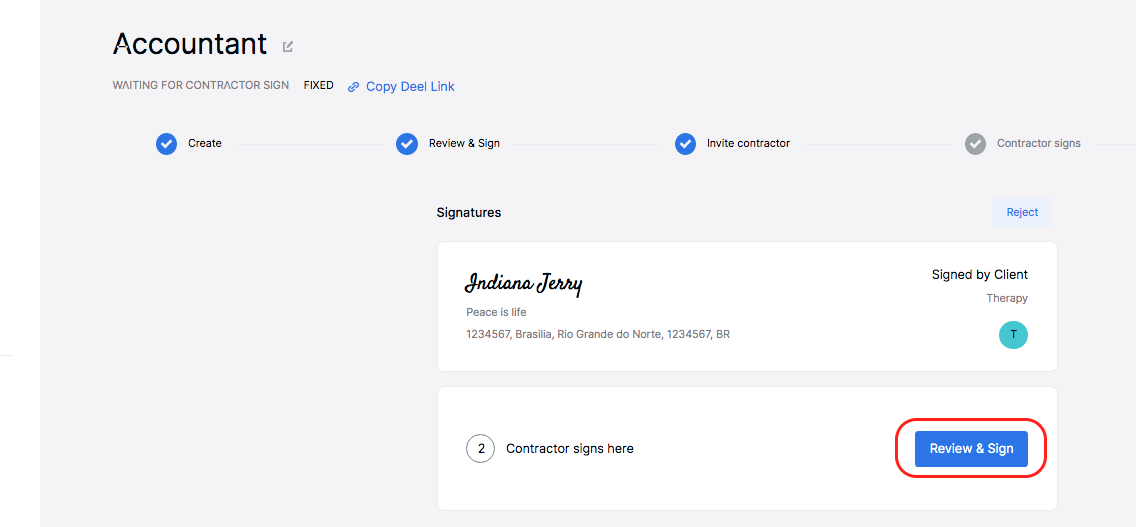 Compliance documents
When clients create contracts, they can request that you submit compliance documentation according to their country's regulations. Each contractor will be notified about the request and asked to upload the documents.
We strongly encourage you to upload compliance documents as soon as possible, to ensure that you are meeting local laws and standards.
If you created the contract and sent it to your client
After you create the contract you will need to send it to your client for signature.
Enter your client's email and an optional message, and your client will receive an email with a link to sign.


Withdrawing money
Funds will be available in your Deel Balance on your payday, a date which is assigned on your contract.
Once funds are available in your Deel Balance, you can request a withdrawal.
Depending on your withdrawal method, it can take anywhere from a few seconds to seven business days for the funds to clear and appear on your account.
The longest withdrawal ETAs are withdrawals that are processed through SWIFT, which take five to seven business days to appear in your account.
You can also set up automatic withdrawal to fast-track this process. Your balance will automatically clear every time a new balance is available.
Choose a currency
Deel supports multiple currency wallets, and you can withdraw funds in 120+ different currencies.
Check if your local currency is supported when you want to withdraw. We can process local payouts with
minimal transaction costs, thanks to our payment processing partners.
Early Withdrawal and Deel Advance
Many contractors will have the option for Early Withdrawal, a feature available up to 5 days before the scheduled payment date. There is a small fee for using the Early Withdrawal service.
Contractors may also have the option for a Deel Advance, which allows you to get paid up to one whole payment cycle in advance.
Video Tutorial
FAQs
[ACCORDION]
Can I request time-off as an independent contractor?
Time-off can be requested for Fixed contracts and Pay As You Go contracts.

You can not submit a time-off request with a Milestone contract. This is because you get paid only once work is completed, and regular invoice cycles do not apply.
For Fixed contracts:
✅ Step 1 – Select the Time Off tab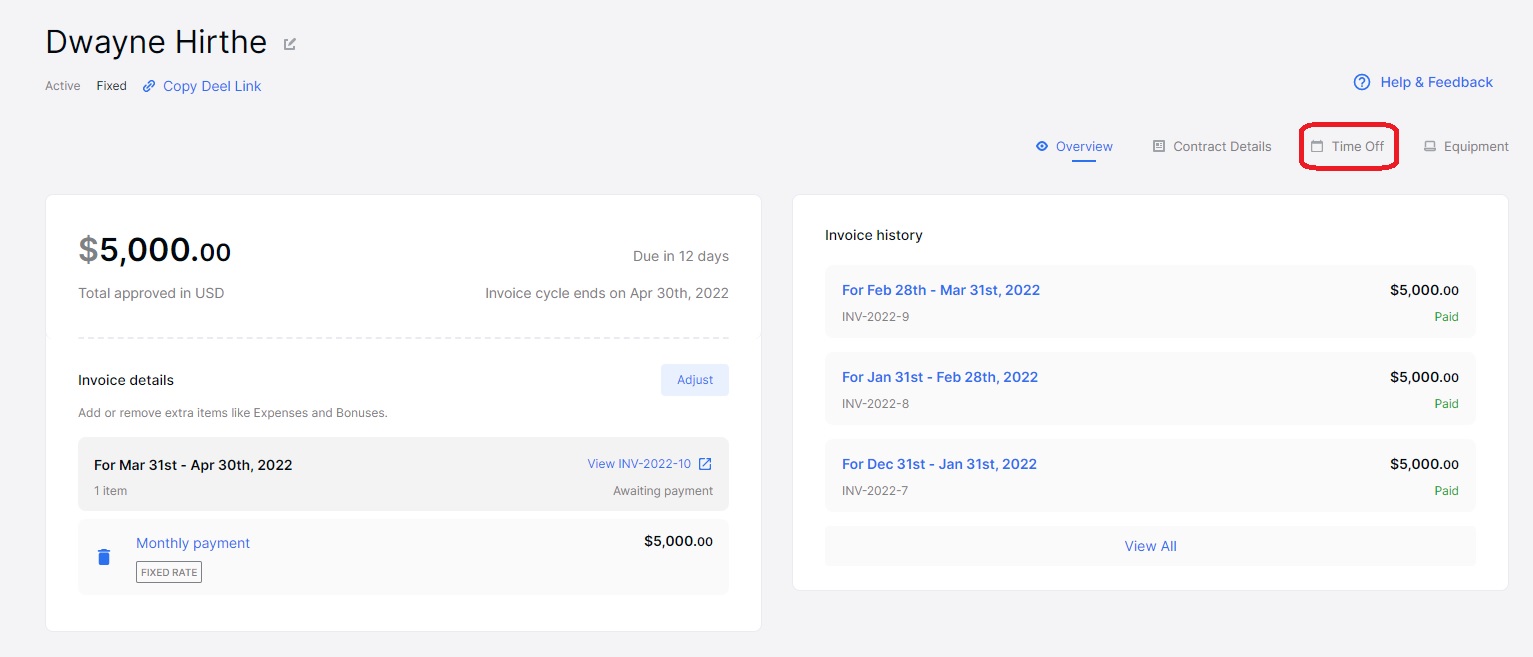 ✅ Step 3 –
Add Time Off
Fill out the dates for your request and add additional details.
You will receive an email when the request has been accepted or rejected.
Important! Clients can choose if time-off will be paid or unpaid. If the days off are unpaid, the client will have to manually input how much they are deducting from the next invoice.

You can check the status of your request from the Time Off tab. You can cancel your request by clicking the blue garbage bin.

For Pay As You Go Contracts
For this type of contract, you can only include time-off as an invoice adjustment for your client to review and approve.
While you do not have a paid time-off option with this contract type, you may request 0.01 as the minimum amount to be deducted.
✅ Step 1 – Click Adjust in the Invoice Details section
✅ Step 2 – Select Time Off from the dropdown menu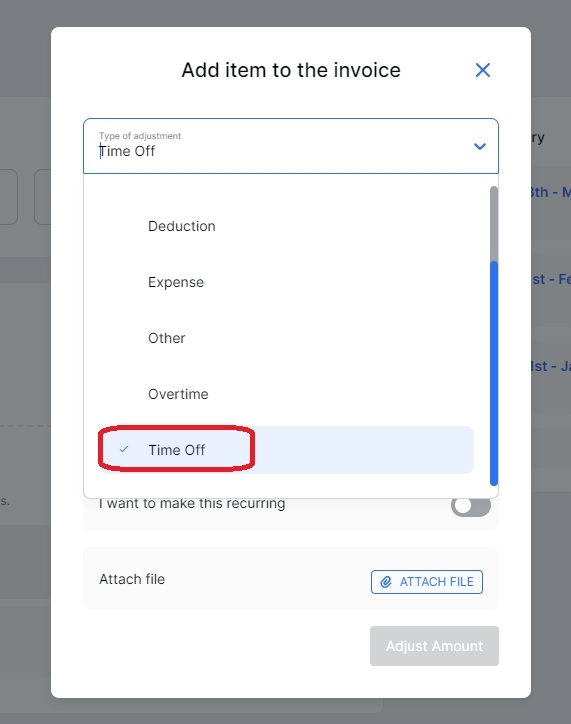 ✅ Step 3 – Add time off details
Add the amount to be deducted from the invoice, and provide additional details.
The minimum amount you must put as a deduction adjustment is 0.01.
Click Submit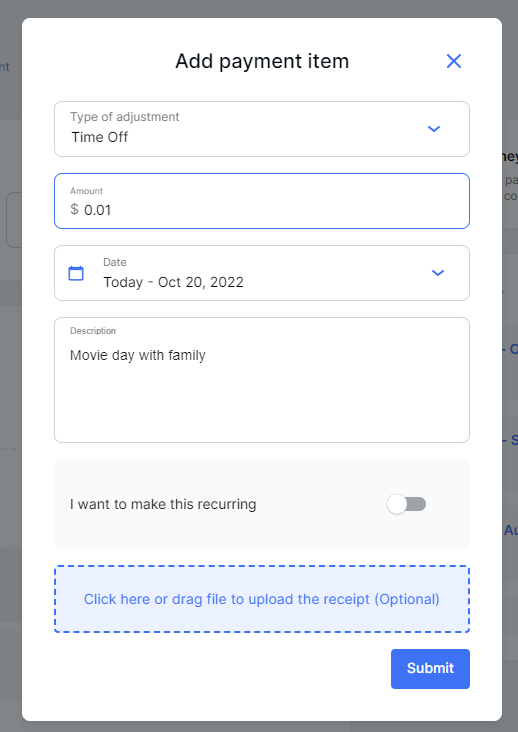 You can check the status of your adjustment from your contract Invoice Details section. You can cancel your adjustment by clicking the blue garbage bin.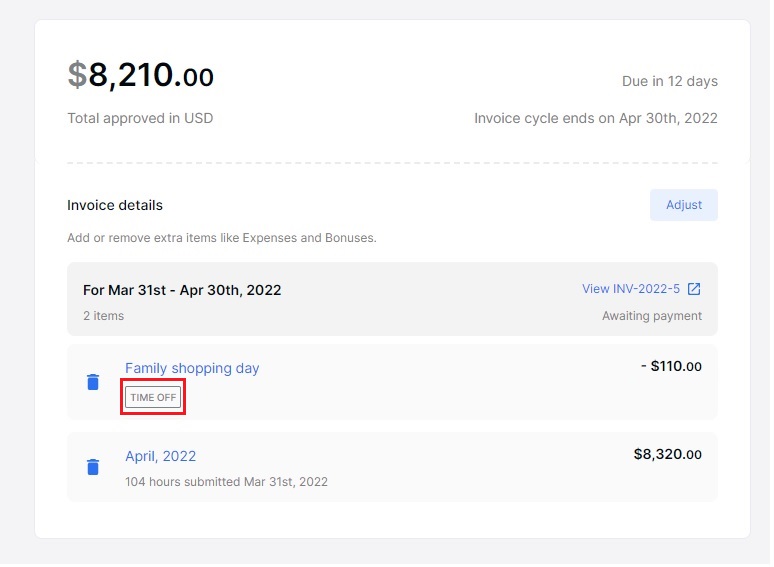 [ACCORDION]
Do I need to fill out tax forms?
If you work with clients from the US, you will be asked to fill in a W-9 Form if you are an American citizen.
If you are not an American citizen but are working with US clients, you will fill out a W-8BEN(E) Form.
[ACCORDION]
Can I request health insurance as a contractor?
Deel partners with health insurers who understand remote working, both in your country and internationally.
We have exclusive discounts that make it safer than ever to work with remote teams.
Learn more about health insurance for remote workers.
Requesting a quote from our health insurance partners can be done in just a few clicks.
✅ Step 1 – Select the (1) Insurance tab and (2) choose your location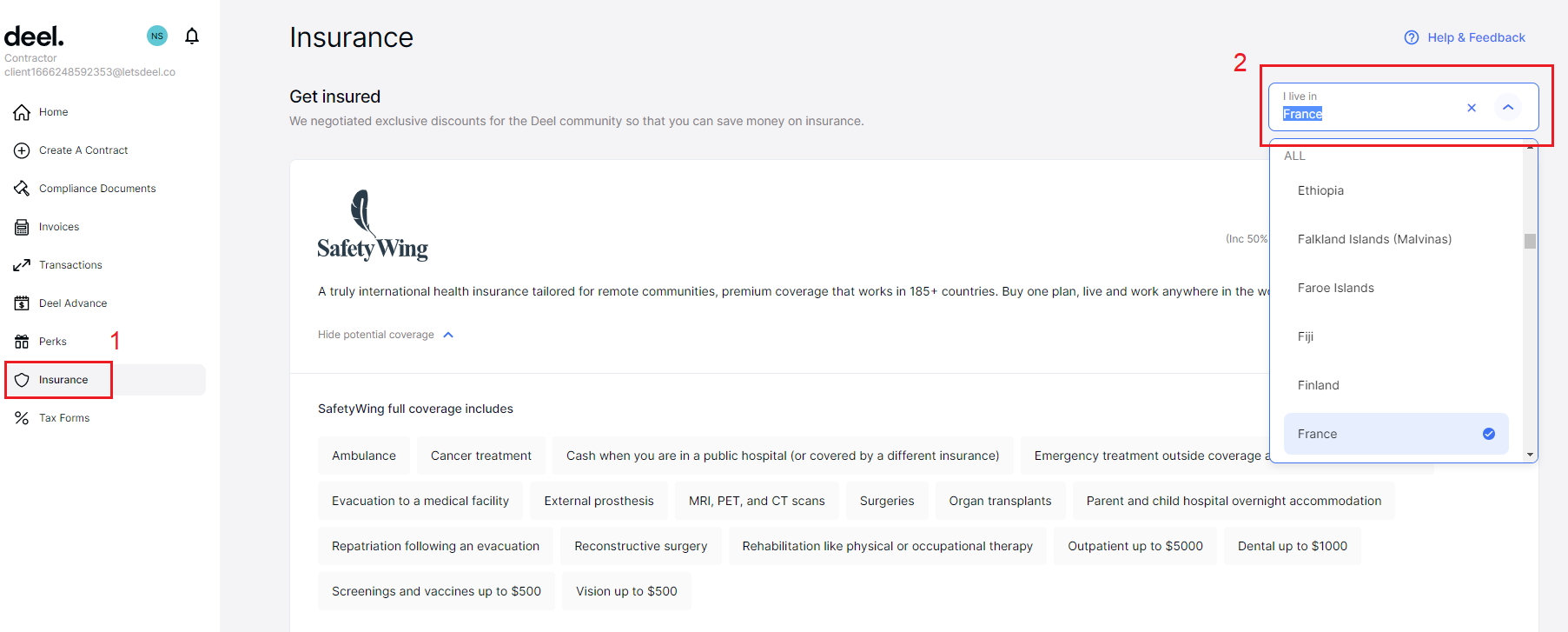 ✅ Step 2 – Click Apply for Coverage
You will receive a follow up email from the insurer. Complete the set up process on their website.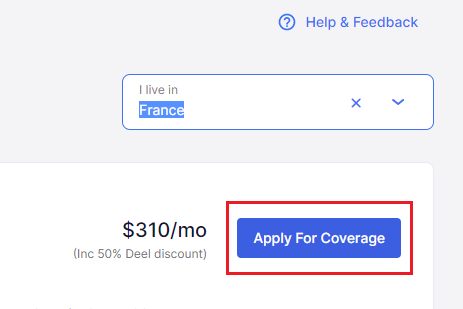 With Deel health insurance you can:
Get general health and long-term-stay travel coverage in 178 countries, just about everywhere except Canada
Set up your policy in minutes, entirely online, without additional paperwork or going to the insurer's office
Get flexible add-ons as your needs or location change
Choose the insurance plan that fits your needs and get exclusive discounts
[/ACCORDION]