This article explains how independent contractors can create and manage contracts through Deel.
If you are an independent contractor looking for information on uploading or adjusting invoices, please see our Guide to Contractor Invoices.
In this article:
How to view your contract details
Types of contracts
Deel offers three contract types that you can review and sign with your client. Once a contract is signed, you can see the contract details on the Deel app.
Fixed Rate contract
A fixed rate contract is a contract where you and the client agree to a predetermined base rate for work, which recurs each pay cycle.
If you have a fixed contract, you will get paid in the payment cycles that you and the client agreed on in the contract: weekly, bi-weekly, every other week, or monthly.
The payment cycle and the pay date are listed in the contract.
Please see: How To Create A Fixed Rate Contract On Deel
Pay As You Go contract
A Pay As You Go contract is a contract where you are paid at a variable rate that depends on factors such as 'hours worked' or 'tasks'.
If you have a Pay As You Go contract, you may need to submit your hours before your client can issue the payment.
You can adjust your invoice to add a bonus, expense, overtime, and other adjustment types for each payment. Your client can approve the hours, add a bonus, and update hours by CSV upload (if applicable).
Please see: How To Create A Pay As You Go Contract On Deel
Milestone contract
A milestone contract is a contract where the independent contractor is paid a predetermined amount when they reach particular milestones along a project timeline.
If you have a milestone contract, you and your client will break down the project into milestones and assign a payment amount to each of them. Then, when a milestone is approved, the payment can be processed.
Please see: How To Create A Milestone Contract On Deel
How to view your contract details
The details of your contract can be reviewed at any time on the Contract Details tab.
Here you can find information such as the start and end date of your contract, payment details, your job role, and more.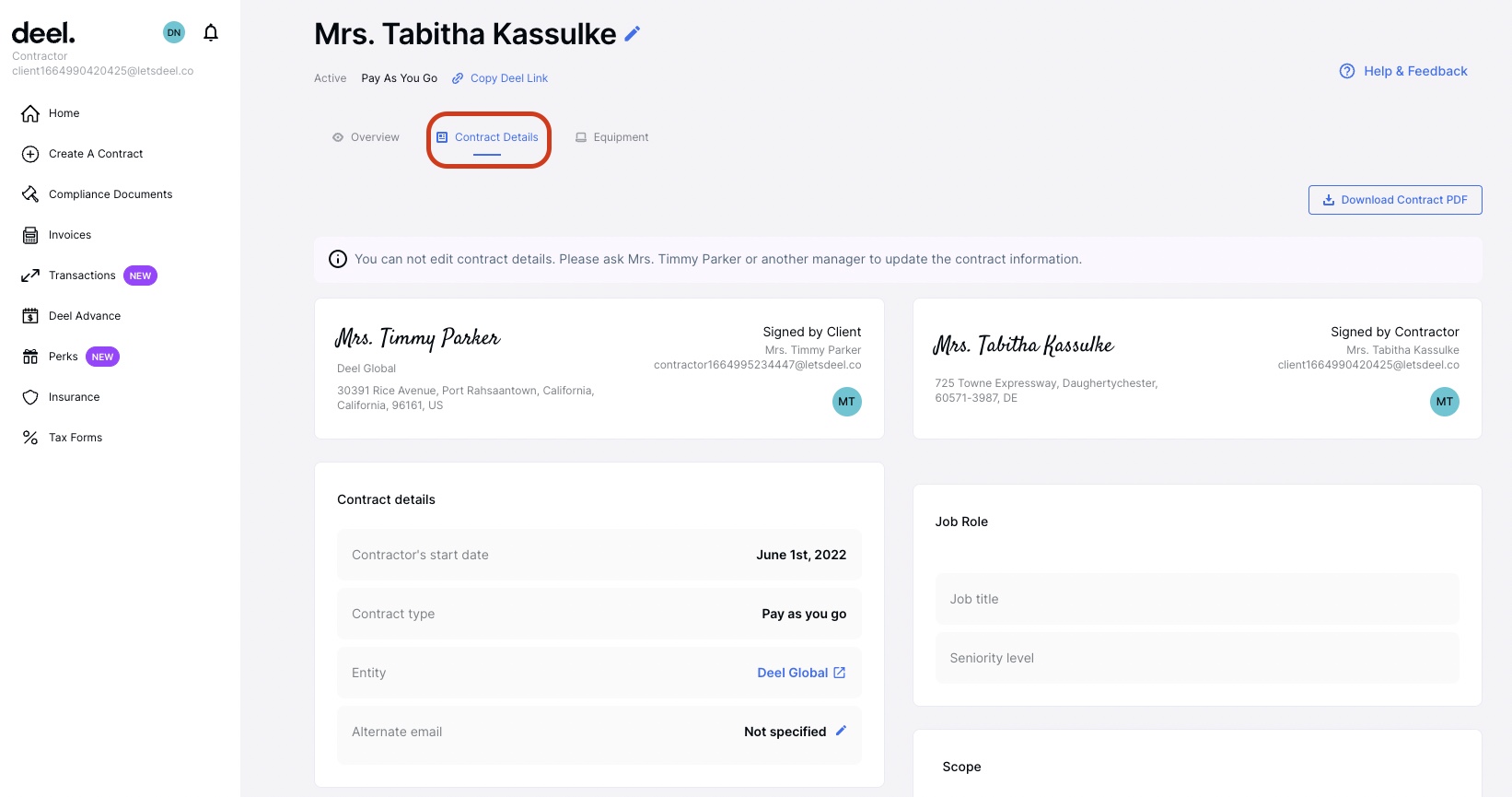 FAQs
Can I edit my contract details?
No, you can not edit contract details. Contact your client if you want to update the contract information.
Where can I find the contract termination date?
Select your contract from your Dashboard and select the Contract Details tab. Your contract End date will be listed, if applicable.

Why can't I submit my hours?
If you have a Pay As You Go contract, the submit work section will not appear if the client enabled the Only Client Can Submit Work option during contract creation.
In this case, only the client can submit hours.
You can see if your client enabled this option for your contract in the Contract Details tab.
What should I do to settle client-contractor conflicts?
We encourage our clients and contractors to try and settle conflicts between themselves. Your contract is an agreement between you and your client and Deel does not mediate any disputes.
Please read our full disclaimer here.
[ACCORDION]
Can I be issued stocks as an independent contractor?
Yes! Deel allows clients to grant an equity promise to both full-time employees and independent contractors.
Clients will use their own equity platform solution to actually grant equity.
If your employer is offering you stock options, you will be able to see the offer from your home page.
✅ Step 1 – Click on the Stock Options tab
✅ Step 2 – You will see two lists: Stock options Offered, and Stock Options granted.
Click Stock Options offered
✅ Step 3 – Review details of the offer in the pop-up window, including aggregate value, vesting schedule and cliff.
Note: Deel allows you to view you client's equity promise and the vesting timetable, but we are not actually granting equity. Your client must use a separate equity granting platform