This article explains how clients can easily create a Global Payroll contract from their Deel platform.
For more information on where Global Payroll is available and the services that are included, please see Global Payroll Overview

This process only applies if your organization does not have an HRIS, or if your HRIS is not integrated with the Deel platform.
Global Payroll should be enabled for your account to use this feature.
✅ Step 1 – Create Employee contract
Select the (1) Create A Contract tab on your home page and click (2) Employee
You will be able to soon run payroll for employees that are hired through your own entities.
For more information about the Global Payroll payroll schedule and additional benefits, please see Frequently Asked Questions About Global Payroll.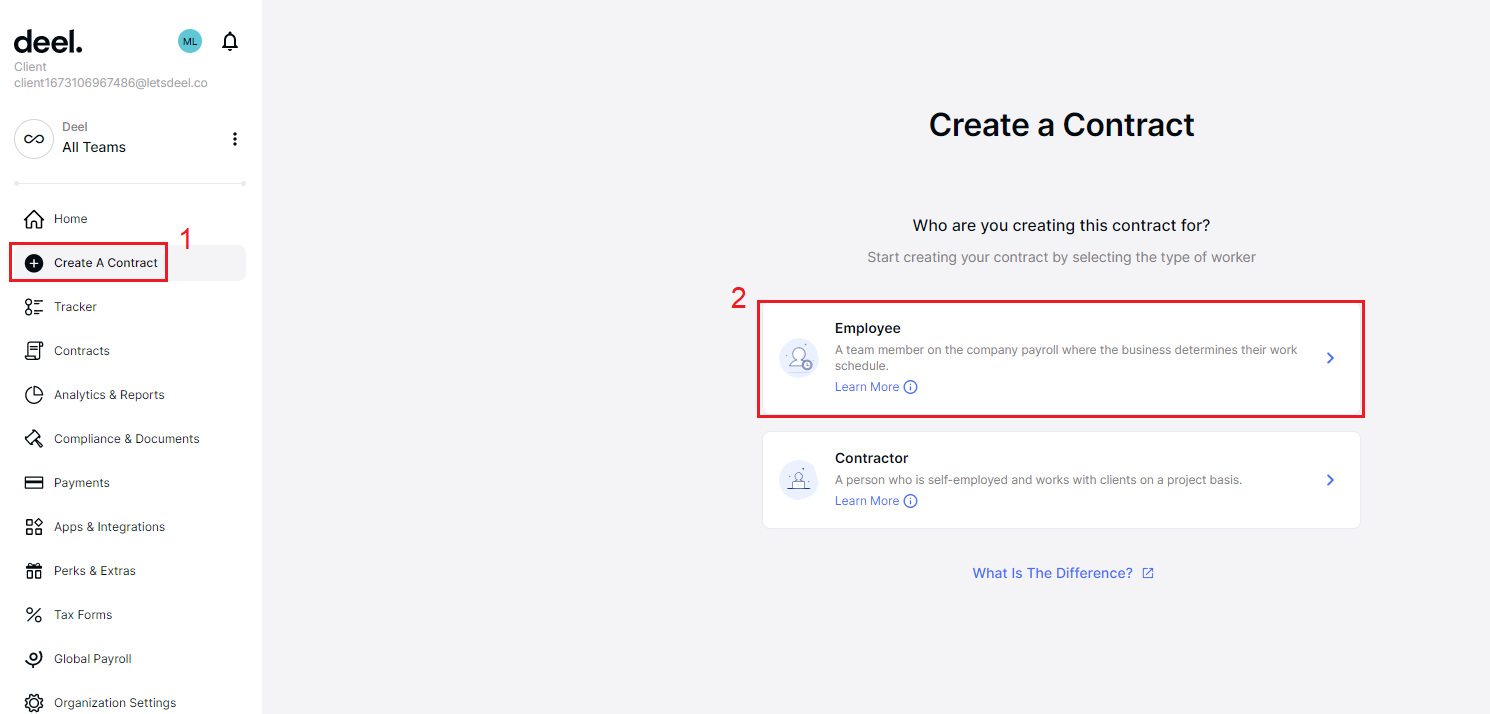 ✅ Step 2 – Select Direct Employee
With Global Payroll, you are running payroll for employees hired through your own entities.
If you want to use Deel as the legal Employer of Record (EOR) to hire the worker, select EOR Employee instead.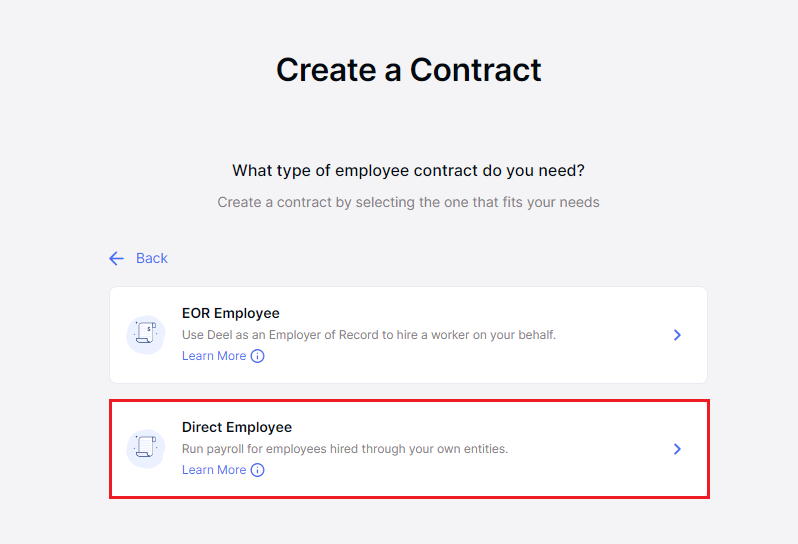 ✅ Step 3 – Enter the Employee details
Please make sure the country is correct because this will determine the employment country for the employee.
Once the contract is finalized, only your Customer Success Manager will be able to change the country.
Select Next to continue.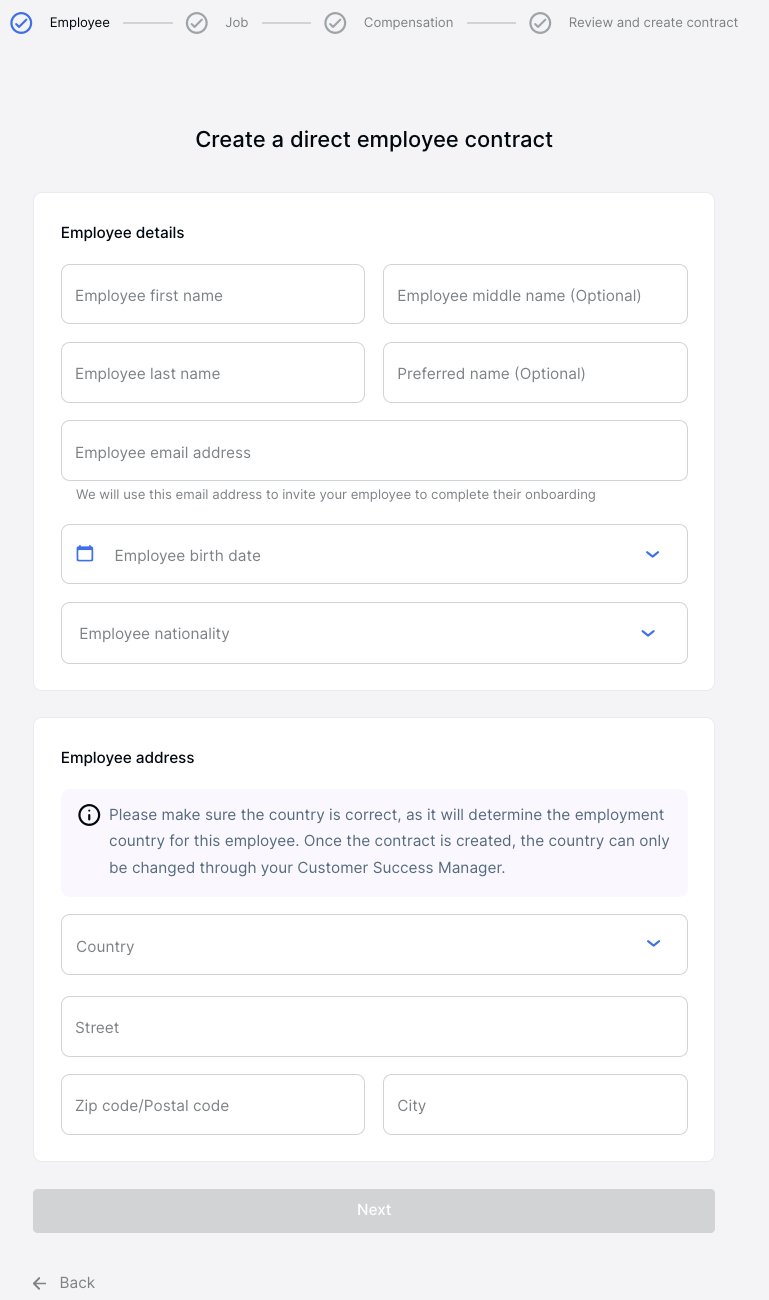 ✅ Step 4 – Enter the Job information
Select Next to continue.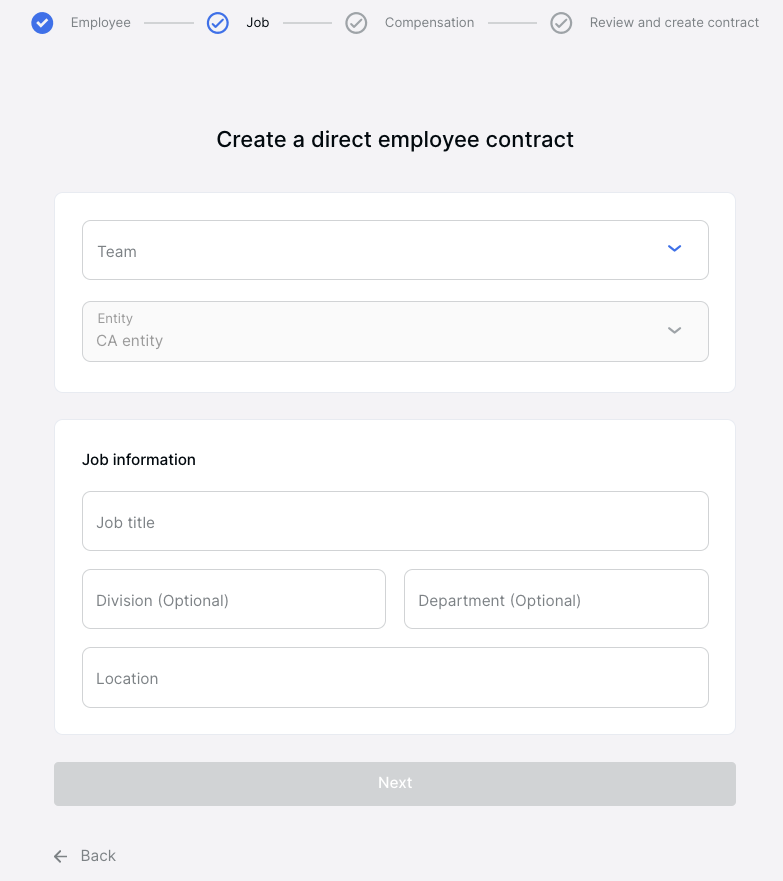 ✅ Step 5 – Enter Compensation information and Contract Details
You will enter the employee's start date, employment type, contract term length, annual number of vacation days, and other individual details.
The currency will be determined based on the employment country.
Select Next to continue.
✅ Step 6 – Click Create Contract
Review and click the Edit button if you need to make any changes.
Once the contract is created, Deel will invite the employee to complete onboarding. The employee will only be included in the payroll cycle once they have completed their onboarding process, in accordance with the payroll cycle cut-off dates.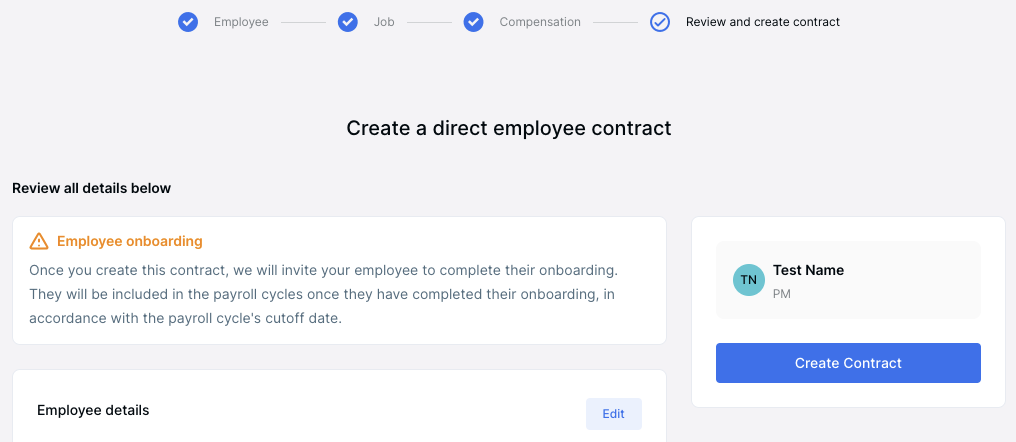 ✅ Step 7 – Confirm
When you click Yes, Create Contract an email will be sent to the Employee, using the email address you provided during the contract creation process.
If you do not wish to send an email notification to the employee, click No, Go Back and enter your organization's email ID instead.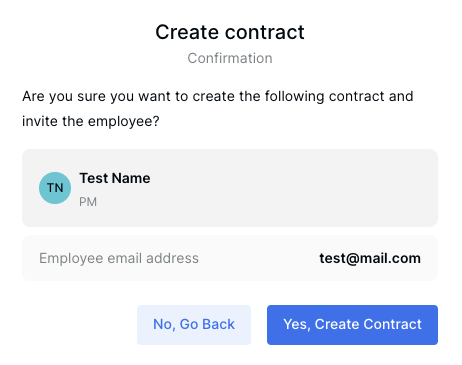 ✅ Step 8 – Upload compliance documents
If the contract is still missing information you will be notified to (1) Resend the invitation.
You can begin uploading (2) Compliance documents, beginning with the Employee Agreement.
Other compliance documents may include bank details for your direct deposit, tax information, and employe hire forms.

Because your banking details will be usd for the direct deposit, the account must be from a local bank in the same employment country.