This article will help Direct Employees learn how to easily navigate and utilize the Deel global payroll platform.
As an employee, you'll be able to access all items related to your employment, including payslips, tax documents, contract details, and more!
In this article:
Creating Your Deel Account
First-time users will be able to follow the link in your welcome email to create a Deel account.
Click Activate Account to get started!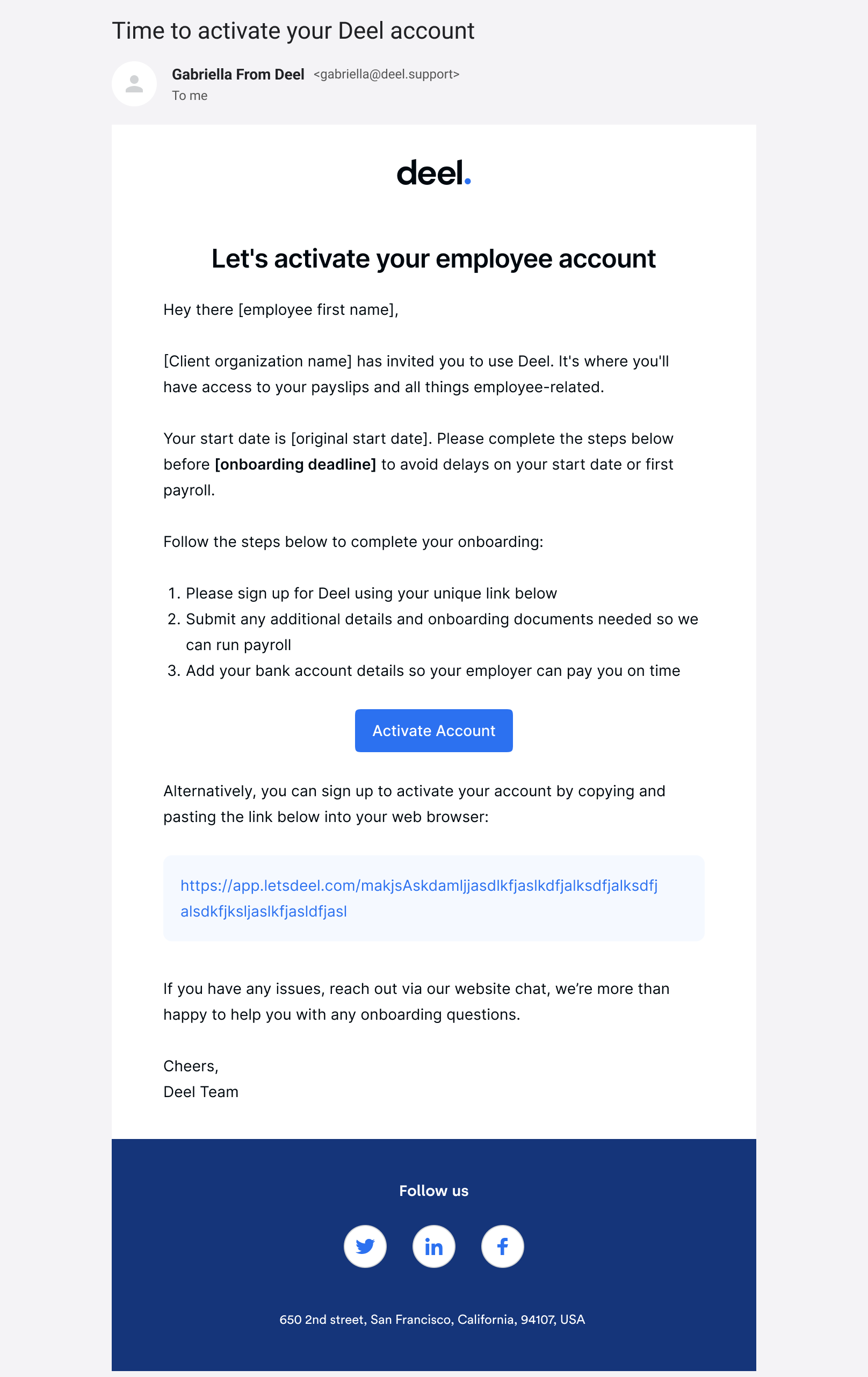 After signing up and successfully logging in, you will land on your account home page.
You will be prompted to submit additional details to complete your profile and verify the account.
To complete the onboarding checklist, you must submit personal details, add banking information, and upload compliance documents.
EOR Employees who migrated to Global Payroll must select the Direct Employee - Payroll account type from their avatar.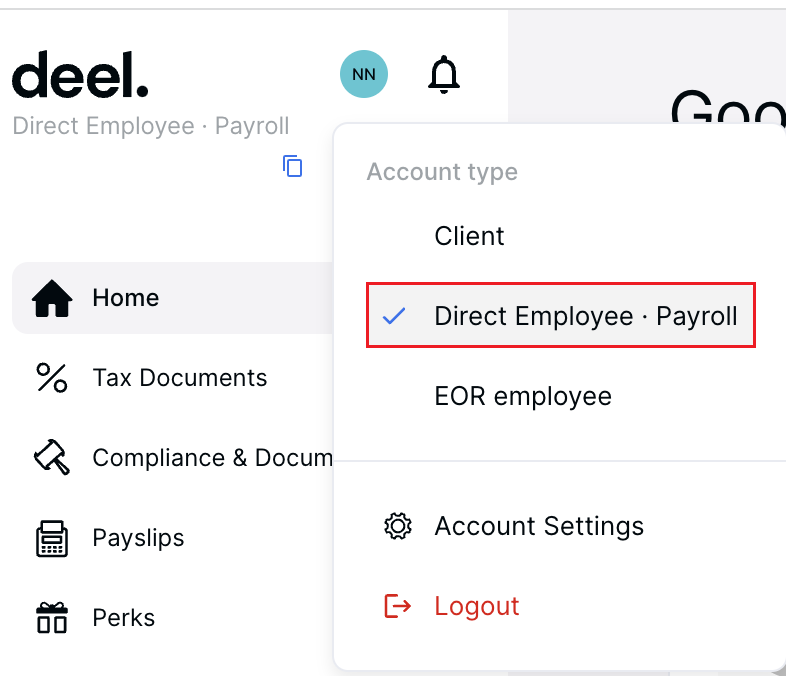 Your compliance document checklist will include the Employee Agreement, your bank details for direct deposit, tax information, employee hire forms, and more.

Because your banking details will be USD for the direct deposit, the account must be from a local bank in the same employment country.
Navigating the Deel platform
[DROPDOWN]
Click below for details of each tab and section
[DROPDOWN-OPTION] Home
This tab contains a quick view of important tasks, your contracts, and your payslips.
You can select any tab on the navigation menu to access, review, or update your details.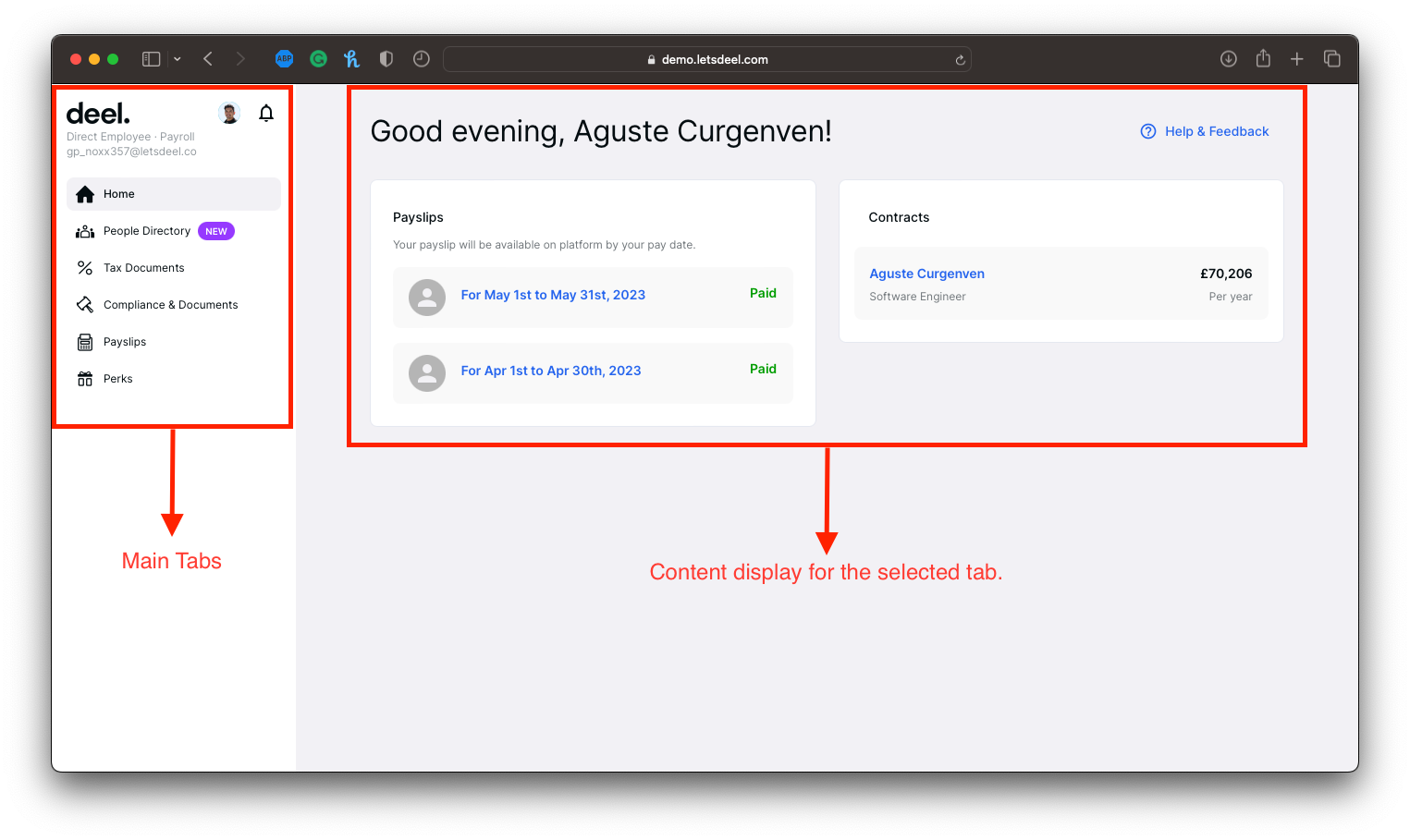 If you have incomplete tasks in the My tasks area, click the required action on each task in the list and follow the on-screen instructions to complete it.
You may click on any of the payslips in the Payslips section to review the payment summary.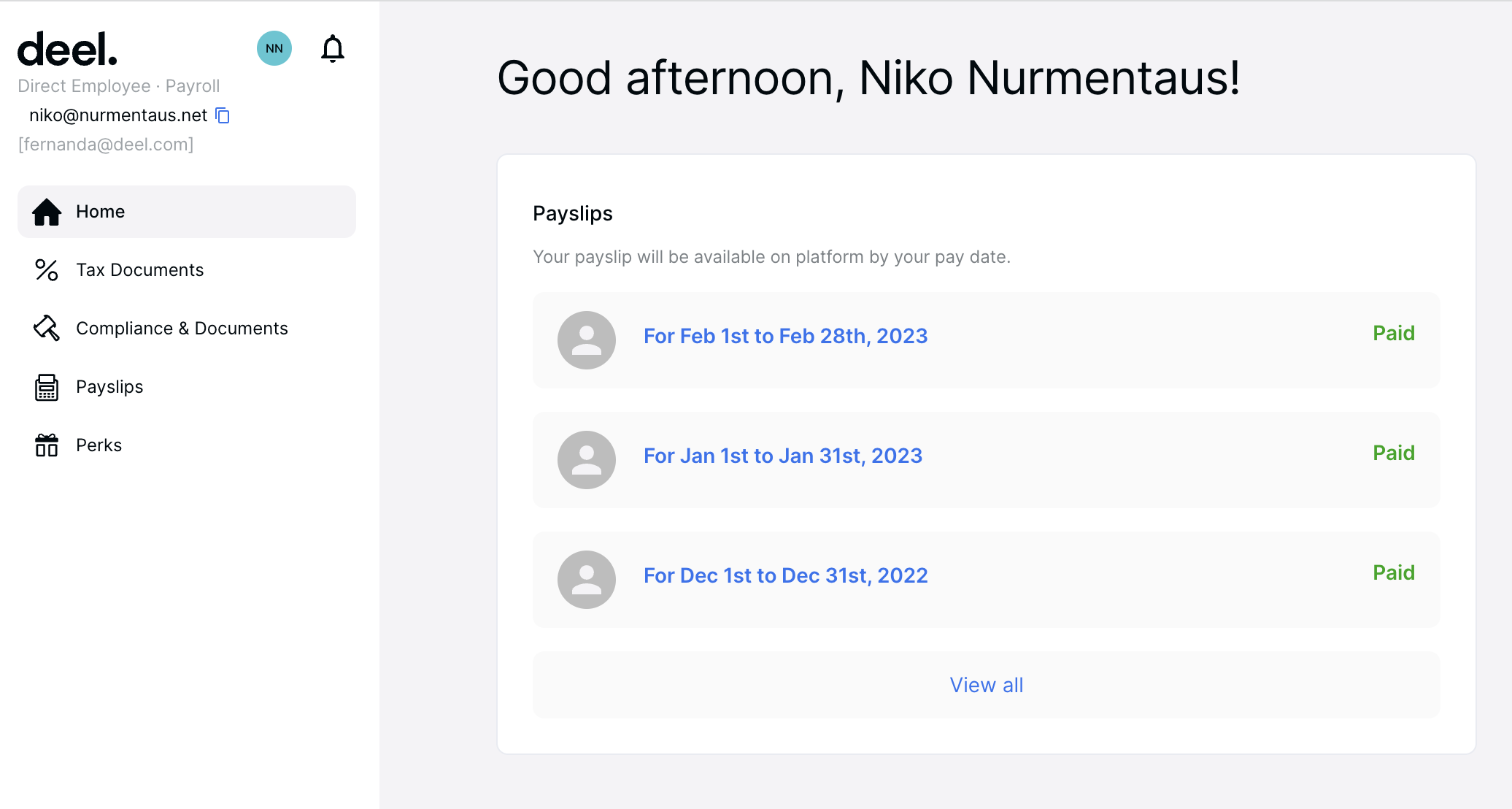 In the Contracts area, click on a contract name and you will be brought the Overview tab to view the contract in detail. You may also click Edit to the right of Additional Details to update any of the fields under this section.
Depending on your country and any contract extras or perks, you may also see extra information here such as work equipment or coworking space access.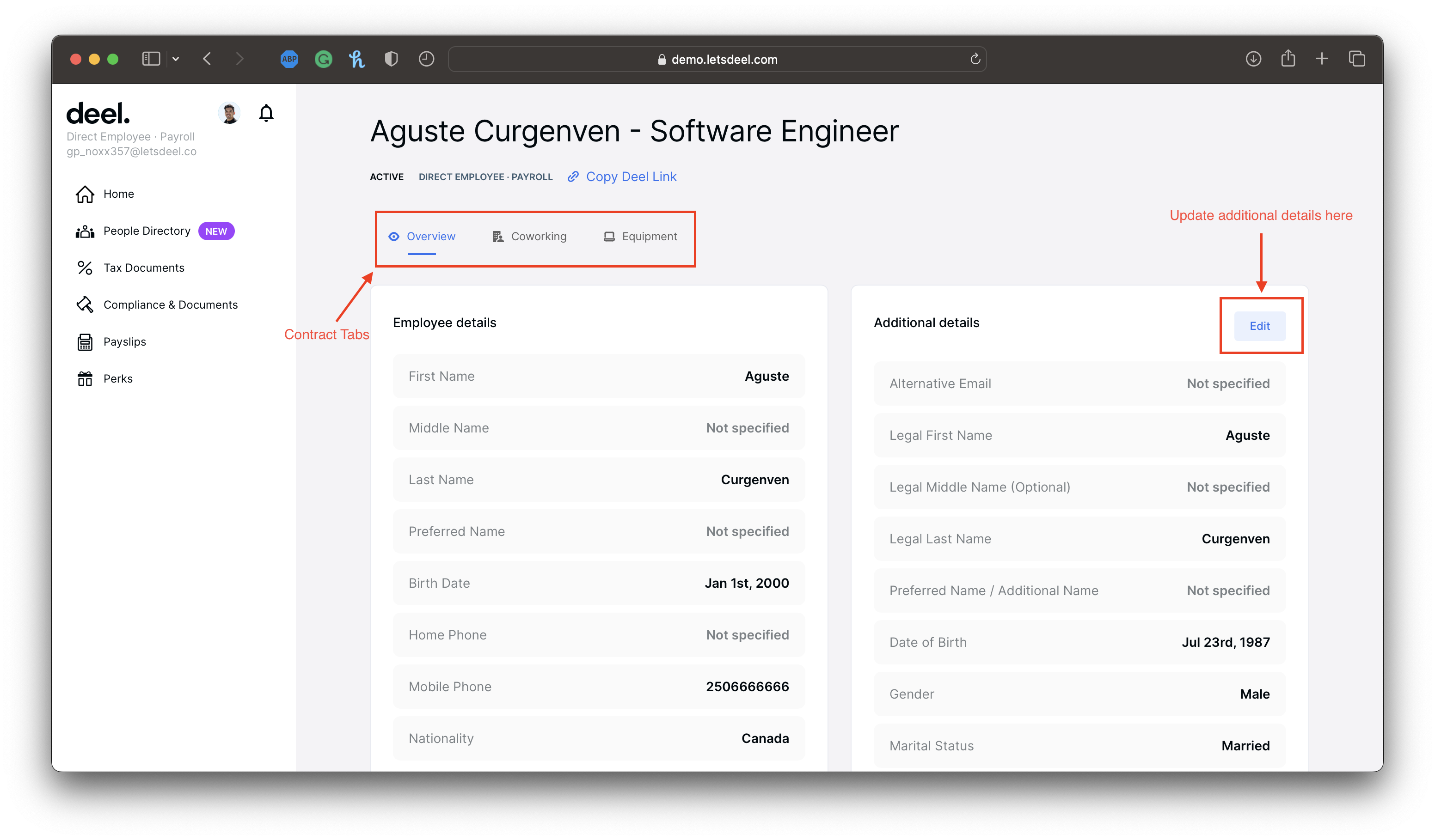 You will not see the People Directory tab if your client doesn't use Deel HR as their HRIS system
[DROPDOWN-OPTION] People Directory
If your client has enabled Deel HR as their HRIS system, you will see the People Directory tab on your navigation menu.
This allows you to easily view and filter your team members by location, team, and manager.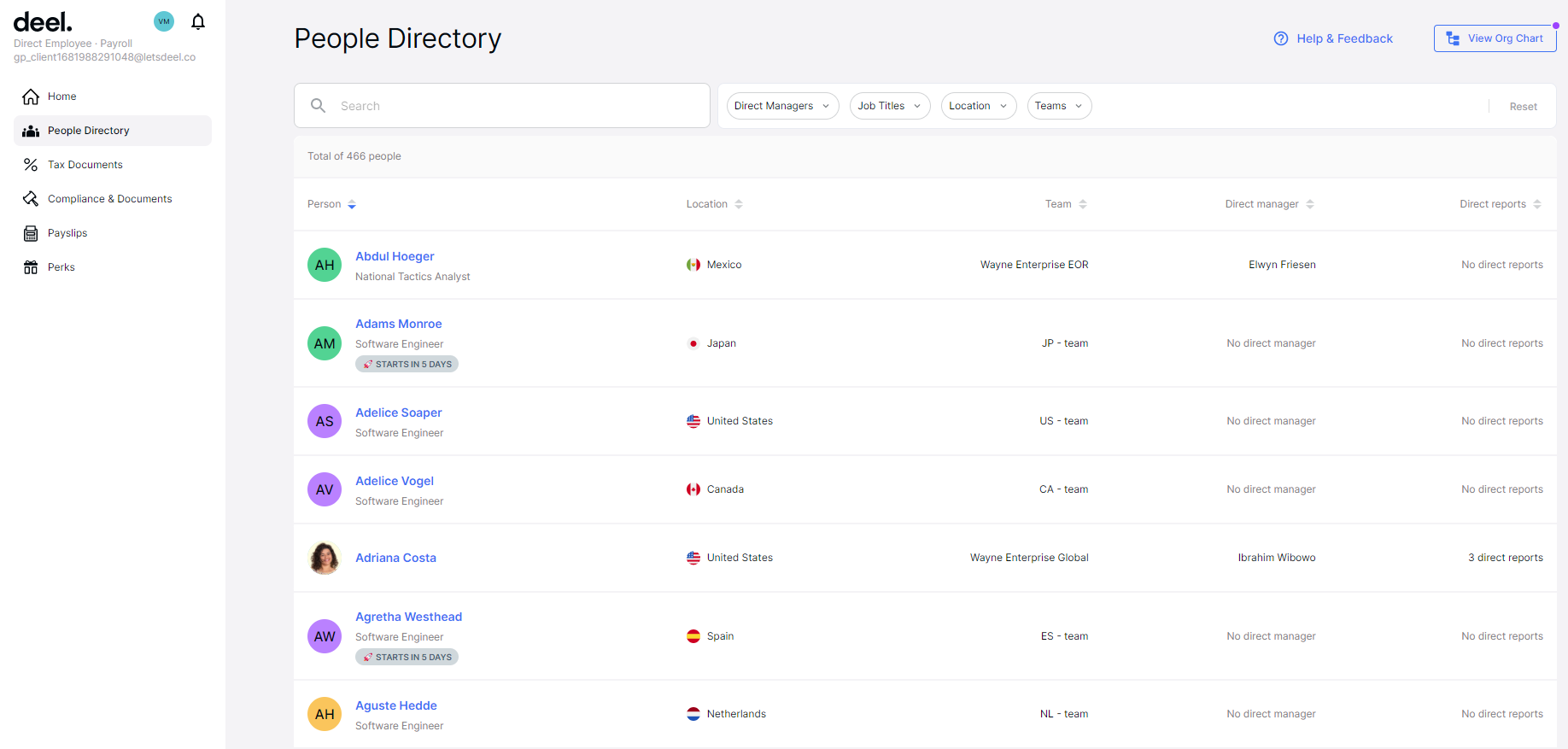 You will only see the People Directory tab if your client is using Deel HR as their HRIS system
[DROPDOWN-OPTION]
T

ax Documents

This tab contains all your annual wage reports generated by Deel, which you can use when filing your local taxes.

The documents you are able to view will be specific to your country only.

To view and download a document, click on the year.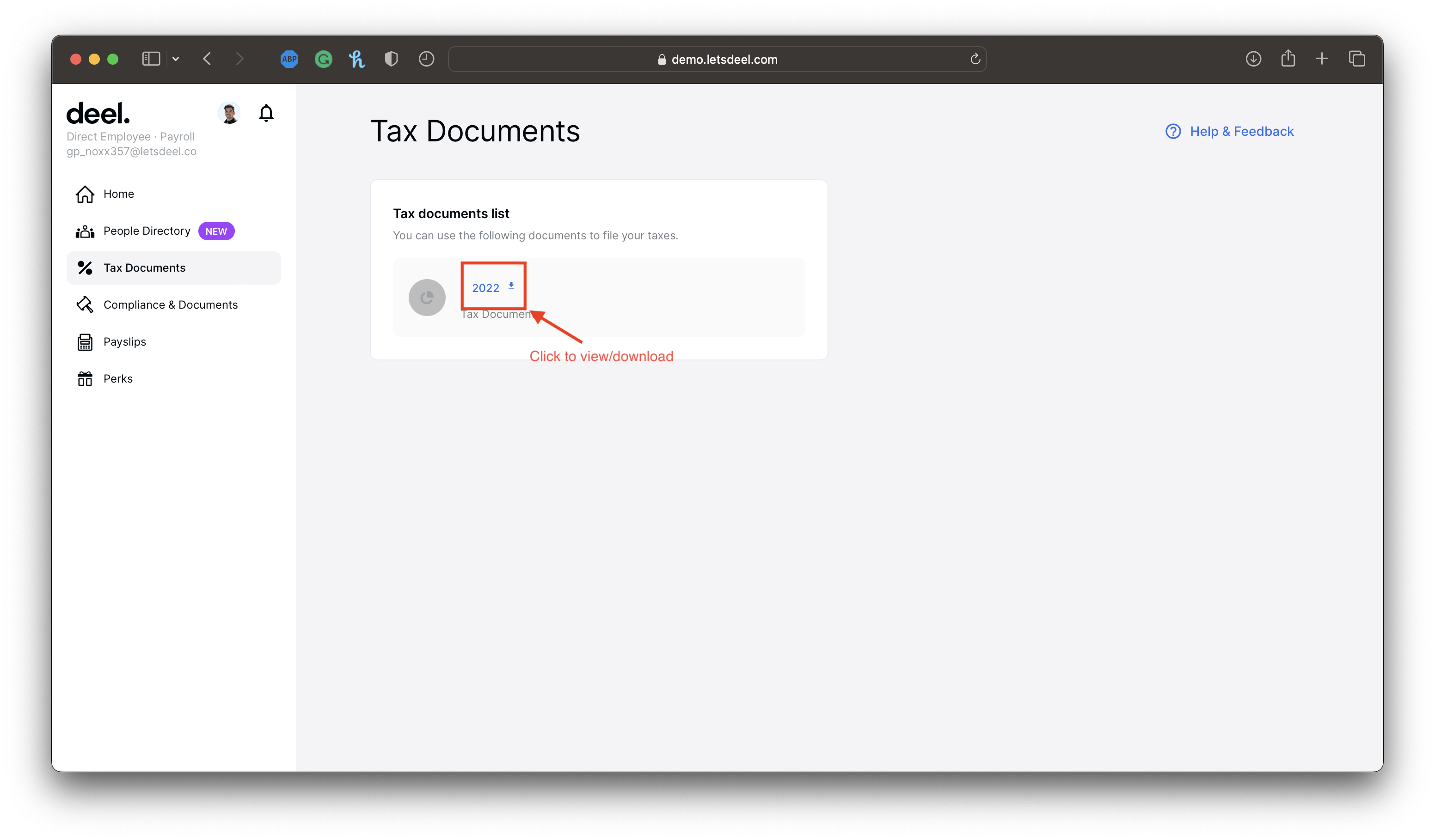 [DROPDOWN-OPTION] Compliance & Documents
From this tab you can review all the documents you are required to upload in order to meet employment compliance, as well as setup the necessary pension and benefit schemes.
This often includes a copy of your government-issued ID document, driver's license, etc.
You may also find additional documents here, such as employment verification letters.
You may add items by clicking the Start button besides a missing document; and you can remove an item by clicking the blue trash can.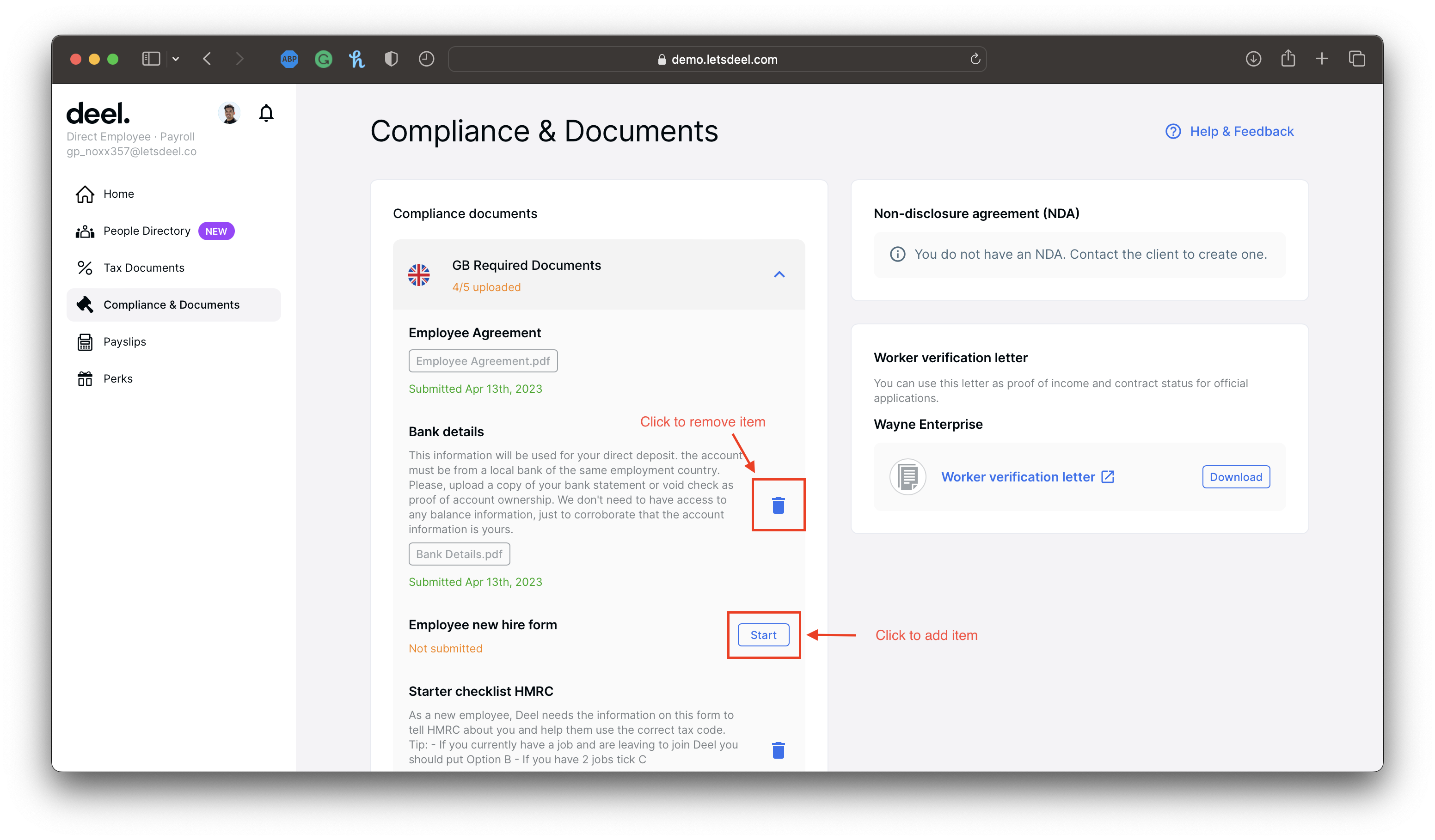 [DROPDOWN-OPTION] Payslips
The payslips section will only display a short summary of recent payslips. 
To view your full list of payslips, select the Payslips tab from your home page.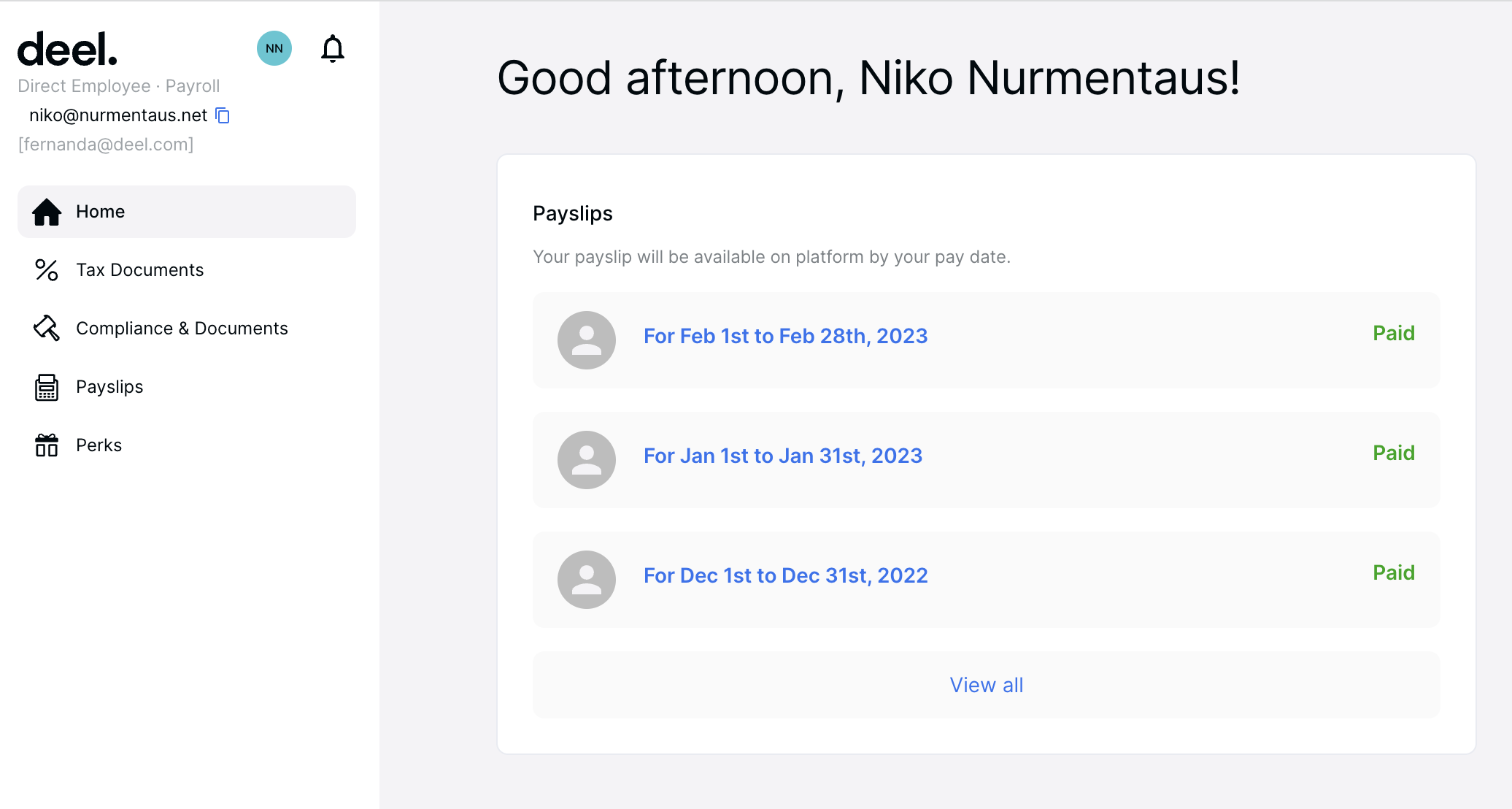 Click Download payslip to view the full details of any payslip.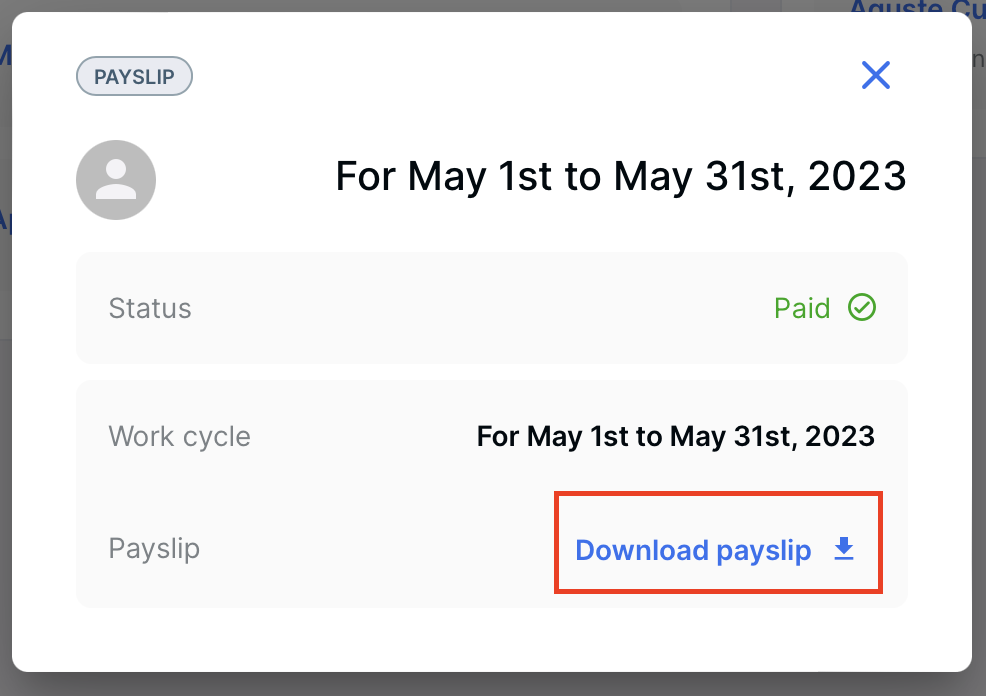 [DROPDOWN-OPTION] Perks
The perks tab contains... you guessed it, perks!
These are discounts and specials that are offered to employees of Deel within specific countries. By default, when you access this tab, your country should selected; however, if it isn't, simply click the drop-down menu and select your country from the list.
Once you see an offer you're interested in, click Get Perk and you will be brought to the partner site and shown on-screen instructions on how to take advantage of the offer.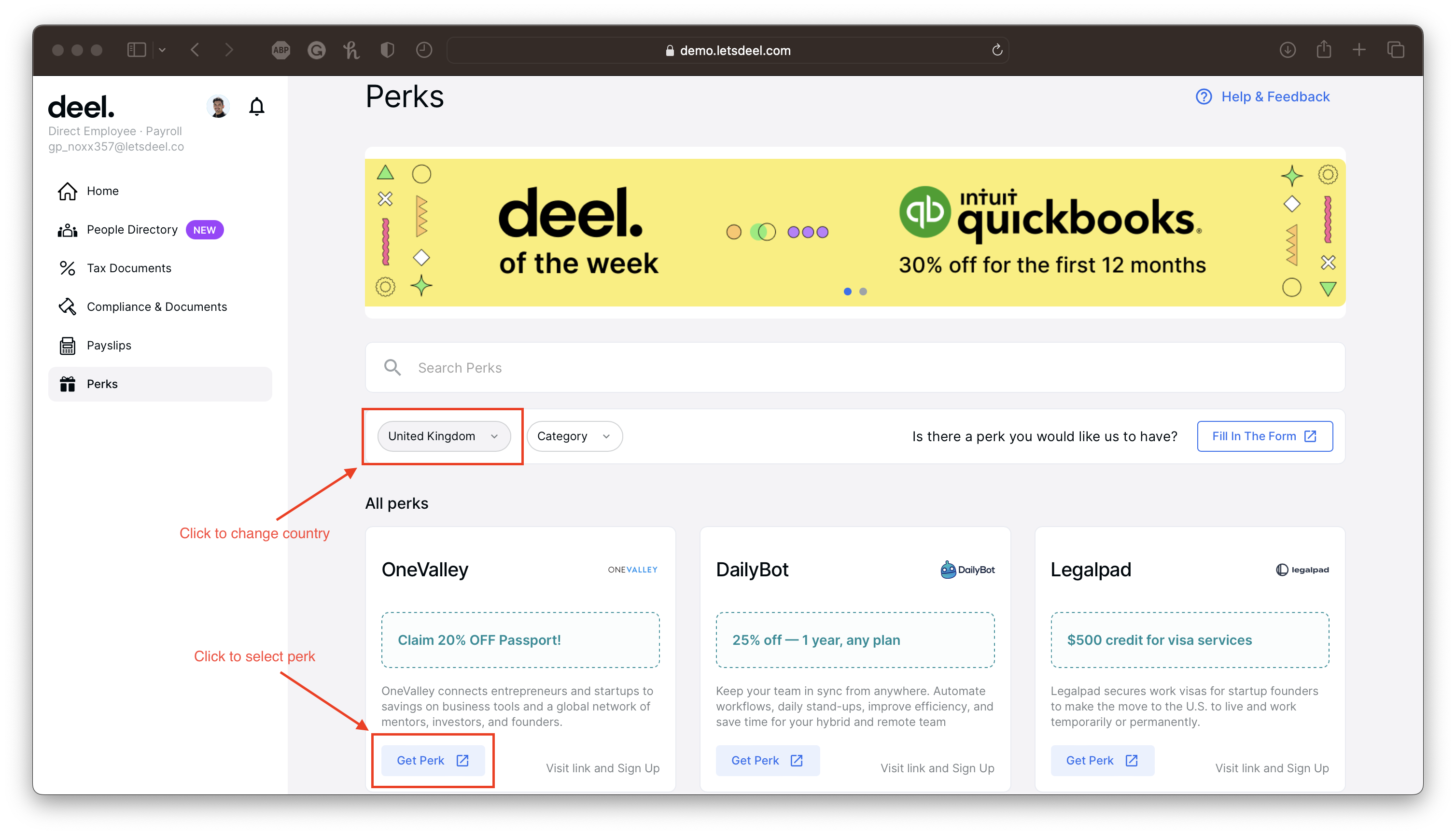 [DROPDOWN-OPTION] Account Settings
It is a good idea to periodically go to your Account Settings section to ensure that all your personal and banking information are up to date.
To access Account Settings:
Click your avatar on the top left of the home page
Click on Account Settings.
Click Edit for any section that requires an update, then click Update to save your changes.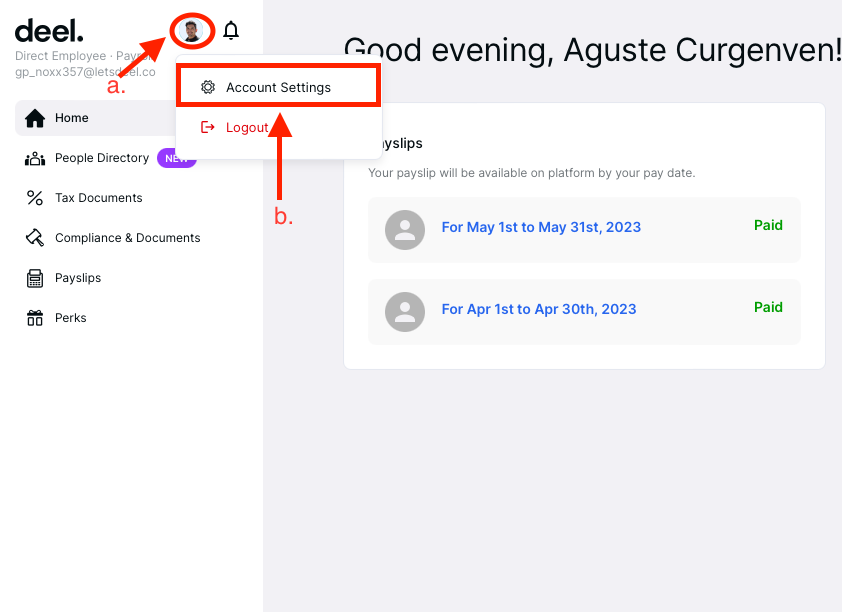 EOR Employees who migrated to Global Payroll must first select the Direct Employee - Payroll account type.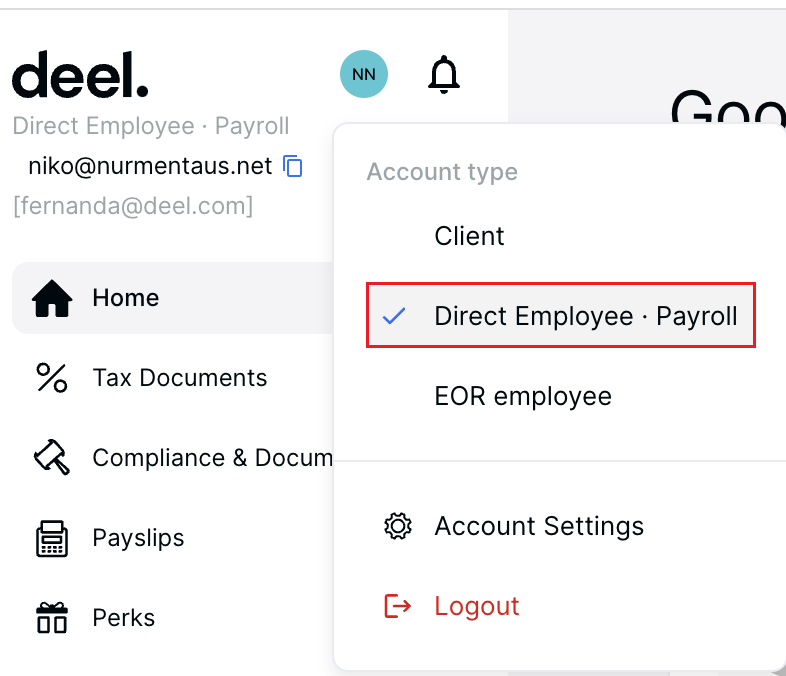 From Account Settings, you will be able to update your personal details, bank information, and security details.
Click Edit for the sections that require an update and enter the information as needed, then click Update to save the changes.  
Note: the Banking details tab will display fields that are specific to your location. Please be sure to fill out all the details as necessary in this section, to avoid delays with your payment.
[DROPDOWN-OPTION] Help & Feedback
Need help with an issue or have a question about a process? The Help & Feedback link can connect to resources that will provide you with the answers that you need.
You can access the Employee FAQ or Help Center from here to browse our articles for answers to your most burning issues.
If you prefer to get real-time assistance, you may use the Live Chat option and a member of our support team will assist. If you prefer email, you can use the Contact Support option and we'll get back to you as soon as possible.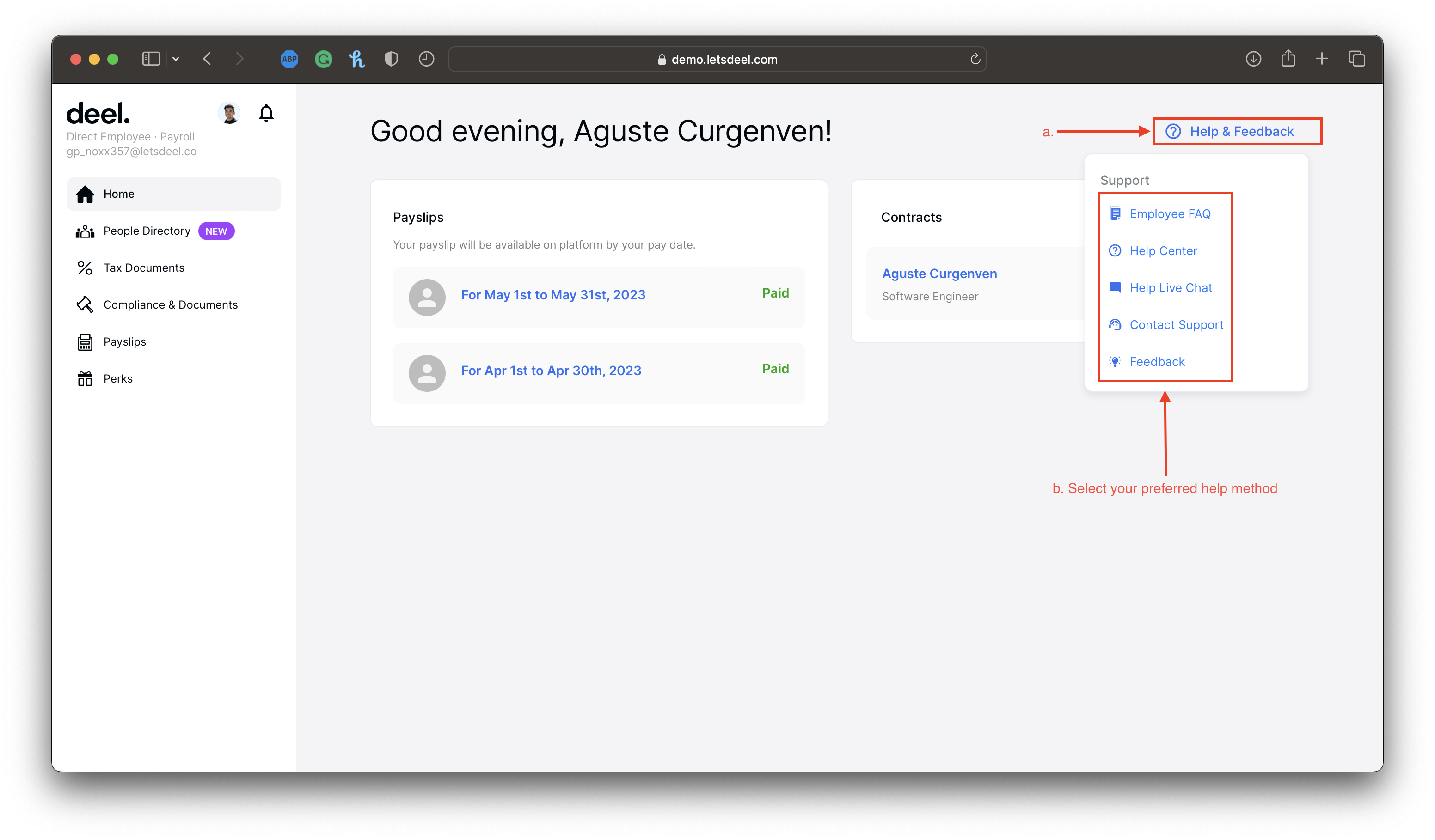 [/DROPDOWN]