If you experience a failed withdrawal or a delayed withdrawal, you may need to provide additional documents to your bank to solve the issue. 
This article covers Frequently Asked Questions about how to handle unsuccessful withdrawals.

If the estimated time of arrival for your withdrawal has passed, you can schedule a phone call with one of our Deel Support agents.
Failed withdrawals
[Accordion]
Why did my withdrawal fail?
A withdrawal might be unsuccessful for a variety of reasons.
The most common causes are:
Incorrect bank information
Incorrect beneficiary bank information
Incorrect personal details
Bank rejection
Closed customer bank account that cannot accept transfers
A declined withdrawal, however, is not a lost withdrawal. A failed withdrawal will be put back into your Deel Balance one to two business days after the initial failure date.
If the billing information on your Deel account does not match the information on your bank account, your bank may deny the withdrawal. This is a security feature of your bank to protect you and your deposits. In this case, funds will bounce back and then be credited to your Deel Balance.
[/Accordion]
Delayed processing
[Accordion]
Why hasn't my withdrawal been sent yet?
Typically, processing times take a few hours to complete.
Sometimes manual processing may be necessary due to difficulties reading the withdrawal.
If your withdrawal is still being processed after a full 24 hours, you may cancel and try again. 
[Accordion]
What if the estimated arrival date has passed?
If your money hasn't arrived yet, first check your account. Make sure your name, account number, and other account details are correct.
Then download a PDF statement with the withdrawal details and send it to your bank. If the statement has a Trace ID, the bank can check it using this code.
If your account info is incorrect, the money will be refunded in 3 to 5 business days. Just keep in mind that Deel can't do much to speed up the refund process, since it all depends on your bank.
Unfortunately, Deel can't undo payments to crypto platforms or wallets.
If the estimated time of arrival as seen on your Withdrawal Tracker has already passed, schedule a time for a Deel support agent to call and review your delayed withdrawal with you.
Please have with you a bank statement between the dates you initiated the withdrawal until the last day of your ETA.
[Accordion]
What if my bank can't find my funds?
If your bank is unsuccessful in locating your funds even with the Trace ID, please reach out to Deel again for further investigation.
You will need to provide a bank statement from the date of the withdrawal through the present day; or to provide written proof of communication from your bank that they can not locate your funds.
We will then escalate the situation internally to find answers for you.
[/Accordion]
Withdrawal documents
[Accordion]
What documents do I need to give my bank for a delayed withdrawal?
For contractors who attempted a SWIFT withdrawal and the ETA has passed, please record the Trace ID code so you can pass this information to your bank.
Trace ID is also known as the UETR (Unique End-to-End Transaction Reference), and this code will help your bank investigate the reasons for non-receipt.
Contractors can find the Trace ID by selecting the Transactions tab on the home page and clicking on the withdrawal that needs to be located, or by clicking View to see the confirmation statement of the withdrawal.
If you have not received your funds by the expected arrival date, please contact our support team and provide documentation of non-receipt, such as a bank statement. Our agents will immediately investigate your withdrawal.
Please note that most payment providers, especially banks, do not process payments on weekends and public holidays.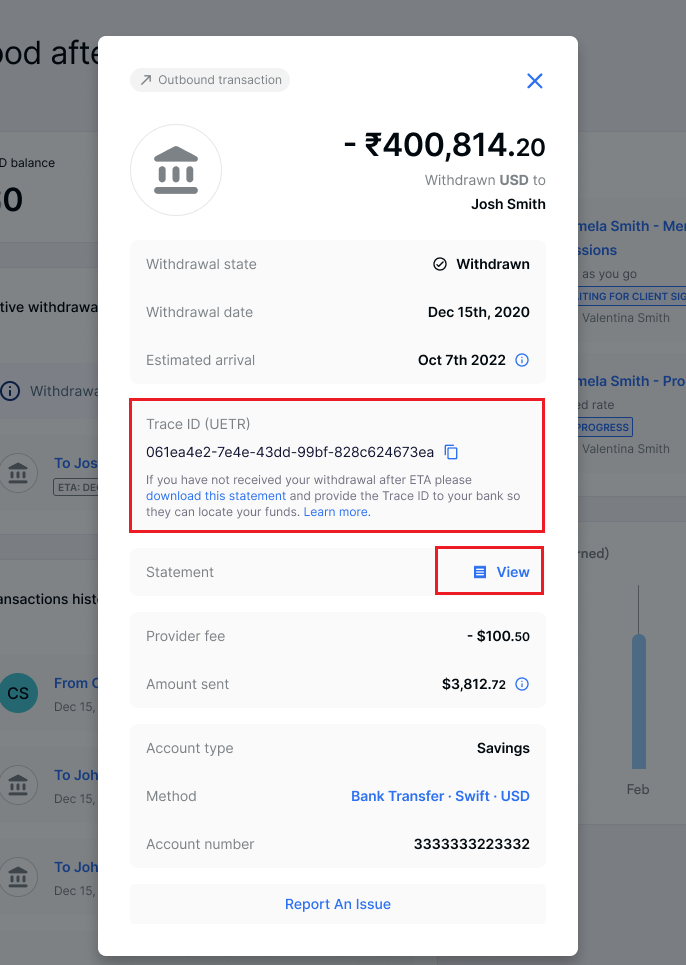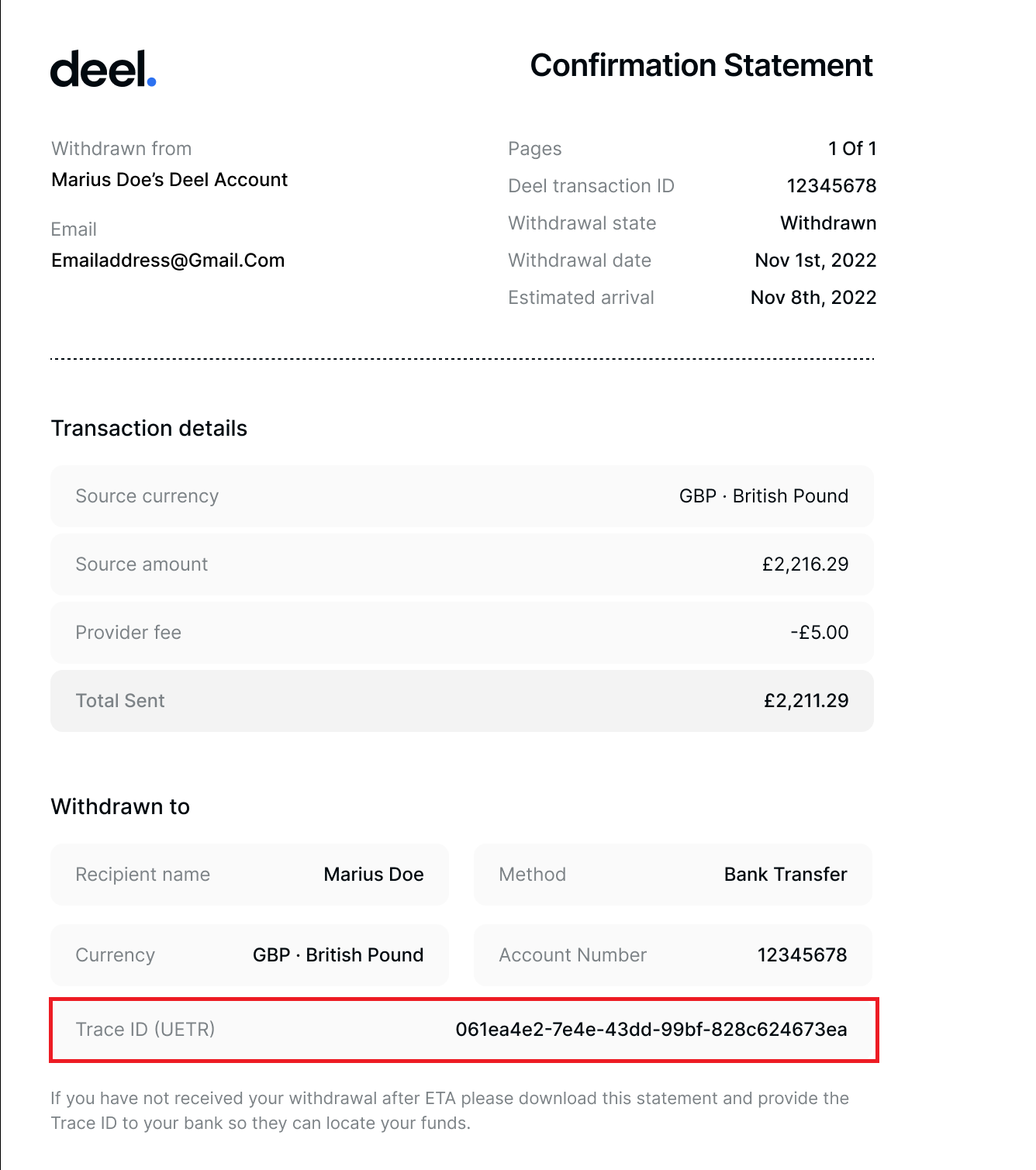 [Accordion]
What is a Foreign Inward Remittance Certificate (FIRC) and what is a Non Objection Certification (NOC)?
A Foreign Inward Remittance Certificate (FIRC) is a document that acts as proof that an individual or business has received a payment in a foreign currency from abroad.
Individuals or businesses may require a FIRC for certain service tax exemptions.
FIRC documents are often important for Deel contractors living in India, because service tax is not levied on certain services provided outside India.
Non Objection Certification (NOC) documents are sometimes used by banks to issue FIRC documents.
After contractors send documents to their receiving bank, the bank will generate an Inward Remittance (IRM) number in India's Export Data Processing and Monitoring System.

We are not able to provide a NOC if the contractor did not request it when setting up the bank transfer withdrawal, or if the contractor used a different withdrawal method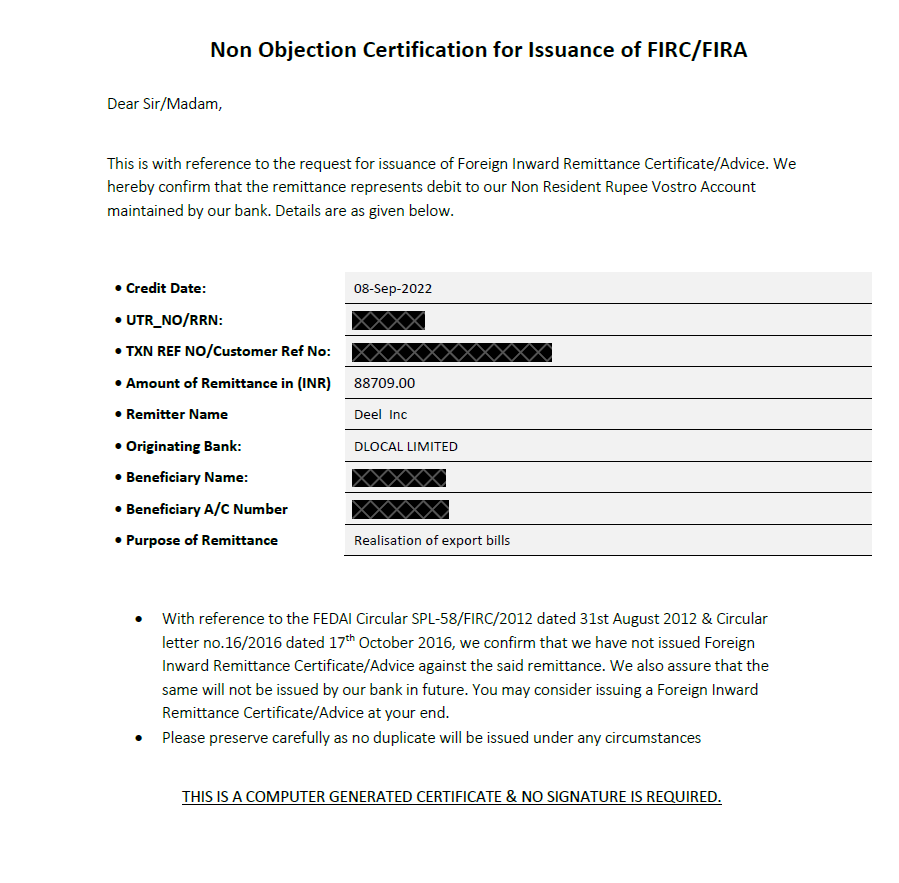 [Accordion]
How do I request a NOC?
Deel will provide a Non Objection Certification (NOC) document that can be forwarded to your bank for issuance of a FIRC.
Our payment provider uses NOC documents to issue FIRC documents.
You must let us know you will need a NOC when adding your Bank Transfer Withdrawal Method on the Deel app.
Once requested, you will be able to download the NOC from your contractor profile within several business days.
To find your NOC document, navigate to Transactions and then click on the specific withdrawal Transaction. Then, review your Withdrawal Details.
Deel will not cover any fees associated with acquiring a FIRC for other payment service providers.
If a contractor needs to personally request a FIRC, we may be able to provide some guidance based on our knowledge of how the payment was routed.
Please note, we are not able to provide a NOC if the contractor did not request it when setting up the bank transfer withdrawal, or if the contractor used a different withdrawal method.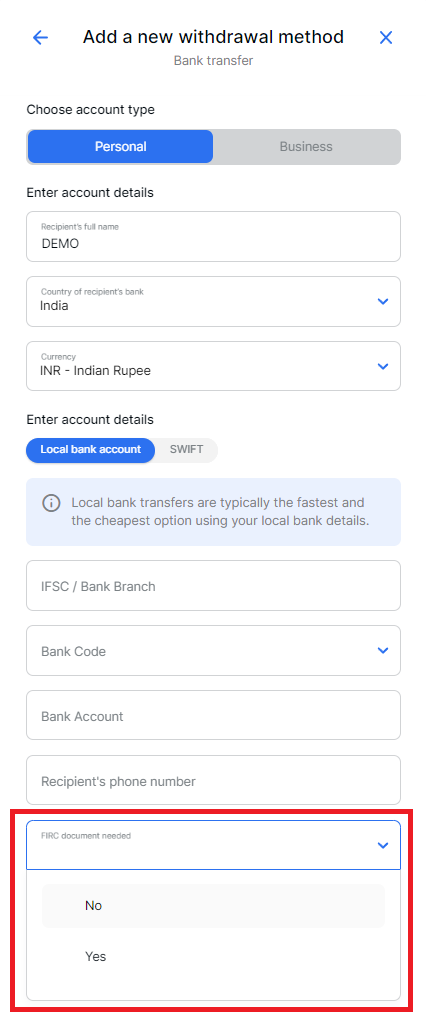 [/Accordion]