Got questions about withdrawals? We have answers. 
This article covers Frequently Asked Questions about withdrawals for independent contractors. To set up a withdrawal method see How to Withdraw Money from Deel.
Processing and estimated arrival times
[ACCORDION] Can I get paid early?
Yes, you can! We have two features that allow you to access your funds early.
Withdraw Early
In some cases you can withdraw your money early. 
The fee for early withdrawal is 1% up to a maximum of US $15. 
You can find more information in our Early Withdrawal Guide.
Deel Advance
Deel Advance lets you get paid up to one whole payment cycle in advance. 
The fee is 2-3% of your desired advance, with a minimum fee of US $10.
See our section on Deel Advance to learn more.
[ACCORDION] How long can I leave my money on Deel?
Deel strongly recommends that your money be withdrawn within 30 days. After 30 days has passed Deel may initiate a withdrawal for you using your most recently used withdrawal method.
If you do not wish to withdraw money to a bank account you can use a virtual or physical Deel Card.
With Deel Card you can load your money and store it indefinitely to use for day-to-day spending. 
[ACCORDION] When will my withdrawal arrive?
When you withdraw money on Deel, we use a Dynamic ETA to provide you the best possible estimate for when the money will reach your account.
You'll see your ETA and additional in-app updates from the Withdrawal Tracker, so you'll always be able to stay on top of your money until you receive it.
Please note that most payment providers, especially banks, do not process payments on weekends and public holidays.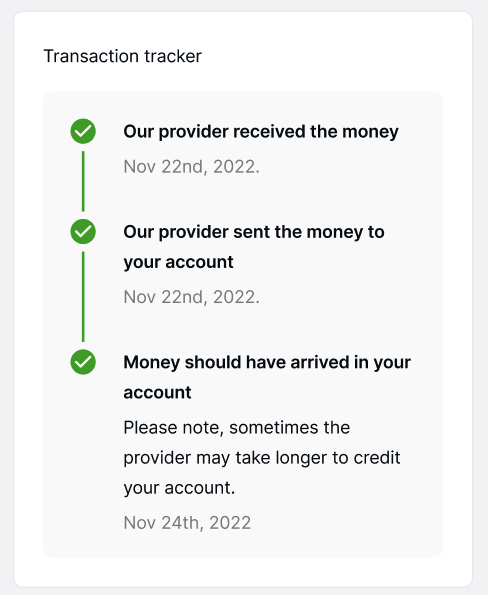 If the estimated time of arrival as seen on your Withdrawal Tracker has already passed, schedule a time for a Deel support agent to call and review your delayed withdrawal with you.
Please have with you a bank statement between the dates you initiated the withdrawal until the last day of your ETA.
[/ACCORDION]
Amounts and fees
[ACCORDION] Is there a minimum amount for withdrawals?
Yes. The minimum amount required to initiate a withdrawal depends on the method selected:
Local bank transfer: $10 USD
SWIFT bank transfers: $100 USD
Payoneer:  $50 USD
Coinbase - ETH, BTC, USDC, DASH: $10 USD
Coinbase - Solana: $20 USD
All other withdrawal methods have a minimum amount of $5 USD
[ACCORDION] How much do I pay for withdrawals?
The cost of withdrawals depends on the method selection. Transaction and exchange rates may also apply. 
Local Bank Transfers: $0 USD
International Transfers / SWIFT: $5 USD
Deel Instant Card Transfer - 2% fee (maximum fee $15 USD)
Coinbase: 1.5% (flat charge of $5 USD for USDC withdrawals under $300, then 1.6% fee)
PayPal: 2.5% (minimum $0.25 USD)
Payoneer: 1% (minimum $12 USD)
Revolut: $0 USD
Wise (formerly TransferWise): $0 USD
Deel Card: $0 USD
Important Notes:
Withdrawals via local bank transfer may be subject to a separate provider fee in some currencies
SWIFT withdrawals are supported in some countries and currencies. This withdrawal method may use multiple intermediary banks to process payments and may result in unpredictable processing fees. Unfortunately neither Deel nor your own bank can predict these fees. 
These fees may be deducted from the final received amount and Deel cannot control or predict them.
For users in Ecuador: there is a US $25 fee for withdrawals. While Ecuador uses the USD there is no local clearing system for US dollars. As such, the withdrawal is processed as an international withdrawal.
[/ACCORDION]
Supported methods and currencies
[ACCORDION] Which withdrawal methods are supported?
We support the following withdrawal methods:
Bank transfer
Deel Instant Card Transfer
Deel Card
Coinbase
PayPal
Payoneer
Revolut
Wise
[ACCORDION] Which currencies are available for withdrawal?
Deel supports withdrawals in all currencies supported by our main banking partner JP Morgan, and our payment service partners - that's just about every currency around the world.
Please note that not all methods are supported for every currency.
| | | | |
| --- | --- | --- | --- |
| Currency Name | Code | Currency Name | Code |
| Albania Lek | ALL | Algeria Dinar | DZD |
| Angola Kwanza | AOA | Argentina Peso | ARS |
| Armenia Dram | AMD | Australian Dollar | AUD |
| Azerbaijan New Manat | AZN | Bahamas Dollar | BSD |
| Bahrain Dinar | BHD | Bangladesh Taka | BDT |
| Barbados Dollar | BBD | Bermuda Dollar | BMD |
| Bitcoin | BTC | Bolivia Boliviano | BOB |
| Bosnia Mark | BAM | Botswana Pula | BWP |
| Brazil Real | BRL | Brunei Dollar | BND |
| Bulgaria Lev | BGN | Burundi Franc | BIF |
| Canadian Dollar | CAD | Cape Verde Escudo | CVE |
| Cayman Islands Dollar | KYD | Chili Peso | CLP |
| China Yuan/Renminbi | CNY | Colombia Peso | COP |
| Costa Rica Colon | CRC | Croatia Kuna | HRK |
| Czech Koruna | CZK | Denmark Krone | DKK |
| Djibouti Franc | DJF | Dominican Republic Peso | DOP |
| Ethereum | ETH | Egypt Pound | EGP |
| Ethiopia Birr | ETB | Euro | EUR |
| Gambia Dalasi | GMD | Georgia Lari | GEL |
| Ghana New Cedi | GHS | Great Britain Pound | GBP |
| Guatemala Quetzal | GTQ | Guinea Franc | GNF |
| Guyana Dollar | GYD | Haiti Gourde | HTG |
| Hong Kong Dollar | HKD | Hungary Forint | HUF |
| India Rupee | INR | Indonesia Rupiah | IDR |
| Israel New Shekel | ILS | Jamaica Dollar | JMD |
| Japan Yen | JPY | Jordan Dinar | JOD |
| Kazakhstan Tenge | KZT | Kenya Shilling | KES |
| Kuwait Dinar | KWD | Kyrgyzstan Som | KGS |
| Laos Kip | LAK | Lesotho Loti | LSL |
| Macau Pataca | MOP | Malagasy Ariary | MGA |
| Malawi Kwacha | MWK | Malaysia Ringgit | MYR |
| Maldives Rufiyaa | MVR | Mauritius Rupee | MUR |
| Mexico Peso | MXN | Mongolia Tugrik | MNT |
| Morocco Dirham | MAD | Mozambique New Metical | MZN |
| Namibia Dollar | NAD | Nepal Rupee | NPR |
| New Zealand Dollar | NZD | Nicaragua Cordoba Oro | NIO |
| Nigeria Naira | NGN | NL Antilles Guilder | ANG |
| Norway Kroner | NOK | Oman Rial | OMR |
| Pakistan Rupee | PKR | Papua New Guinea Kina | PGK |
| Paraguay Guarani | PYG | Peru Nuevo Sol | PEN |
| Philippines Peso | PHP | Poland Zloty | PLN |
| Qatar Rial | QAR | Romania New Lei | RON |
| Rwanda Franc | RWF | Saudi Arabia Riyal | SAR |
| Serbia Dinar | RSD | Seychelles Rupee | SCR |
| Sierra Leone Leone | SLL | Singapore Dollar | SGD |
| Solomon Islands Dollar | SBD | South Africa Rand | ZAR |
| South Korea Won | KRW | Sri Lanka Rupee | LKR |
| Suriname Dollar | SRD | Swaziland Lilangeni | SZL |
| Sweden Krona | SEK | Switzerland Franc | CHF |
| Taiwan Dollar | TWD | Tanzania Shilling | TZS |
| Thailand Baht | THB | Trinidad/Tobago Dollar | TTD |
| Turkish New Lira | TRY | Uganda Shilling | UGX |
| Ukraine Hryvnia | UAH | United Arab Emirates Dirham | AED |
| United States Dollar | USD | Uruguay Peso | UYU |
| USD Coin | USDC |   |   |
| Vietnam Dong | VND |   |   |
[/ACCORDION]
Currency conversion and exchange rates
[ACCORDION] How do currency exchange fees and rates work?
If you are withdrawing in a currency that is not your contract currency, exchange rates will apply. These fees and rates will vary depending on available processors and foreign exchange market rates that could shift during the payment processing.
To avoid these fees, withdraw funds from your Deel balance in the same currency as your contract currency.
If the destination account currency does not match your withdrawal currency your bank will automatically convert your currency and charge you a currency conversion fee. 
Please note that the withdrawal of any currency into a cryptocurrency via Coinbase will always have an exchange fee (contract currency to BTC/ETH).
[ACCORDION] How do I know what exchange rates were applied?
Before you confirm your withdrawal, Deel will calculate and display an estimate of any applicable fees and exchange rates. You will see a pop-up on the right side of the screen before confirming.
These fees and rates depend on a number of factors including your payment method, contract currency, withdrawal currency, the location of your bank account. the market exchange rates, and the availability of payment processors. 
Exchange rates may change from the time your withdrawal is requested and the time it is deposited in your account.
[ACCORDION] What happens if I withdraw money in a different currency than my bank currency?
If you withdraw money in a different currency than your bank currency your bank might refuse the deposit, or it may automatically convert your deposit into the currency of your account for a fee. We suggest always withdrawing funds in the currency of the account you're depositing the funds into.
[/ACCORDION]
Deel Instant Card Transfer
[ACCORDION] Do I have access to Deel Instant Card Transfer?
This withdrawal method is only available to Independent Contractors in eligible countries. Eligible users will find Instant Card Transfer as a new withdrawal option in the Account Settings menu.
Deel Instant Card Transfer is being rolled out to users in certain countries and in some currencies. If Instant Card Transfer isn't available under withdrawal methods, check back soon. We are continually expanding this feature.
[ACCORDION] How much does Deel Instant Card Transfer cost?
2.5% fixed fee with a minimum of US $0.25.
[ACCORDION] What type of card do I need to use?
Deel Instant Card Transfer requires a Mastercard or Visa  debit or credit card that is linked to a bank account. 
[ACCORDION] How long does Deel Instant Card Transfer take?
Instant Card Transfers usually arrive in seconds! But it may take a few hours, depending on how fast your bank credits your funds.
On rare occasions, our provider may run some additional checks on your withdrawal which may delay the process by one business day.
[ACCORDION] Can I set up automatic withdrawals with Deel Instant Card Transfer?
Yes! You can set Instant Card Transfer as your preferred withdrawal method and then toggle on the automatic withdrawal option.
[ACCORDION] Which countries, currencies, and cards can I use for Deel Instant Card Transfer?
Please see Instant Card Transfer Availability for a list of supported countries and card types
[ACCORDION] Why does my withdrawal status say Additional Screening?
On rare occasions, our provider may run some additional checks on your withdrawal. Our provider may flag your withdrawal for an additional check if you use a different card number or cardholder name. 
This one-time process to approve the new card number or name will delay your withdrawal by one business day. 
Once the check is completed, any future withdrawals should arrive within seconds.
[/ACCORDION]
Additional Screening
[ACCORDION] What does additional screening mean?
Your bank will review all incoming deposit. Sometimes your bank will flag a withdrawal for additional screening. This is formally known as a Request for Information (RFI).
The bank is verifying information before crediting the amount to your account.
[ACCORDION] Why was my withdrawal flagged for additional screening?
Local laws and international agreements are in place to prevent fraud and illegal activity. Every bank has its own internal procedures and processes for when and how they conduct this screening. 
It may be the result of unusual activity, a discrepancy between your Deel billing address and banking address connected to your account, or issues related to the name on your account or transfer. 
Additional screening is a decision made by your bank. Deel is unable to provide you with specifics information about the reason or the time it will take for the screening to be completed. 
[ACCORDION] How long will the additional screening process take?
Unfortunately, we are unable to provide an ETA.
Each bank has their own procedure and review protocols for approving a withdrawal request that was flagged for additional information.
The RFI process can take many days. Once it is resolved, your bank should immediately credit your account. 
If the RFI fails, the money will be returned to Deel and we will restore your balance. You can then choose an alternative withdrawal method.
[ACCORDION] Can I cancel the withdrawal?
We can recall and cancel the payment, but only after the RFI is resolved.
If the RFI is resolved and your bank has not credited your account please contact support and we will recall the withdrawal and credit your balance so you can withdrawal using an alternative method. You will need to provide us a bank statement showing that the money has not been credited to your account. A recall takes a minimum of 5 business days.
To avoid future delays please try one of our non-bank wallet withdrawal methods such as Coinbase, PayPal, Revolut, Payoneer, or Wise.
[/ACCORDION]
Failed Withdrawals
[ACCORDION] Why did my withdrawal fail?
A withdrawal might be unsuccessful for a variety of reasons.
The most common causes are:
Incorrect bank information
Incorrect beneficiary bank information
Incorrect personal details
Bank rejection
Closed customer bank account that cannot accept transfers
A declined withdrawal, however, is not a lost withdrawal. A failed or canceled withdrawal will be put back into your Deel Balance bewteen three to five business days after the initial failure date.
If the billing information on your Deel account does not match the information on your bank account, your bank may deny the withdrawal. This is a security feature of your bank to protect you and your deposits. In this case, funds will bounce back and then be credited to your Deel Balance.
[ACCORDION] When will I get my money back after a failed withdrawal?
A failed or canceled withdrawal will be put back into your Deel Balance three to five working days after the first failed date.
The timeframe will largely depends on your withdrawal method selected. For example, Instant Card Transfer methods are usually refunded the same day.
[/ACCORDION]
Delayed processing
[ACCORDION] Why hasn't my withdrawal been sent yet?
Typically, processing times take a few hours to complete.
Sometimes manual processing may be necessary due to difficulties reading the withdrawal.
If your withdrawal is still being processed after a full 24 hours, you may cancel and try again. 
[ACCORDION] What if the ETA has passed?
If you have not received your funds by the expected arrival date, please contact our support team and provide documentation of non-receipt, such as a bank statement. Our agents will immediatly investigate your withdrawal.
Please note that most payment providers, especially banks, do not process payments on weekends and public holidays.
[ACCORDION] What if my bank can't find my funds?
If your bank is unsuccessful in locating your funds even with a MT103 document, please reach out to us again for further investigation. 
We will need a bank statement from you from the date of the withdrawal thru the present day, or written proof of communication from your bank that they can not locate the MT103.
We will then escalate the situation internally to find answers for you.
[/ACCORDION]
Withdrawal documents
[ACCORDION] What documents do I need to give my bank for a delayed SWIFT withdrawal?
You might need an MT103 Form if the withdrawal transfer window has passed.
An MT103 is a standardized SWIFT message used specifically for international wire transfers. It is globally accepted as a proof of payment, and it includes details like date, currency, amount, sender, and recipient.
Contact us 24/7 and our team will be able to provide you with an MT103 document.
[ACCORDION] What do I do once I receive an MT103?
Once you have received an MT103 from Deel in regard to your SWIFT transfer, you will need to contact your bank. The bank will use the MT103 to help locate your funds.
[ACCORDION] What is a Foreign Inward Remittance Certificate?
A Foreign Inward Remittance Certificate (FIRC) is a document that acts as proof that an individual or business has received a payment in a foreign currency from abroad.
Individuals or businesses may require a FIRC for certain service tax exemptions.
FIRC documents are often important for Deel contractors living in India, because service tax is not levied on certain services provided outside India.
Banks use Non Objection Certification (NOC) documents to issue FIRC documents.
After contractors send documents to their receiving bank, the bank will generate an Inward Remittance (IRM) number in India's Export Data Processing and Monitoring System.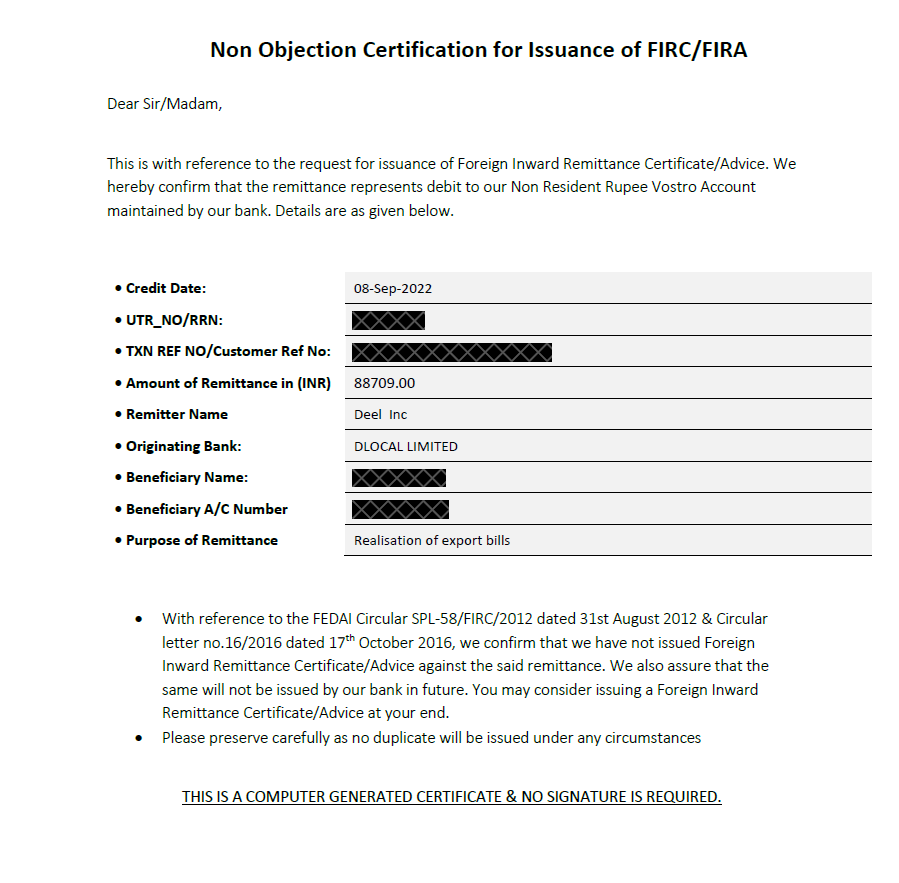 [ACCORDION] How do I request a FIRC?
Deel will provide a Non Objection Certification (NOC) document that can be forwarded to your bank for issuance of a FIRC. 
Banks use NOC documents to issue FIRC documents.
You can let us know you will need a FIRC document when adding your Bank Transfer Withdrawal Method on the Deel app. 
Once requested, our team will email you within 31 calendar days from the date of the withdrawal.
Deel will not cover any fees associated with acquiring a FIRC document for other payment service providers.
If a contractor needs to personally request a FIRC, we may be able to provide some guidance based on our knowledge of how the payment was routed.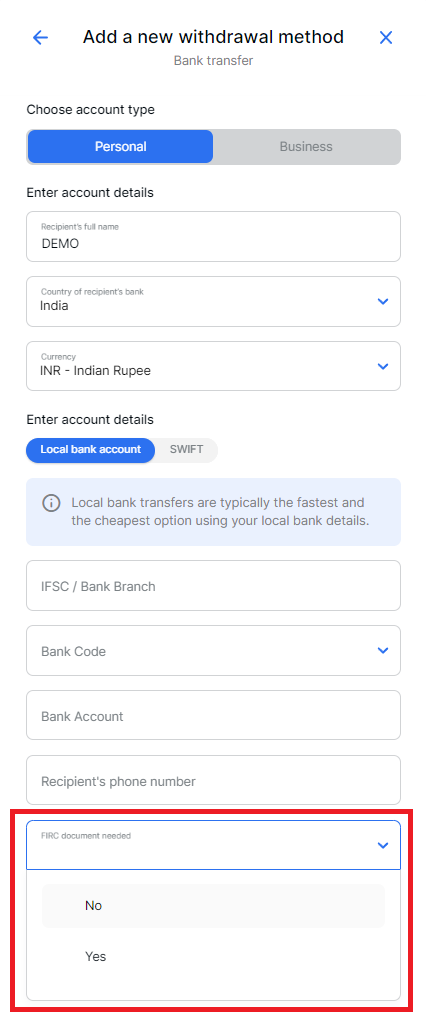 We are not able to provide a FIRC if the contractor did not request it when setting up the bank transfer withdrawal, or if the contractor used a different withdrawal method.
[/ACCORDION]