This article explains how clients can request a payment refund after initiating a payment to a contractor.

You must request a refund before the invoice due date. You cannot be refunded if the contractor has already been paid.
In this article:
How to review invoice due date

How To Request Contractor Payment Refund
✅ Step 1 - Add Refund Method
Select Organization Settings in the navigation menu and click the Refund Methods tab.
Click Add Refund Method, and then select Add Bank Account or Leave Refunds On Deel.
Please note that all deposits are returned in the contract currency.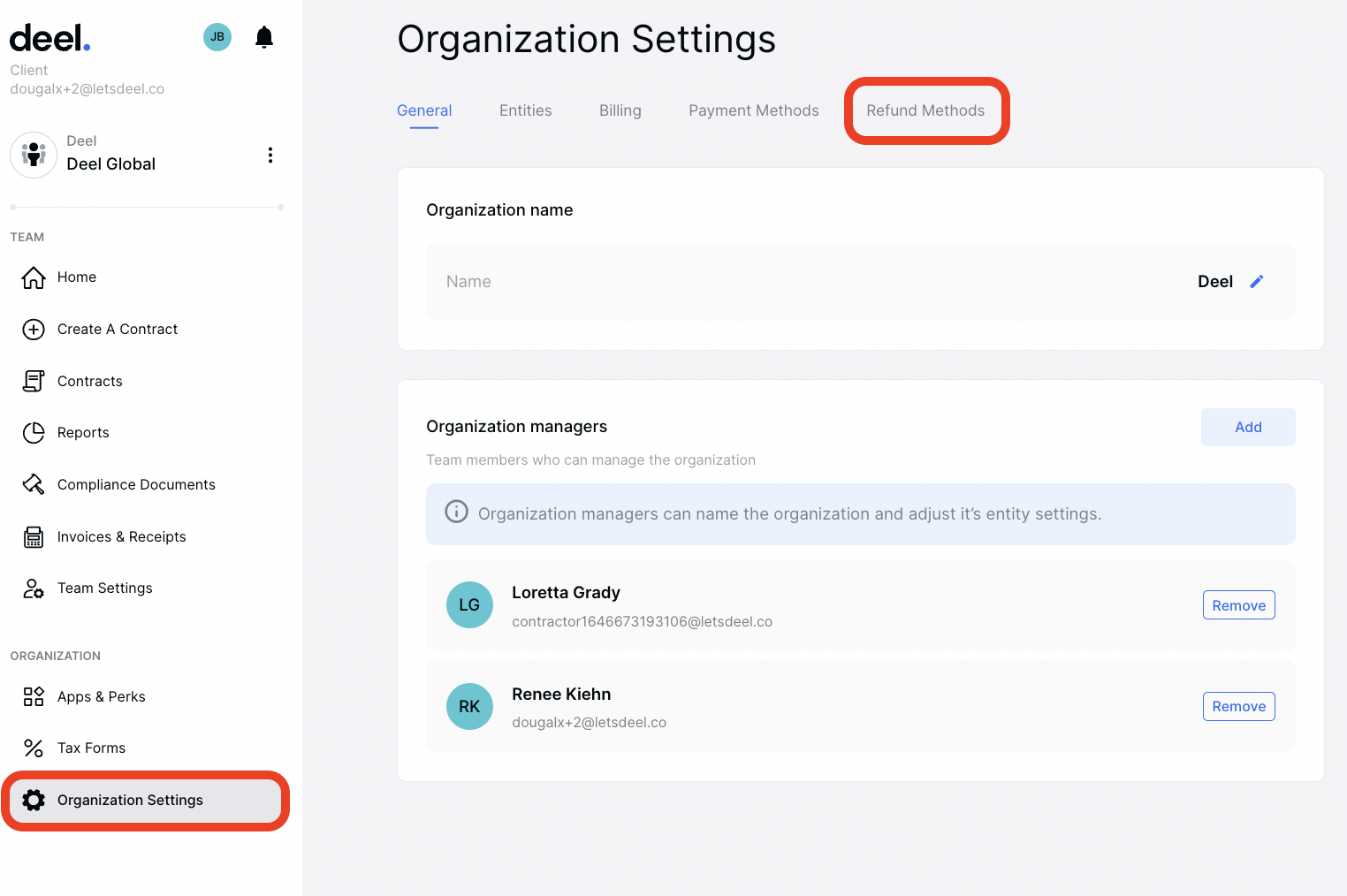 ✅ Step 2 - Enter your bank account information
Complete all the required fields and click Add. Your bank account information has now been added to your profile and is ready to receive any refund.
If you choose instead to leave the refund on Deel, the funds can be used for future payments or withdrawal.
✅ Step 3 - Contact Deel
Open a chat with a Deel Support agent and request a refund. Please also state the reason for the request.
FAQs
How long will it take to receive the refund?
The estimated timeline will depend on the payment method.
If you paid the contractor via a direct debit method, it may take up to 15 business days for the refund to be completed.
If the payment was done via bank transfer, it may take up to 5 business days to complete the refund.
Please note that these are estimates and you must have correctly added your bank account refund method to your account.
Can I get a refund if the invoice due date has passed?
No. If it is presently the due date or if the due date has alreadypassed, we can no longer cancel the payment and refund the funds to you, since the money has already been posted to your contractor's account.
How do I see the invoice due date?
✅ Step 1 - Select Contractor profile
Select the People tab on your home page and click on the contractor to open their profile page.

✅ Step 2 - Select Payments and Expenses
Then select the invoice to review details and due date.
A refund may only be completed if the contractor has not yet been paid - so you must request the refund before the invoice due date.