This article is for clients hiring employees through the Deel Employer of Record (EOR) contract model. 
You can create an Employer of Record (EOR) contract for a remote worker in just a few minutes, right from your Deel home page.
Please see our Frequently Asked Questions for further details and contract options.
If you are looking to hire a full-time employee through your own local entity, please see our Global Payroll contract model.
In This Article :
How to create an Employer of Record (EOR) Contract
How to create an Employer of Record (EOR) Contract
✅ Step 1 – Create Employee contract
Select the (1) Add People tab on your home page and select Employee.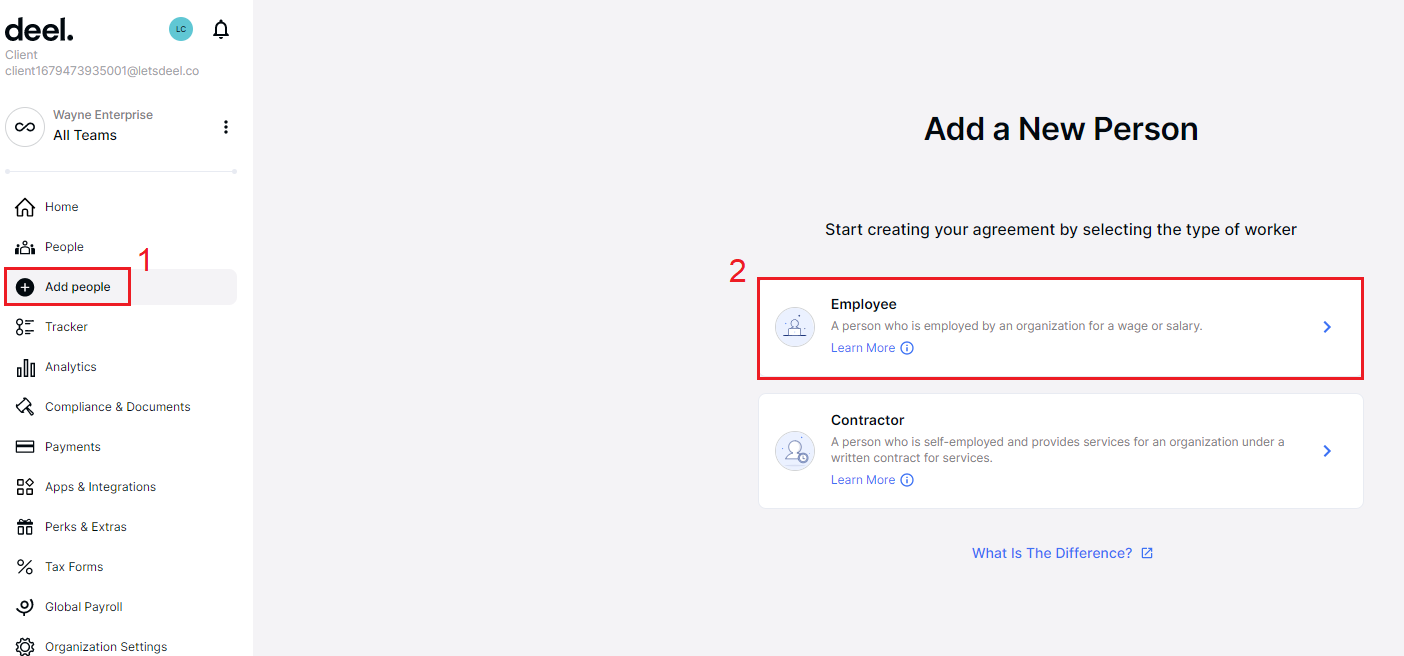 ✅ Step 2 – Select EOR Employee
If you want to use Deel as the legal Employer of Record (EOR) to hire the worker, select EOR Employee.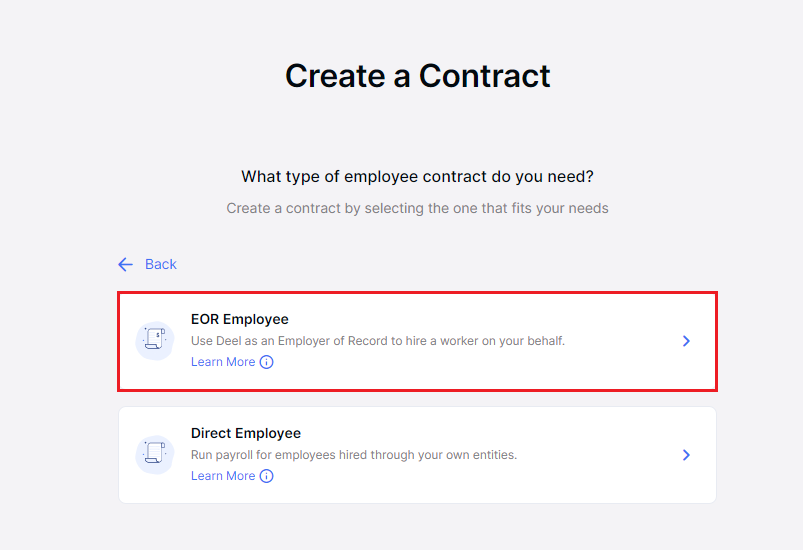 ✅ Step 3 –
Enter employee details
Enter the employee's personal details, location of employment, and indicate any visa requirements.

For compliance purposes, Deel will review all requests for in-person (non-remote) roles on a case-by-case basis. This is because compliance varies by country. You may contact our Support group in advance if you want to review a particular case before you submit a quote.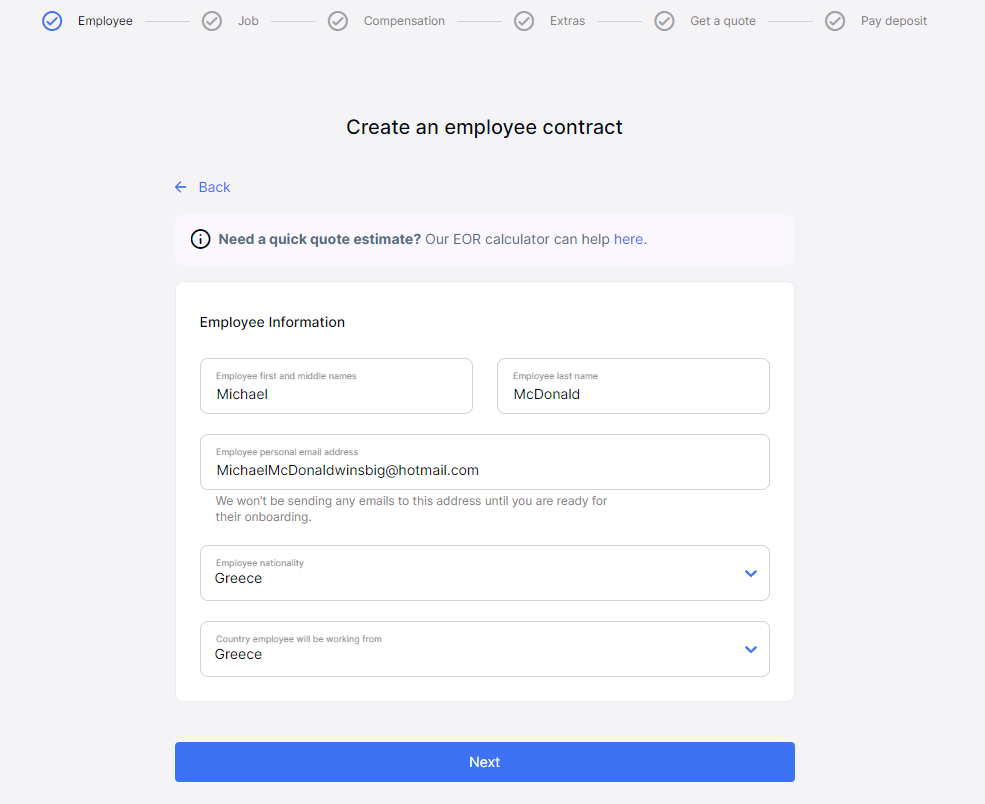 ✅ Step 4 – Enter job details
Please complete all fields including:
Entity and Group: If you have multiple entities and groups, select the affiliation for the new employee. You can easily change the employee's Group in the future.
Seniority Level and Job Title

For compliance reasons, we can not accept C-Level, President, Founder, or Chair job titles

Titles may be changed to "Head Of"

Do not reference C-Level, President, Founder, or Chairperson roles in a job title or description

We do not allow intern contracts and you cannot have a job title of 'intern' or anything similar
Job Scope:

A summary of duties, accountabilities, and expectations

You may use one of our pre-populated job scope templates, or create your own.

Please make sure that you clearly explain the job duties and adhere to the following guidelines for compliance purposes:
Refer to your company only as "the company"
Ensure all job duties are listed
Refrain from using C-Level, Founder, President, and Chairperson job titles
Refrain from job ad verbiage (i.e. qualifications, descriptions of client company)
Refrain from descriptions that suggest an in-person or onsite work obligation
Please see our Frequently Asked Questions for a full list of prohibited job titles and suggested alternatives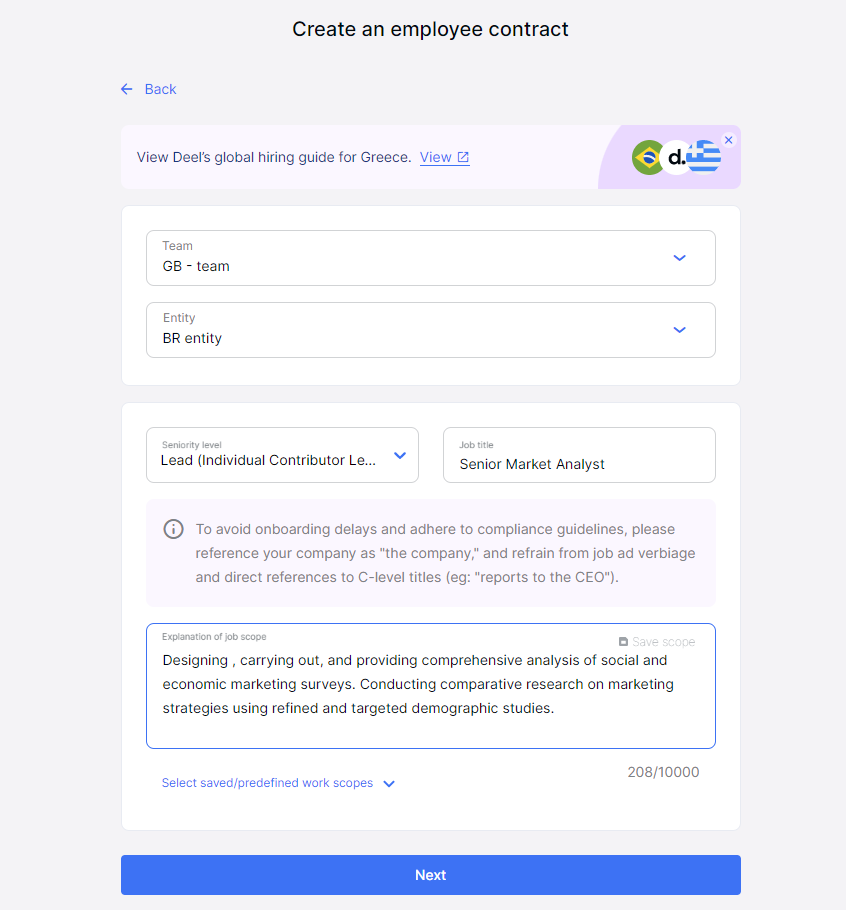 In countries where applicable, you can skip manual review by clicking on Run Check. The system will verify your job description and will prompt a message in case any errors are returned.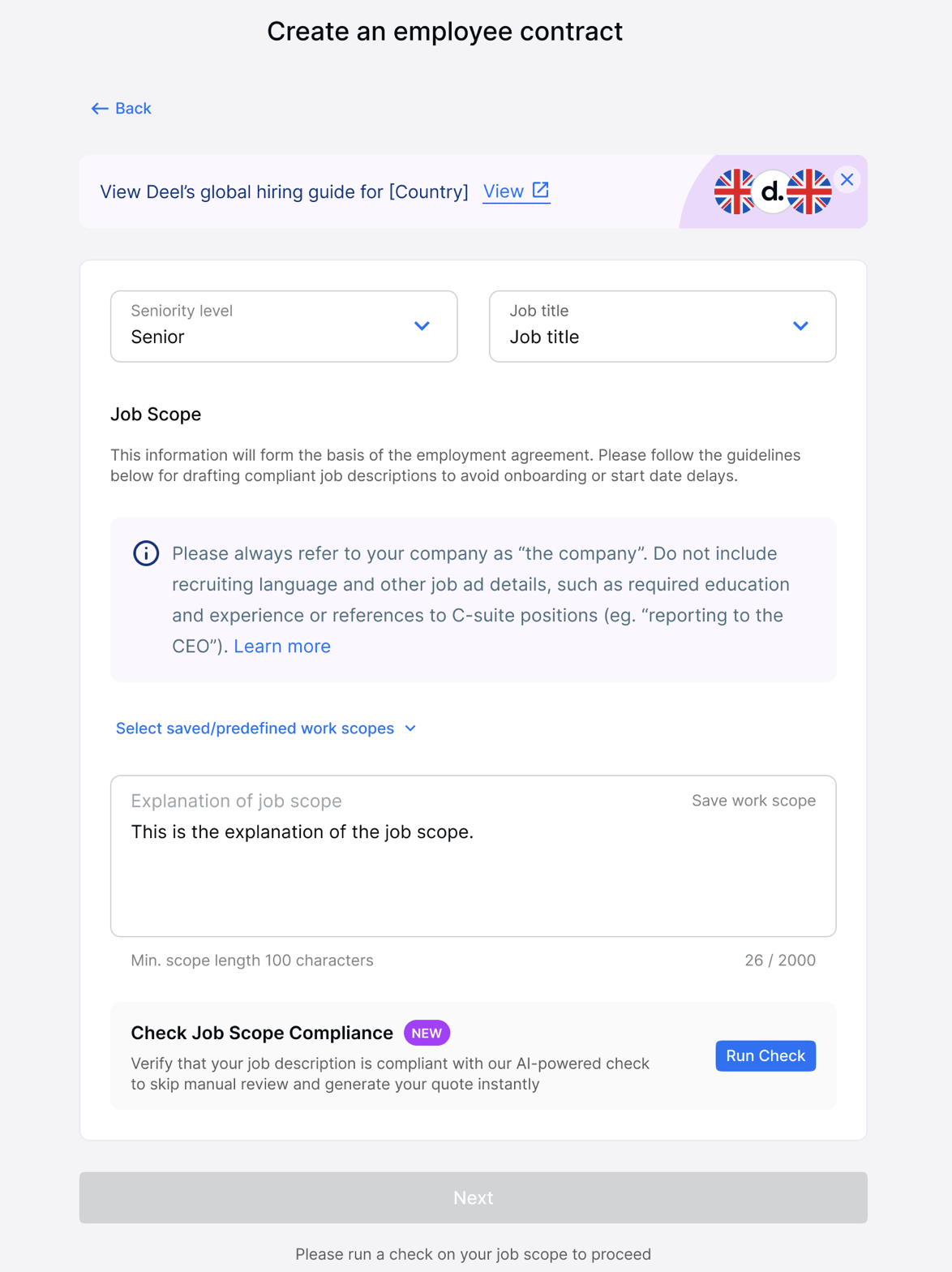 ✅ Step 5 –
Add compensation details
Some information that you will provide for the contract includes:
Gross Annual Base salary

If data is available, we will provide you our market rate insight for salary ranges for similar jobs

Payment currency (where applicable)
Signing bonus

Fixed contract allowances, either monthly or one-time

Desired start date and working hours

Vacation days

Probation period

And more!
Applicable fields will be auto-filled by default, using compliant language and standard practices for the local labor market. We recommend using standard, local regulations for the employee probation period.
For applicable countries, please select the preferred currency for payment. 
See our Frequently Asked Questions for more details about the compensation you may add to the contract.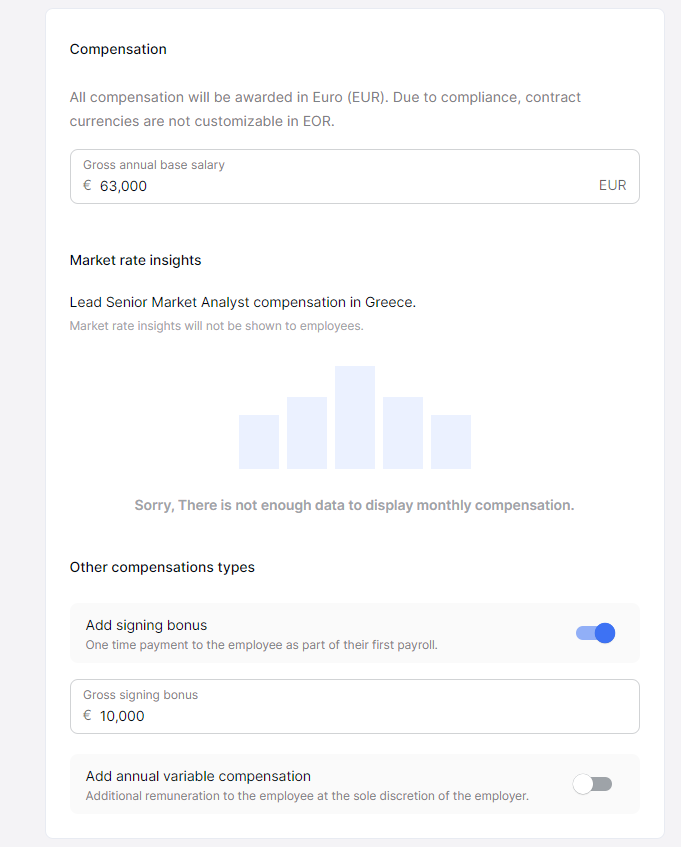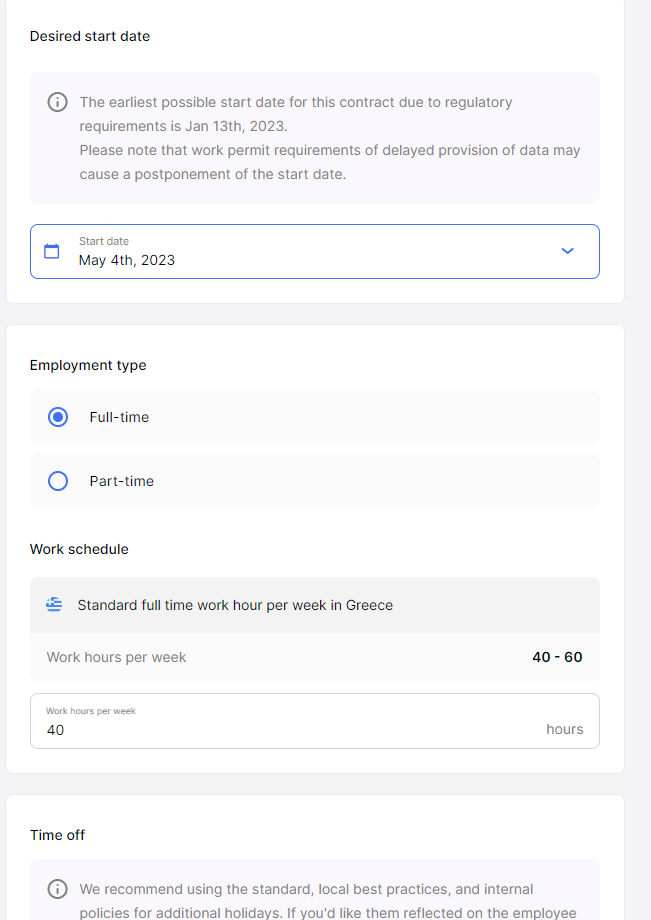 ✅ Step 6 – Add contract extras
You can rent and send laptops and other equipment to your employee thanks to our partnership with Hofy.
You can also request a Global WeWork membership to provide the employee co-working space access.
Mandatory government-provided healthcare and pension policies will apply depending on the employee location, but you may have the option of adding a secondary, private healthcare plan if additional benefits are available.
You can also make stock option offers using the Deel platform.
Clients in the United States and Canada can also add background checks.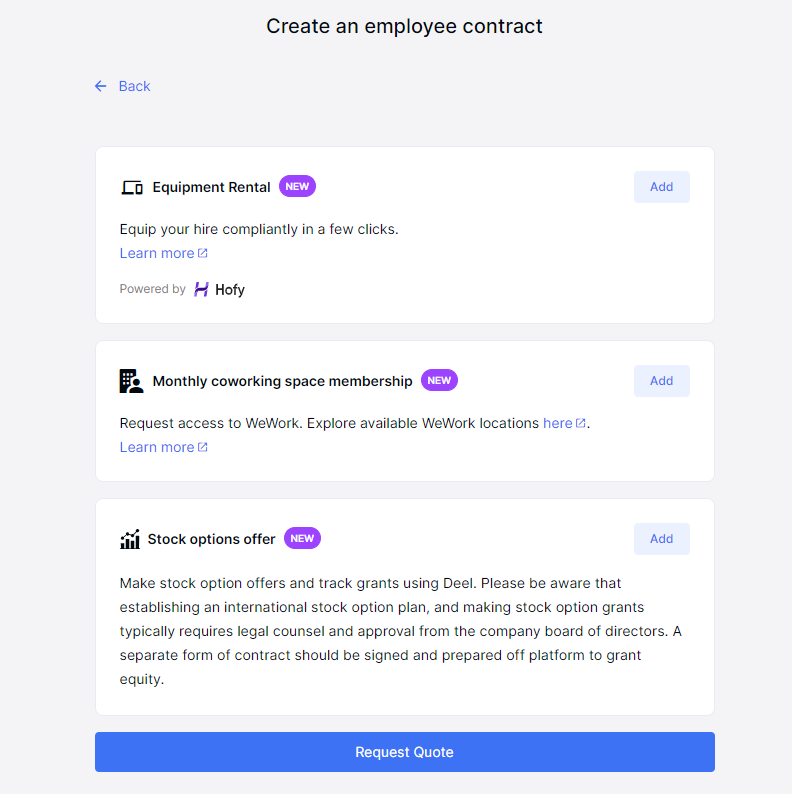 ✅ Step 7 – Request Quote
As soon as you click Request Quote, our group will get to work!

Preparing a quote for an EOR employee can take anywhere from a few minutes, up to one business day.

In selected countries we support an automated quote generation, through this, your quote will be returned immediately. If not, it may take a maximum of 30 minutes.
When we provide you with the quote, you will review the information and sign the EOR contract.
✅ Step 8 – Sign Scope of Work and review Employee Agreement
Review and sign the Scope of Work document.
You can also review the standard Employee Agreement, and contact us to request changes to the EA before we send it to the employee.
Our internal group will review your amendment requests to the employee agreement and respond within five business days.
Please see our Frequently Asked Questions for more details.
Please note that this may delay the onboarding process for your employee. 

Do not sign the Employee Agreement until any requested changes have been processed.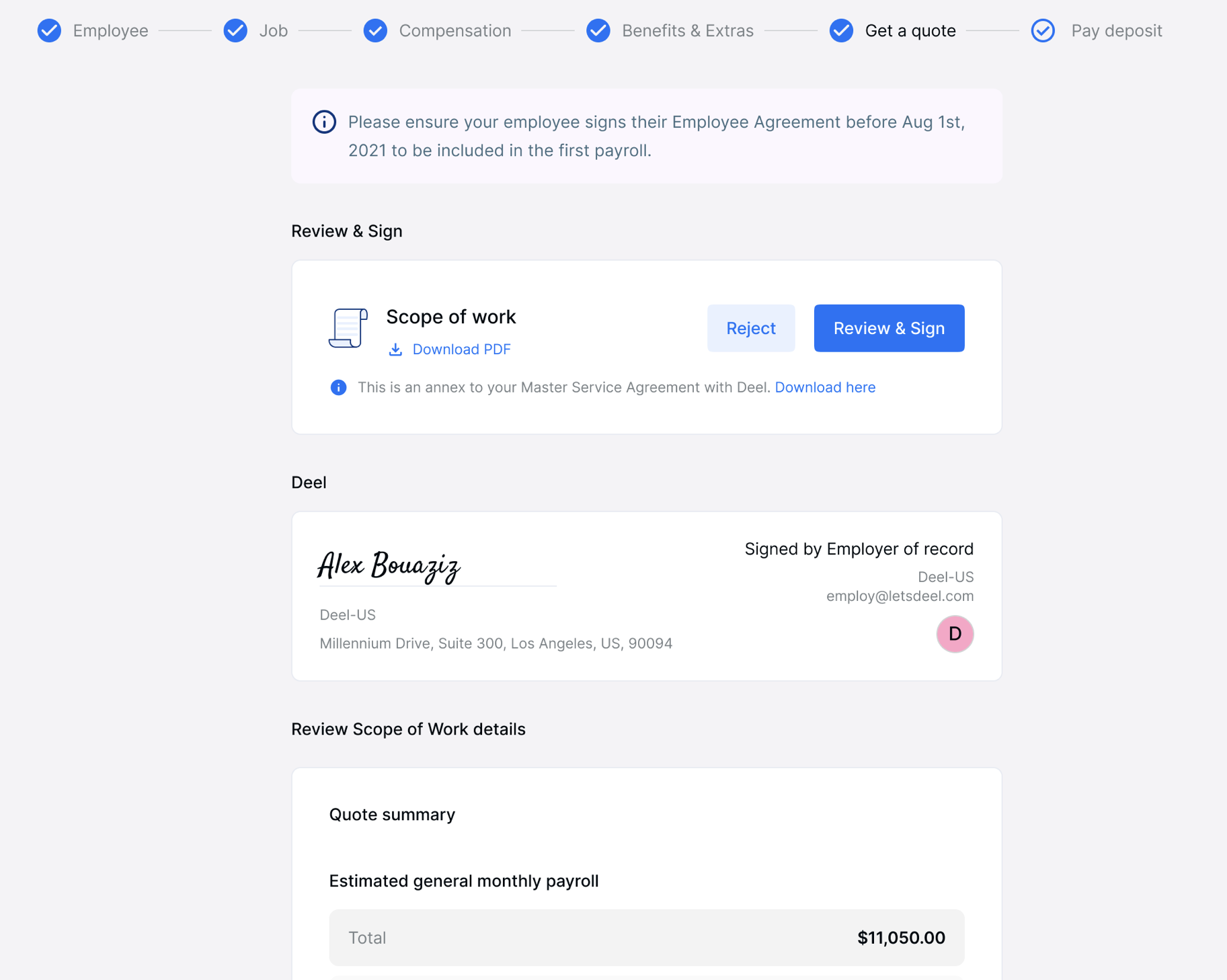 How to create an Employer of Record (EOR) Contract in Foreign Currency
The option to select a non-local currency as the legal contract currency will appear only if this feature is enabled in the employment country.
You cannot convert existing EOR contracts to foreign currency contracts.
Your employee must hold a local bank account denominated in the same currency as the contract.
For more details, see: How To Create An EOR Employee Contract In A Non-Local Currency
Frequently Asked Questions
[ACCORDION]
What is the difference between a signing bonus, variable compensation, and a fixed allowance?
Signing bonus: A one-time, special payment to the new employee that is given as part of the first payroll
Variable compensation: Variable compensation allows you to specify performance-related additional amounts that you can give to your employees. It is a financial incentive to reward hard work, and a job well done.
You can request a contract amendment at any time to add variable compensation.
Variable compensation can be issued either as a flat amount, or a percentage of the annual base salary.
The employee may be entitled to a variable compensation at the sole discretion of the employer.
Fixed allowances: Allowances that are specifically written into the contract. They can be a one-time allowance or a monthly recurring item.
Common types of contract allowances include things like moving, commute, health and wellness, education, and more.
Fixed allowances aren't generally advised because they can only be modified through formal contract amendments. Instead, we recommend adding regular allowances once the employee contract is active.
[ACCORDION]
What kinds of changes can I request to the Employee Agreement?
We allow you to request certain changes the Employment Agreement to fit your needs, a process known as 'redlining'.
However, this may delay the onboarding process for your employee. Therefore, we recommend the use of our standard employee agreement.
✅You may request changes to the EA including:
Non-compete clauses
Non-solicitation clauses
Probation period changes 
Custom general changes to the Employee Agreement that will be reviewed by our legal group
❌You cannot request changes to the following items:
Company name
Email address
Company phone number
First and last name
Tax ID
Do not sign the Employee Agreement until any requested changes have been processed.
Signing the Employee Agreement will cancel any pending redline requests.
Certain modifications may impact notice periods, affect onboarding and offboarding timelines, and increase employment practice risks. We may need to increase your deposit to cover these items.
[ACCORDION]
What are the prohibited job titles in an EOR contract?
Prohibited Job Titles

Suggested Alternative for contract

Founder
Head of Operations
Chief Operations Officer (COO)
Head of Operations / Vice President of Operations
Chief Financial Offier (CFO)
Head of Finance/ Vice President of Finance
Chief Executive Officer (CEO)
Head of Operations
Any other title with "Chief … officer"
Head of [x] / Vice President of [x]
Member of the Board
Head of [x] / Director of [x]
Board Director or any title with "Board"
Head of [x] / Director of [x]
President
Head of [x] / Director of [x]
Attorney / Legal Counsel
Associate
"intern" or similar indicating internship

We do not facilitate intern contracts.

Clients cannot have workers with "intern" or similar in job title.

Any job title with the client's company name


If your company name is "Andela", the employee's job title cannot be "Andela Project Manager".

You may, however, include a different company name in the title if it is not associated with your company (e.g. "Shopify Project Manager" if your company name is not Shopify)
*Chief of Staff is allowed as it is not considered C-Suite level.
Additional country-specific prohibitions
Please note that the following job titles and occupations are prohibited in these countries, as they are normally used to indicate C-Suite positions:
Serbia: Director and General Manager
Bosnia Herzegovina: General Director
North Macedonia: Director, President, General Manager
Montenegro: Director, President, General Manager, Head of
Croatia: General Director
Slovenia: Director or General Manager
Israel: General Manager
[ACCORDION]
How do I add private health insurance for an EOR employee?
If secondary healthcare benefits are available in your employee's jurisdiction, you'll have the option of adding a private healthcare benefits plan.
✅ Step 1 – Select Add Healthcare during the contract extras step
✅ Step 2 – Add Plan
You can select from three healthcare plan tiers.
Review the available benefit plans by downloading the plan information.
When you have made your selection, click Add.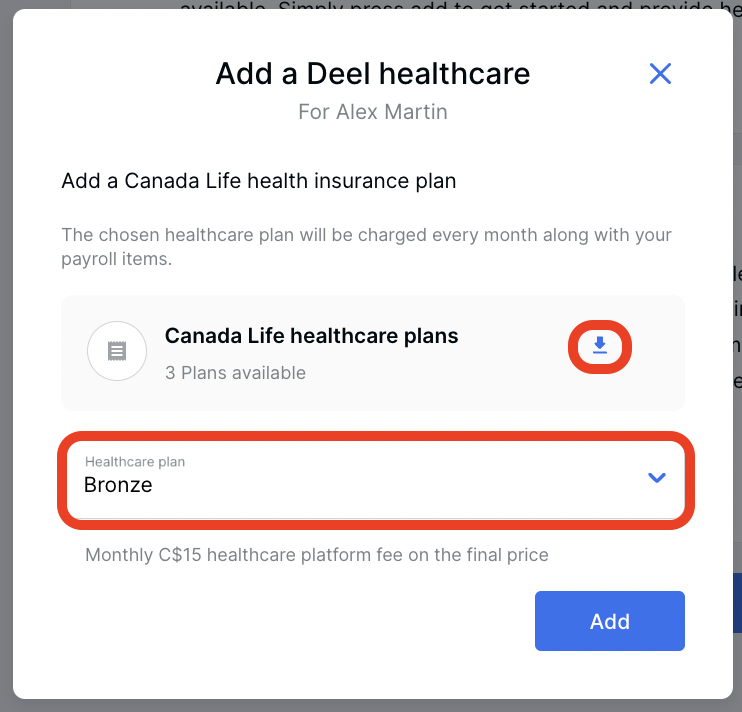 [ACCORDION]
Can I include an equity grant as part of an EOR contract?
Yes, you can add stock options to the contract and issue an equity grant to employees.
Establishing an international stock option plan, and making stock option grants typically requires legal counsel and approval from the company board of directors. Deel's equity program takes care of all these things for you!
You can simply schedule a call with us and tell us about the grants you want to offer your employees and we will take it from there.
✅ Step 1 – Go to the Services tab on your Homepage and click on Equity for EORs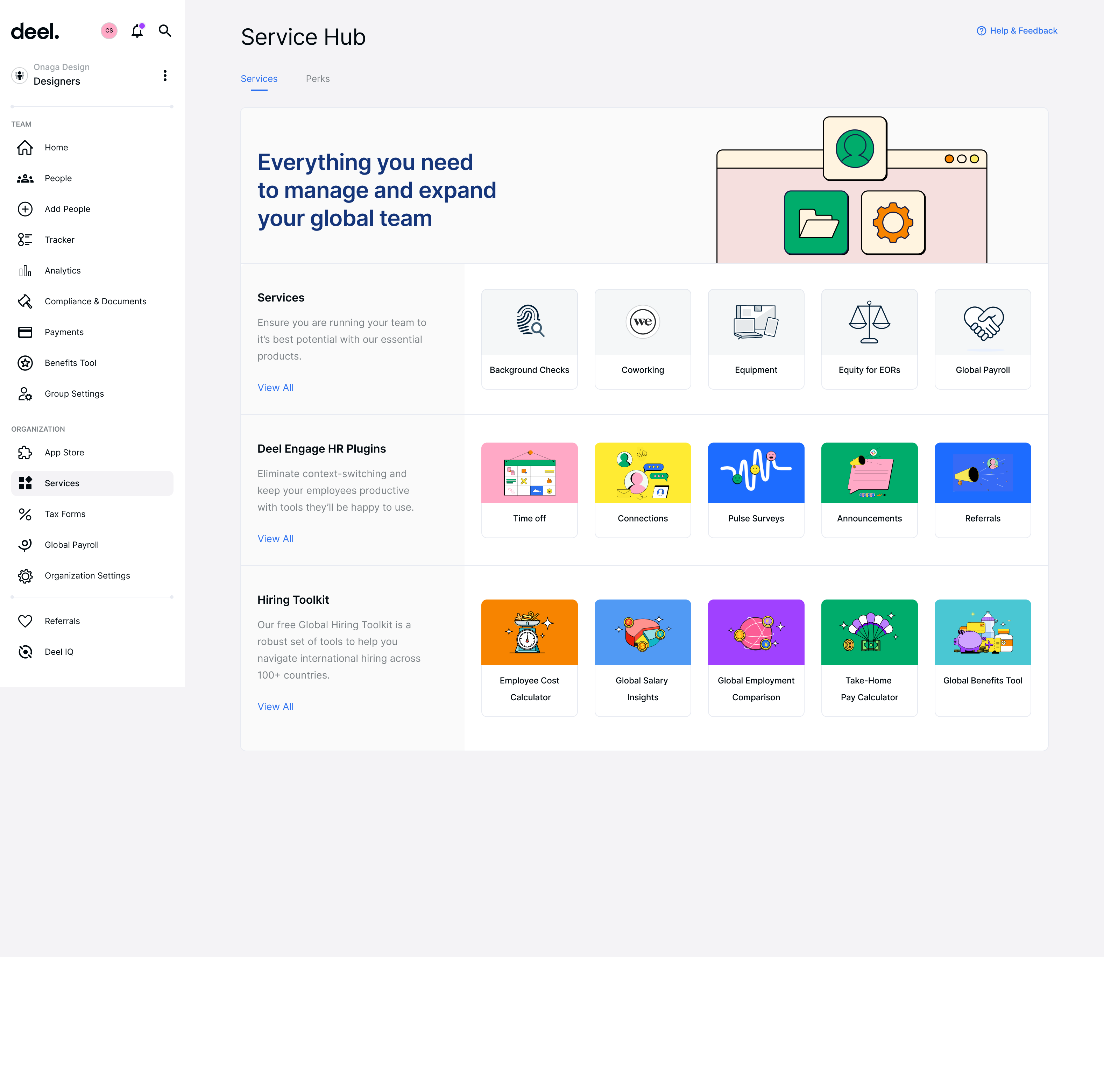 ✅ Step 2 – Book a call with us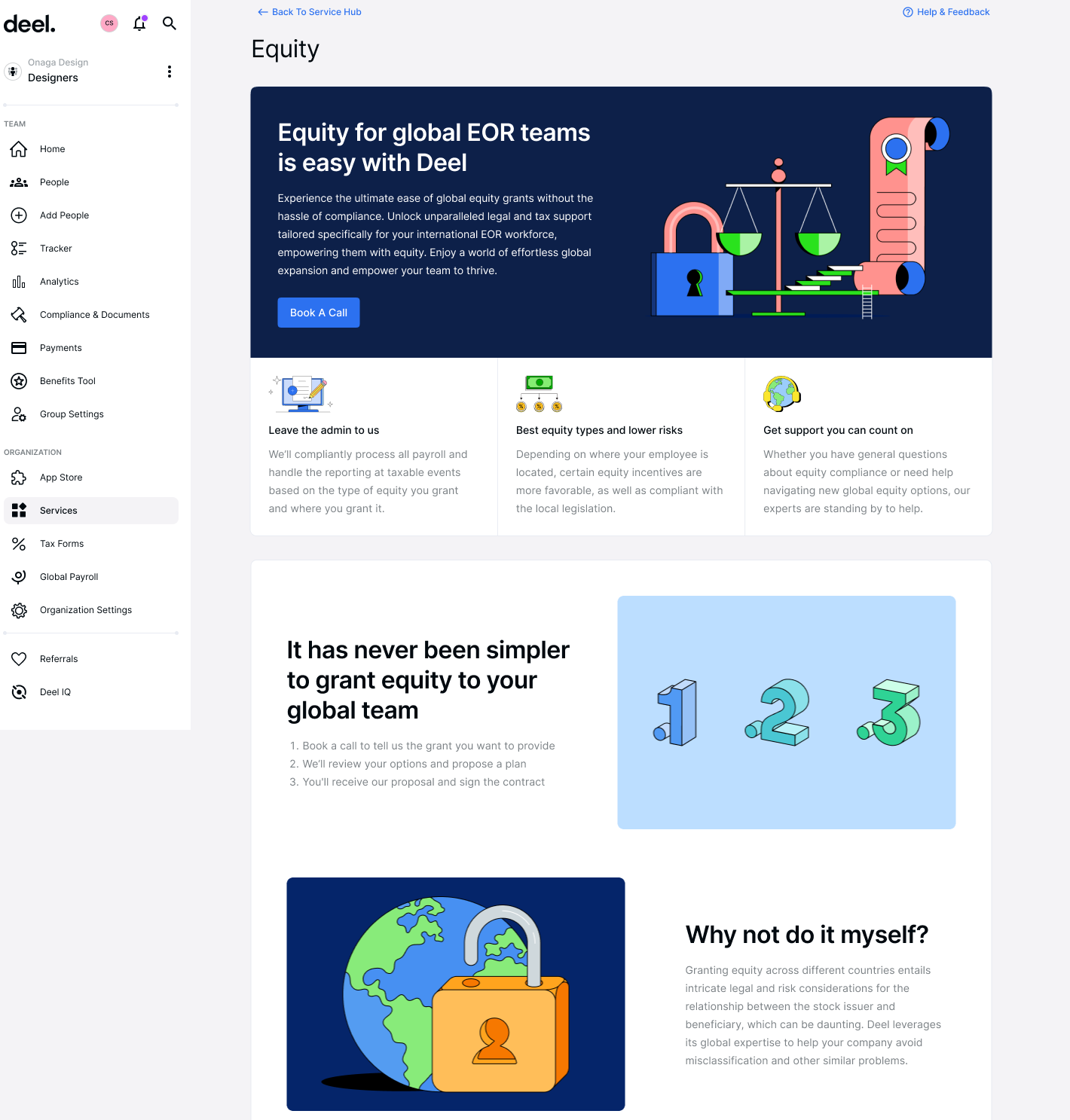 To offer equity grants yourself, a separate form of contract should be signed and prepared off-platform.
✅ Step 1 – Add Stock Options offer
Provide details of the stock options, including the currency, number of shares and aggregate options value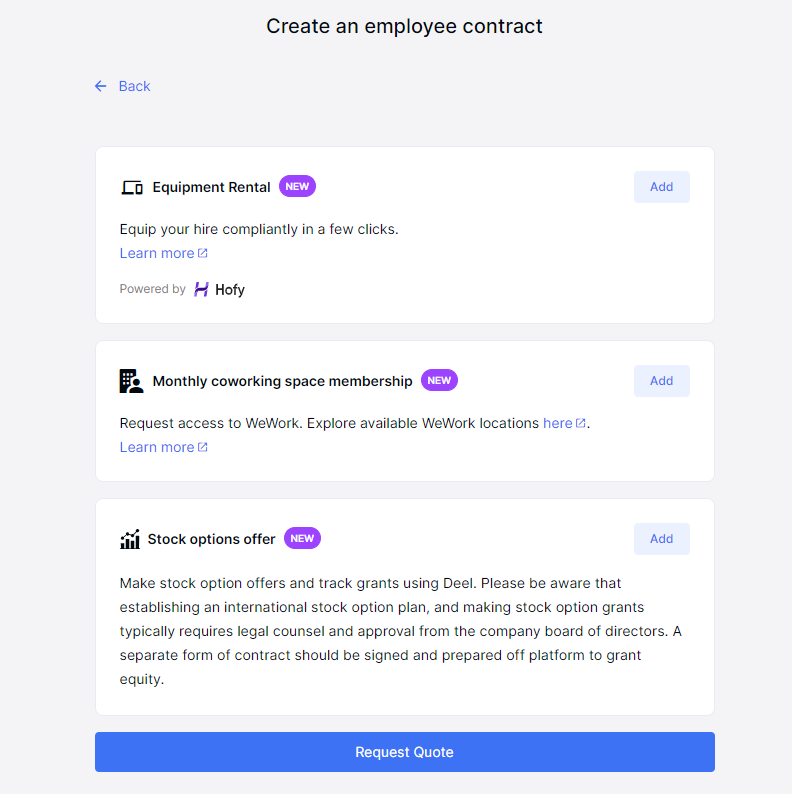 ✅ Step 2 – Provide stock details
Provide the currency, number of shares, and aggregate options.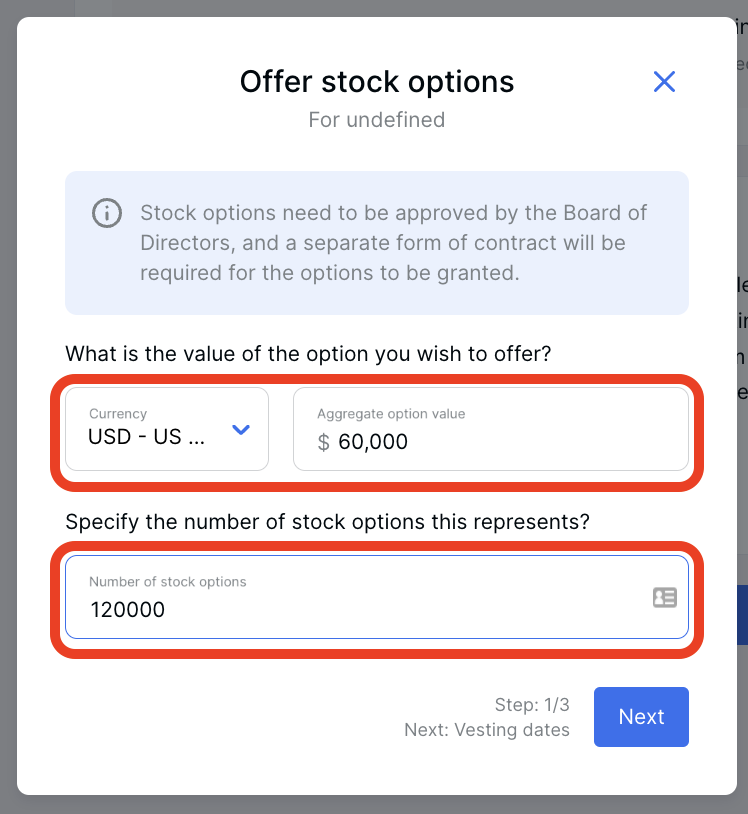 ✅ Step 3 – Add vesting details
Enter the vesting start date, vesting schedule, and vesting cliff.
A vesting schedule is the term over which options are vested to the employee. 
A vesting cliff is the length of time that must pass before all options accumulated during that period are vested.
A vesting cliff ensures that an employee doesn't receive the benefit of vested options if they leave before the expiry of the cliff term.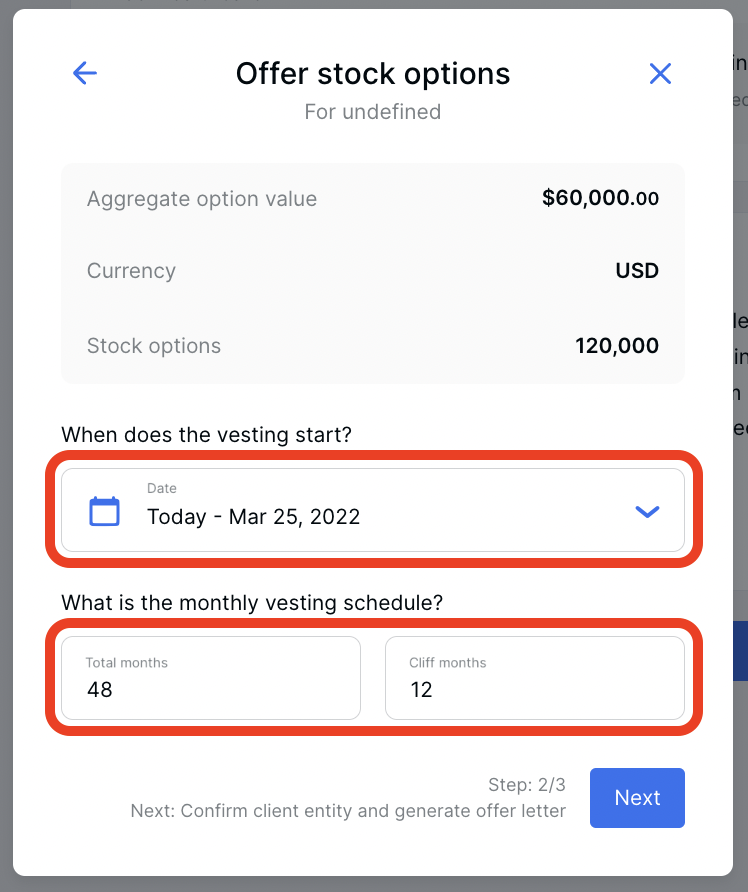 ✅ Step 4 – Confirm stock offer
Next review your stock option details, confirm the client entity, and select Add Equity Offer.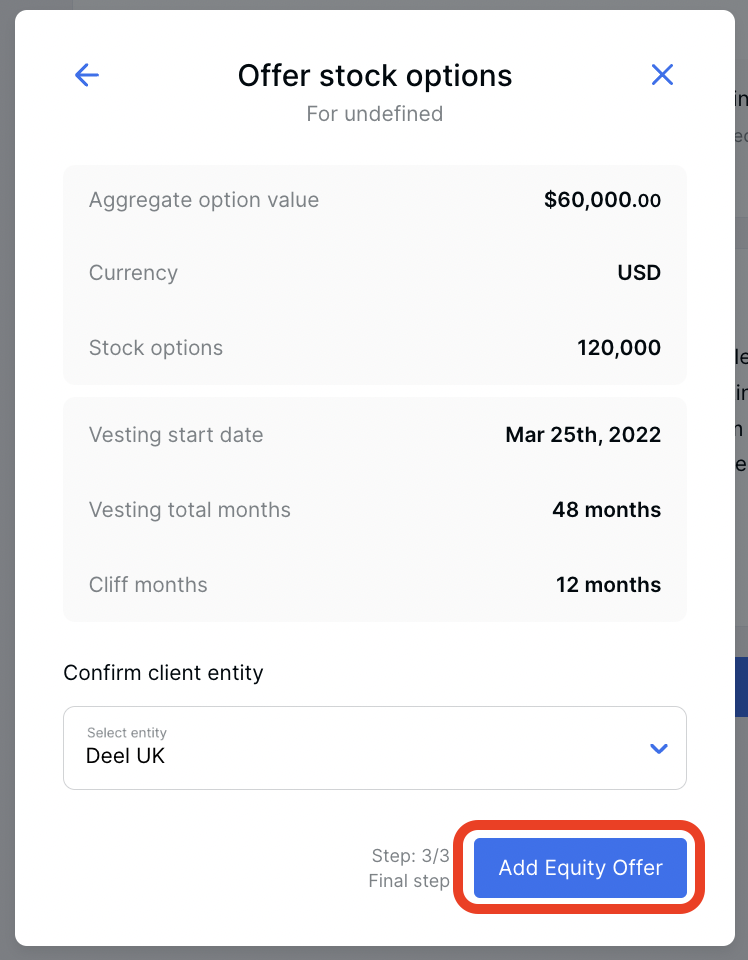 [ACCORDION]
What are the employee requirements for creating a non-local currency EOR contract?
The employee must have a bank account denominated in the non-local currency of choice. You must confirm with the employee that they have this account or can create this account during the hiring process. This means if you are paying your employee in USD, the employee must hold a bank account in USD in their local country to receive their payroll.
[/ACCORDION]